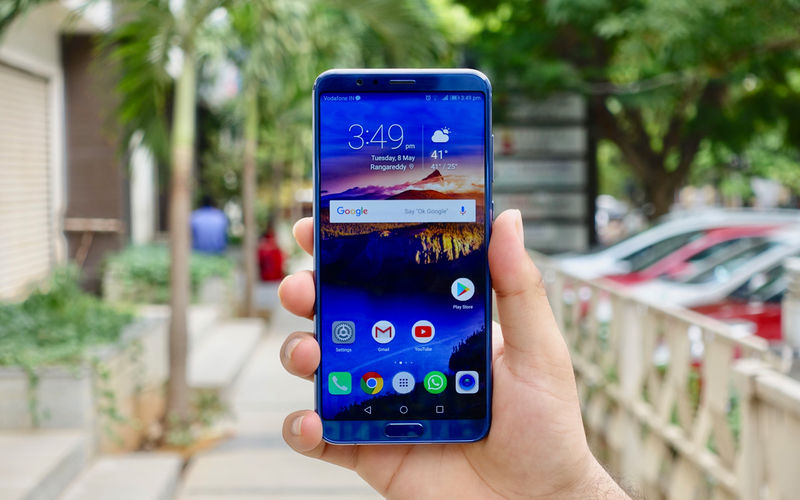 The smartphone industry seems to be taking a turn where high specced handsets are no longer accessible only to an elite few with copious amounts of cash burning a hole in their pockets. Until now, it was OnePlus leading the charge with smartphones that were rightly dubbed as flagship killers. Now we have Honor with its new challenger that hopes to snatch the crown.
The Huawei subsidiary launched the Honor View 10 in India earlier this year. The smartphone boasts a top of the line spec sheet that is neatly packaged with a price tag that reads just Rs.29,999. This brings it very close to the price and specs offered by the OnePlus 5T. When we reviewed the OnePlus 5T, we noted that the View 10 had interesting AI integrations that could have a significant impact in this competition.
I have been using the Honor View 10 for well over two weeks now to see if this device can be a compelling option for consumers who might be looking for a flagship-level experience at a significantly lower price. So let's get on with it.
Honor View 10: Design & Build Quality
At first, the feel of the Honor View 10 wasn't something that stood out to me, but over time I came to appreciate it much more. The dark blue variant I used looks quite nice and is beautifully complemented by the dark antenna lines and 'honor' moniker placed at the back of the device. The front holds an impressive 5.9-inch, 18:9 display with extremely thin bezels on the sides. Like many other phones sold by Chinese manufacturers, this phone also came with a screen protector which I obviously removed on the very first day. It's safe to say that the screen survived without any scratches. I would still recommend leaving the screen protector on as the company has not specified which type of glass has been used on this device.
The top and bottom bezels aren't as thin as I would have liked but they do serve a purpose. The primary speaker grill is housed above the screen along with the proximity sensor, front-facing camera and a tiny notification light that is hidden underneath the front glass. This glass is a vibrant shade of blue that subtly changes to lavender when light hits it at a certain angle. I would have liked to see this design on the rear as well since the Honor 9 Lite I reviewed recently is proof that this is achievable on affordable smartphones. Instead, the View 10 has a metal back which isn't actually a 'unibody' build since the back and sides are two separate pieces of metal. It's not entirely seamless, but they do blend into each other well enough thanks to their chamfered edges.
Honor decided to squeeze the fingerprint scanner within the bottom chin instead of placing it at the back like most phones of this form factor. While many have contrasting opinions of the ideal fingerprint scanner location, I am accustomed to both and became used to the one on the View 10 quite easily. The scanner also serves as a capacitive home button and can be configured for navigation with gestures. The phone also offers a USB Type-C charging port and a 3.5mm headphone jack at the bottom, while an IR blaster is present at the top.
Overall, the look of the View 10 is pretty enjoyable even with the slightly outdated design that might not feel as premium as glass backed phones. There isn't any sort of water and dust resistance on this device either which is unfortunate. And we have the rear cameras at the back that protrude well beyond what I consider acceptable. But the device is still pretty sturdy, and the blue colour variant is quite unique.
Honor View 10: Display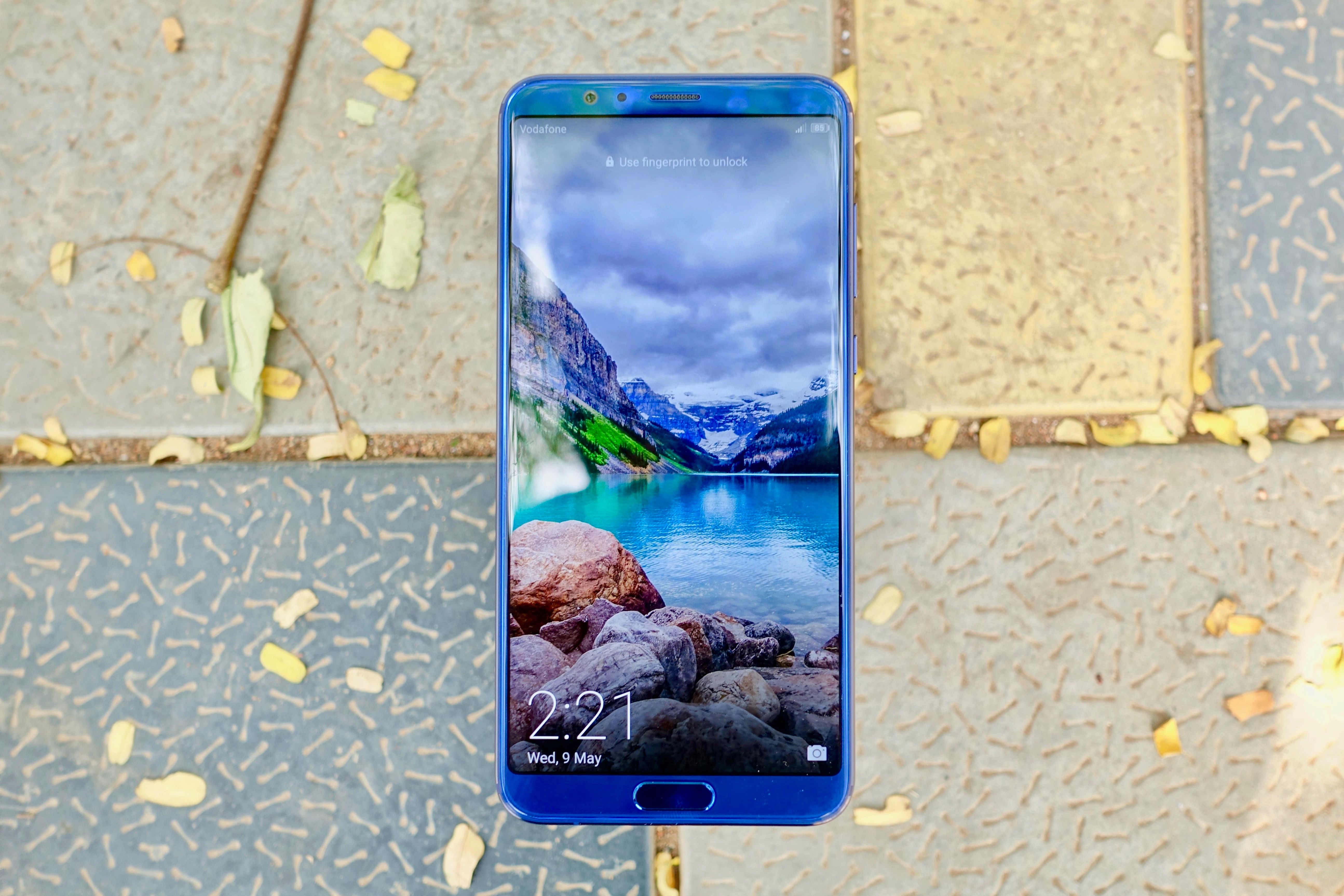 For its display, the Honor View 10 sports a 5.99-inch IPS LCD panel with an FHD+ (1080×2160) resolution and an 18:9 aspect ratio. This seems to have become an industry standard and performed very well in daily use. The display is vibrant, has good viewing angles, and did not produce any colour shifts. This obviously cannot compete with the OLED screen of the OnePlus 5T but can still reproduce colours well. The LCD screen did present some issues with its brightness in sunny outdoor settings.
The default size of the UI elements and text was set a bit higher than what this display needs. I'm not sure if that was something not taken into account or a deliberate move, but simply going into the settings and reducing the element size by one level fixed this minor issue. Watching videos, browsing web pages and scrolling through social media was great on this device as well. Most applications have no issues scaling up to the wider aspect ratio which makes content consumption and playing games just as immersive as you'd want from a display this size.
Honor View 10: Camera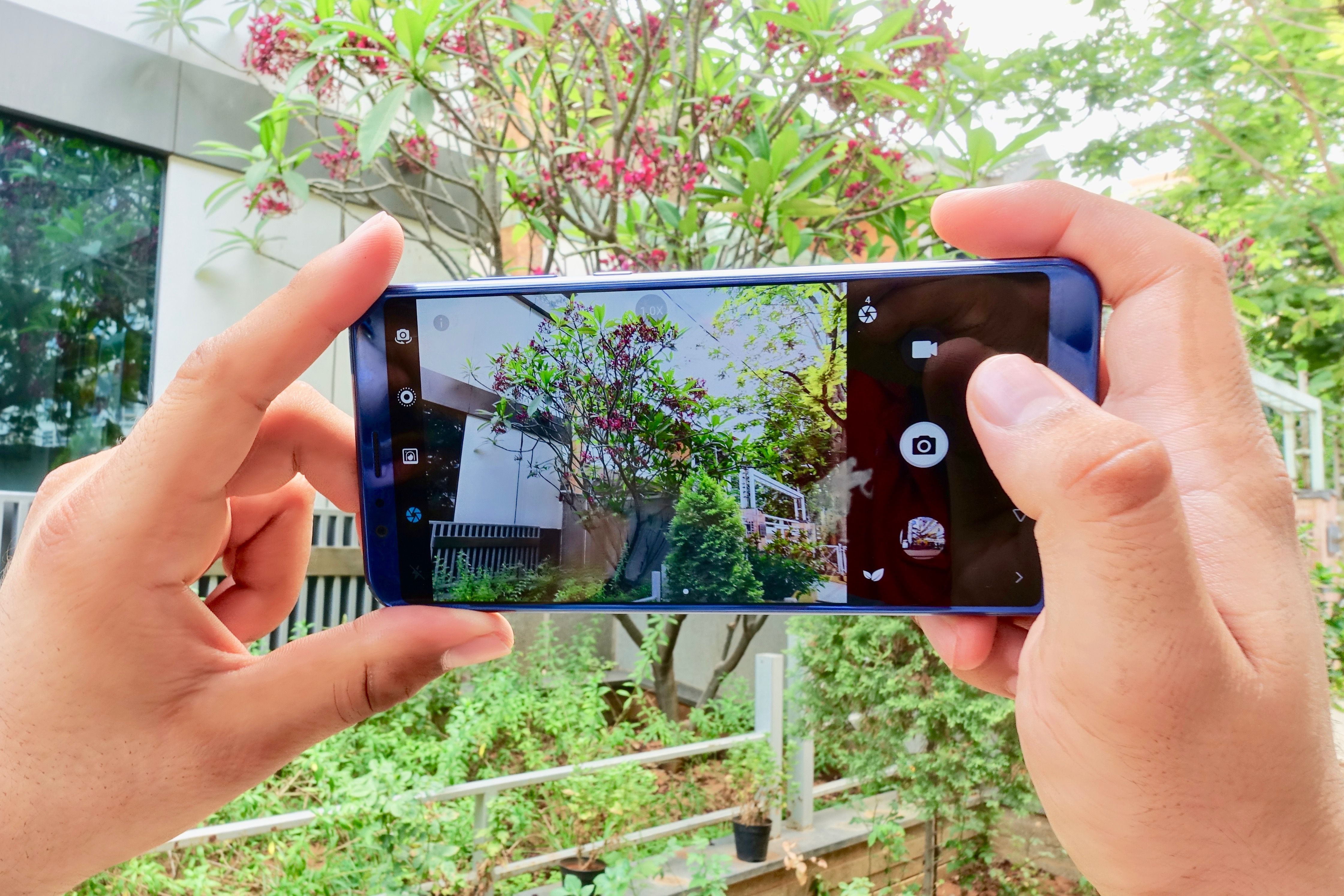 The primary camera bump on the Honor View 10 is a 16-MP sensor with a f/1.8 aperture, while the other is a 20-MP, f/1.8 monochrome sensor that only snaps B&W shots that are supposed to add detail to regular RGB images. In our testing, the rear camera setup produced decent shots in bright lighting but failed to keep up even in slightly challenging low-light scenarios. Honor says that it is using an AI processor with built-in NPU (neural-network processing unit) in its smartphone. While the camera is adept at recognising what I was taking an image of, I'm not entirely certain at how much of a difference this AI actually made in the end result.
Honor View 10 Rear Camer Sample Images
The images captured by the rear cameras ended up with quite a lot of over-sharpening in many instances. The camera performs reasonably well in bright light with an acceptable amount of detail when the subject is close enough. Landscapes look good too but lose the finer details when zoomed in. The camera itself is quick and can capture decent colours. The low-light performance was unsatisfactory. Even regular indoor lighting scenarios presented noise artefacts and lacked details. The monochrome sensor worked better with details, but that is expected.
Honor View 10 Selfie Camera Samples
Then we have the front-facing shooter with its 13 MP, f/2.0 sensor. Selfies had good colour but felt a bit soft. The softness increased further with beauty mode enabled. Images were pretty good when light was abundant, but low-light was a challenge here as well. Portrait mode works well too considering that it is more of a software implementation.
I do like the camera app that EMUI 8.0 offers as it is filled with useful modes such as 'night shot', 'pro video', '3D panorama' and 'document scan'. But then we have the 'AR lens' that can be used to apply silly bunny ears when it detects a face. Another mode called the 'Artist mode' has a limited selection of filters that look like they were taken from 'Prisma'. The app further offers a plethora of image resolutions to choose from along with the option to take burst shots by long pressing the shutter button, and take an 'Ultra Snapshot' by double pressing the volume down button when the screen is off.
Overall, Honor has provided a decent camera setup on the View 10 for what its worth. The camera is not as good as the one found on the OnePlus 5T, but can still take good images if you keep a steady enough hand. Selfies are great too even though they might be slightly on the softer side. The EMUI camera app is also good to use. It could have benefited from a better placed HDR toggle, and I'm certain the CPU is capable of handling an 'auto-HDR' mode. Night time and indoor images could have been better, but the ability to record 1080p videos at 60fps and 4K videos at 30fps is a great addition.
Honor View 10: Software & Performance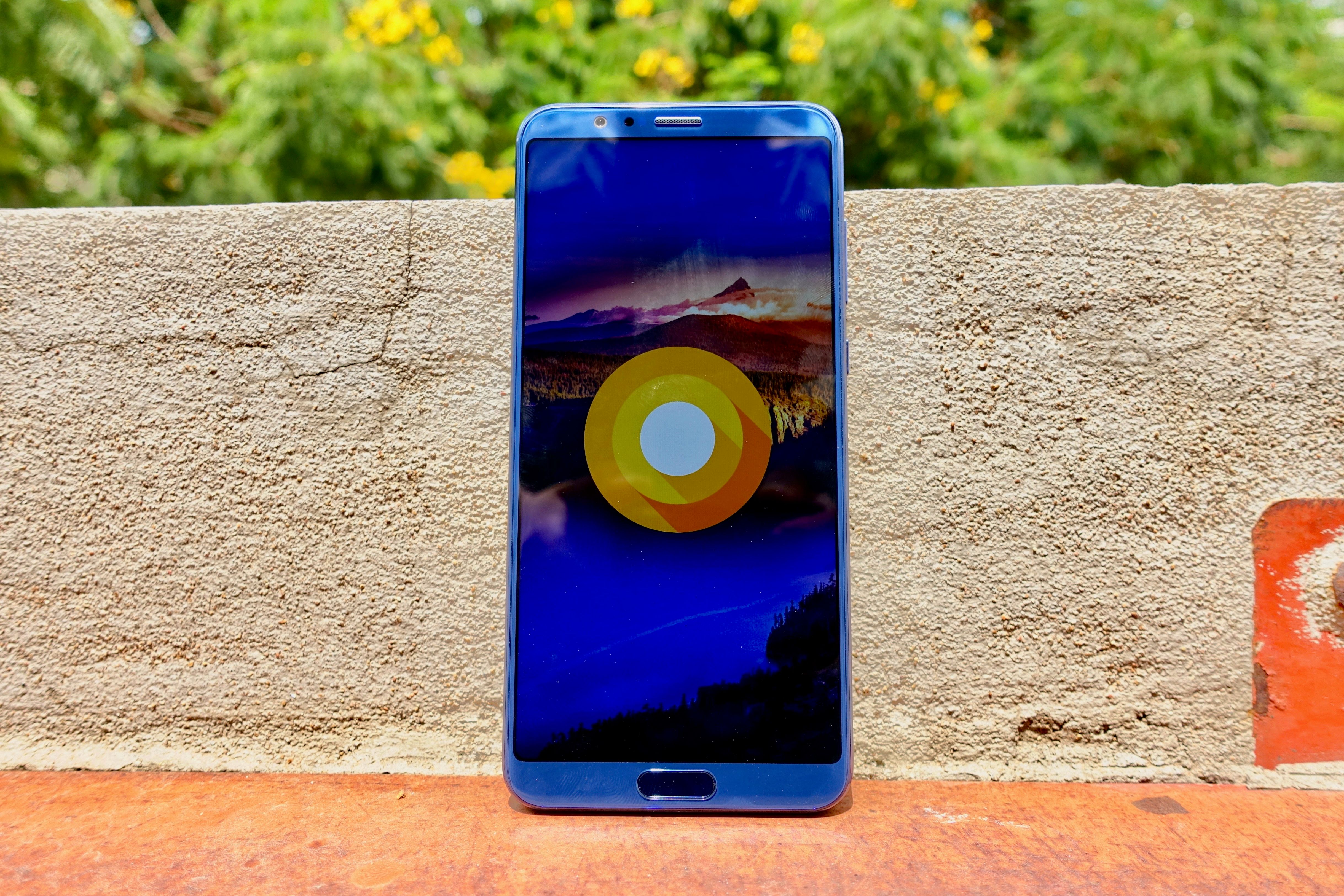 The View 10 is powered by the same processor that runs on Huawei's flagship P20 Pro. The octa-core Kirin 970 SoC in this device has four of its cores clocked at 2.4GHz, and the other four are clocked at 1.8GHz. Coupled with 6GB of RAM, the View 10 chews through anything you can possibly throw at it. Switching between apps is buttery smooth, and gaming presents no challenge for this beast. The fingerprint scanner on the front is almost instantaneous, and the face detection is spectacular as well. On top of that, you get 128GB of internal storage that can be further expanded via an SD card. The phone even has an IR blaster that seems to be making a comeback these days. I tested the app and found it to be highly convenient for controlling both my PC monitor and television.
There were a few heating issues, but those occurred only when I extensively used the phone outdoors in the summer heat of Hyderabad. The Phone comes with a bottom-firing speaker which was unimpressive. It did get loud in some situations, but it just wasn't up to the mark for my personal use. The phone comes with a hybrid SIM card slot which can hold either two SIM cards or one SIM with a microSD card. Although it is unlikely for someone to need additional storage in this device, having to sacrifice the second SIM for this is still a concern all manufacturers should have addressed by now.
Honor View 10 Performance
The View 10 runs Honor's EMUI 8.0 skin on top of Android 8.1 Oreo. For those who might not have used this before, this skin is a pretty heavily modified version of the Android UI that gives tonnes of customisation options. While many prefer the barebones experience of stock Android, EMUI does offer a decent experience if you are willing to look past the minor shortcomings. For example, the UI will initially not come with an app drawer, but you can enable it after the fact if you so desire. An included 'Themes' app also lets you change font, icons and other UI elements.
The thing is, EMUI 8.0 is filled with features you might not end up using but I like the fact that you get the option to do so. Having used the previous version of this skin, I can honestly say that Honor has really put thought and effort into making this UI work. There is still a decent amount of bloatware, but most of it can be uninstalled. The settings menu has been simplified in a manner similar to the menu found on iOS devices. At first, this makes it a bit difficult to find all the possible settings but the included search bar helps with the navigation, and it gets more comfortable over time.
When it comes to navigating the device itself, you have three possible options. Out of the box, the default method of navigation is with the onscreen buttons. These can be rearranged, and you can even add a button that brings down the notification bar. Another button to hide the navigation bar can be activated as well. The other option is to use a 'navigation dock, which is a circular icon on the screen that can be dragged to any position you prefer and can be used to move between apps using gestures that are pretty easy to pick up. The final option is to use the capacitive fingerprint scanner as a trackpad to move between apps by using a combination of tap and swipe gestures.
Honor View 10 EMUI 8.0 Software
The phone has 'App twins' functionality for two versions of the same app. File Safe lets you encrypt files that can only be accessed with a passcode or fingerprint. App Lock works similarly in that it will not allow anyone to open the specific app unless it detects the correct fingerprint. Private Space lets you create and access an entirely different profile using a different fingerprint or password on the lock screen. Then there are gestures for various commands such as a two finger swipe up from the bottom of the phone for split-screen mode. You can also use your knuckle for various commands such as double knock for screenshot or drawing am alphabet for opening a corresponding app.
I think that the software experience is something that will divide opinions. Those who enjoy the simplicity of stock Android will find this UI to be cluttered. I personally was able to look past this and enjoy EMUI 8.0 for what it has to offer in terms of its various features and customisations. The overall performance of the device was exemplary. The only real gripe I had was with the unexceptional loudspeaker. Otherwise, the storage is more than enough and the addition of an IR blaster is highly appreciated.
Honor View 10: Battery Life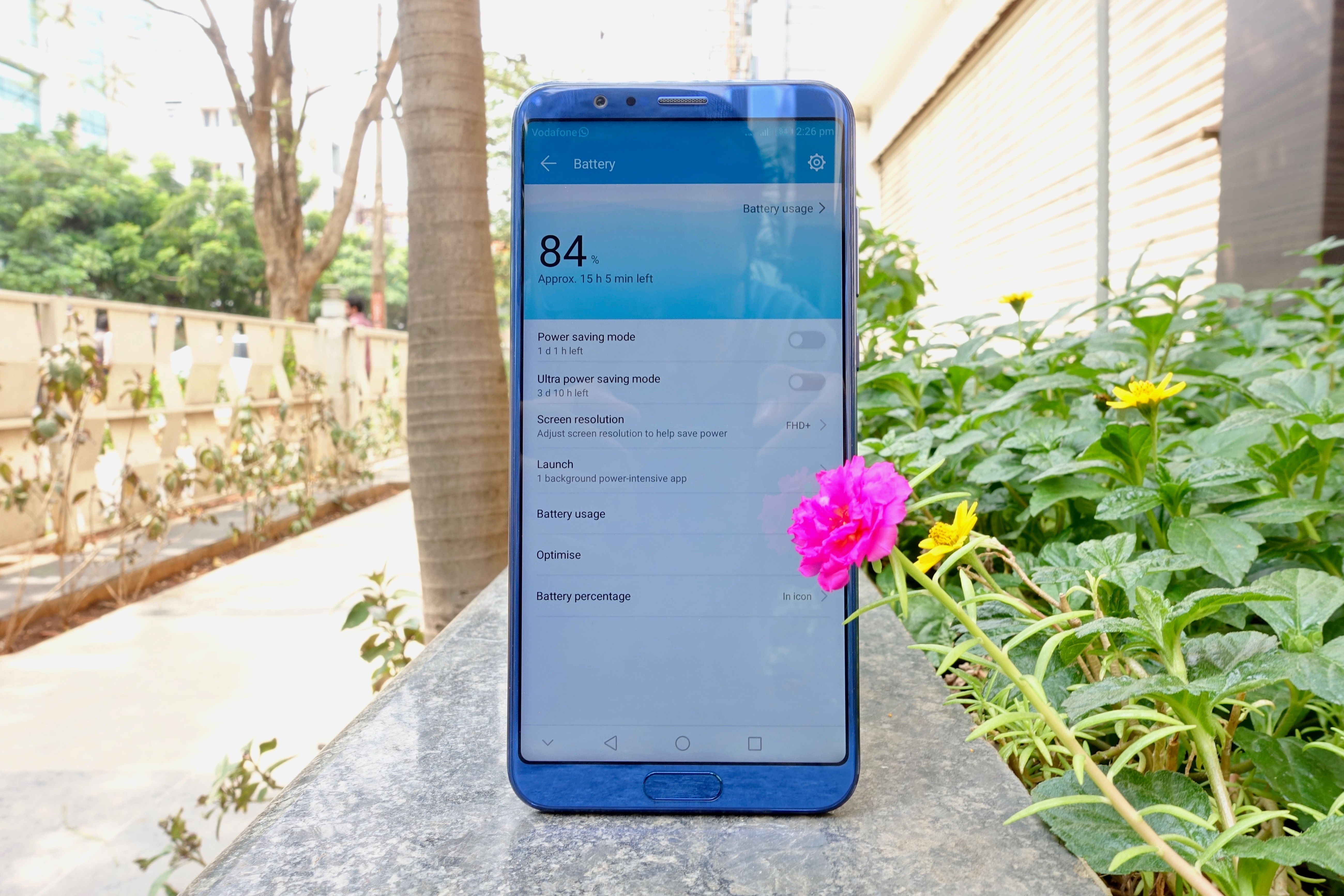 The Honor View 10 packs a 3750mAh battery which lasted around 40 to 45 hours and provided an impressive screen-on time of 6 to 7 hours. This will be enough for the average user for up to two days of moderate use. The power saving mode and ultra power saving modes can help you easily push battery life further if needed. The one real issue I had here was with the charger that ships with the View 10. Honor provides a Huawei Quick Charger with this phone in India, and it even says 'fast charging' when plugged in. However, I did not experience fast enough charging when I used this charger and the only way I was able to properly get the benefits of fast charging was by using a third-party power brick.
Honor View 10: Verdict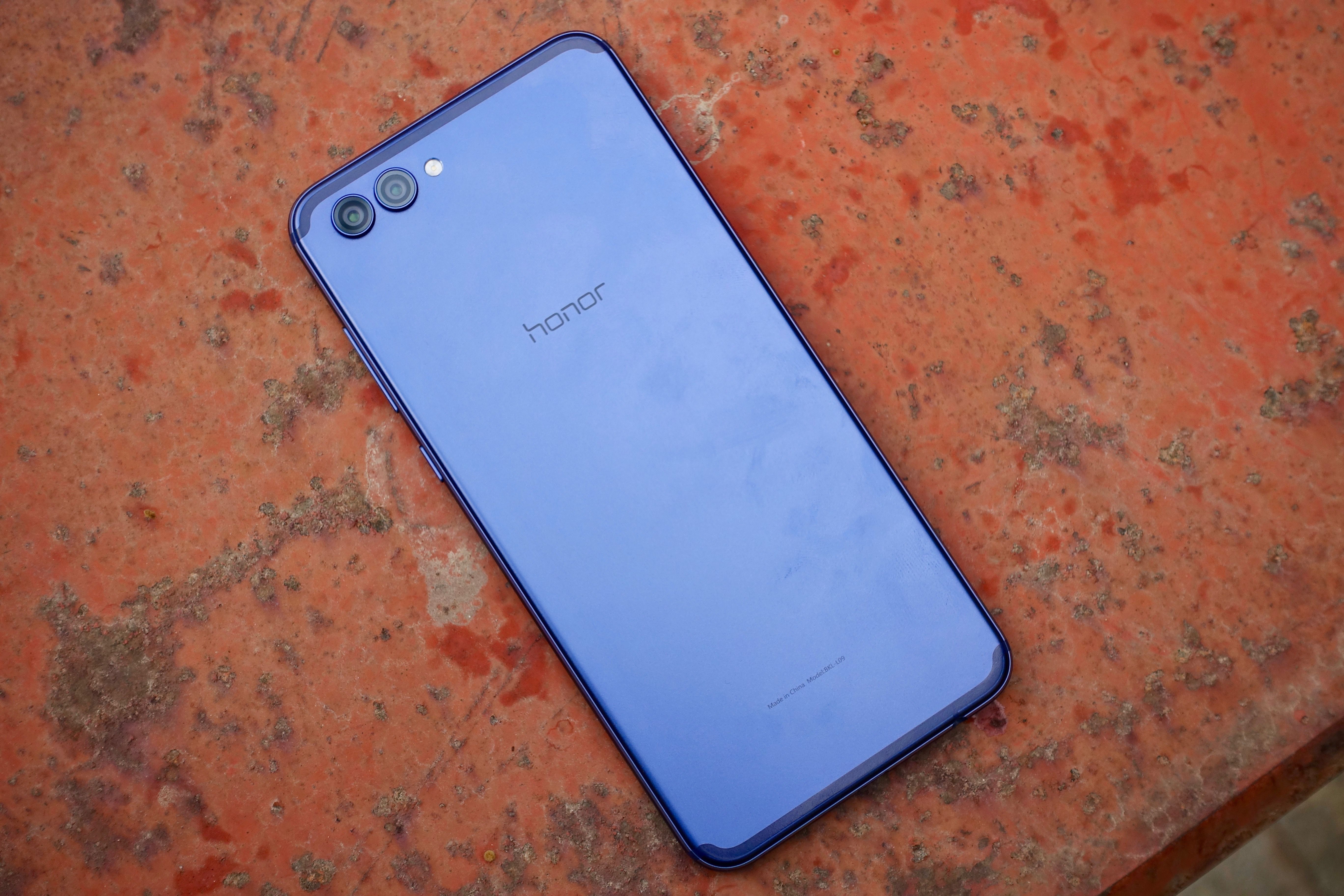 The Honor View 10 has a lot going for it and will honestly be a worthwhile investment. Its Kirin 970 is comparable to the Snapdragon 835 in terms of performance, and its battery life is also pretty decent. The camera quality is acceptable when considering the price of this smartphone. The 18:9, Full HD display is on par with what the industry has to offer in 2018. 128GB of internal storage is a great bonus along with the IR blaster. As I mentioned earlier, the software experience is debatable, but I found EMUI 8.0 to barely be an inconvenience once I set it up according to my personal preferences.
If you were in the market to get a smartphone for yourself in the Rs.30,000 range, you might have considered a OnePlus smartphone at one point. But the fact that the OnePlus 5T is no longer available due to the upcoming launch of the OnePlus 6, there aren't a lot of other devices that offer compelling performance in this corner of the market. We do have the LG G6 (review) which is currently priced pretty much the same as the View 10 and provides a higher resolution display with a relatively simpler UI. I cannot outright claim one phone to be the clear winner here since all have their own shortcomings. But if you do go for the Honor View 10, rest assured that you will be procuring top of the line performance for a great bargain.
Design & Build Quality
8.0/10
What Is Good?
Amazing Performance.
Lightning fast fingerprint scanner.
Accurate and fast face detection.
EMUI 8.0 has nifty customisation options.
Great battery life.
128GB storage with expandability.
IR blaster.
What Is Bad?
Charger provided is incapable of proper fast charging.
Unexceptional audio from loudspeaker.
Excessive bloatware.
Hybrid SIM incapable of two SIM cards with microSD card simultaneously.