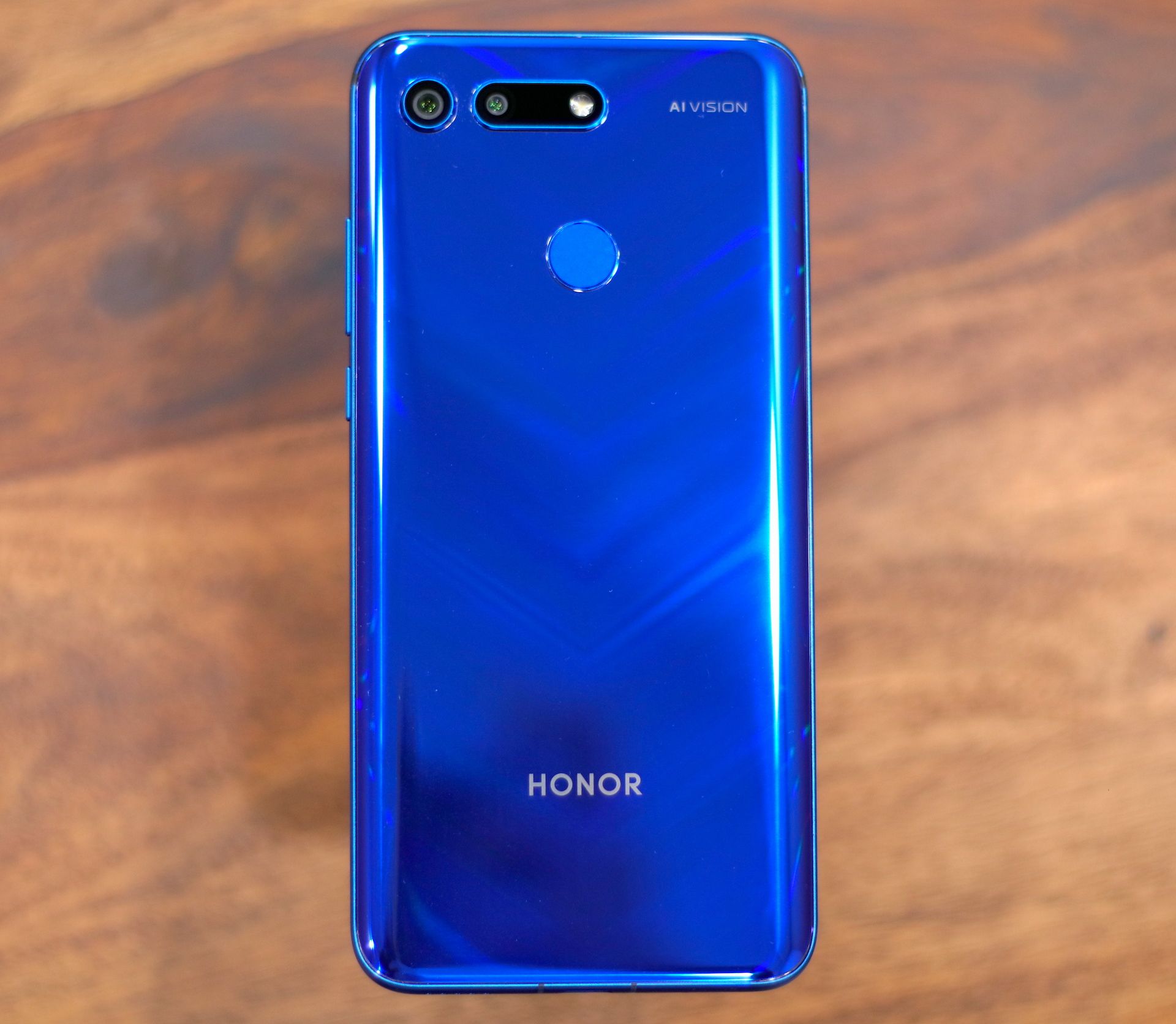 Huawei's sub-brand Honor has managed to make quite a name for itself over the past few years, thanks to its impressive budget offerings. With its View series, though, Honor aims to offer a cheaper 'budget' alternative to flagship smartphones with just a few compromises to deal with. For 2019, it is the Honor View 20 which fulfills this role. Throw in Huawei's powerful 7nm Kirin 980 chipset and new tech such as a 48MP camera, a ToF sensor, and a punch-hole screen, and what you get is a worthy 2019 smartphone, at least on paper. How does that translate into real life? Well, let us find that out in our review of the Honor View 20.
In the crowded Indian smartphone market, the Honor View 20 takes on the mighty OnePlus 6T (Review)—the current segment leader—and the ASUS Zenfone 5Z (Review). OnePlus has managed to create a name for itself in the Indian premium smartphone market that is giving nightmares to even Apples and Samsungs of this world, so the Honor View 20 smartphone has a very difficult job ahead. Its newer internals do give it an advantage over the OnePlus 6T but is that enough to make it the best smartphone available in India under the INR 40,000 price segment? Read below to find out.
[P_REVIEW post_id=147072 visual='full']
Honor View 20 Design
Honor knows how to make beautiful looking phones and the Honor View 20 is no exception here. With a stunning V-shaped 'Aurora Nano Texture' pattern at the rear, the View 20 looks the part. And that punch-hole display at the front gives the phone a futuristic look and feel. What's even better is that despite packing a massive 4,000mAh battery, Honor has managed to include all the necessary ports and buttons on the View 20. This means that the device has a 3.5mm headphone jack (wink, wink, OnePlus), a USB-C port, and even an IR port (that's located at the top of the phone). I guess other OEMs should take some tips from Huawei/Honor on how to include a massive battery on their phones without removing the headphone jack.
The Honor View 20 lacks any kind of official IP certification, though, which is a compromise it had to make to reach its lower price tag. Barring the IP certification, the Honor View 20 can easily give other more premium smartphones a run for their money in the build quality and looks departments.
Honor View 20 Screen
The Honor View 20 comes with a 6.4-inch FHD+ IPS LCD display. Thanks to the punch-hole design, the display is gorgeous to look at. But it is not as good as an OLED panel like the one found on the OnePlus 6T. The panel itself is fine, with decent contrast and above average color accuracy but it is not as vivid. Also, there's a slight blueish tinge when viewed from off angles. One advantage that the panel has over the OLED panel of the OnePlus 6T is in terms of brightness. Higher brightness and lower reflectance mean that reading content on the Honor View 20 under direct sunlight is a far easier job than on the OnePlus 6T.
Honor View 20 Camera Quality
The Honor View 20 comes with a dual-camera setup at the rear. It is an unconventional setup, though, with a primary 48MP camera (Sony IMX586 1/2-inch sensor) featuring an f/1.8 aperture. This is paired with a ToF (Time of Flight) sensor aimed at improving AR apps and offering AR-related features.
First, let's talk about the 48MP sensor. Don't get fooled by the megapixel count here. By default, the Honor View 20 takes photos at 12MP resolution and uses pixel binning to merge four surrounding pixels to emulate a 1.6μm pixel size. That sounds impressive on paper and the results are equally impressive.
Honor View 20 Camera Samples
The Honor View 20 is not going to beat the Pixel 3 XL (Review) or the Mate 20 Pro (Review) in the imaging department but you will be surprised with the photos it can capture, irrespective of the lighting conditions. Sure, Honor's post-processing means images are oversharpened in low-light scenarios but it is not as bad as previous Honor phones.
My biggest gripe with the Honor View 20's camera is the overall experience. Even in broad daylight when you capture a photo on the View 20, it will end up asking you to keep your hands stable for a few additional seconds after pressing the shutter button as it sharpens the image further by capturing additional frames. The Night mode also does little in terms of adding detail or improving sharpness and it only makes the overall image brighter. Honor definitely needs to tone down its camera app to help improve the overall camera experience.
The front 25MP selfie camera leaves a lot to be desired. Instead of a 25MP sensor, I would have preferred an 8MP or 12MP sensor with better dynamic range, sharpness, and details. As for the ToF sensor, it is of absolutely no use right now and adds little to the camera or overall experience of using the Honor View 20.
Honor View 20 Performance
With a 7nm Kirin 980 chipset, 6GB RAM, and speedy UFS 2.1 storage, it is no surprise that the Honor View 20 packs an absolute punch in the performance department. Irrespective of whatever you throw at it, this phone is going to do it without breaking into a sweat. Despite more than ten apps running in the background, the phone ran heavy games like PUBG and Asphalt 9 smoothly with no skipped frames or stutters.
I don't believe in benchmark numbers since they don't represent the full story. Even then, if you like benchmark scores, you will be happy to see that the Honor View 20 sits right there at the top above other heavyweights like the Galaxy Note 9 (Review), Pixel 3 XL, and more.
Honor View 20 Software & UI
What's even more impressive is that the Honor View 20 is able to offer excellent performance despite the relatively heavy Magic UI 2.0. A rebranded version of Emotion UI, Magic UI comes with plenty of customization features and bloatware. The features are a bit too much in my opinion and many of them do nothing but add clutter. The amount of bloatware on the Honor View 20 is also astounding. I don't think I have used any other phone in the last year or two that comes with this much bloatware. Honor should definitely look into this and reduce the clutter from its future devices.
Honor View 20 Software & UI Screenshots
Magic UI is definitely not for anyone who prefers stock or stock-ish Android or values user experience. Huawei has tried too hard to copy iOS and that leads to a subpar experience. The default launcher has the irritating HiSearch feature—triggered by a swipe down gesture—which tries to copy the Spotlight feature from iPhones. It is irritating at best and there's no option to disable it. Even something as simple as changing the default launcher is unnecessarily complex on the Honor View 20.
Another frustrating part of Magic UI is how it handles lock screen notifications. First, there's no way to expand notifications on the lock screen using the one-finger swipe down gesture. Instead, one is required to tap on a small arrow that is inconvenient to reach. Second, all notifications are removed from the lock screen once the phone is unlocked. If you are coming from a non-Honor/Huawei phone, this change is going to be jarring.
Honor's background optimization for apps is also extremely aggressive. This negatively affects the functionality of a lot of apps and they are unable to send push notifications. On the bright side, there are plenty of customization options in Magic UI. Once you get around to uninstalling all the bloatware and changing the stock launcher, Magic UI at least becomes usable.
Honor View 20 Battery Life
With a 4,000mAh battery and a 7nm chipset, it is not surprising that the Honor View 20 is a champion in the battery life department. If there's one thing that flagship phones need to learn from these budget flagships, it how to offer stellar battery life. With the Honor View 20, you will bid adieu to your battery life anxiety. Throw in a few hours of PUBG, a day of heavy use that includes a lot of browsing, and you will still end the day with 30 percent of juice left in the tank.
What's even more impressive about the Honor View 20 is how quickly it charges. While the phone comes with a 40W Huawei SuperCharger, it is limited to charging at 22.5W. Nonetheless, that's still fast enough to charge the Honor View 20 from nil to 50 percent in just 30 minutes. A full charge takes around an hour and 20 minutes. On most days, you will be able to easily get a day of battery life from the Honor View 20 after letting it charge for around 30-40 minutes.
The Honor View 20 does lack wireless charging but given its excellent battery life and how quickly it charges, I doubt anyone is going to miss it.
Should You Buy The Honor View 20?
The Honor View 20 gets a lot of things right, but it does falter in some areas. I feel the View 20 would have been a complete package if it shipped with a quality OLED panel. Alas, that's not the case. Nonetheless, the View 20 is easily the best smartphone you can buy under the INR 40,000 segment in India right now, at least until we see other OEMs release their 2019 budget flagships, especially the OnePlus 7 which is right around the corner. You will have to make a few compromises on the software experience front with the View 20 so if you value that, maybe hold out for the OnePlus 7 or look elsewhere.
Design and Build Quality
9.0/10
What Is Good?
Extremely attractive design
Bright display
Ultra-fast performance
Good 48MP camera
Long battery life, 22.5W fast charge
There's a 3.5mm headphone jack!
What Is Bad?
UI needs a serious overhaul
Too much bloatware
No 4K 60fps video recording