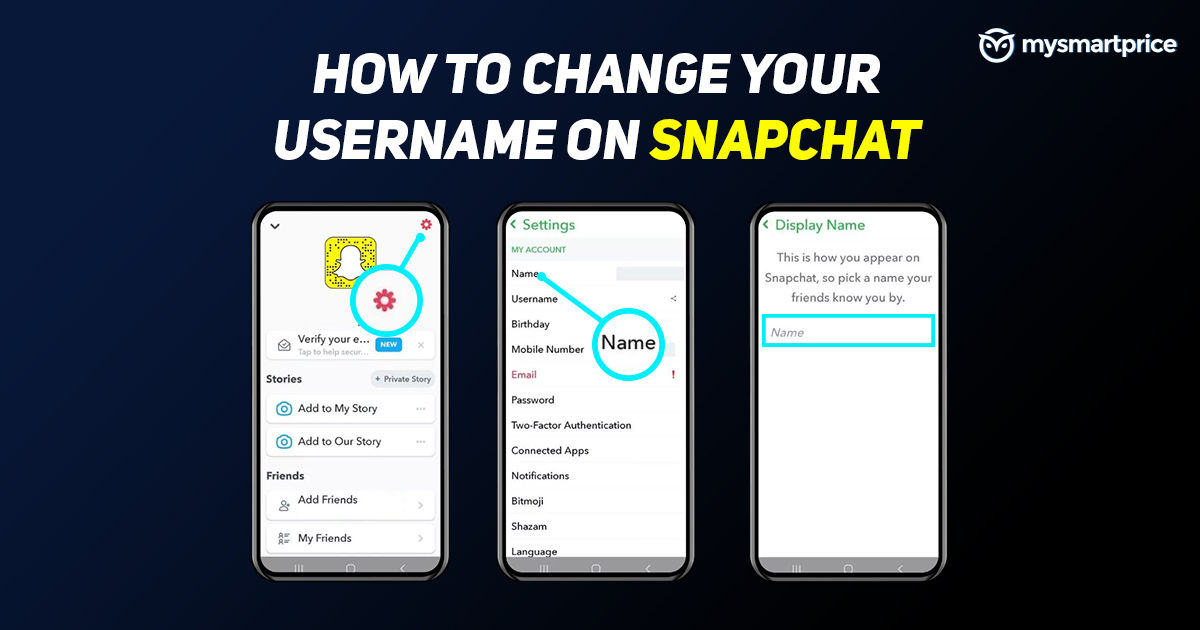 Snapchat is one of the most popular social media apps in the market today taking on the likes of Instagram, Facebook, Josh, and even Tik-Tok (outside of India). The app has been downloaded over 1 billion times and has a Google Play Store rating of 4.2. While some people find it hard to understand how to use the app, there are millions of users globally who use the Snapchat app on a daily basis. If you are one of the newbies on the platform, our guide will help you.
In this article, we will take a look at how you can change your existing Snapchat display name and how to create a new Snapchat account and get started. But before that, it's worth noting that display name and usernames are entirely different on Snapchat. The display name is how you appear on Snapchat, and you can customise this whenever you like. Similar to Instagram, the platform allows you to change your display name easily, but if you want to change your user name, you will need to create a new account to get a new username. Here's how you can do both.
Also Read: Snapchat Account Locked? Here's How to Unlock Snapchat Using Different Methods
How to Change your Snapchat Display Name?
Follow these steps to change your Snapchat Display Name.
Open Snapchat and click on your profile picture on the left top.

Tap on the Settings icon on the top right to open the Settings page.

Under the "My Account" section, tap on "Name".

Remove the existing username, enter the new display name and click on save.
After changing the display name, other users will continue to see the display name you chose when they first added you, but new friends will be able to see your updated display name.
Also Read: Instagram: How to Block or Unblock Someone on Instagram
How to Change Username on Snapchat?
Snapchat has finally given an option for users to create a new username for their profile. However, it is important to note that one can only change the username once per year. Alternatively, you can change your display name as many times as you like. That being said, here's how you can change your Snapchat username:
Open the Snapchat application on your Android or iOS device.
Tap on your Bitmoji in the top-left corner of the screen.
Go to Settings Icon and click on My Account.
There you will find the Username tab. Click on it and enter the desired username in the text box.
If the username is available, you will see the Next option. Click on it and your Snapchat username will be changed.
How to Create a New Snapchat Username and Account
Snapchat username is set when you first create your Snapchat account, and the app does not allow you to change this due to security reasons. So, in order to get a new username, you will have to create a new account on Snapchat.
The application is available for download on both Google Play Store (Android) and App Store (iOS) for free. The app contains ads and also offers in-app purchases. If you are planning to join the Snapchat platform, here is how you can create a new Snapchat username and account.
Open the app and click on the "Sign up" button.

Click on "Continue" and grant the necessary permissions like contacts, phone, location, camera.

Enter your first name and last name and click on "Sign up & Accept".

Enter your birthday and click on "Continue"

The next screen will suggest a username based on your name, but you can go ahead and edit the username here and select "Continue". (You won't be able to change the username later, so pick it

wisely.

Set a password for your username (should be at least 8 characters) and select "Continue"

On the next screen, you can either enter your mail ID or phone number to complete the setup.

If you have picked the phone number in the previous setup, verify it by entering the OTP.
Once the aforementioned steps are done, you will be taken to the application. You can find your friends and add them, or you can skip this step and add friends later on. Once you have opened your Snapchat account, you can start posting stories, snaps, play games, and start streaks with your friends.
Also Read: Snapchat Streak Restore: How To Get Snapchat Streaks Back After they Disappear
Frequently Asked Questions (FAQs)
What happens if I change my username on Snapchat?