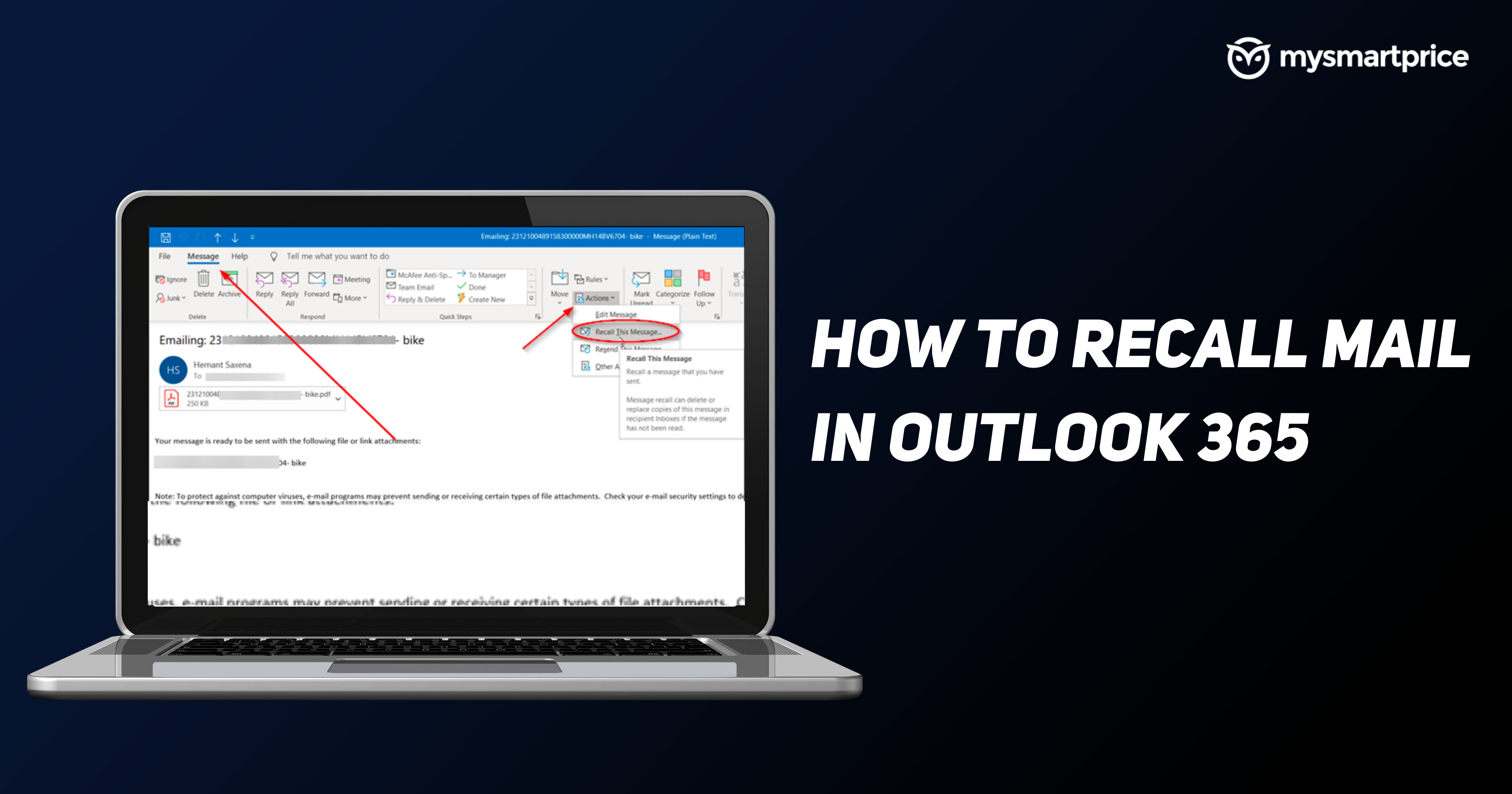 You have just sent an email just to realise that your mail contains a typo, or is missing the attachment that had to be sent. You can recall the message if you have sent it using the Outlook 365 application. The Message Recall feature in Outlook app allows you to recall your sent message and replace it with a new message.
Outlook will delete the message if the recipient hasn't read it. In this guide, we have listed how you can recall your mail from Outlook 365 app and the conditions to recall or replace a message. Without any further ado, let's get started.
Also Read: Windows 11 Compatibility Check: How to Know If Your Windows 10 Laptop or Desktop is Eligible for Upgrade
How to Recall Mail from Outlook 365 App?
To recall a mail from Outlook 365 desktop app, follow these steps. Make sure that the Outlook app you are using is of newer version, this method won't work in Office 2007 or older versions.
Open the Sent Items folder in the folder pane on the left of Outlook window.

Select and open the email message that you want to recall.

Now, in the Message tab, click on the Actions drop down menu and select the Recall this message option.
A Recall this message pop-up box will appear that will show you two options – Delete unread copies of this message and Delete unread copies and replace with a new message. Choose the option best for you and click Ok. (Note: If you choose the latter option, you will need to write a new message.)
That's it, your sent email message will be recalled. Please note that the Message Recall option would be available only after you hit the Send button.
Can You Recall Mail from Outlook Web Application?
Yes, you can recall an email message from Outlook web application if you have sent it with a mistake or forgot to attach a file. Please note that there are a few conditions after which users can recall their sent mails. The Message Recall feature is only available in Outlook for Windows application, so make sure you use the application to send the mail and then recall it.
Additionally, you can also replace an unread message with some other message in the Outlook application.
Also Read: How to Check Laptop or PC Model and System Configuration Details?
What are the Conditions to Recall the Mail in Outlook?
Not every email can be recalled in Outlook. There are a few conditions that a message should fulfill to be recalled. Microsoft in a blog post has detailed those criteria, here're a few of them.
The Outlook recall feature will only work if you are using Microsoft Exchange as your email server.

Both sender and receiver should be on the same Outlook exchange system and in the same Exchange organisation.

The receiver must be using Outlook 365 to read the mails. If they are using different mail clients such as Gmail or Thunderbird, recall will not work.

The receiver should have an active Outlook exchange connection and must be logged in.

The email should be unread, if the message has been read by the receiver, then the recall feature will not work.

The email should arrive in the Inbox folder of the recipient and not any other.
Frequently Asked Questions (FAQs)
Can I recall an email after an hour?
Yes, you can recall an email after an hour or so. It all depends on the recipient. You can recall if he/she has not opened the message. However, if they have, then there is no way to recall the email.
Will the recipient know if I recall an email?
No, as long as the recipient does not open the message, he/she will never know whether the email was recalled or not.