Highlights
Aadhaar document updation is now free for all Aadhaar holders.
It has been made free for three months: from March 15 to June 14.
The free service is available only on the myAadhaar portal online. It still costs Rs 50 on physical Aadhaar centres.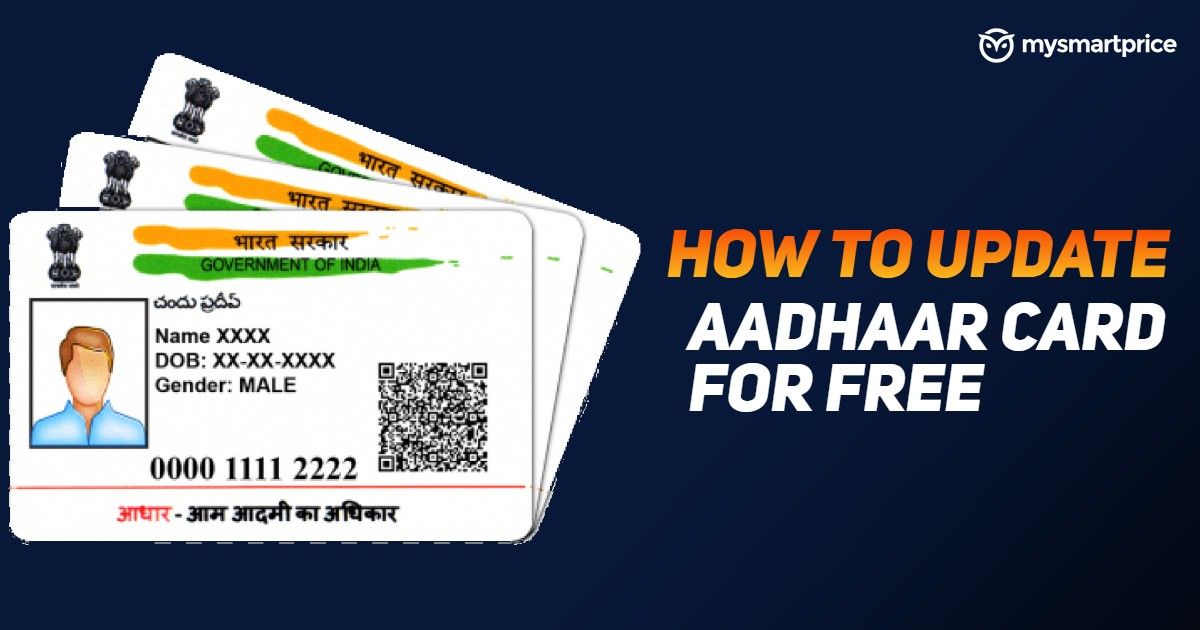 UIDAI (Unique Identification Authority Of India) has announced that everyone can now update the documents in their Aadhaar for free online.
UIDAI announced that this is part of the Digital India initiative, and the benefit of a free document update facility is available only on the myAadhaar portal. The free document update service will be available from March 15 to June 14.
UIDAI has also mentioned that it is only free on the myAadhaar portal, and updating it from physical Aadhaar centres will cost Rs 50 as before.
How To Update Documents For Free On myAadhaar Portal?
Here's how you can update your details and documents on your Aadhaar using the myAadhaar portal:
Visit the myAadhaar portal.
Log in to your Aadhaar by entering your Aadhaar number.

Select the

Document Update option.

Click

Next on the next page showing the Objective of Document Update Service.

Click

Next again on the How it works? tutorial page.
Your existing details will be shown.

Next, you have to verify your Demographic details. If there's no change to be made, you can click on the check mark saying

I verify that above details are correct.

If not, click on the prompt saying

If there is mismatch in any of your details, please update your Demographic details(Name, Address, DoB or Gender) here.

Select the detail you want to change from the next page.

Here, you will have to upload the documents supporting the change you need to make for proof of identity or address.

After uploading the document, click on the Submit button.

Your Aadhaar will be updated shortly.
"The UIDAI has been encouraging residents to upload Proof of Identity and Proof of Address (PoI/PoA) documents to revalidate their demographic details, especially if Aadhaar was issued 10 years back and never got updated. This will help in improved ease of living, better service delivery and enhances authentication success rate." UIDAI said in a statement. This means that even if you don't have any changes to make in the Aadhaar, UIDAI prefers you to upload the latest documents to ensure there is no mistake in the Aadhaar.
UIDAI also adds, "As per Aadhaar Enrolment and Update Regulations, 2016; Aadhaar number holders may, on completion of every 10 years from the date of enrolment for Aadhaar, update their supporting documents in Aadhaar, at least once, by submitting POI and POA documents, so as to ensure continued accuracy of their information."
The rule doesn't mention you "must" update it every ten years. Rather Aadhaar number holders "may" update it on completion of 10 years. This means uploading the latest documents to the Aadhaar portal for all users isn't necessary and can be done by Aadhaar number holders at their discretion.
Frequently Asked Questions
Which documents are required for an Aadhaar card update?
Different documents are required for updating different demographics. You can find the full list here.
Can Aadhaar be updated online?
Yes, you can update your Aadhaar online using the myAadhaar portal.
How can I update my Aadhaar card copy?
You can update your Aadhaar by visiting the myAadhaar website and logging in to your Aadhaar card using the Document Update option. You can also update your Aadhaar by visiting physical Aadhaar centres.
Which document can be used as address proof?
You can use your Passport, Ration card, Voter Identity card, and SC/ST/OBC certificate for submitting proof of address. You can find the full list of acceptable documents here.
Which documents can be used as proof of identity?
You can use your Passport, Ration card, Voter Identity card, Driving License, PAN card, Service Photo Identity card issued by the central or state government, and Mark sheet issued by a recognized Board of Education/University. You can find the full list of acceptable documents here.
Can we change the name in Aadhaar without proof?
No, you cannot change the name in your Aadhaar without proof.