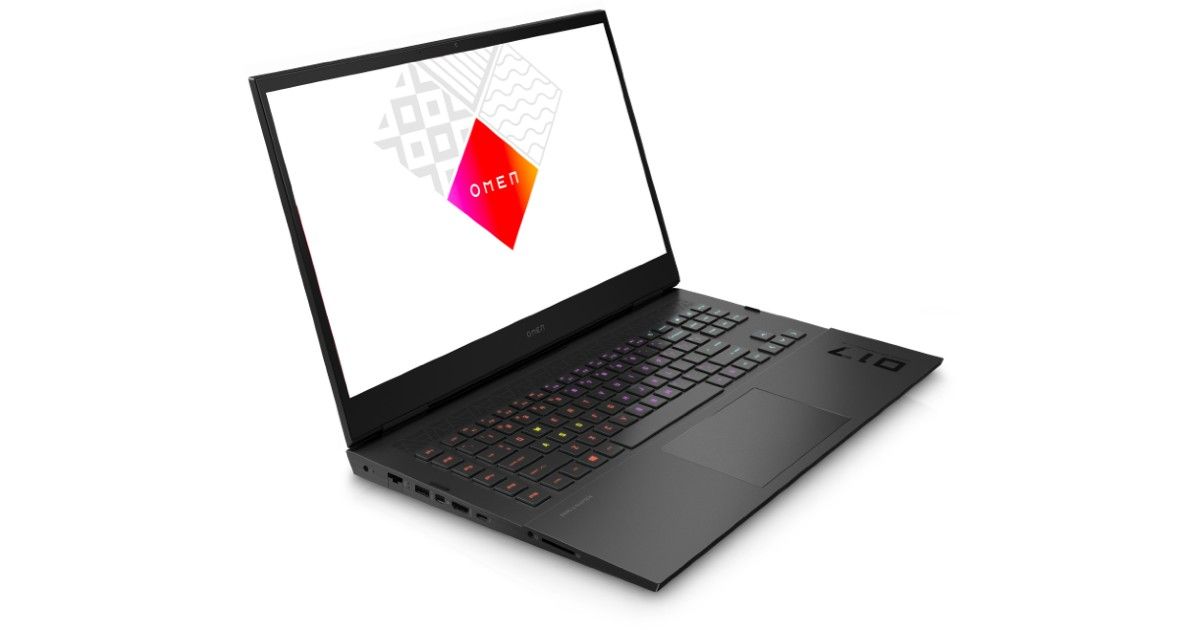 HP India has announced the launch of its 2022 lineup of gaming laptops, under both its OMEN and Victus lineups. The new laptops come with up to 12th gen Intel and AMD Ryzen 6000 series processors, along with Nvidia RTX 3080Ti and AMD RX 6650M GPUs onboard. The new lineups offer updated internals, along with incremental upgrades such as better heat management systems – while keeping the overall design language of the laptops largely consistent.
HP OMEN Laptop Lineup: What it Offers
The HP OMEN 16 and OMEN 17 range uses 12th gen Intel and AMD Ryzen 6000 series processors, but HP does not specify which processor SKUs are being used in the new laptops. However, the company has confirmed that both the OMEN 16 and 17 will feature up to Nvidia RTX 3070 Ti and 3080 Ti, or AMD's Ryzen RX 6650M GPUs. RAM and storage variants go up to 32GB DDR5 memory, and 2TB PCIe Gen4 SSDs.
The OMEN 16 features a 16:9 aspect ratio in its 16.1-inch display, with quad HD screen resolution and 165Hz refresh rate. The OMEN 17 features the same screen resolution and refresh rate, but at a 17.3-inch screen size. Both the laptops come with additional heat pipe and outflow vent, which contribute to lower running temperatures for the GPU and SSD inside these laptops. This would allow the laptops to run at peak performance for longer, thanks to better heat management.
HP Victus 15 and 16: What They Offer
The Victus 15 is powered by 12th gen Intel Core i5 and i7 processors, along with up to Nvidia RTX 3050 Ti GPUs. HP does not specify the memory and storage sizes, but the laptop will feature a 15.6-inch full HD display, combined with a noise reduction algorithm for better clarity in dark areas on the display during gameplay.
The Victus 16, meanwhile, is powered by AMD Ryzen 7 6800H CPU and Nvidia RTX 3050 Ti GPU, along with up to 32GB DDR5 RAM and 512GB SSD for storage. The laptop also offers a 16.1-inch display with full HD resolution and 144Hz refresh rate. It also gets a new heat management design for better cooling performance.
OMEN Desktop Lineup
The new HP OMEN desktop lineup features the OMEN 45L, 40L and 25L versions, and are powered by 12th gen Intel Core i7-12700F processors, and the Nvidia RTX 3080 GPU in the top variant with 10GB GDDR6 GPU. It also gets up to 32GB DDR4 memory, and 1TB SSD for storage. The desktops get a 'Cryo' cooling chamber for ambient air-based cooling technology, and the gaming desktop features a glass CPU case design, tool-less access and complete RGB control on the desktop. The desktops also offer up to 800W power supplies.
HP Victus 15L Desktop
Finally, the Victus 15L is powered by either the 12th gen Intel Core i7-12700F or the AMD Ryzen 7 5700G octa-core CPU, and the Nvidia RTX 3060 Ti GPU. HP claims that the desktop lineup can offer "extensive" customisation opportunities, and the ability to upgrade the internals going forward. The desktop CPU case also gets a customisable RGB logo.
Prices
The HP OMEN 16 laptops start at Rs 1,09,999, and is available right away. The OMEN 17, meanwhile, would be available from August at Rs 1,99,999 onward. The Victus 15, the most affordable of the bunch, will be available from next month from Rs 67,999. The Victus 16, meanwhile, can be purchased from today starting at Rs 84,999.
Finally, the HP OMEN desktops are available now from Rs 1,49,999, while the Victus 15L is also available now at Rs 93,999 onward.