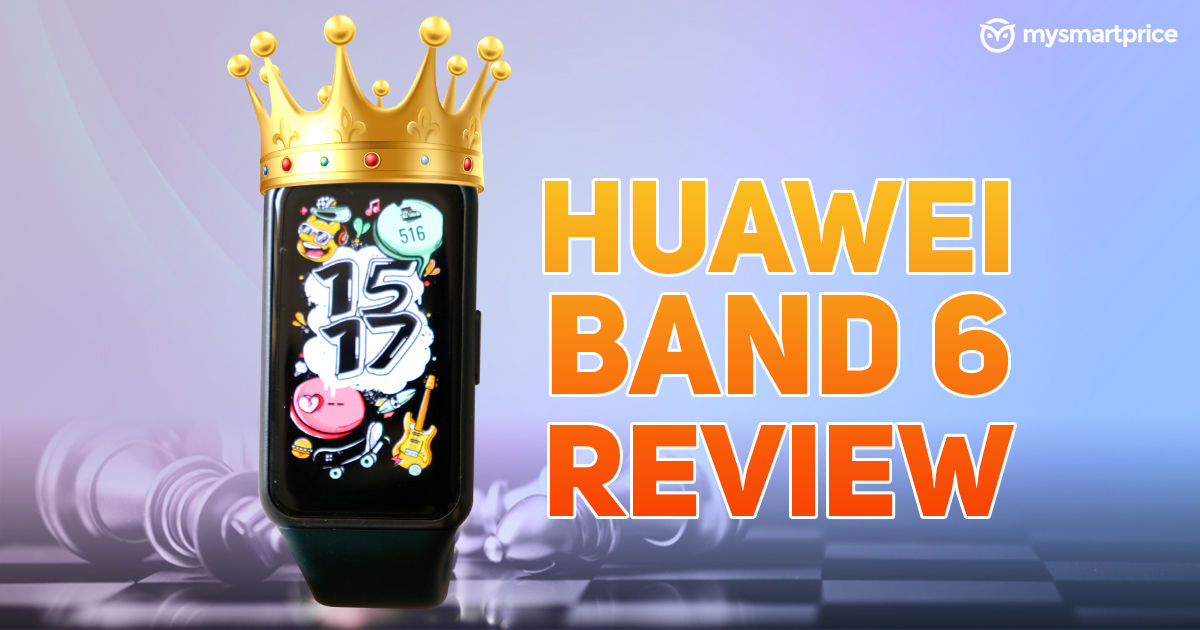 I used my first smartband back in 2015, when the Mi Band arrived in India. I loved the concept, a tiny little band you could strap on and forget about, and in return it helps you with notifications, tracking your daily activity, and the occasional use of helping you find your phone. Since then, a lot of companies have entered the smartband segment, we did add some additional health measurement options, and the screens are now colored. But the basic form/functionality has mostly stayed the same. Until now. Enter the Huawei Band 6, which is so good, it not just makes you question every other smartband, but also a lot of these budget smartwatches that you get in the sub-5K segment right now. I managed to get my hands on a Huawei Band 6 and it's been strapped to my wrist since 4/20. And here's everything you need to know about it
Huawei Band 6
To Be Announced
Software Experience
8.5/10
What Is Good?
Best Display on a Fitness Band
All-Day SpO2
Superb Battery Life
Reliable Health Monitoring
Class-leading Sleep Tracking
Refined App Experience
What Is Bad?
No Always-ON Display
SpO2 Monitoring is Iffy
More Expensive than other Fitness Bands
No In-built GPS
Huawei Band 6 Review: Display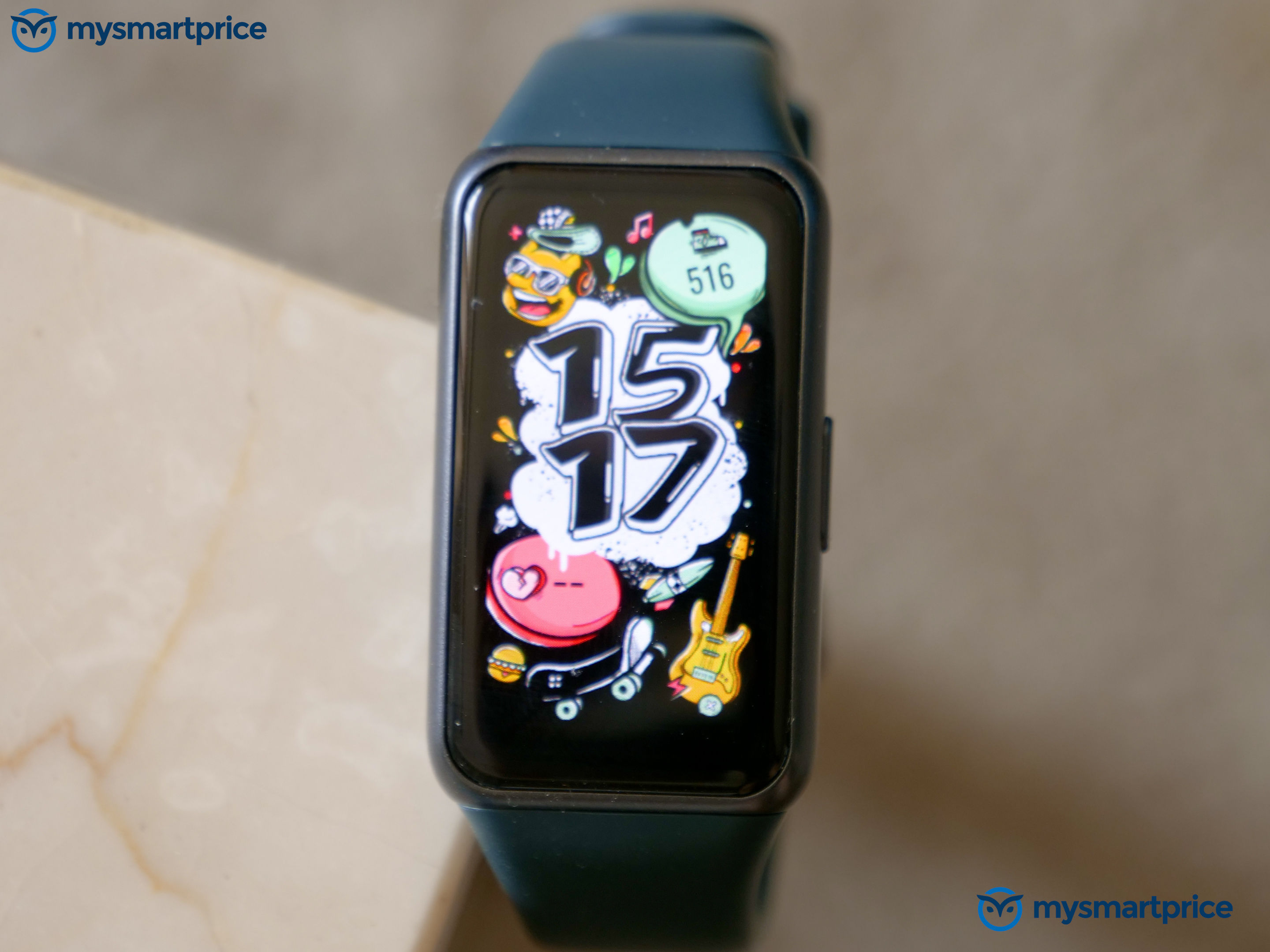 Let's start with what puts this band a cut above the competition, it's this extra-wide display. It almost looks like a narrow smartwatch, more than a smartband at this point and it solves my biggest gripe with the smart bands, their tiny 1-inch displays that get the job done sure, but are never something you can flaunt or consider aesthetic by any measure. The Huawei Band 6 changes that convention by putting in a 1.4 inch AMOLED display. It doesn't sound much bigger but just the fact that it is a wider display makes all the difference.
Firstly, Huawei has done well by packing in a screen with 282ppi(194×368) pixels meaning everything looks super crisp, there's no real pixelation you can see even with the smallest text sizes. Secondly, this display gets pretty bright and I had absolutely no issues in using it outdoors. Plus the fact that it's an AMOLED makes it objectively better than all the dull TFT LCDs that budget smartwatches have to contend with. Thirdly, this wider display also means there's ample room for everything. So whether it's about displaying a beautiful watch face, or just you trying to read your steps count while working out. You don't have to make do with a subpar screen experience for anything.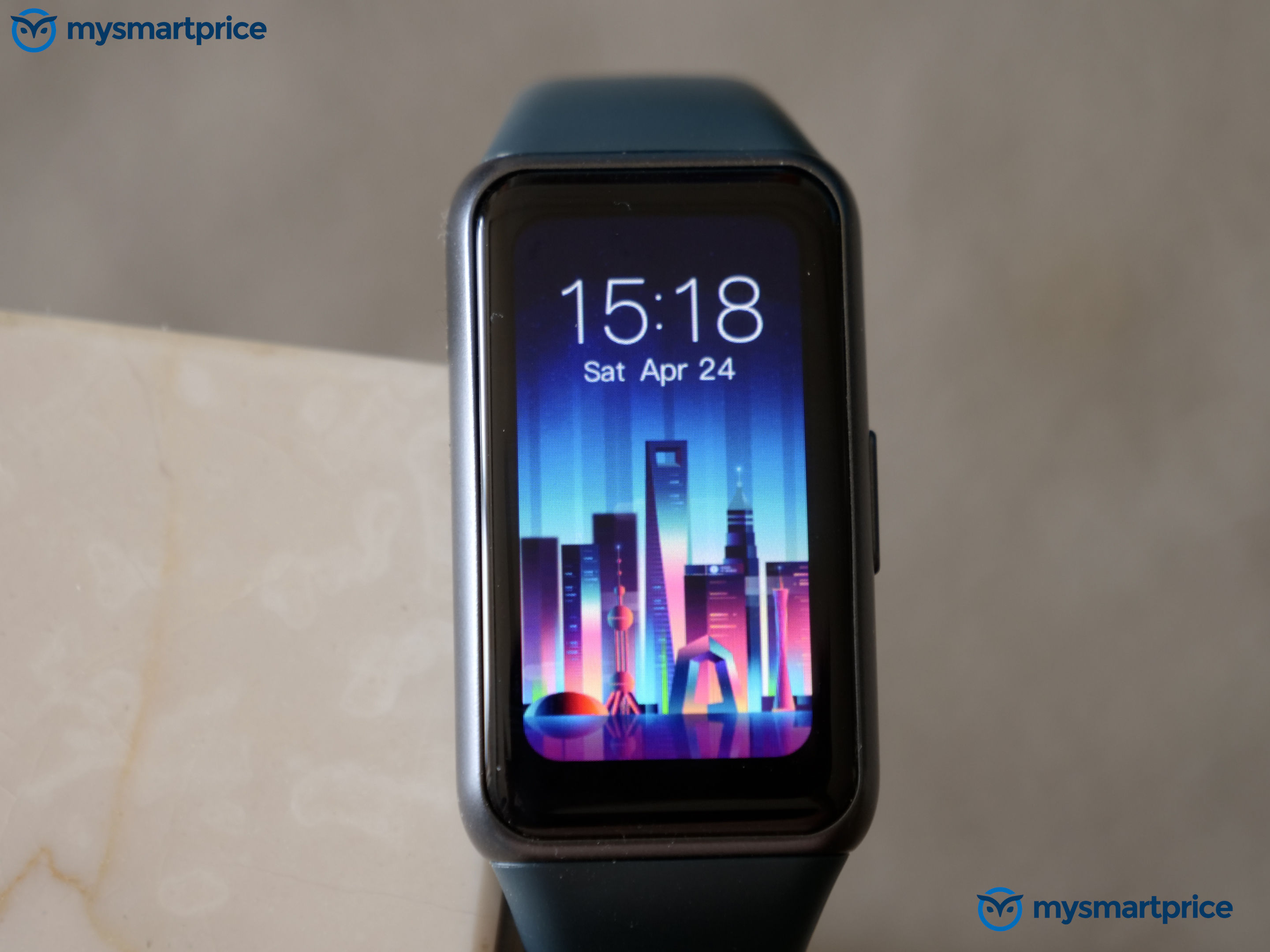 The only thing I think could have made this better would have been the availability of some kind of an Always-ON Display. But the raise to wake feature worked flawlessly for me, so I'm not complaining. In fact, I think I'm gonna call it the best screen experience you can get on a wearable under 5K in India. Not to mention the fact that it also helps this band excel in one more thing, which is a good segue to the next section.
Huawei Band 6 Review: Battery & Charging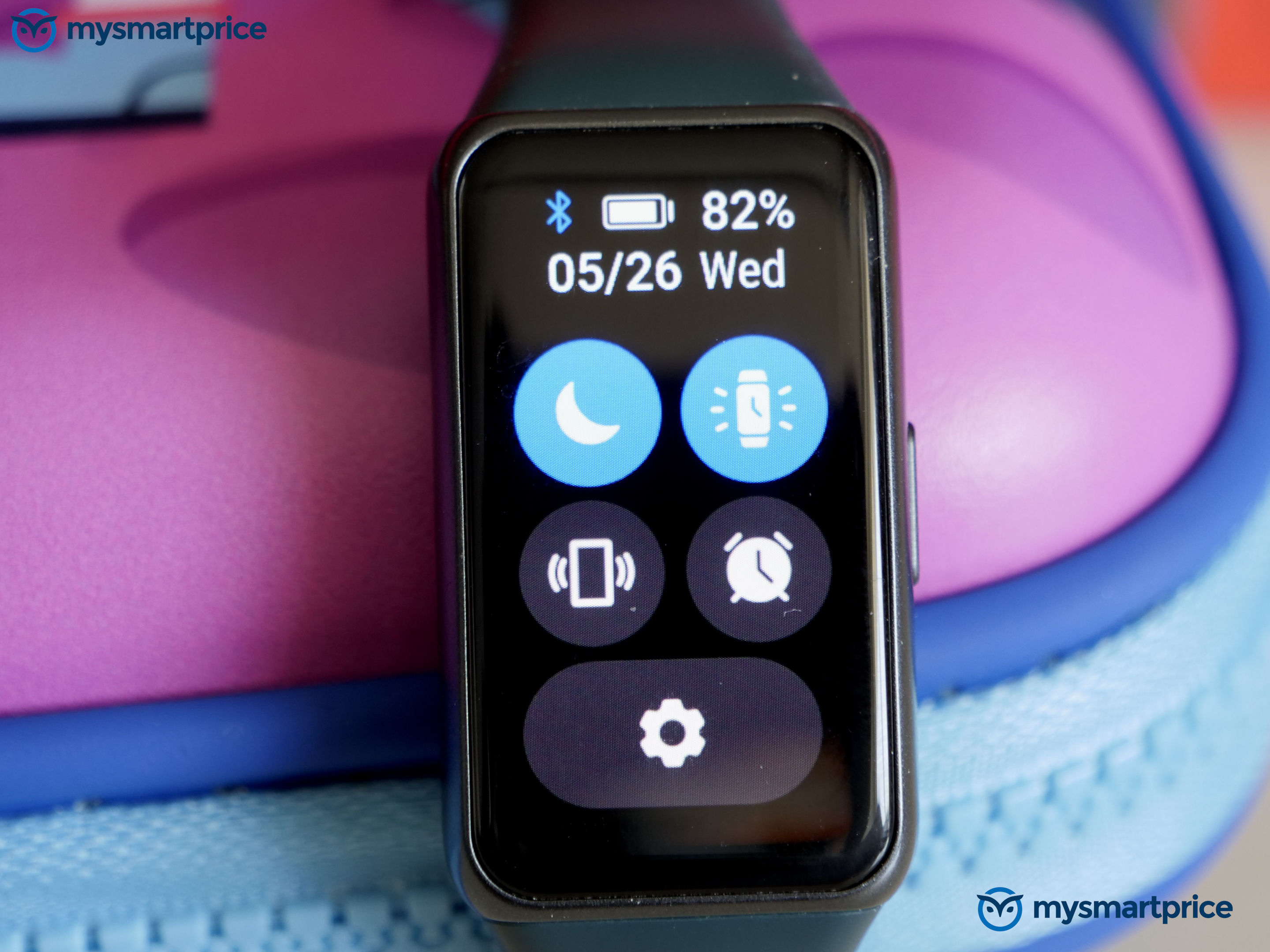 One thing which made me love the original Mi Band was how it lasted for almost 3 weeks between charges. That is something smartwatches still haven't been able to tackle, even some of the recent smartbands (Oneplus Band Review) that I've tried, none of them lasted for more than a week at a stretch. This one absolutely destroyed everything else in terms of battery life. I've been using this band for over a month now and I've charged it only twice, including the first time I set it up. And I was using this band with continuous Heart Rate monitoring, always-ON SpO2 monitoring, stress monitoring, sleep tracking AND notification alerts. That's insane battery life, you can easily expect it to last for at least 2 weeks with heavy usage, maybe even more if you turn off some of the features.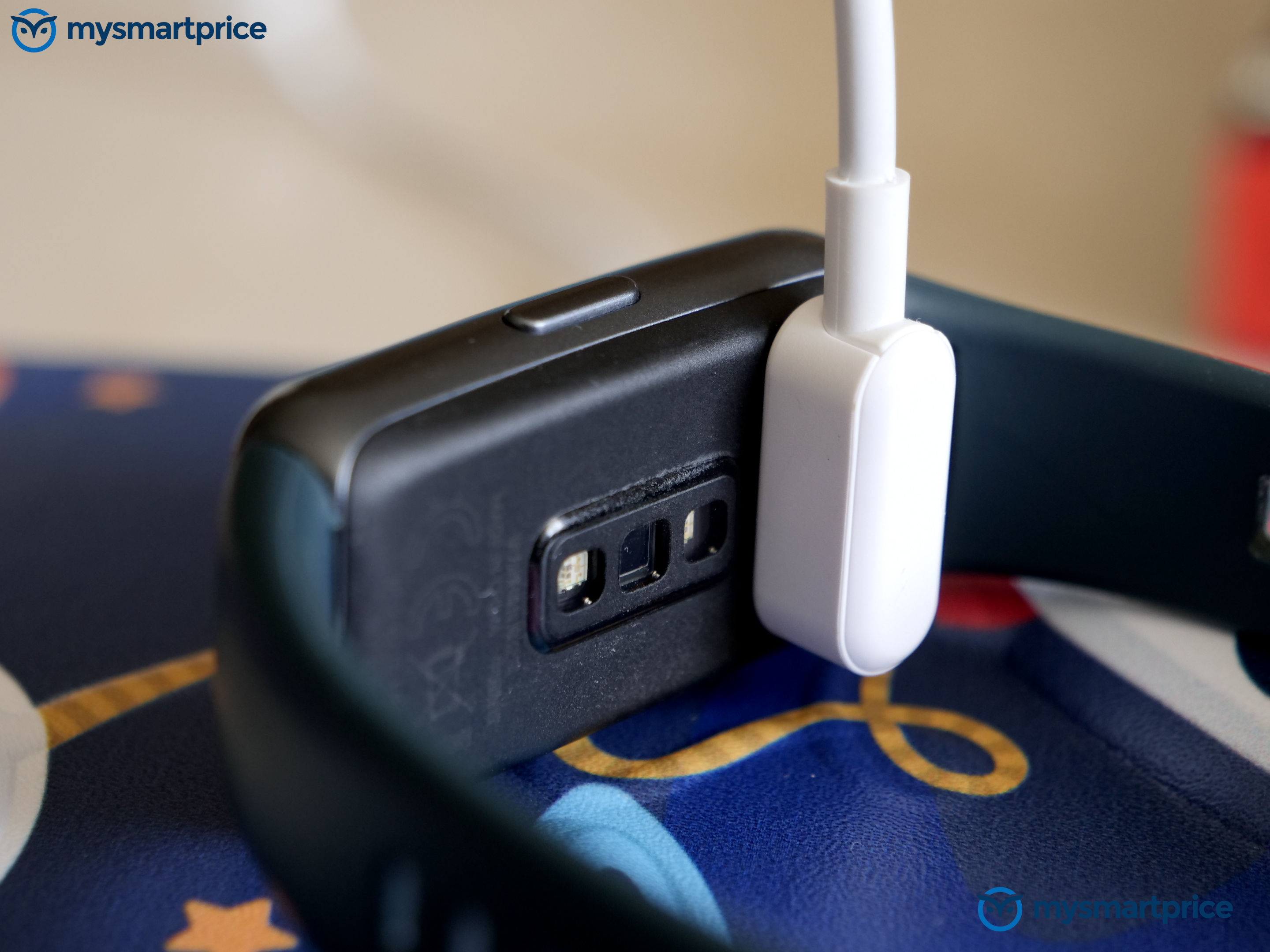 As for charging, this band does come with a fast charging of sorts, with a 5-minute charge giving you 2 days of usage. A full charge takes about an hour, and the charger connects magnetically to the band, so you don't have to worry about pulling anything out of anything. And that's just good design..*Kinda nailing the segues today*
Huawei Band 6 Review: Design
The Huawei Band 6 except for the wider display, has a very traditional smartband design. It's a plastic module, connected to 2 silicone straps, which are easily detachable by the way. So swapping the Dark Green ones I have, with any color might be easy, i.e. if Huawei makes these straps available to buy separately. The overall product weighs just under 20grams and you'll barely feel its weight on your wrist. The band has an IP68 rating so it's good to be your companion in a shower and an ocean alike.
Overall, I don't have any cons to point out here and this is definitely one of the best looking smartbands out there, all thanks to that gorgeous screen up front. You know what would have really helped the band truly become a fashion accessory though? Yeah, Always On Displays that could make it look like an actual watch on your wrist. Sigh
Huawei Band 6 Review: Features & Usage Experience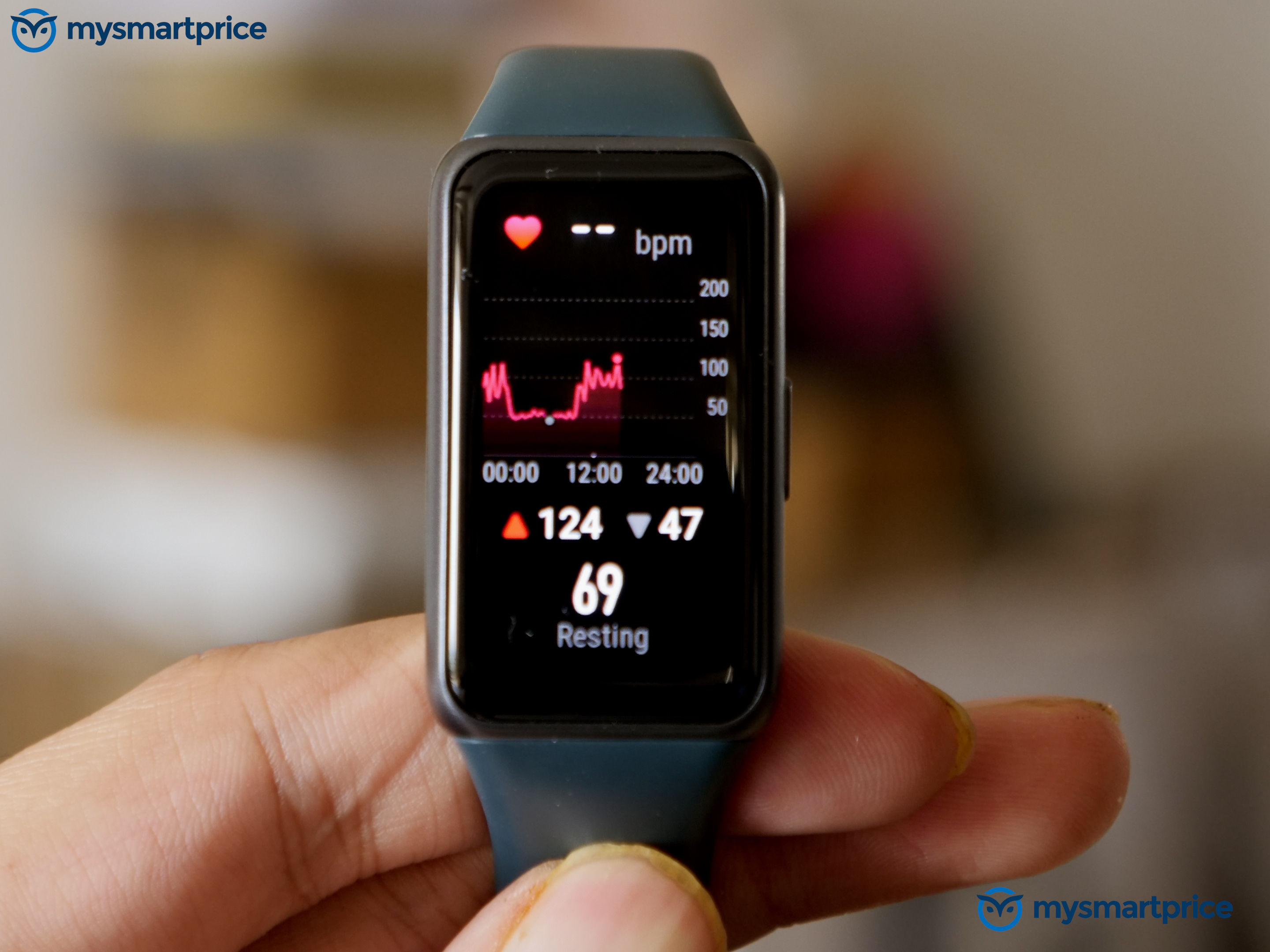 Now, talking about the most important part of a smartband, and also probably the most standardized one: the features & tracking. Well you get all the usual metrics here, steps, calories burnt, heart rate, blood oxygen (SPO2) and sleep tracking. There's no in-built GPS here, so you'll have to carry your smartphone along if you too want to share map screenshots of your outdoor workouts on IG stories. What you do get here is a new 'Stress monitoring' data, which basically measures fluctuations in your heart rate to assess your levels of stress. I won't say it's perfectly accurate, but yeah I did find some of the readings to be in line with what my situation in the day was like.
All the data tracking here was spot on mostly, including the continuous heart rate monitoring. The Blood oxygen monitoring is a hit and miss though, the band needs to be really snug on your wrist for the SpO2 sensor to work. By the way, Huawei's sleep monitoring is probably the very best available on the Android side of things at least. A great side-effect of the bigger screen is that you can view a lot of data on the band itself, and you can find deeper analyses and charts on the Huawei health app, which again is a gold standard for how health apps should function.
Coming to Workout modes, there are 96 of them covering almost every activity I could possibly think of ever doing, although only about 10 of them track any actual activity-specific insights, the remaining ones just track your basic steps, distance etc. Oh, and there's also auto-workout detection present, which is awesome.
More on the Band UI & App experience in my detailed video review here:
The band UI itself is pretty easy to use, and works quite well with whatever internals Huawei has packed here. The touchscreen experience is satisfactory and there are no real stuttering issues on my unit. There's a single physical button on the side which acts as the Home/Back button. Except for all your activity tracking you do get support for music playback control, and some clock functionalities like Timer, Stopwatch etc.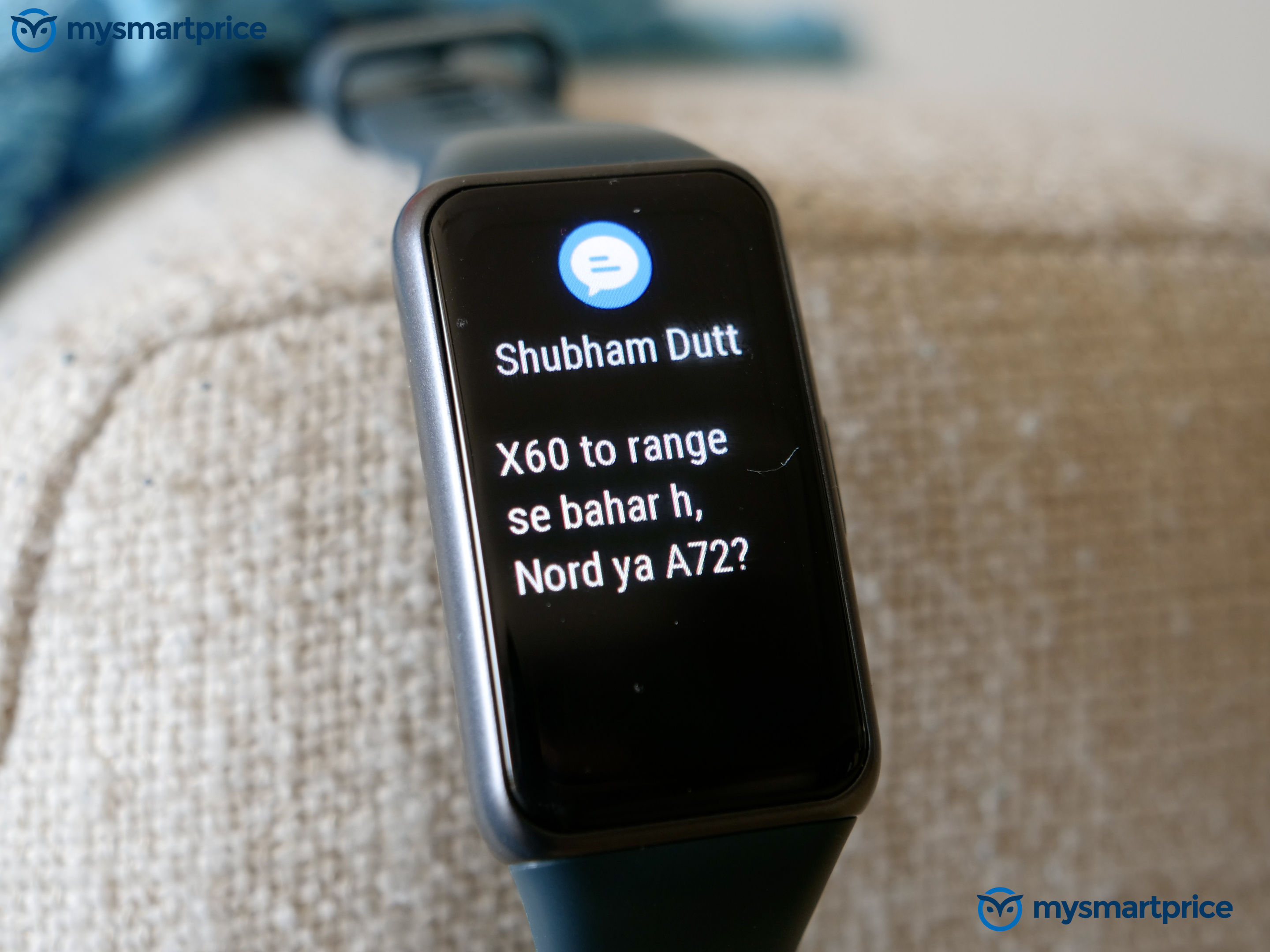 Smart functionalities are limited to calls and messages notifications, although you can't answer them in any way. And Notifications access is quite barebone too, with no separate icons for different apps. But that's just on par with what you get on other bands in this segment, so can't really complain.
Huawei Band 6 Review: Pros, Cons & Alternatives
The Huawei Band 6 is yet to go on sale in India and I'm not sure about the final price it'll launch at. But guessing from the international pricing, it should definitely be priced under 5K in India. That would mean it's considerably more expensive than the most popular smartbands in India, and somewhat in the same price range as most budget smartwatches.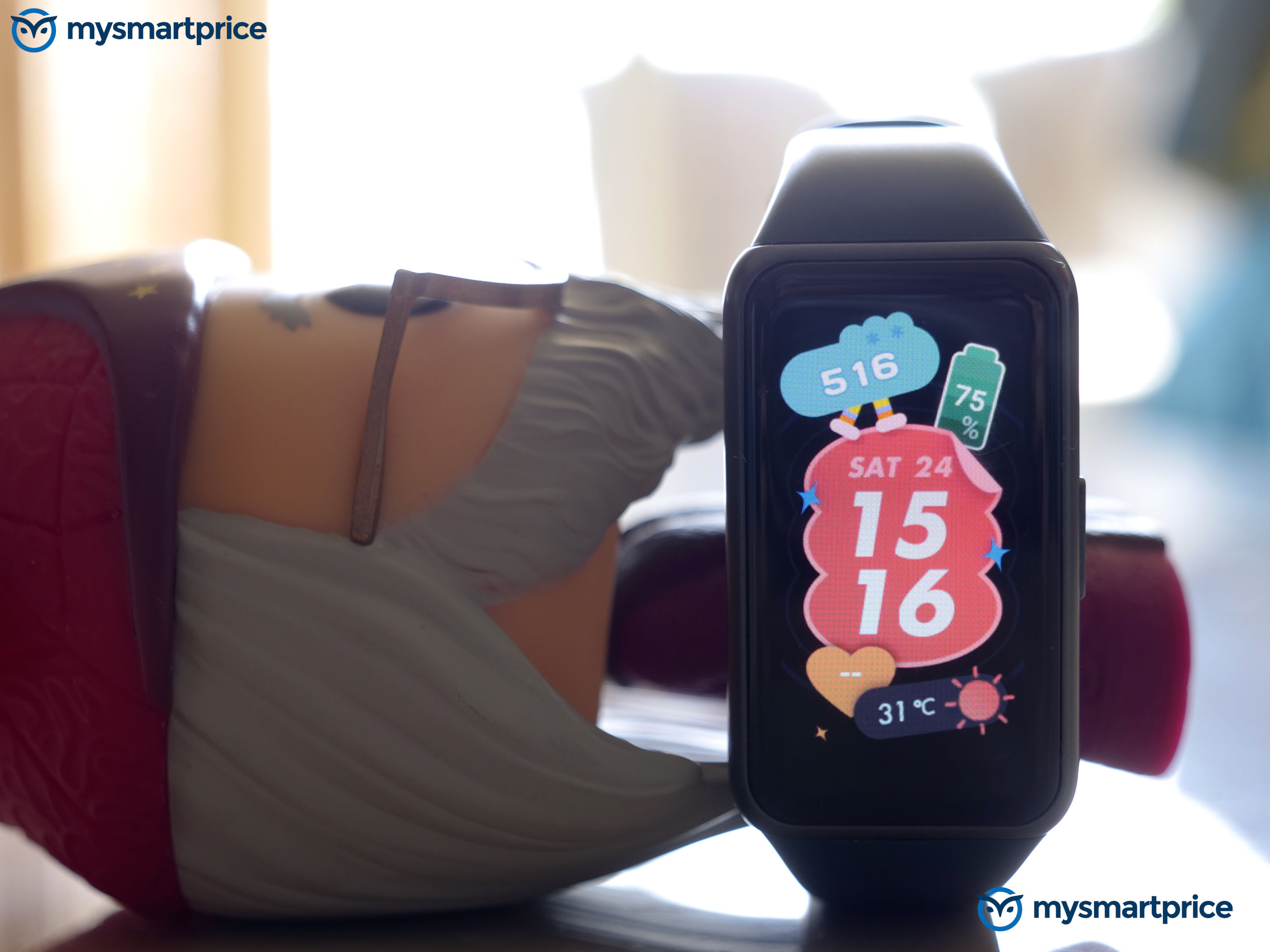 For what it's worth, it felt like a fresh breath of air amongst the smartband segment, and should even give some budget smartwatches a scare. It packs in all the requisite features, along with a beautiful display, which make it look better, perform better and even last longer on a single charge than anything else in the market right now. The closest competition I can think of is the Mi Band 6, which while having an upgraded display of its own, still doesn't match the screen real estate of the Huawei Band 6. Although it might be quite cheaper in comparison. Other fitness bands like Oneplus Band and OPPO Band don't even come close to this in terms of sheer battery life and functionality. In fact, the 2 week battery life makes it an easy recommendation even over the budget smartwatches by Amazfit, Realme etc. For anyone looking for a hassle-free smart wearable experience, this is an easy choice.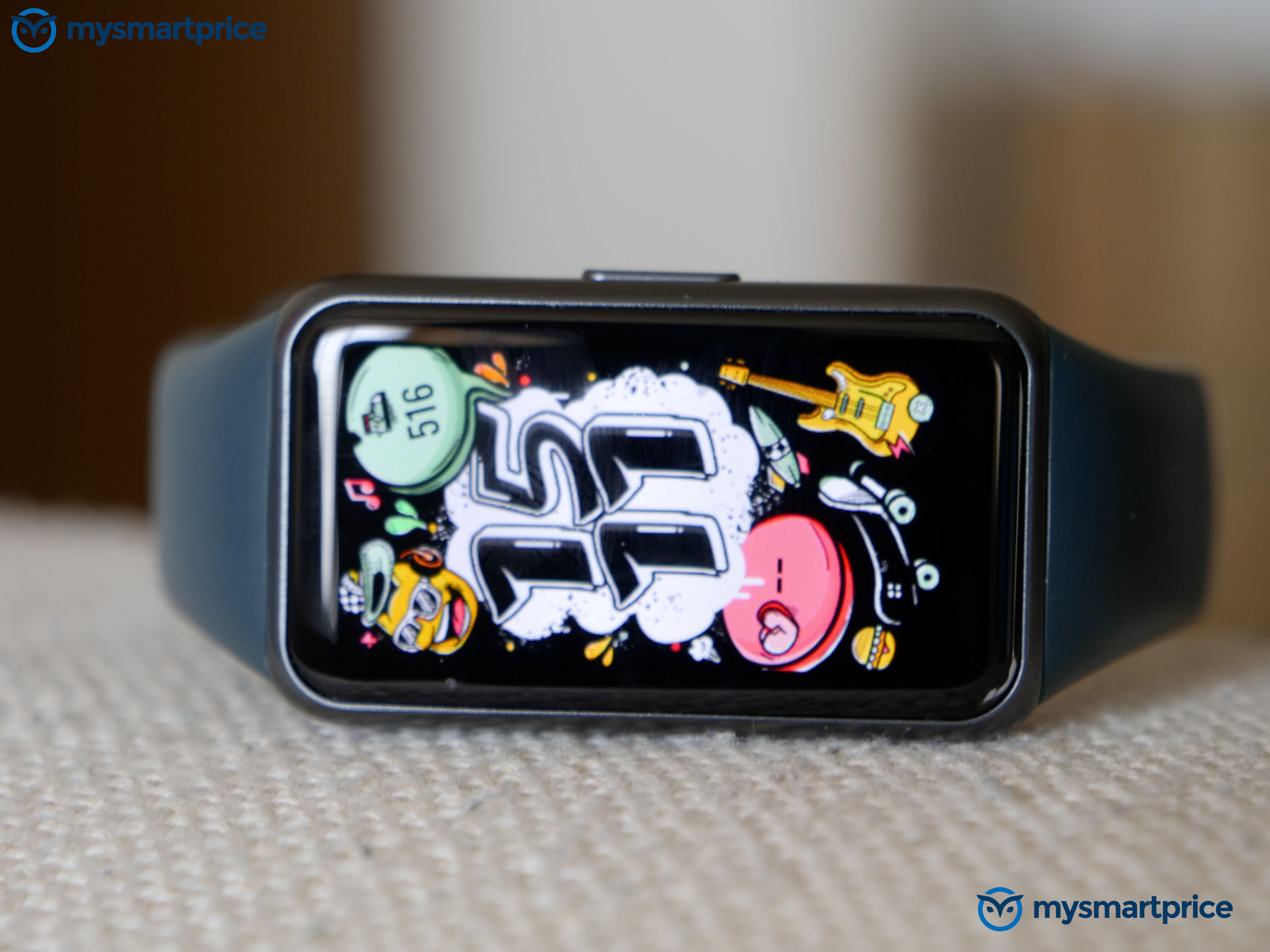 The only cons I could find here were the lack of an Always On Display, and the slightly iffy nature of SPO2 monitoring. Plus the lack of built-in GPS might be a deal-breaker for some, especially now that the Redmi Watch (Review Text | Video) brings that feature to this price segment. Regardless, I think the Huawei Band 6 is undoubtedly one of the most well-rounded fitness wearables out there, and unless Huawei makes a mess of the pricing, I can easily ask you to pick this over any other fitness band in this segment. Infact, Unless you absolutely can't live without your wearable looking like an Apple Watch on your wrist, I see no reason why you shouldn't pick it over all the budget smartwatches too.