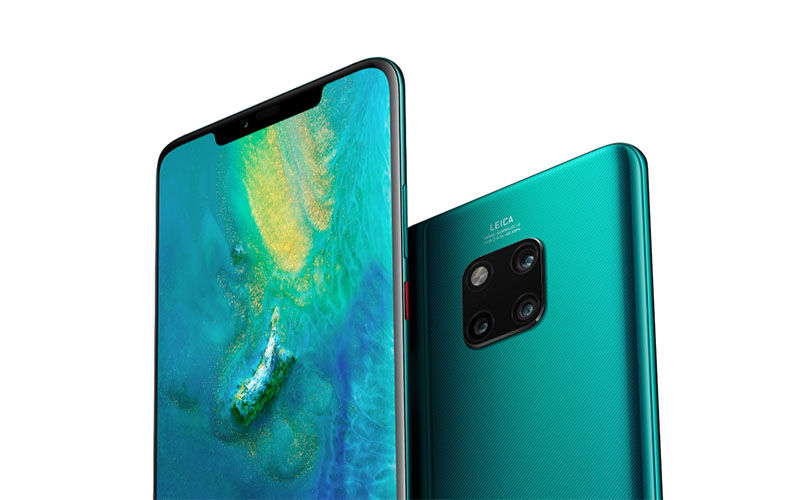 Huawei's Mate 20 Series is now official. The company launched the new phones at an event in London last week. The Mate 20, Mate 20 Pro, Mate 20 Porsche Design, and the Mate 20 X, are the latest flagship smartphones from Huawei. These are all great phones, but we are going to talk about the top 10 features of the Mate 20 Pro in this post. Read on to know what makes the Mate 20 Pro a 2018 flagship.
2K+ Display
The Huawei Mate 20 Pro features a large 6.39-inch AMOLED display with a QHD+ resolution and a 19.5:9 aspect ratio. The display has 538 ppi density, supports HDR10, and covers 87.9 percent of the front of the phone. A notch is available at the top, which includes a 24MP camera and other sensors.
In-Display Fingerprint Scanner
The phone gets an in-display fingerprint scanner, which is an ergonomic way of unlocking a smartphone. Several phones have already been released with an in-display scanner, but they are known be slower than regular fingerprint scanners. That's not the case with the sensor found on the Mate 20 Pro. According to Huawei, this particular sensor has a 10-level pressure sensing technology, which increases unlocking speeds by up to 30 percent.
Kirin 980 Processor
As promised at IFA 2018, Huawei has equipped the Mate 20 Pro with its latest Kirin 980 AI chipset. The Kirin 980 is a 7nm chipset that is said to be as powerful as the latest Apple A12 Bionic SoC. It also gets plenty of AI goodness, which will help make several aspects of the phone better.
Triple Rear Cameras
The Huawei Mate 20 Pro gets a triple-rear camera setup, similar to the one found on the P20 Pro from last year. You get a 40MP sensor with f/1.8 aperture, a 20MP ultra-wide angle lens with f/2.2 aperture, and an 8MP telephoto lens with f/2.4 aperture that provides 3X optical zoom. All of these sensors are made with the help of Leica.
Large Battery with SuperCharge
Battery is a very important part of the smartphone and the Mate 20 Pro gets a large 4200mAh unit. The phone comes with Huawei's SuperCharge tech, which can charge the battery to 70 percent in about 30 minutes. It also supports wireless charging.
Wireless Reverse Charging
This is one of the most unique features of this phone. Wireless Reverse Charging allows the Mate 20 Pro to wirelessly charge another phone that supports wireless charging.
IP68 Water & Dust Proof
Like most 2018 flagship smartphones, the Mate 20 Pro is water and dust resistant as well. It gets an IP68 rating, which means that the phone can withstand being submerged in up to 1.5 meters of water, for up to 30 minutes. It also means that the phone is resistant to dust, sand, and other natural elements.
3D Face Unlocking, Live Emojis, AI Models
The notch at the front houses a 3D Face Recognition setup, which can also be used to create Live Emojis of yourself, as well as AI models. You can scan any 3D object, such as toys, and turn them into live AI models. The 3D Face unlock includes infrared sensors that can scan up to 30,000 points on a face and is said to be secure.
Wireless Projection
The phone comes with a PC Mode, which allows it to cast the screen to other large screens such as a TV or a monitor. The larger screen needs to support MiraCast or requires an adapter though. When in this mode, notifications and incoming calls are only shown on the phone, and not on the larger display.
Android 9 Pie Based EMUI, HiVision Object Identification
The Mate 20 Pro also also gets the latest version of Huawei's Android fork. It runs on an all new EMIU 9.0 ROM, which is based on Android 9.0 Pie. You will find a lot of AI enhancements integrated throughout the system, including in the camera. The phone features HiVision Object Identification tech that scans objects and provides additonal information through the wonders of AI and computer vision.
For example, you can point it at a fruit or vegetable and it will identify those correctly and relay relevant details such as the type of vegetable and calories contained therein. Furthermore, it can also provide information about places, landmarks, paintings, and more.