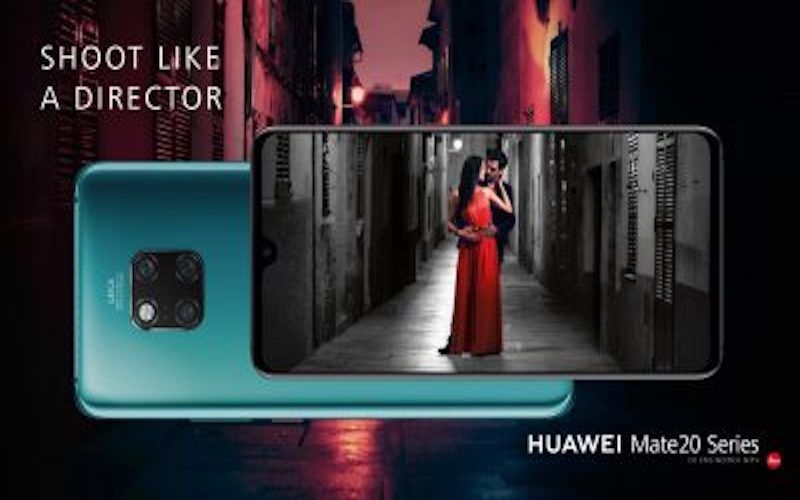 Huawei will launch its latest flagship smartphone, the Huawei Mate 20 Pro in India by the end of November. Now, the Chinese brand has announced that it will introduce AI-powered real-time cinema effects to complement its new Mate 20 flagship smartphone series in India. This will be a first, and can help transform videography and even filmmaking with mobile technology.
According to Huawei, the upcoming Mate 20 series smartphones will be able to capture immersive videos, as they will come with support for adjustment of hue, saturation and brightness in video shoots. This is done by leveraging AI processing capabilities, Huawei said in a press release issued for Indian publications today.
New Pre-set Modes for Mate 20 Series For Filmmaking
The new Huawei Mate 20 series devices will feature professional filmmaking skills, making it possible for novice filmmakers to take things up a notch. The devices will feature pre-set modes such as AI Colour, Vintage, Fresh, Suspense and Background Blur. The camera will also identify and isolate the colors of a subject by desaturating all other objects in the frame. According to Huawei, this feature makes for a stunning visual impact, allowing users to create cinematic videos.
The new Huawei Mate 20 series phones will offer the classic 21:9 movie ratio, and will come equipped with AI HDR to create immersive videos of superior clarity. The camera in the upcoming devices sports a new ultra wide-angle lens and has a focal length equivalent to a 16mm full-frame camera lens. An ultra-wide angle lens enables users to capture an impressively wide perspective, even within the confines of tight spaces. Images captured with an ultra wide-angle lens are crisp, clean and have a high contrast, resulting in a three-dimensional (3D) effect.
Huawei Mate 20 Series To Launch Soon
We had reported earlier that the Huawei Mate 20 series will come to India in November, and Huawei has confirmed that bit by putting up a support page for the Huawei Mate 20 Pro on its India website. For now, you can see only the 6GB RAM plus 128GB storage variant listed on the website, but it will be no surprise if the Chinese company goes on to add all the other variants.
There is a features page too, and it details the specifications and abilities of the Huawei Mate 20 Pro, but we are expecting other devices in this lineup to be launched in India at the same time. Similarly, the device has been listed on Amazon without any details of the launch date or price, and it is expected that other devices from the lineup will be added soon. November 28 is one expected date of launch, but it is not confirmed by Huawei yet.
Huawei Mate 20 Pro Key Features
The Huawei Mate 20 Pro and its siblings will be the first handsets in India to come powered by Huawei's new 7nm Kirin 980 processor, which has built-in AI and much better speeds. The flagship device in the lineup is Mate 20 Pro, which flaunts a triple rear camera enhanced by Leica optics. The phone has an IP68 rating for dust and water resistance. It also comes packed with a massive 4200mAh battery.
There is 40W Huawei SuperCharge for 70 percent of power in just 30 minutes, and it comes with TUV Safe fast-charging certification. Moreover, the device features wireless charging and can double up as a wireless charger for other compatible handsets too.
The handset sports a 6.39-inch notched and curved OLED display with 2K+ screen resolution, and boots EMUI 9 based on Android 9 Pie.
The other handsets in this lineup are the Huawei Mate 20 Lite, Mate 20, Mate 20 X and the Mate 20 RS Porsche Design. The company might bring the Mate 20 Lite to India as well.