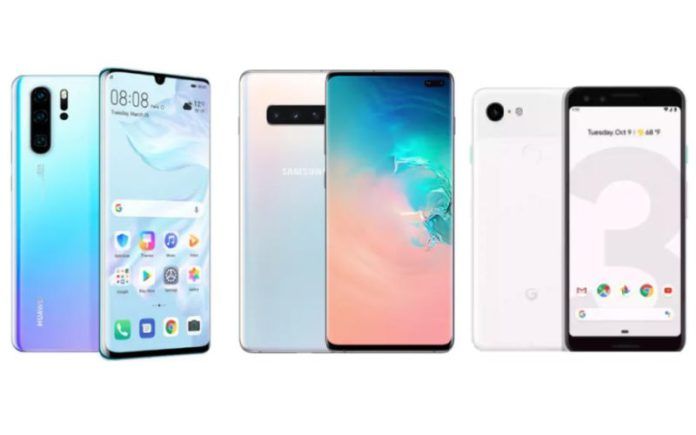 The Huawei P30 Pro was just announced for the Indian market and will go on sale soon via multiple online retail sites. This is a fully loaded smartphone that comes attached with an equally hefty price tag. Given its current standing in the market, how does it compare against existing flagships from top dogs including Samsung and Google? To answer this question, we pit the P30 Pro against the Samsung Galaxy S10 Plus (review) and the Google Pixel 3 (review). Read ahead to know which emerges victorious.
Huawei P30 Pro vs Samsung Galaxy S10 Plus vs Google Pixel 3: Price in India
The Huawei P30 Pro gets an 8GB RAM + 256GB storage configuration which has been priced at INR 71,990 in India. Meanwhile, the Galaxy S10 Plus's price starts off at INR 73,900 for its 8GB RAM + 128GB storage setup. An upgrade to 512GB of storage will cost you INR 91,900. There is also a 12GB RAM + 1TB storage variant that costs a whopping INR 1,17,900. As for the Google Pixel 3, you get its base variant with 4GB RAM + 64GB storage for around INR 60,000 these days. Also, its 128GB storage model is priced close to INR 66,000.
Huawei P30 Pro vs Samsung Galaxy S10 Plus vs Google Pixel 3: Design, Build
Starting off with the build, all three phones here come with dual-glass designs. All of them share USB type-C charging ports and get IP68 water resistance rating. They do, however, bear different looks with the P30 Pro's rear offering a subtle gradient shift, the Galaxy S10 Plus's back being reflective but solid colored, and the Pixel 3 getting a two-tone rear with a frosted finish.
On the front, both the Huawei and Samsung phones get nearly bezel-less displays paired with in-screen fingerprint scanners. On the P30 pro, there is a waterdrop-style notch, while the S10 Plus gets a dual punch-hole design for its front cameras. The Pixel 3, meanwhile, makes use of significantly large front bezels and a rear-mounted fingerprint sensor.
For audio, the P30 Pro uses something called acoustic screen technology where the display vibrates to create sound. The audio from this contraption is on par with the Pixel 3's front firing stereo speakers. With that said, the S10 Plus offers superior audio quality from its earpiece + bottom firing stereo speaker combination. Furthermore, the Samsung phone is the only one here to provide a 3.5mm headphone jack.
Huawei P30 Pro vs Samsung Galaxy S10 Plus vs Google Pixel 3: Display
The Galaxy S10 Plus takes a clear lead in the display showdown thanks to its dynamic AMOLED 6.4-inch that offers a QHD+ resolution. This screen also supports HDR10+ standard that offers an improved visual experience over standard HDR10. The P30 pro comes in at a close second with its 6.47-inch OLED screen with a Full HD+ resolution and HDR10 support. The Pixel 3's 5.5-inch Full HD resolution display isn't bad though and should suffice for those looking for a smaller handset.
Huawei P30 Pro vs Samsung Galaxy S10 Plus vs Google Pixel 3: Performance, Software
In synthetic benchmarks, Samsung's Exynos 9820 chipset seems to beat the P30 Pro's Kirin 980 by a small margin, and Pixel 3's Snapdragon 845 by more so. However, it is worth noting that the S10 Plus has some thermal throttling issues while the P30 Pro's cooling seems to be more efficient.
It is hard to pass a definitive judgment for these phones' software as that is a highly subjective matter. With that said, Samsung has made some great strides with its One UI, and we feel it offers the most refined experience out of any skins we have seen this year. Then again, Huawei's EMUI 9.1 is just as good of an experience with loads of customization options. Its UI is getting a bit old though,  and Huawei might need to refine its software a bit more. Then we have the Pixel 3 which is the phone for Android purists, period. Pixel phones are also the first to get software updates and security patches.
There is also the fact that the Galaxy S10 Plus is the only phone in the market to support Wi-Fi ax despite the wireless standard not being mainstream at the present moment. This potentially futureproofs the device in a way. With that said, the P30 Pro offers an IR blaster that lets you change TV channels, a feature for those living in the present.
Huawei P30 Pro vs Samsung Galaxy S10 Plus vs Google Pixel 3: Camera
While all three of these flagship phones are known to offer incredible imaging setups, we have to give the win to the P30 Pro here. The phone offers an incredible 40MP (wide) + 20MP (ultra-wide) + 8MP periscope (telephoto) + TOF 3D sensor setup at the back, while the front offers a 32MP sensor. That's not to say the 12MP (wide) + 12MP (telephoto) +16MP (ultra-wide) rear setup paired with a 10MP (wide) + 8MP (depth) front camera setup of the Galaxy S10 Plus are bad by any means. And while we are aware that the S10 Plus is the only phone here to offer 4K 60fps video recording, it can't beat the P30 Pro's night mode.
Unfortunately, the Pixel 3 is incapable of offering the same amount of versatility with its single 12.2 MP rear camera and 8MP front camera.
Huawei P30 Pro vs Samsung Galaxy S10 Plus vs Google Pixel 3: Battery Life
The P30 Pro leads the pack in the battery life race as well thanks to its 4200mAh cell that is capable of 40W wired charging, 15W wireless charging, and support for reverse wireless charging other devices. The Galaxy S10 Plus also supports reverse wireless charging, but its 4100mAh battery falls a bit behind the P30 Pro in terms of battery life. It also charges slower at 15W for both wireless and wired setups. At last place, we have the Pixel 3 with its 2915mAh battery. This phone gets 18W wired charging along with Qi wireless charging support, but it misses out on reverse wireless charging.
Huawei P30 Pro vs Samsung Galaxy S10 Plus vs Google Pixel 3: Verdict
The Galaxy S10 Plus is undeniably the most feature-packed smartphone out there, thus justifying its higher price tag. However, the Huawei P30 Pro trades blows with the S10 Plus in many aspects and one-ups it in quite a few others. Photography enthusiasts needn't look any further than the P30 Pro. This phone also gets you the best battery back up ever seen in a flagship phone. The cherry on top is the ability to change TV channels with the phone's IR emitter.
The S10 Plus is for those looking for an all-rounded handset with every single feature imaginable. It will offer the best display, loud and clear stereo speakers, and marginally better performance. While 4K 60fps video recording might be a niche feature, Wi-Fi ax support is likely to play a more important role as wireless standards move forward.
As for the Pixel 3, the phone has begun to show its age. However, the fact that it retails at a lesser price now makes it a viable option for those who don't want to spend as much but still want a flagship experience.
Thanks for reading till the end of this article. For more such informative and exclusive tech content, like our Facebook page