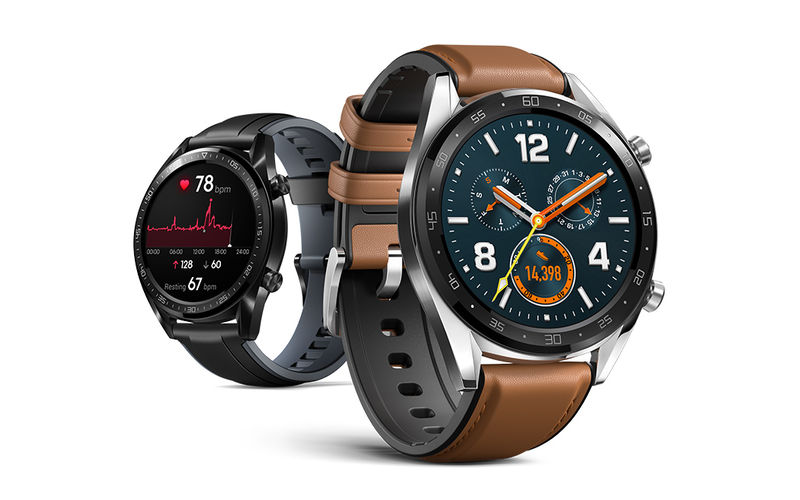 The wearables segment in India is a hotly contested one. Players like Apple, Samsung, Fitbit, LG and the likes have several of their wearables and smartwatch models on sale in the country. In fact, just recently, India was included in the list of countries where Fitbit's new lineup of smartwatches and heart rate sensors would first go on sale. Another company that is trying their luck in the smartwatches and wearables segment in the country is Huawei who seems to be all geared up to launch its new smartwatch the Huawei Watch GT in India next week. Let us now take a closer look at the Huawei Watch GT, shall we?
Huawei Watch GT: Specifications, features
The Huawei Watch GT is pretty slim measuring just 10.6mm in thickness. The product is also pretty resilient to normal wear and tear thanks to a ceramic bezel design and a coating that uses a combination of stainless steel shell and diamond-like carbon (DLC) for added durability.  Like any self-respecting smartwatch from 2019, the Huawei Watch GT is also water resistant up to 50m meters. The display on the Watch GT is an AMOLED panel that measures 1.39-inch across and has a resolution of 454×454 pixels. While Huawei did not confirm the chipset that the Watch GT uses, they did reveal that the product uses a double chipset architecture which endows the watch with a battery life of up to 2 weeks. The watch ships with an internal ROM capacity of 128GB and has 16MB of RAM as well. The Watch GT does not support Wi-Fi and uses Bluetooth 4.2 instead to communicate with your smartphone
The Huawei Watch GT also boasts of the TruSeen 3.0 heart rate monitoring technology that measures accurate real-time personal measurement of your heart rate. It also comes with support for GPS, GLONASS, and GALILEO for easy access to location-based services. It also gets a barrage of sensors including an accelerometer, a gyroscope, a magnetometer, an optical heart rate sensor, ambient light sensor, and a barometer. The Huawei Watch GT supports all handsets running Android 4.4 and above. It also supports iOS devices running iOS 9.0 or later.
Huawei Watch GT: Pricing and availability details
We still do not know the price point at which Huawei will launch the Huawei Watch GT here in India. As a reference, the product is sold for around the USD 200 mark elsewhere. In India, this should translate to a price tag of anywhere between INR 15,000 and INR 20,000. The product is offered in Black Stainless Steel, Stainless Steel options.