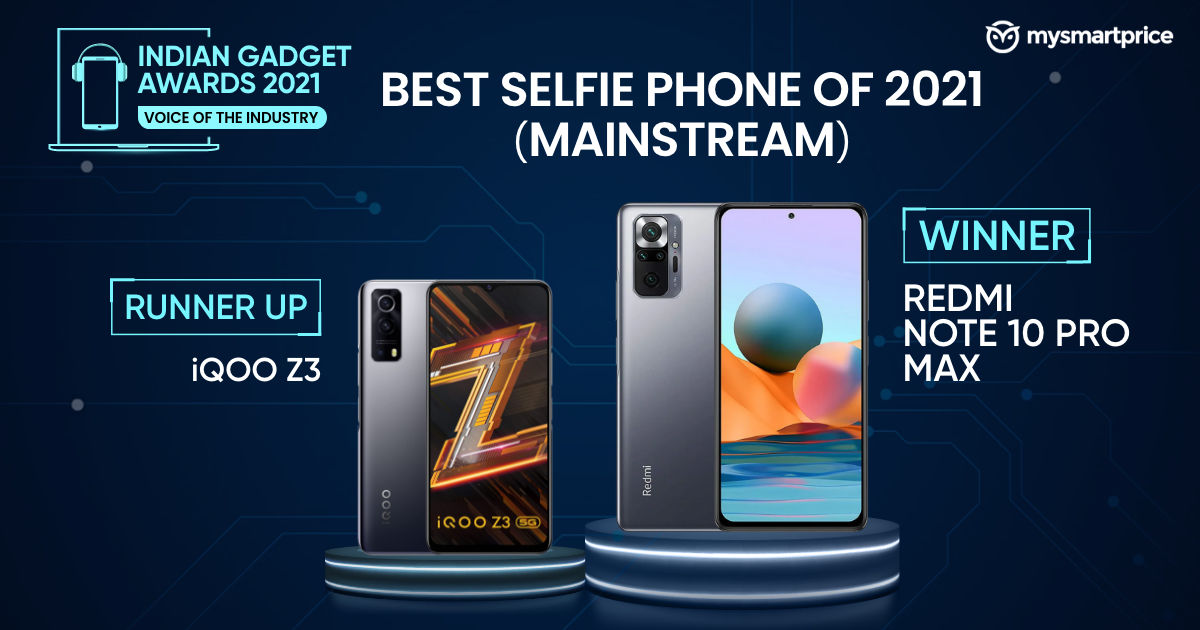 A selfie is a ubiquitous affair today. From enthusiasts on the hunt for the best front camera filters, to photographers who are increasingly particular about tonal accuracies — and even the uninterested one, a good front camera on your phone is non-negotiable for many users. In fact, they've become so much better over time that in many cases, companies have often gone on to showcase their abilities separately.
Add to that the advent of remote work due to the pandemic, and a good selfie camera is worth much more than pretty selfies. That's exactly what our expert jury put through the ringer. Our panel of experts at the Indian Gadget Awards 2021 have gone through some of the best smartphones in the industry right now, to choose the winner for the best mainstream selfie camera phone launched this year.
The Redmi Note 10 Pro Max was selected as the winner of the Best Mainstream Selfie Phone of 2021 award, while the runner up is the iQOO Z3.
Best Mainstream Selfie Camera Phones of 2021 – Indian Gadget Awards 2021 Nominees
Realme 8 Pro
Redmi Note 10 Pro Max
iQOO Z3 5G
Tecno Camon 17 Pro
Realme X7 5G
Realme 8 Pro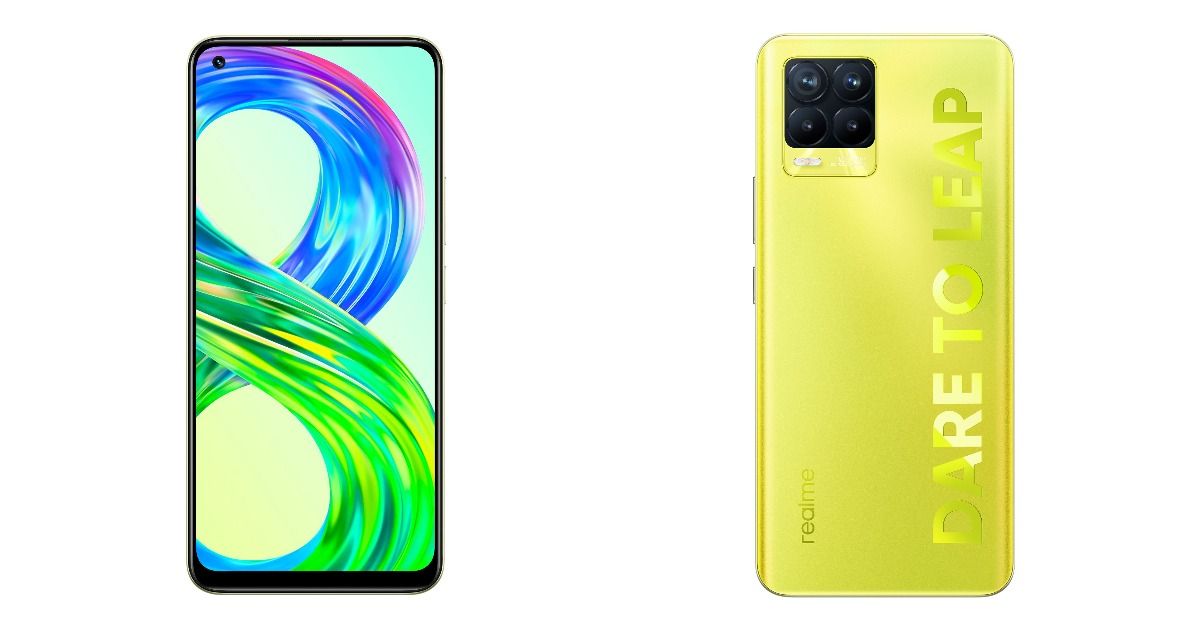 The Realme 8 Pro is one of the most well-appointed smartphones on overall terms, launched all through 2021. At the heart of its selfie offering, interestingly, is a 16MP fixed-focus selfie camera. While this is on paper a downgrade from the 32MP front camera of the Realme 7 series, it's a great performer in the real world.
The quad bayer array sensor is paired with an f/2.5 lens, and 1um pixel size. The front camera is capable of producing HDR shots as well as taking panorama selfies. In terms of videos, the Realme 8 Pro's selfie camera can shoot at up to 120fps in full HD. There's gyroscope-based electronic stabilisation as well.
Other key specs of the phone include the Snapdragon 720G SoC, 8GB RAM and 128GB storage, a 6.4-inch Super AMOLED display and a 4,500mAh battery with 50W fast charging.
Redmi Note 10 Pro Max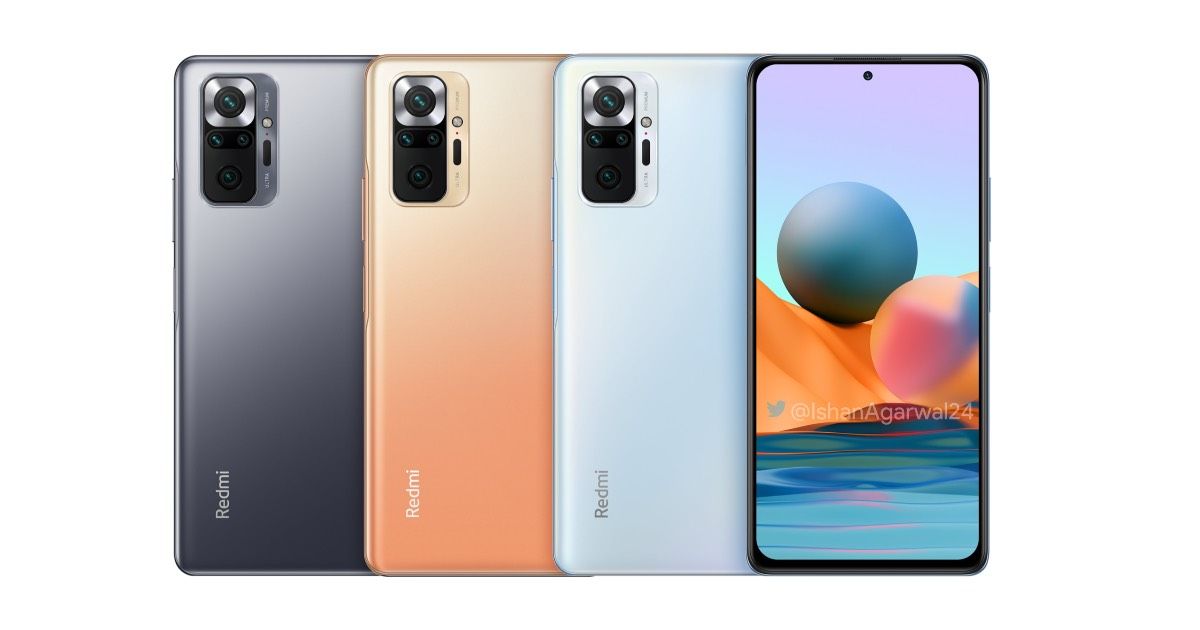 The Redmi Note 10 Pro Max is an interesting proposition, and is one that offers a very similar feature set in comparison to the Realme 8 Pro. You get a 16MP fixed-focus front camera, and the selfie camera offers nicely accurate skin tones.
It can also get 1080p full HD video recording done, thereby making it a reliable smartphone for video conference and remote video calls. You get 30fps playback, and the front camera supports panorama selfies as well.
Other key features include the Snapdragon 732G SoC, 8GB RAM, 128GB storage, a 108MP quad rear camera setup, a 6.67-in 120Hz display, and a 5,020mAh battery with 33W fast charging as well.
iQOO Z3 5G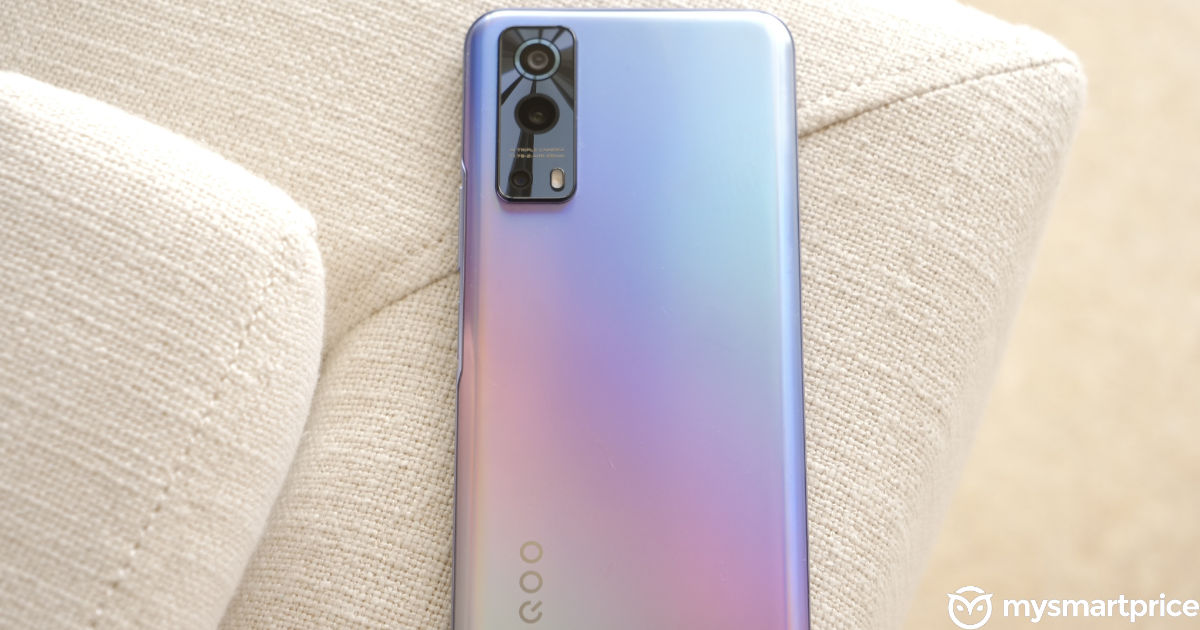 Among mainstream phones, the iQOO Z3 offered perhaps the best price to performance balance in any other smartphone. Like the above two phones, the iQoo Z3 also has a good camera setup to its front as well.
To be more specific, the iQOO Z3 features a 16MP selfie camera, with an f/2.0 lens in tow. What this does is combine the company's algorithms with the already high resolution advantage of the sensor, to produce good accuracy of skin tones. Needless to say, it also has 1080p full HD front camera video recording.
Among other features, the spec sheet of the iQOO Z3 makes it more powerful than many of its peers. You get the Snapdragon 768G SoC, along with 12GB RAM and 256GB storage, a 64MP triple rear camera setup, a 6.58-inch full HD+ display, and a 4,400mAh battery with 55W fast charging.
Tecno Camon 17 Pro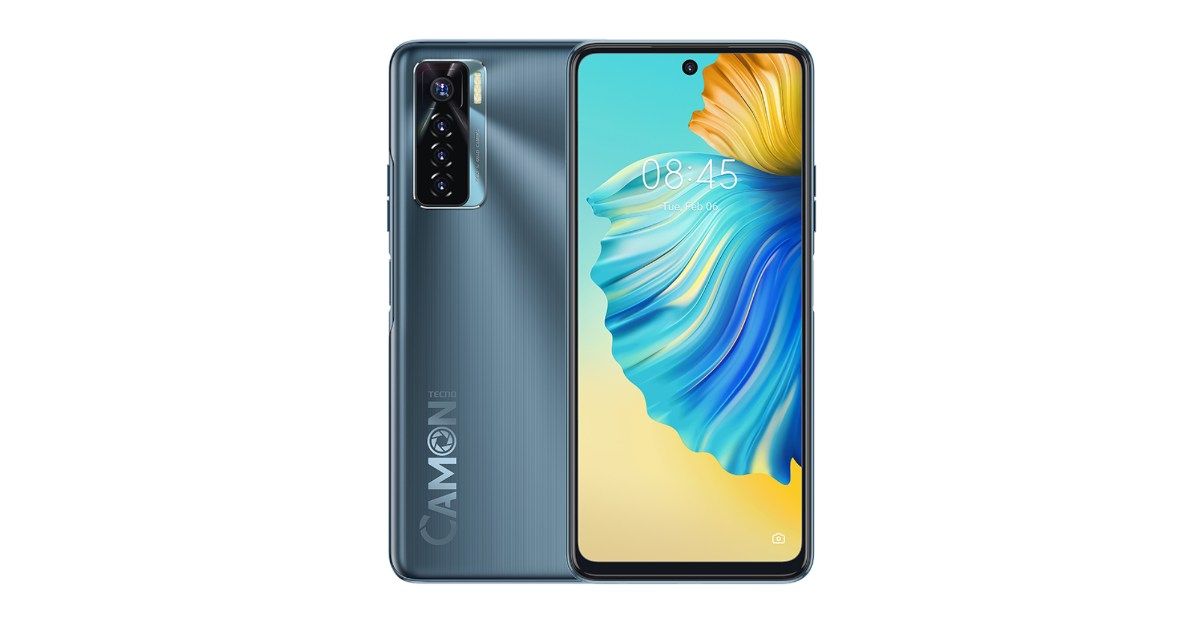 Tecno may not be the first name that comes to mind when talking smartphones, but the company's Camon 17 Pro does come right up the pecking order when it comes to selfie phones. Case in point — a 48MP selfie camera on the phone.
The Tecno Camon 17 Pro has one of the highest resolution front cameras around, and as a result, are among the few phones to produce such levels of detail in selfies. It also has AI algorithms that go with it to enhance portrait selfies or improve photos shot at night. Full HD video calls are also enabled here.
Other specs include the MediaTek Helio G95 SoC, 8GB RAM, 256GB storage, a 64MP quad rear camera setup, a 6.8-inch 90Hz display, and a 5,000mAh battery in tow.
Realme X7 5G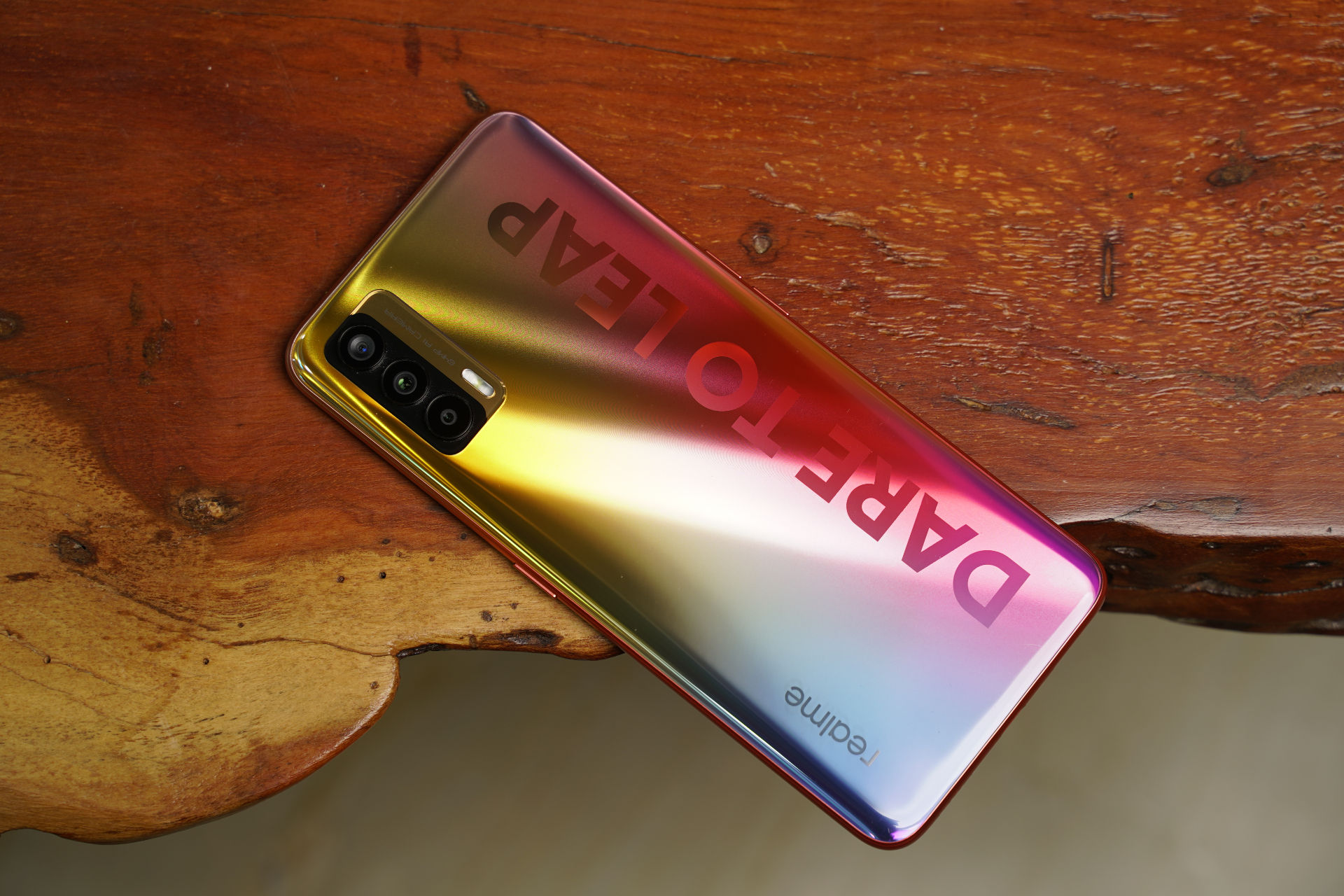 The Realme X7 5G has a 32MP front camera that produces a rich amount of details, and its AI algorithms further ensure portrait selfies and clear front-facing videos for conference calls,
It can offer up to 120fps through its front camera for selfie videos, and is at par on paper with the best of the industry — in terms of front camera resolutions. Other key specs include a 6.4-inch display, the Dimensity 800U SoC, 8GB RAM, 128GB storage, 64MP quad rear camera, and a 4,300mAh battery with 65W fast charging.