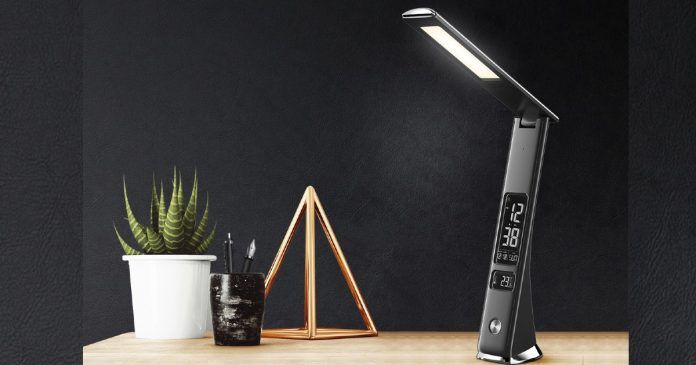 Indian gadgets and smartphone accessories brand iGear launches a next-generation desk lamp called the Desklite+. This touch-enabled 5-Watt desk lamp features a rechargeable and dimmable eye-protection LEDs combined with a fully-functional LCD clock for night and day use. Here's a closer look at the specifications, features, and price of the Desklite+.
iGear Desklite+ Features
The iGear Desklite+ is very unique and feature-rich. Unlike conventional night lamps that need to be directly powered from a power socket, the Desklite+ uses a built-in rechargeable 2000mAh battery. This allows you to place it anywhere, irrespective of an available direct power source, or during power cuts. Charging the lamp is simple – all you need is the bundled standard micro USB cable and a conventional smartphone charger.
The company claims that on a full charge, the Desklite+ offers up to 6 hours of continuous battery life with the brightness set to approximately 80 percent. Design-wise, the iGear Desklite+ features a foldable design with the upper arm housing the 5-Watt LED array and the body supporting a large and highly readable LCD clock. The folding design helps with easy direction of light according to users comfort apart from offering high portability to carry it around anywhere.
The company claims that the LEDs are designed to emit soft and anti-dazzle lights so that it reduces strain on the eyes while reading, studying or working. A touch switch on the base allows dimming the lights and adjusting the illumination according to your requirements by tapping it once or multiple times respectively.
The Desklite+ is also equipped with a fully functional digital LCD clock, which displays the time, day, date, calendar, alarm, while a second smaller LCD highlights the real-time temperature of your room. You can also use the Desklite+ as a table clock during the day. Lastly, the desk lamp is designed keeping aesthetics in mind to help it blend with your table and room décor.
iGear Desklite+ Price in India
The iGear Desklite+ is available for an exclusive limited period offer of just Rs 2,350 on Amazon.in and Flipkart.com, and carries a standard industry warranty of 1 year.