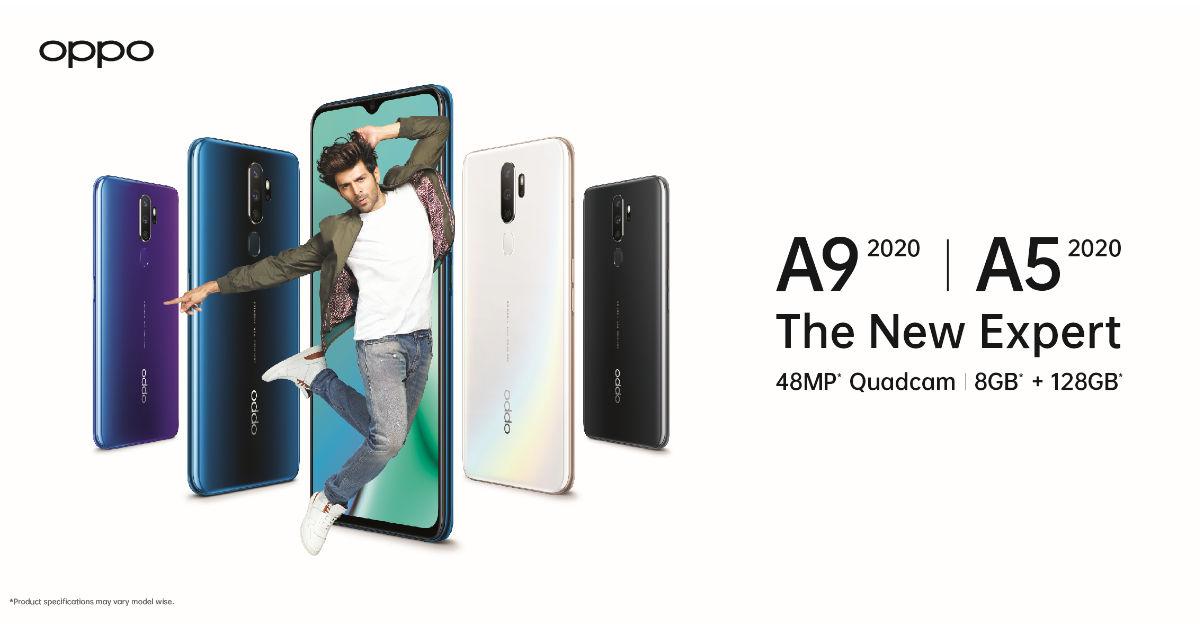 Dozens of new phones launch every month, but how do you decide which phone is the best for your needs? What if we tell you that there's a smartphone that suits all your needs? Yes, it's true. You can find a phone that truly does almost everything well, even if you have a limited budget. If you're in the market for a mid-range smartphone, we advise you to look at two recently launched phones from smartphone giant OPPO: the OPPO A9 2020 and the OPPO A5 2020.
Both phones have striking designs, tough build quality, large and immersive screens, fast processors, and extremely long battery lives. Let us have a look at how the OPPO A9 2020 and the OPPO A5 (2020) offer you the best of all aspects one wants from an ideal smartphone.
Quad-Cameras With Dynamic Imagery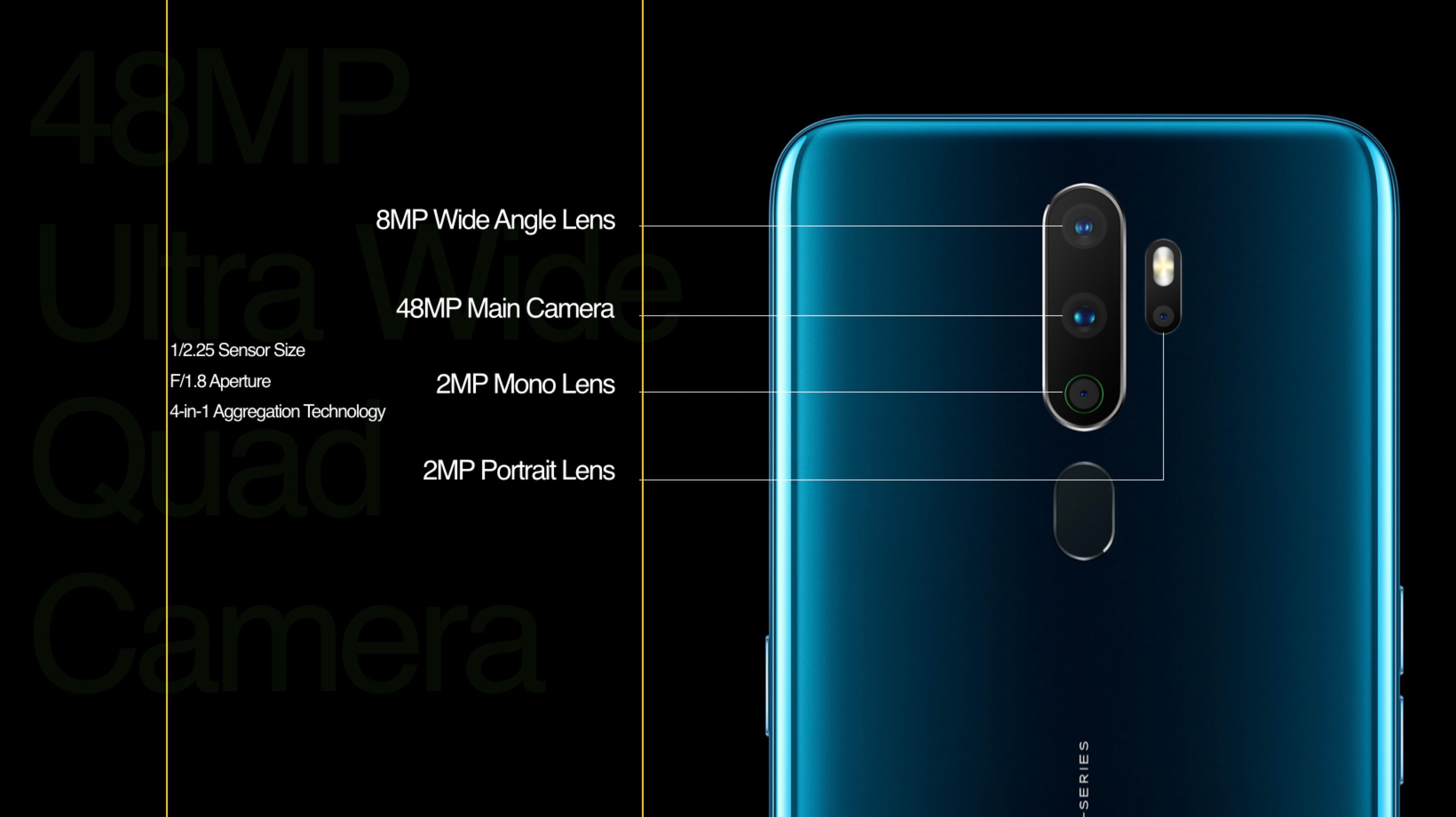 In this day and age, where every moment is captured, you would want a phone that can capture all your memories in high quality, be it still images or videos. OPPO, a pioneer in camera technology, has used excellent cameras in its new phones and combined it with years of experience in software tuning and advanced AI algorithms. The OPPO A9 (2020) and the OPPO A5 (2020) both feature quad-camera setups on the rear and high-resolution intelligent selfie cameras on the front.
The OPPO A9 (2020) uses the market-leading 48MP camera sensor with F1.8 aperture and PDAF (phase-detection autofocus) as its main camera. There's also an 8MP ultrawide-angle camera providing 119-degree wide-angle for those moments when you just want to capture a wide shot. It can also be effectively used in tight places where you have to fit more people into the camera's frame. There are two additional 2MP Mono Lens and Portrait Lens that work as an obstruction detector and provide different portrait styles respectively.
The 48MP camera can also record 4K videos in stunning details or slow-motion videos for action scenes. There's a dedicated Ultra Night Mode 2.0 using which you can capture clear and bright images even in low-light conditions. The OPPO A5 (2020) has a similar camera setup with a 12MP camera replacing the 48MP sensor as its main camera. All other sensors remain the same, and the 4K video recording option remains as well. The Video Stability mode, which combines EIS ensures more stable and professional videos along with various video filters. So, no matter what moment you're experiencing, you can perfectly store it in your memories with OPPO's new mid-range phones.
What makes the #OPPOA92020 #TheNewExpert? Its 48MP Quadcam, 8GB RAM+128GB ROM & Qualcomm Snapdragon 665. @TheAaryanKartik can't get enough of its #UltraNightMode 2.0, the #UltraWideAngleLens and #VideoStability! Buy now at INR 19,990 and avail the offers! https://t.co/DxmCjaUh8o pic.twitter.com/wvIIP3PnTw

— OPPO India (@oppomobileindia) September 16, 2019
Excellent Performance, Thanks To Snapdragon 665 Octa-Core Processor
While most brands think that the Snapdragon 660 is a great chipset for mid-range phones, OPPO has gone one step further and equipped its new phones with a newer chipset. The OPPO A9 (2020) and the OPPO A5 (2020) come fitted with the Qualcomm Snapdragon 665 octa-core chipset. It is made an even more power-efficient 11nm fabrication process, which in simple terms means that it requires even less juice than the Snapdragon 660 SoC. The chipset comes with a faster GPU and a newer ISP (image signal processor), which means that it can offer smoother gaming and better camera performance when compared to phones that use older processors.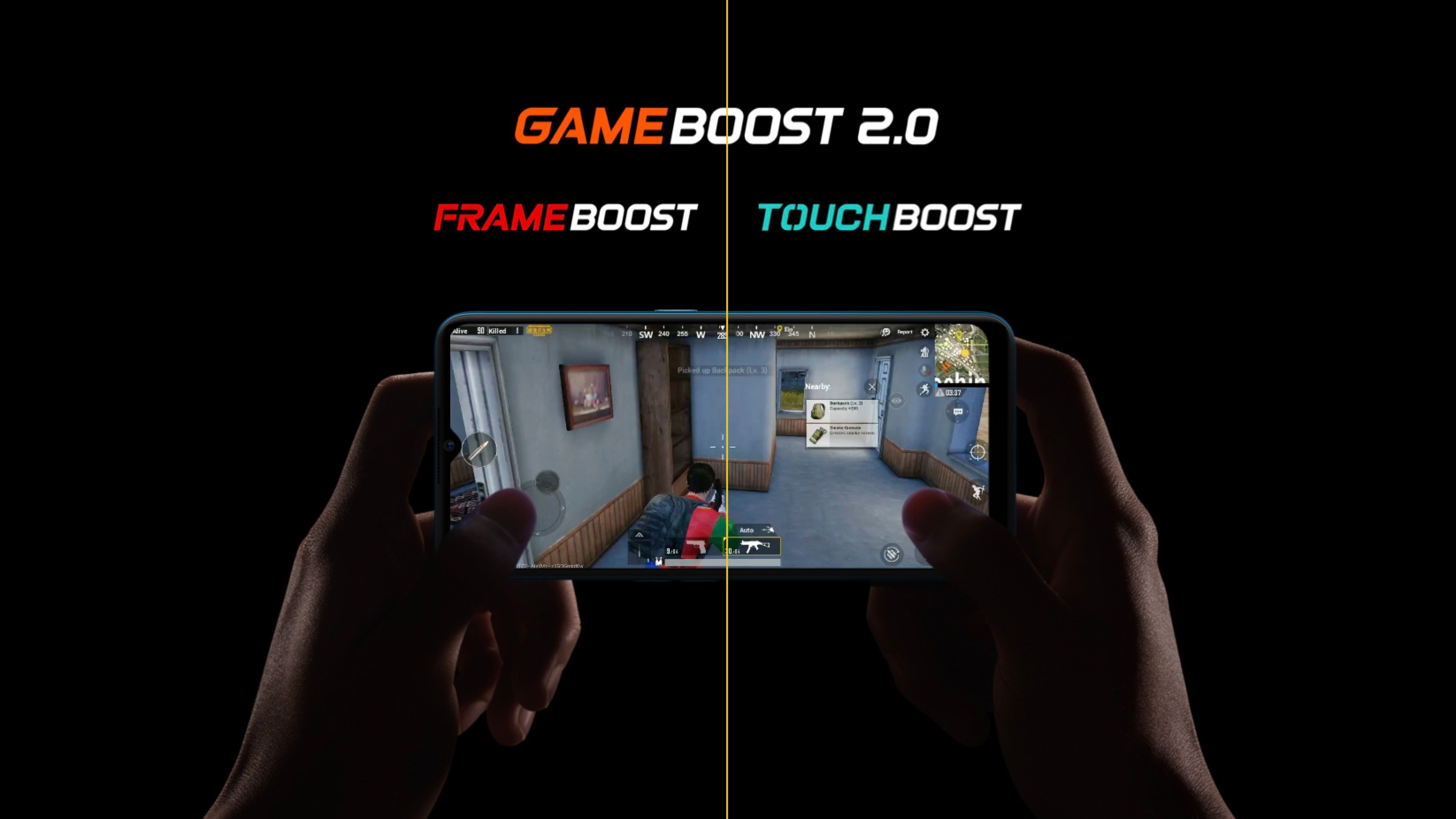 The OPPO A9 (2020) combines the Snapdragon 665 processor with up to 8GB RAM and 128GB of internal storage space. There's a triple-card slot, too, which means you don't have to sacrifice on a microSD card slot if you want to use two SIM cards at once. The OPPO A5 (2020) comes with the Snapdragon 665 SoC, 4GB RAM and 64GB of internal storage. Even this phone has a triple-card slot, which means you can use two SIM cards and a microSD card all at once, without sacrificing your needs.
Long-Lasting Battery Life & Reverse Charging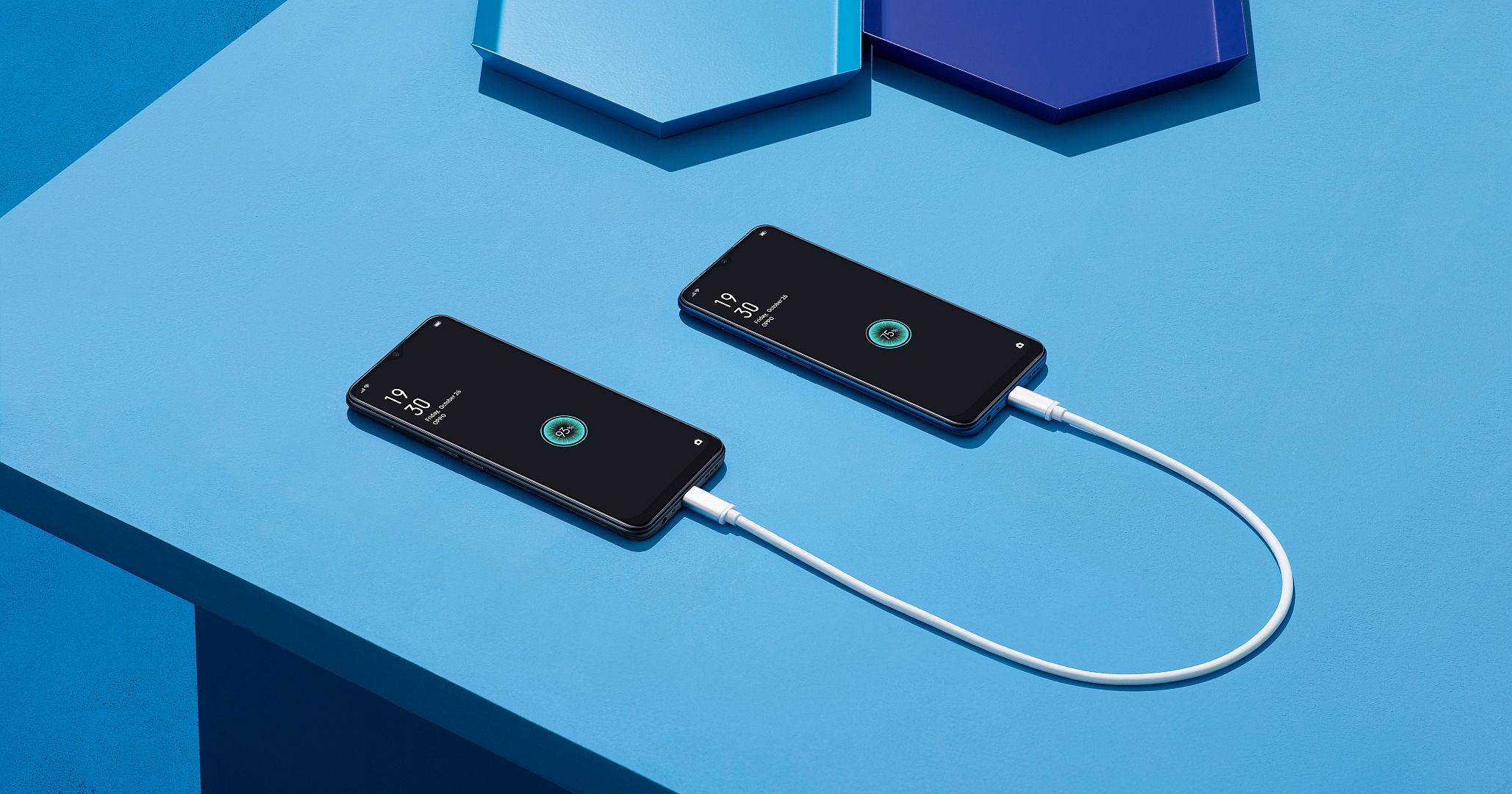 Both, the OPPO A9 (2020) and the OPPO A5 (2020), come packing massive, 5000mAh batteries inside them. In spite of a large battery the device is lightweight which makes it easy to carry around all day. That's a whole 25 percent larger capacity than most competing phones in their price segments. Thanks to high-capacity batteries, both phones last more than a day and a half with regular usage patterns.
Along with a large battery, the OPPO A9 2020 also supports reverse charging, which is an extremely unique feature. The remaining capacity on the battery can be used to reverse charge other devices while allowing you to continue operating your smartphone. This feature is rarely found on smartphones and is the best way to fully utilize a 5000mAh battery's true full potential.
Large Screens & Stereo Speakers With Dolby Atmos Audio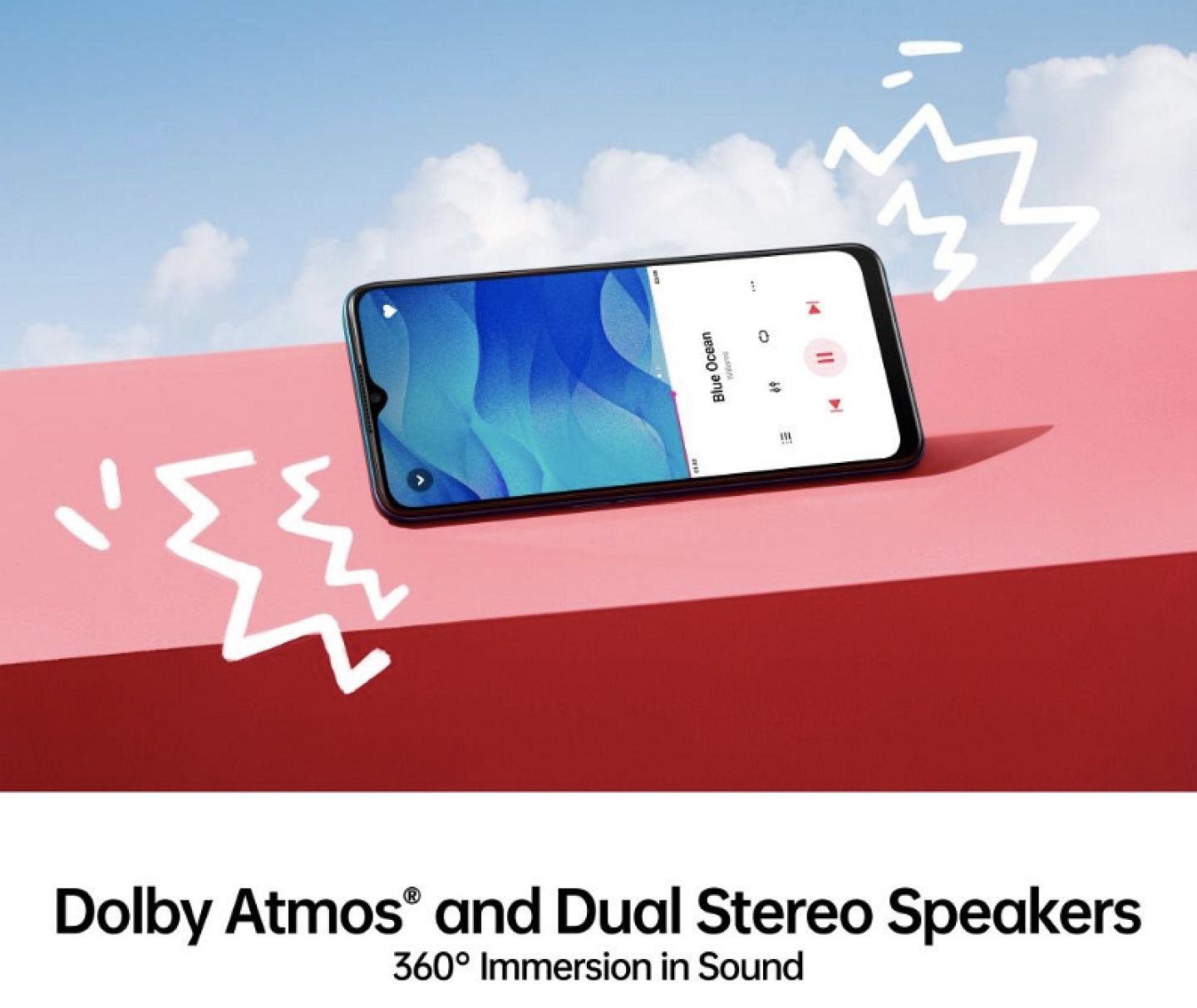 A phone's screen is the most important part as you interact with it the most when using any smartphone, and OPPO understands this. Also, whatever media you want to consume on a phone, bigger is always better. To this end, the OPPO A9 (2020) and the OPPO A5 (2020) come with a huge, 6.5-inch nano waterdrop display, which will make sure that you can binge-watch Netflix while on the go with all the immersion you need. Plus, it comes with stereo loudspeakers, a rarity in phones under this price segment. What's more, OPPO has also added the Dolby Atmos audio advantage to its phone, so that you can experience not only great video quality but also mesmerizing audio quality. Both phones also use in-cell touchscreen technology for smoother and more accurate finger tracking.
Great Value, All-Around
It is hard to find phones under the Rs 20,000 price segment which can offer large immersive screens, fast performance, feature-rich software, quad-camera setups with 4K video recording, and 5000mAh batteries, all in a single solution that looks great. However, OPPO has somehow managed to cram all those features in striking packages, while also offering them at throwaway prices. The OPPO A9 2020 costs Rs. 16,990 for the 4GB + 128GB variant and Rs. 19,900 for 8GB + 128GB variant, while the OPPO A5 2020 is priced at Rs. 13,990 for the 4GB + 64GB variant. The OPPO A9 2020 is available in two excellent gradient color choices: Marine Green & Space Purple. The OPPO A5 2020, on the other hand, can be had in two colors: Dazzling White & Mirror Black.
That's one for the history books! #OPPOA92020 is already making waves with 5 times more sales than its predecessor, the OPPO A9. Get your hands on #TheNewExpert now at just INR 19,990!
Know more: https://t.co/Q3PfduhIgv pic.twitter.com/FT8DjuTSvU

— OPPO India (@oppomobileindia) September 18, 2019
OPPO A9 2020 is already available online on Amazon.in and will hit the offline markets by September 19. OPPO A5 2020 will be available in online (Amazon.in) and offline stores from September 21.
So, what are you waiting for? If you were confused about which phone to buy, we suggest you to buy the OPPO A9 2020 or the OPPO A5 2020 as they are incredible phones in their respective price segments. Go ahead and order them before this festive period is over!
Along with a powerful battery, multi-tasking processor and perfectly positioned camera lenses, OPPO has also brought a series of offers for the customers to make this festive season much spectacular.
A9 2020(8GB/128GB)
Has an exchange offer of Rs. 2000/-
OPPO Upgrade offer from any OPPO phone to A9 2020 of Rs. 2500/-
No Cost EMI for 3&6 months
Customers with HDFC debit and credit card can avail 5% instant discount
A9 2020(4GB/128GB)
Has an exchange offer of Rs. 1500/-
OPPO Upgrade offer from any OPPO phone to A9 2020 of Rs. 2000/-
No Cost EMI for 3&6 months
Customers with HDFC debit and credit card can avail 5% instant discount
A5 2020 (4GB/64GB)
Has an exchange offer of Rs. 1500/-
OPPO upgrade offer from any OPPO to A5 2020 of Rs. 2000/-
No Cost EMI for 3&6 months
Customers with HDFC debit and credit card can avail 5% instant discount
This story was developed in partnership with OPPO.