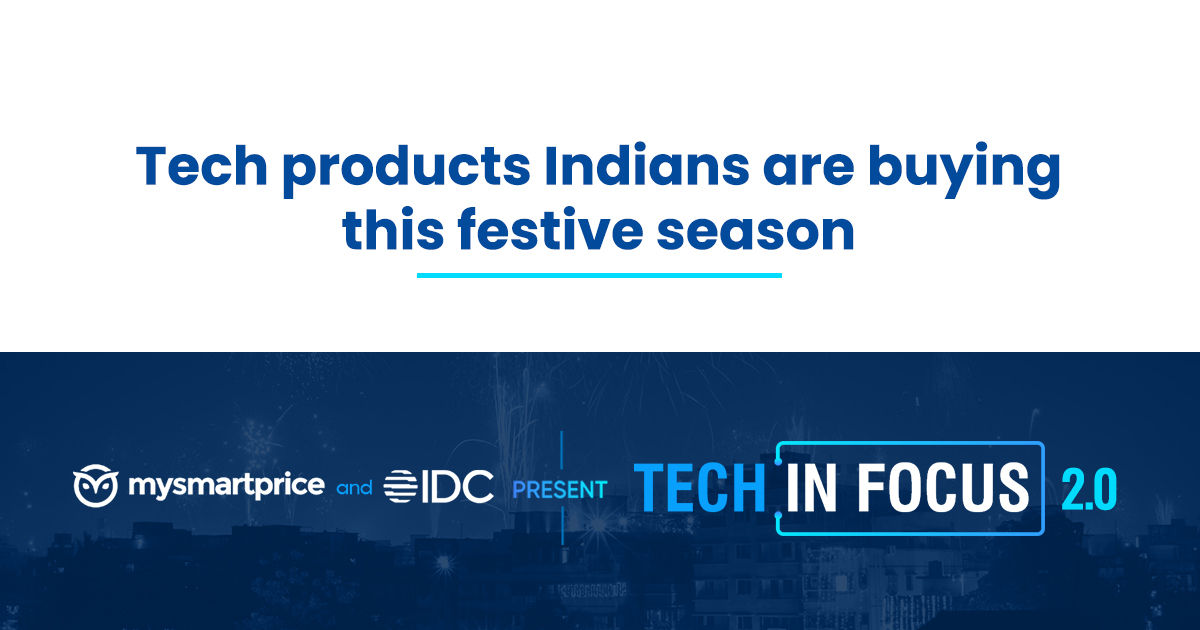 What the year-end holiday season is to the US, the Dusshera-Diwali months are to Indian consumers. The festive season sees some of the highest sales across every segment — Apparel, appliances, electronics, jewelry, it's when the e-commerce giants hosts their biggest sales, and the retail stores see the highest footfall. So at the second edition of Tech in Focus 2.0, we tried to understand the Indian consumer buying behaviour during the festive seasons, focusing on the key tech categories.
We had Navkendar Singh, Research Director, IDC India in conversation with Ershad Kaleebullah, Editor-in-Chief, Mysmartprice discussing the buying patterns and behaviour, with Anuj Sharma, Country Director, POCO India pitching in with his thoughts. Here are the key takeaways —
Direct Discounts are the most preferred deals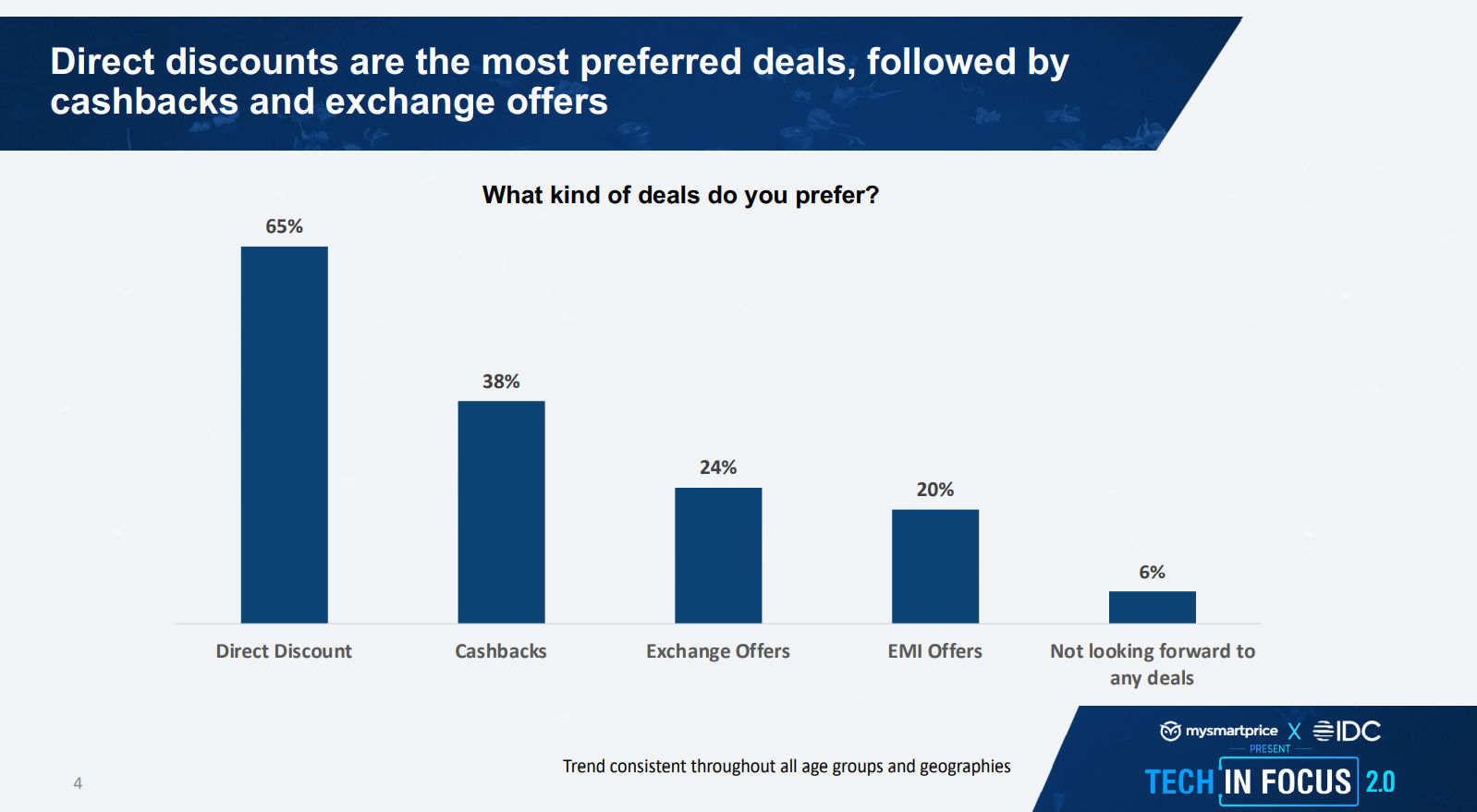 When it comes to online deals, there's nothing sweeter than direct discounts. Slashing the price off a product instantly offers value for money and it's an offer people can't seem to refuse. 65% of the respondents to a survey MSP conducted admitted they prefer direct discounts more than cashbacks, exchange offers, and offers on EMI.
And while a lower price is desired, people still aren't confident of using online payment. Despite a high uptake of UPI payments, 57% of the respondents said they prefer cash on delivery for their online purchases.
And speaking of online marketplaces, Amazon holds 48% mindshare as the preferred online destination to shop, while Flipkart has only 12% preference.
Smartphones are the most popular category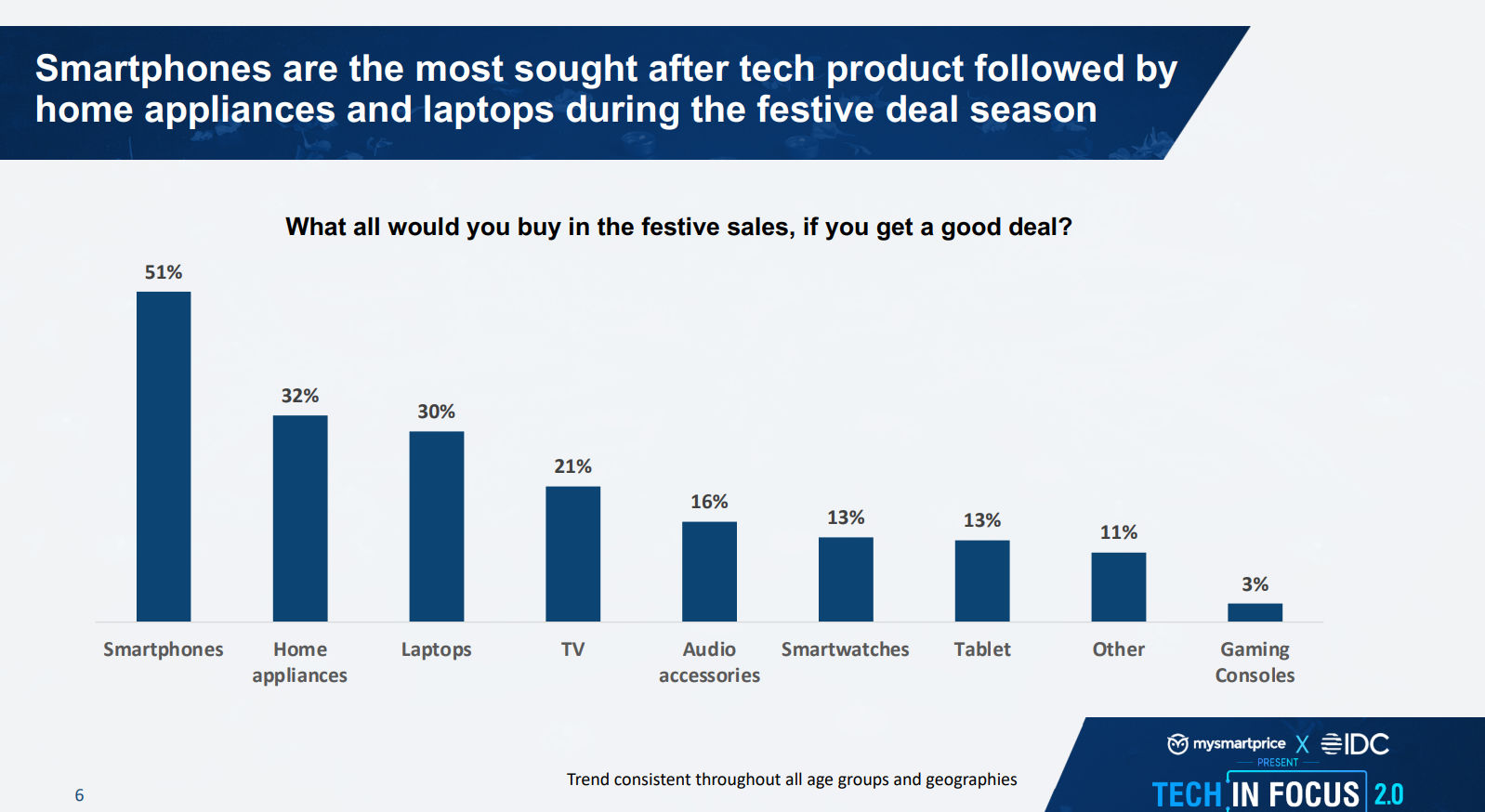 India is crazy about smartphones. And sales of smartphones soar during the festive season, over taking every other tech category. When asked what would they buy in the festive sales, if they get a good deal, 51% respondents said they would prefer to buy a smartphone over home appliances, laptops, and other gadgets.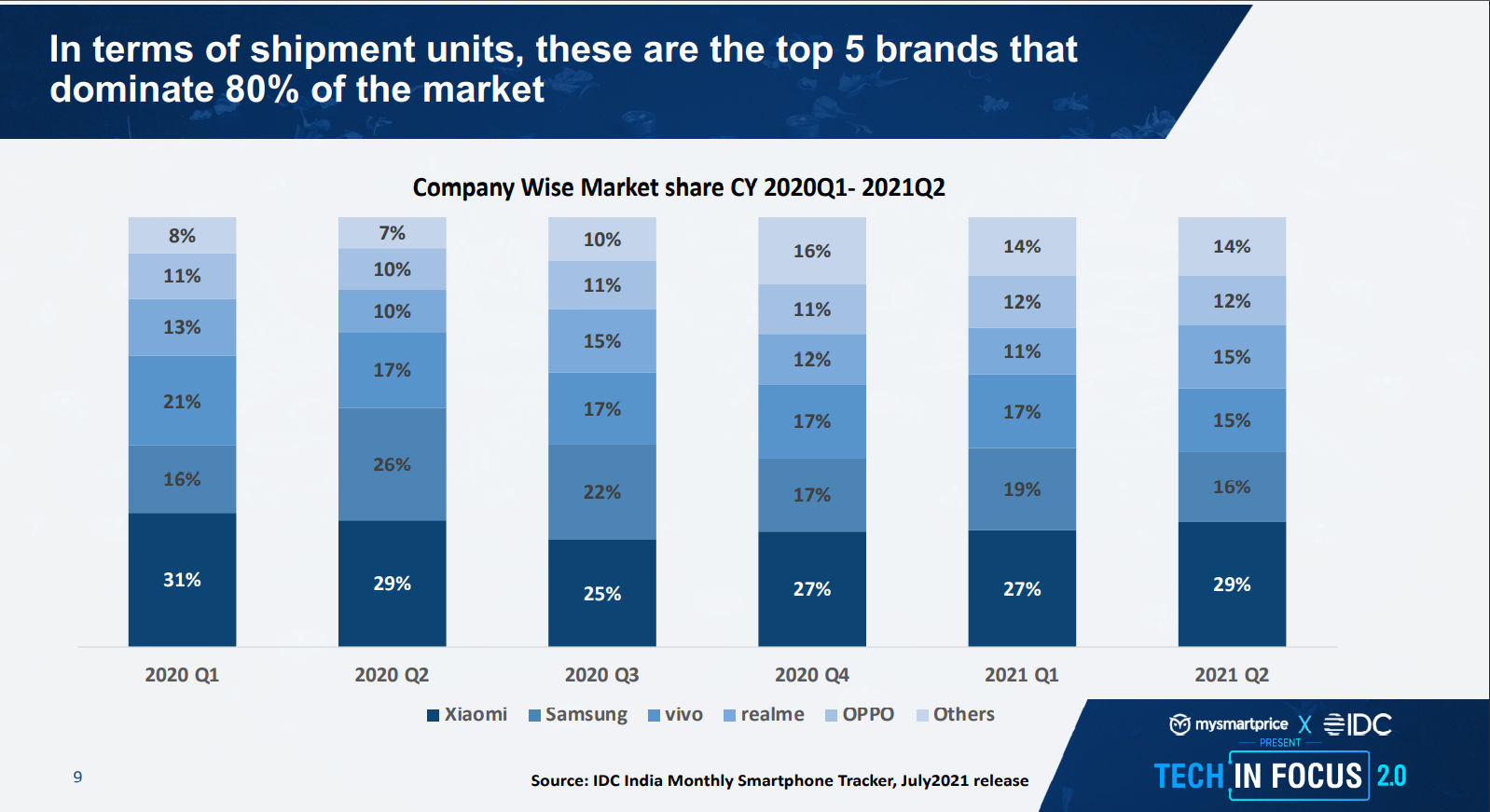 And according to shipment volumes tracked by IDC India, it's Xiaomi (including Redmi and POCO) that's leading the market with 29% market share in Q2 2021. However, more than double the number of respondents to MSP's survey said they prefer Samsung over Xiaomi.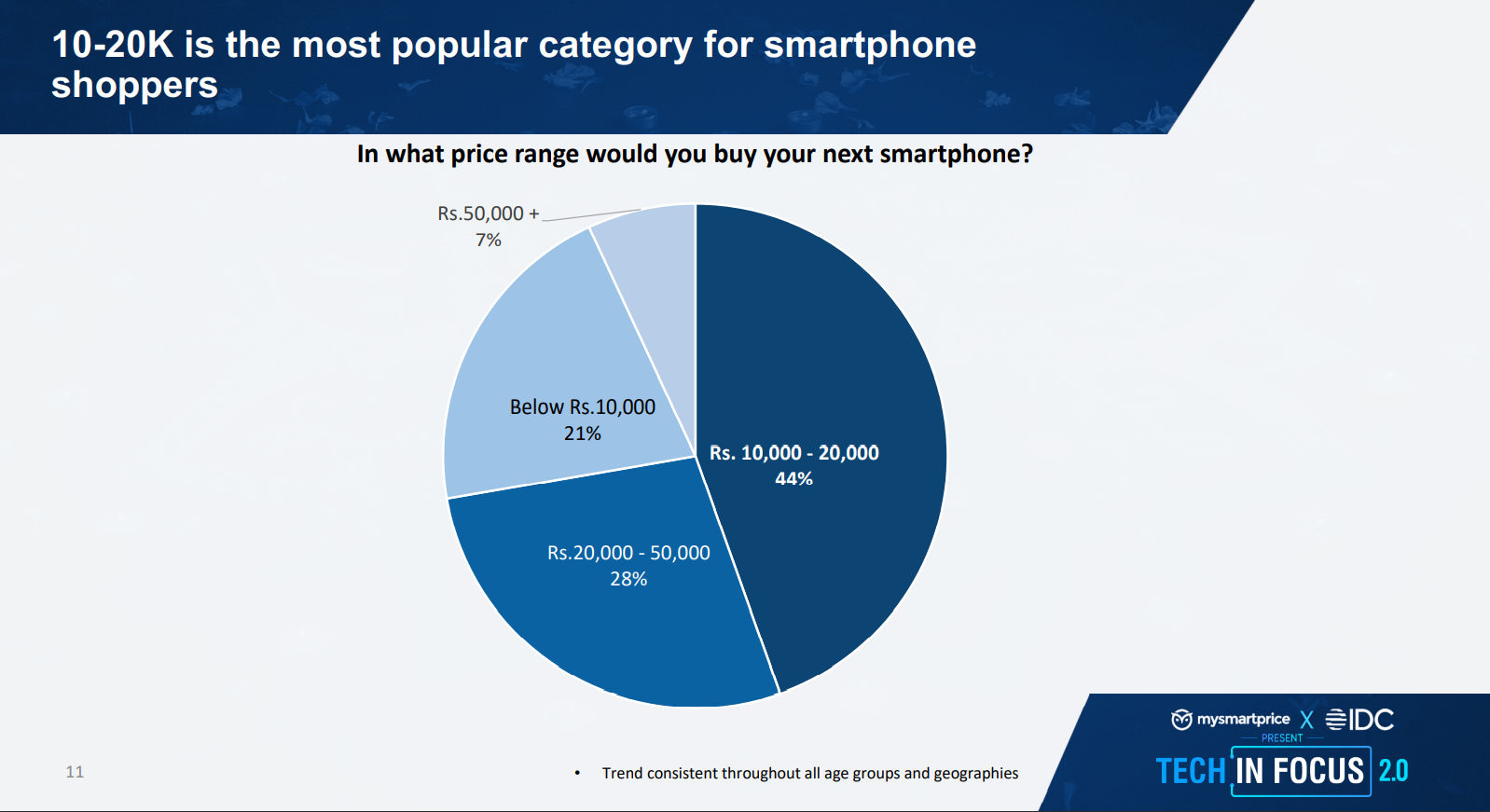 But something that both our survey and IDC's data corroborates is that the under 20k segment is wildly popular with more than 46% of shipments happening in that category. Similarly, 44% respondents said they would buy their next smartphone in the 10-20k price range.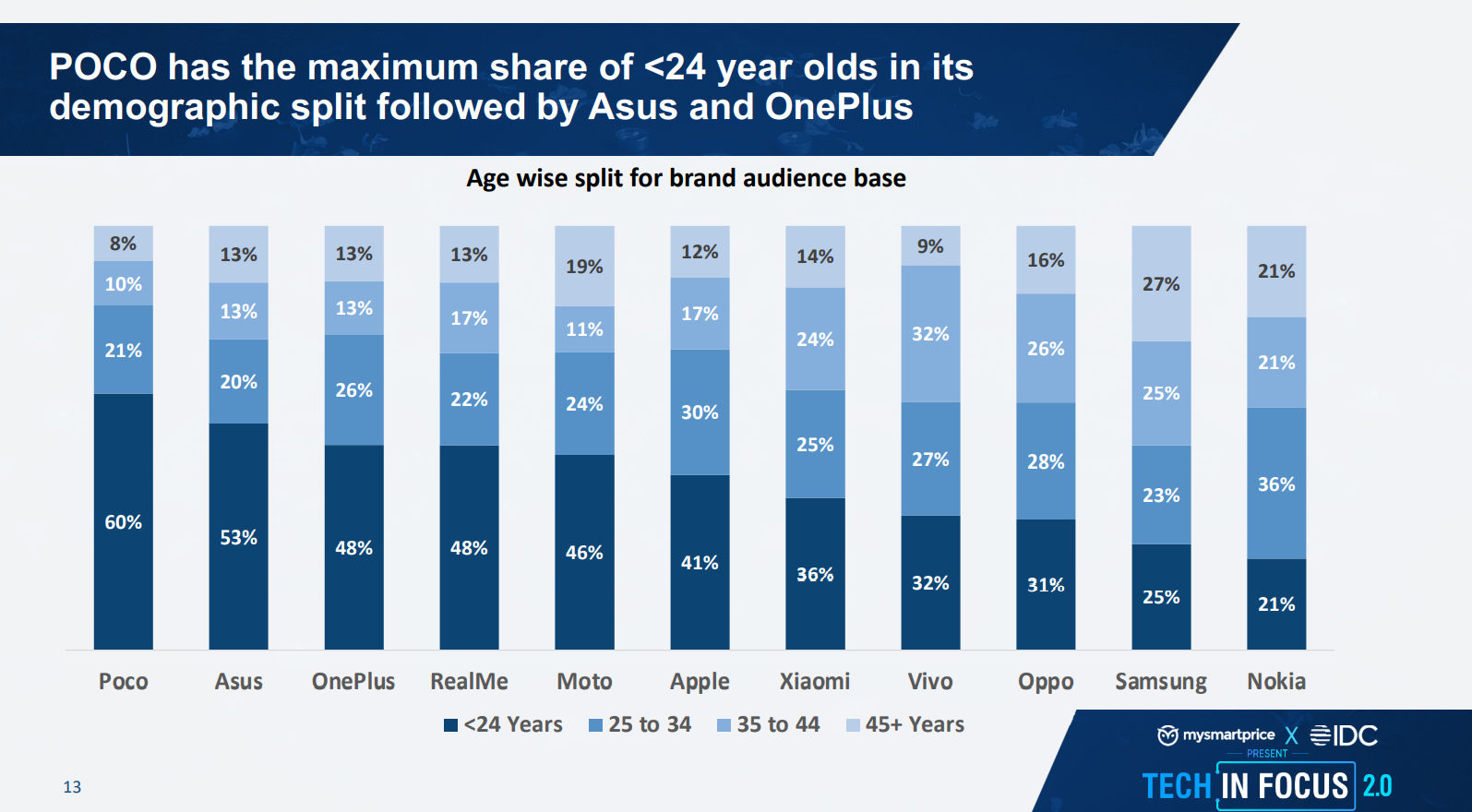 And speaking of budget smartphones, POCO has the maximum mindshare among buyers below 24 years old, followed by Asus and OnePlus. We figure this has something to do with their focus on gaming smartphones.
Can laptops be a little cheaper?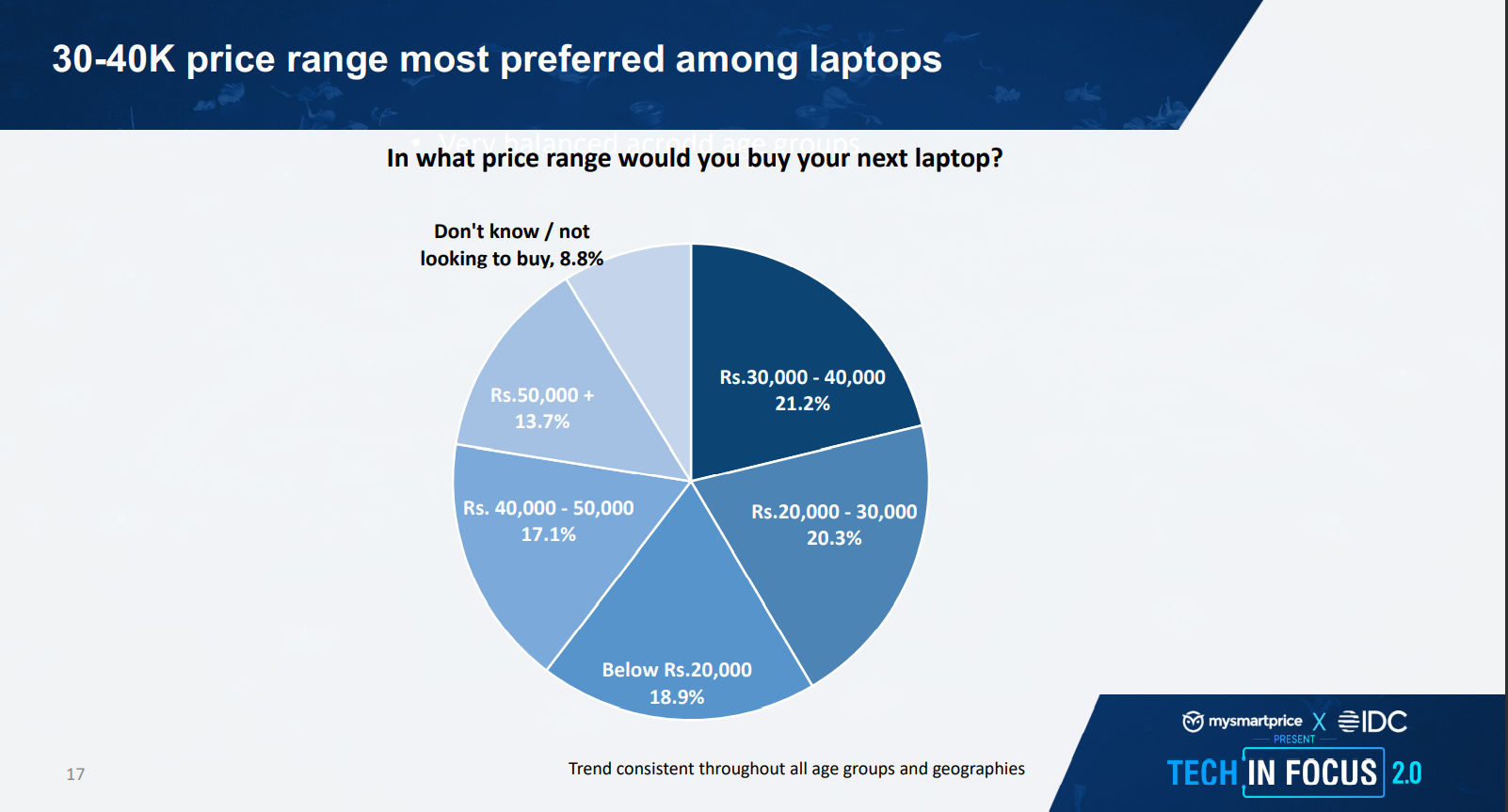 There's a big mismatch in the preferred price and the shipment volumes when it comes to laptops, which opens up the market for disruption. According to the survey, majority of users prefer laptops in the price range of 30-40k, but end up spending more than 50k since there aren't too many good options in that range. However, the recent launches from Realme and Redmi, both aiming for this 30-50k sweet spot, should shake things up a bit in the laptop segment.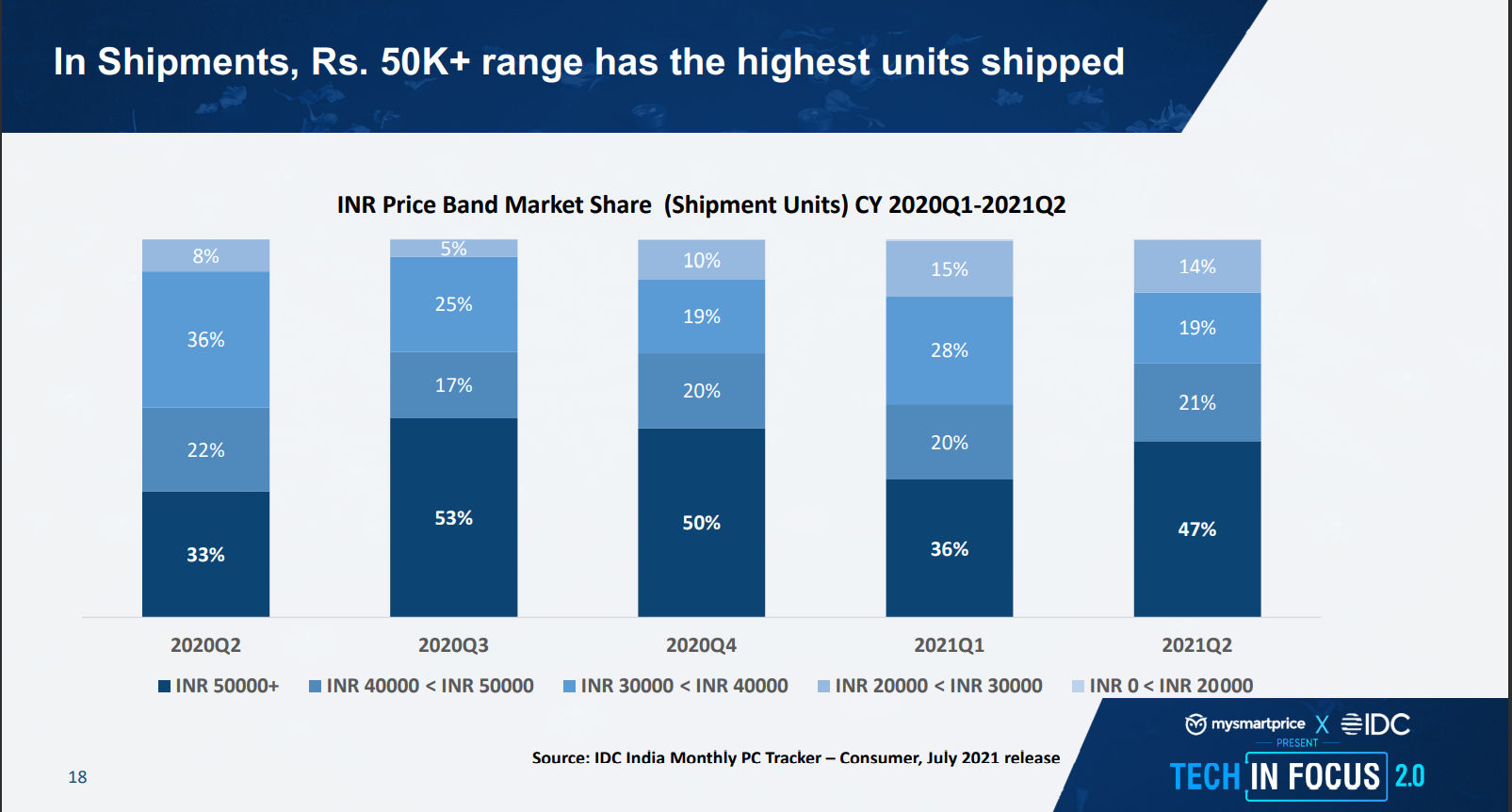 Till then, the market is and will be ruled by DHL, or Dell, HP and Lenovo, which share almost 80% mindshare among buyers. Similarly, 60% of the shipments are accounted for by these three brands, and this only includes the consumer sales. Not the enterprise side of things.
TVs under 20k are the hottest thing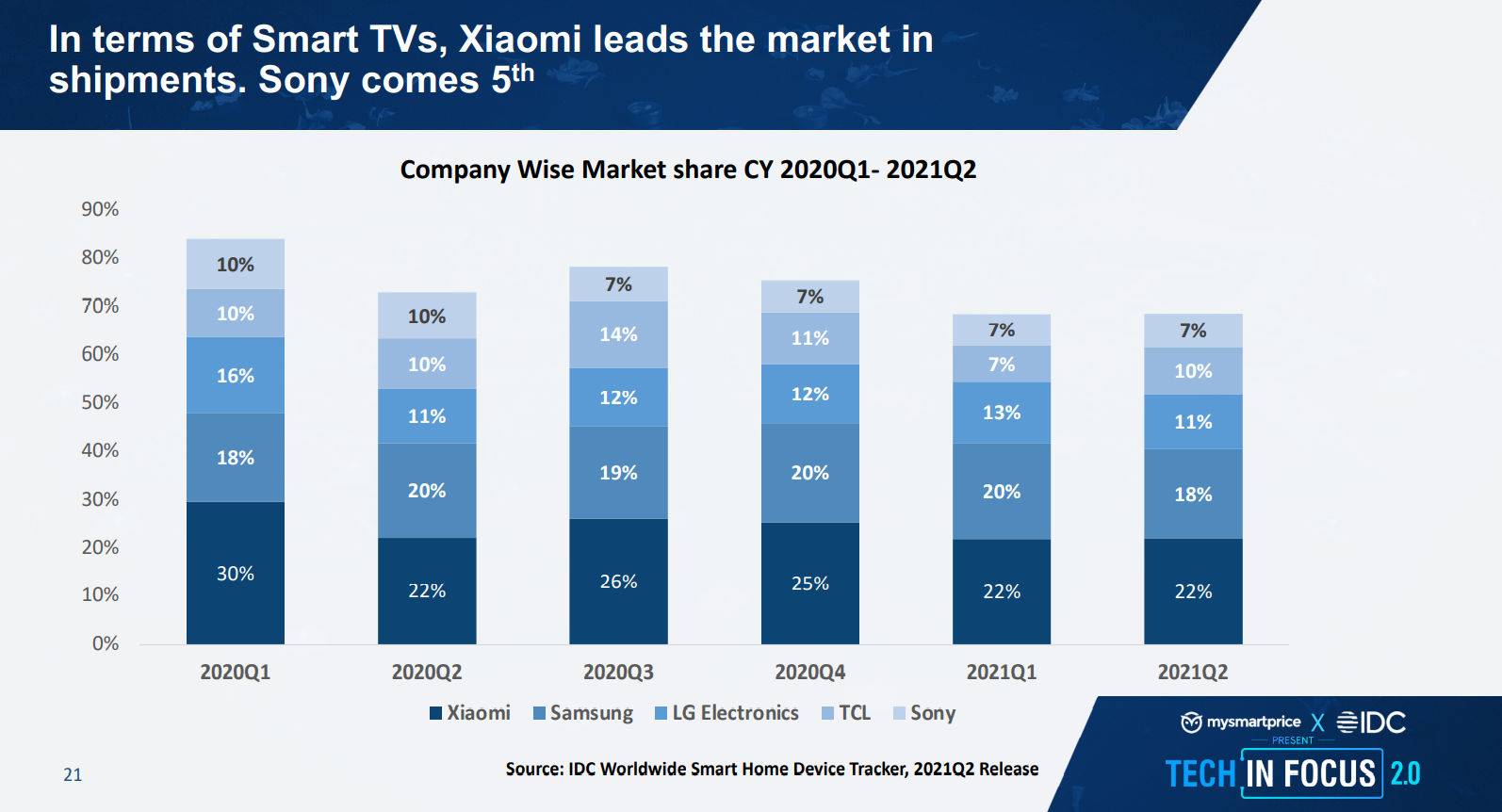 The overall TV category that includes both Smart TVs and regular TVs, the legacy brands like Sony, Samsung and LG make up for almost 75% of the total brand popularity, but when it comes to smart TVs, Xiaomi is the undisputable leader. With 22% market share, Xiaomi is leading the market in Q2 2021, followed by Samsung and LG.
The company has quite a few of its SKUs priced under Rs 20,000 and that seems to be the most popular price segment. More the 26% respondents answered they want their next TV to be priced under Rs 20,000. This category already seems to be the most popular with more than 35% of total smartTV shipments happening in the under-20k segment.
People don't want to spend more than 15k on appliances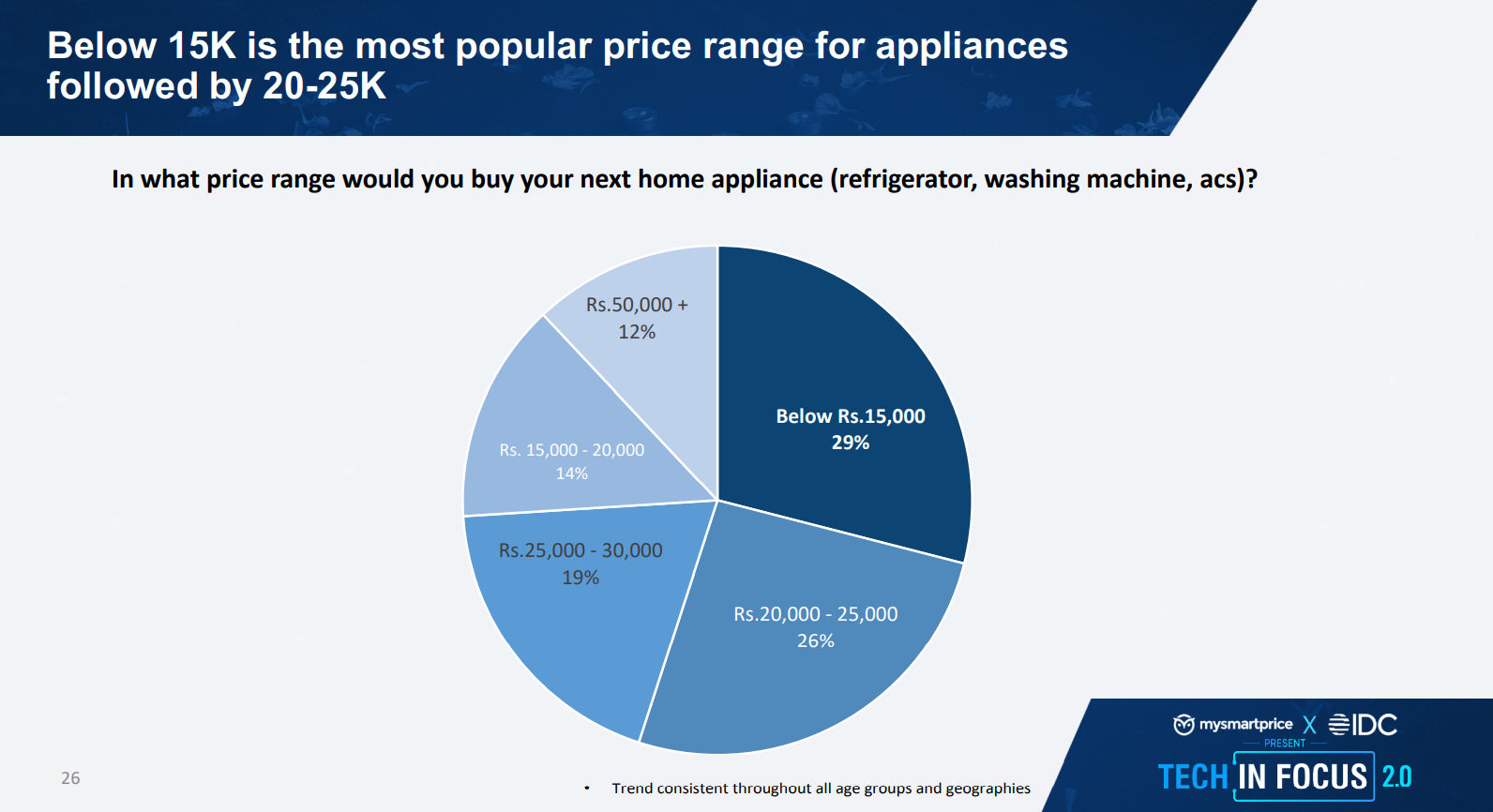 Appliances are different from smartphones, in the sense that consumers tend to hold on to appliances longer than a smartphone.However, most buyers in India want their appliances to be priced below Rs 15,000, lower than the average price people pay for their smartphones. LG leads the popularity contest followed by Samsung and Whirlpool, when it comes to refrigerators, washing machines and ACs.
You can download the complete report of the MySmartprice Indian Festive Buying Behaviour Survery 2021 here.