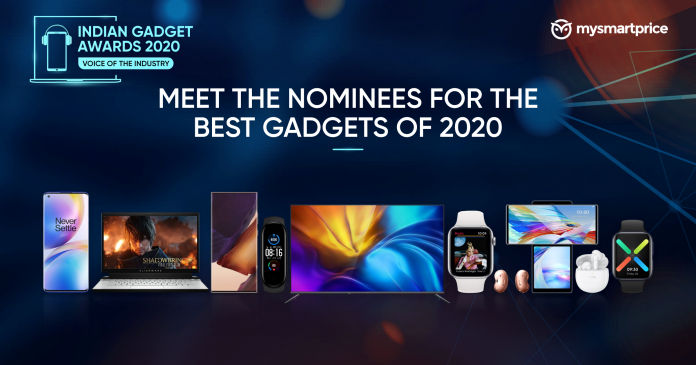 The inaugural Indian Gadget Awards 2020 is already creating a lot of hype across social media. Clueless? Well, watch this teaser to know more:
Unveiling #IndianGadgetAwards 2020 (Voice of the Industry) – the biggest, most exciting Gadget Awards in the history of Indian Tech brought to you by the biggest tech content creators in the country #IGA2020 ft @geekyranjit @TrakinTech @91mobiles as co-hosts! pic.twitter.com/hdenNktL7O

— mysmartprice (@mysmartprice) December 28, 2020

So, #IGA2020 is the biggest, most exciting awards property in the history of Indian tech publishing. It unites 21 of the biggest YouTubers and tech publications under one umbrella to pick the best gadgets of 2020 in an unbiased and democratic fashion. 
And finally, we are happy to reveal the award categories and nominations. By the way, if you want a deep dive into the details of each product, click on the title or the image below it to read the entire breakdown. Also, don't forget to check out the official website of the Indian Gadget Awards 2020 which has details of all the jury members. 
Users' Choice Awards
Before we move on to the jury categories, allow us to introduce you to the two categories inside the Users' Choice Awards. Here your vote matters the most. So, help us choose the Most Loved Phone Brand of 2020 and the Most Popular Phone of 2020. But wait for it, the best part is 50 lucky winners could win products worth ₹3 lakhs from Headphone Zone.
Take a look at the Gleam giveaway link below to vote. Note that you have to click on the question to unfurl the options. 
Indian Gadget Awards: User's Choice
Indian Gadget Awards: User's Choice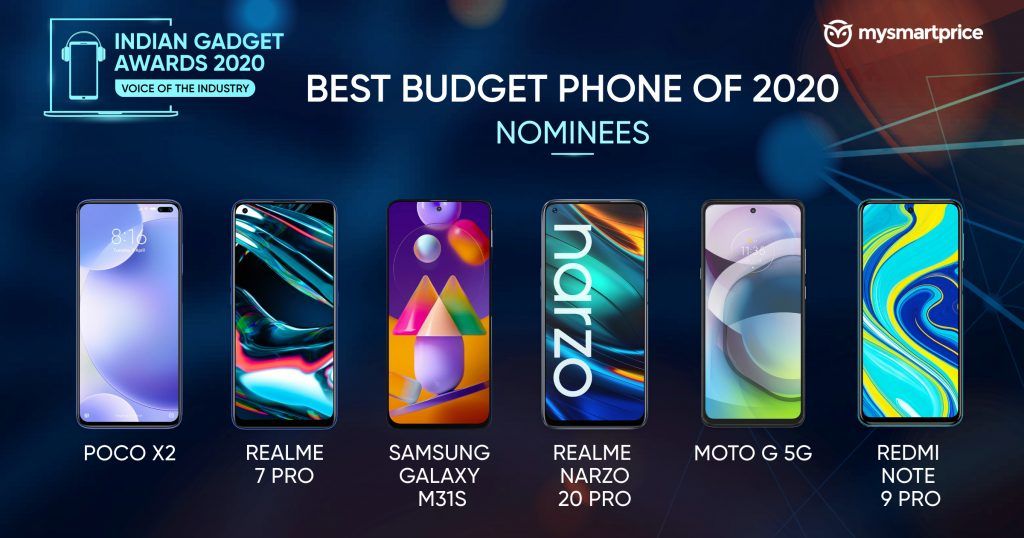 As usual, this was the hotly contested category in 2020. Budget phones, once again, proved that cheap phones are getting good. And, to use the word "cheap" would be doing disservice to the kind of finesse and quality this category has seen this year. We're sure you'd be hard-pressed to pick one phone from this excellent platter we've laid out for you.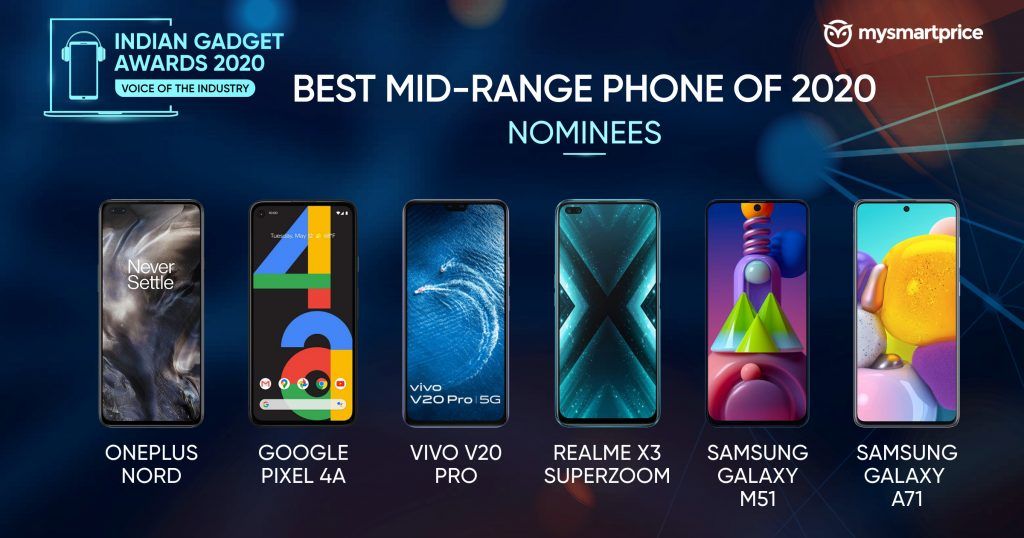 A generally quiet category sprung back to life this year thanks to the availability of some excellent mid-range SoCs and the introduction of 5G to this segment. Also, OnePlus made a massive splash too with your regular players having to battle it out even harder. The nominations are here and the fight is going to be intense.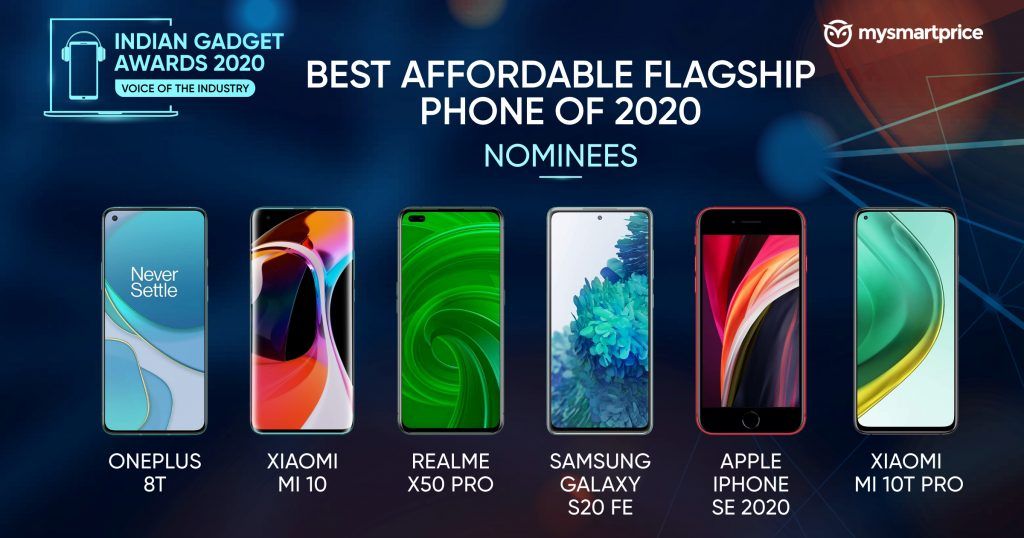 Affordable flagships have been questioning our urge to spend top dollar for a premium flagship phone with all the bells and whistles. A nip here and a tuck there doesn't really mean much when you can say thousands on a phone with similar performance in almost every department. In fact, some of the phones in this list come with IP Rating and Wireless Charging! Seriously, this is a tough, tough category.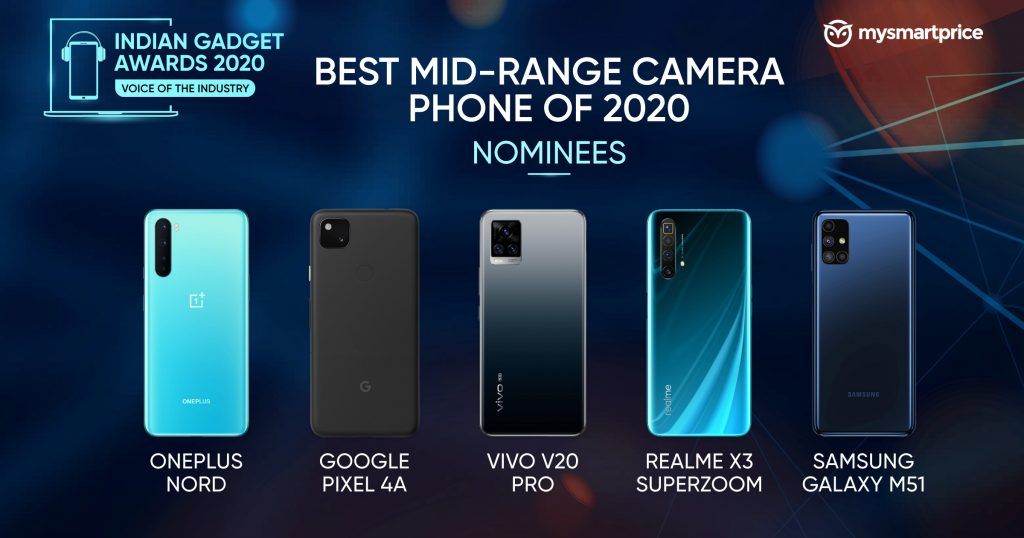 While mid-range phones have pushed the envelope this year in many aspects, there have been some interesting advancements in the camera front as well. Vivo introduced a unique eye autofocus mechanism and Google showed how to be a boss at photography with a single camera. Here are the nominees.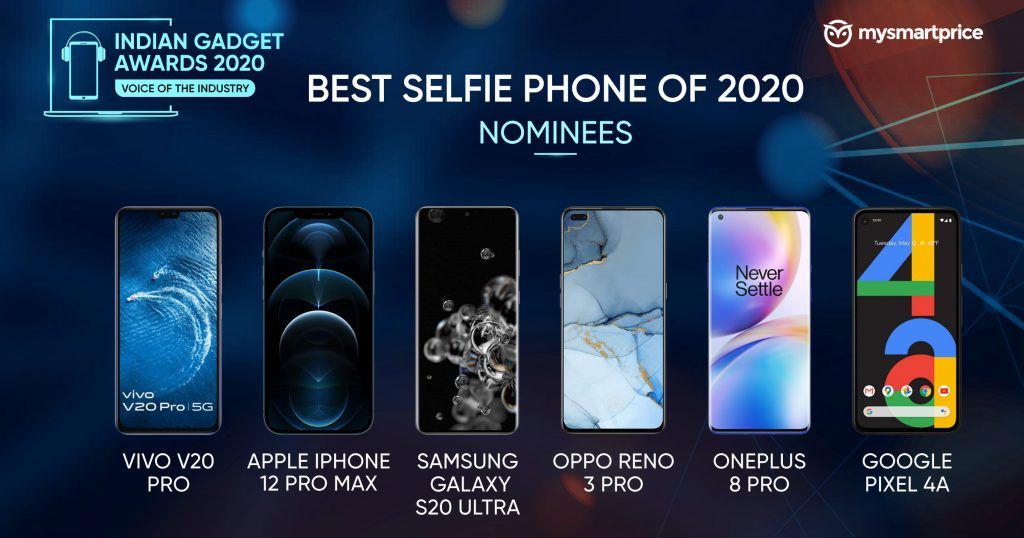 The humble selfie might have taken a back seat for a while but the selfie camera setup on smartphones is more relevant than ever today. It is what helps you make a video call to your loved ones or zoom (no pun intended) into a meeting with your colleagues. And, brands did create some unique solutions for 2020. From introducing eye autofocus mechanisms to enabling 4K 60fps video recording, brands have elevated the status of the humble front-facing camera. The Indian Gadget Awards jury found these phones worthy of being nominated in this category.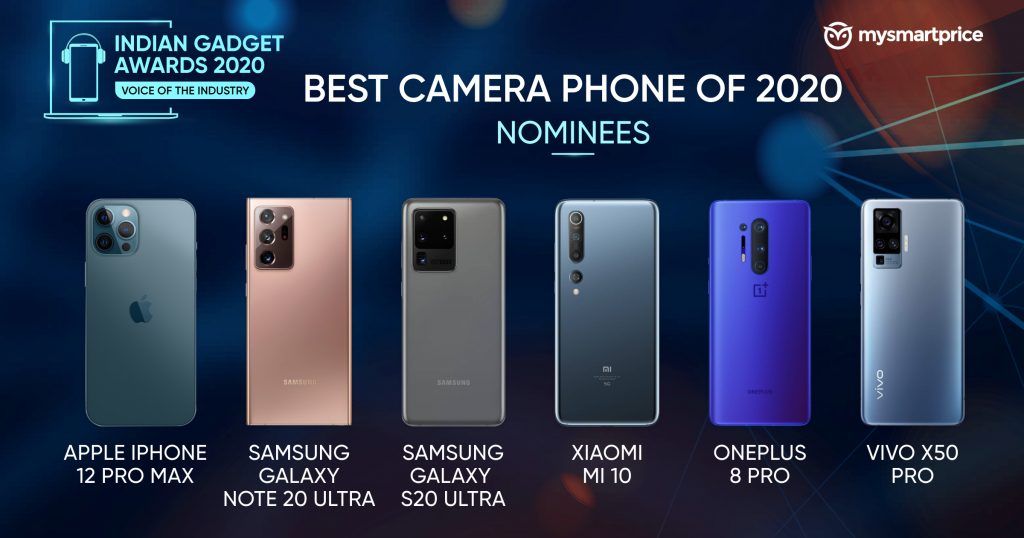 Smartphone cameras are increasingly coming real close to simulating the look and feel of a DSLR camera with varying focal lengths, high quality lenses, big sensor sizes, more megapixels, and most important computational photography algorithms that are more commonplace in the high-end phone category. The phones in this list are the cream of the crop and are possibly the best DSLR alternatives you can carry in your pocket.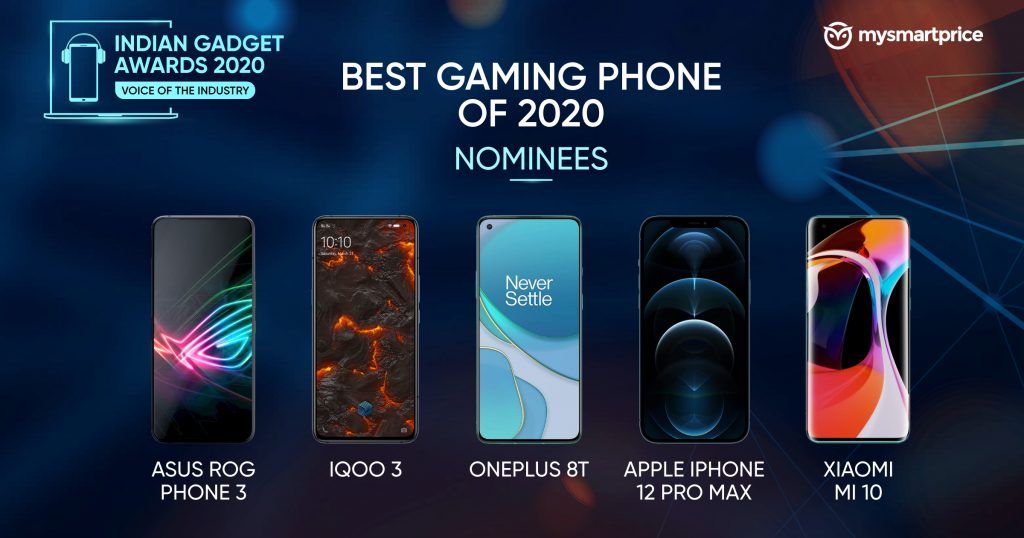 We'll be honest, the gaming phone category was pretty quiet this year. Despite the fact that mobile games made great strides with newer games such as Among Us becoming more popular, gaming phones were quieter this year. Yes, ASUS continued to impress with its ROG Phone 3 and iQOO added triggers to aid gamers. There were your usual suspects such as the iPhone and OnePlus 8 series that kept gamers engaged in their own style. Which one will take the crown? Only time will tell.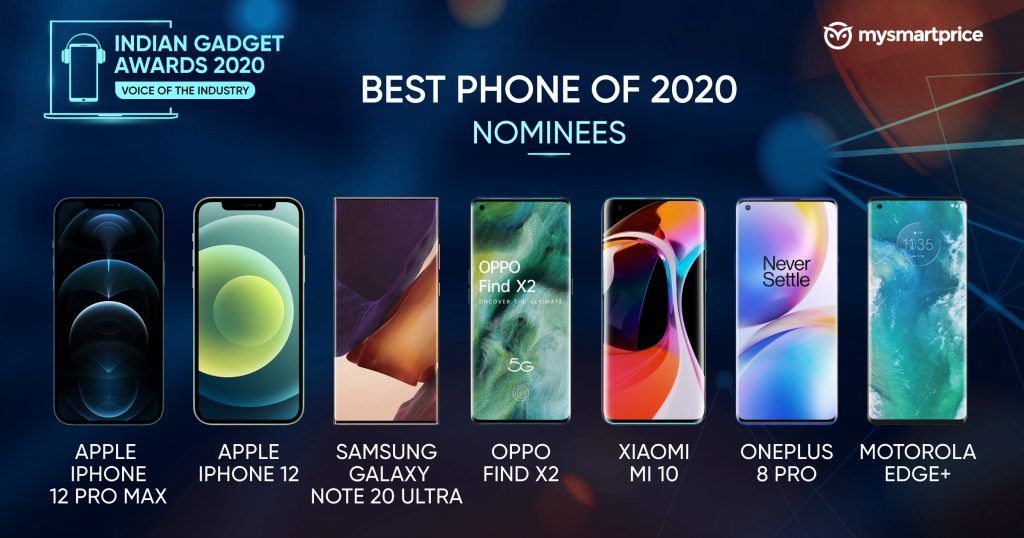 We don't even have to say it, this is possibly the most coveted awards at #IGA2020. The best phone out there. One that holds back no punches. I don't think we need to break it down any further. Pick one from the nominees to know if your favourite wins this one.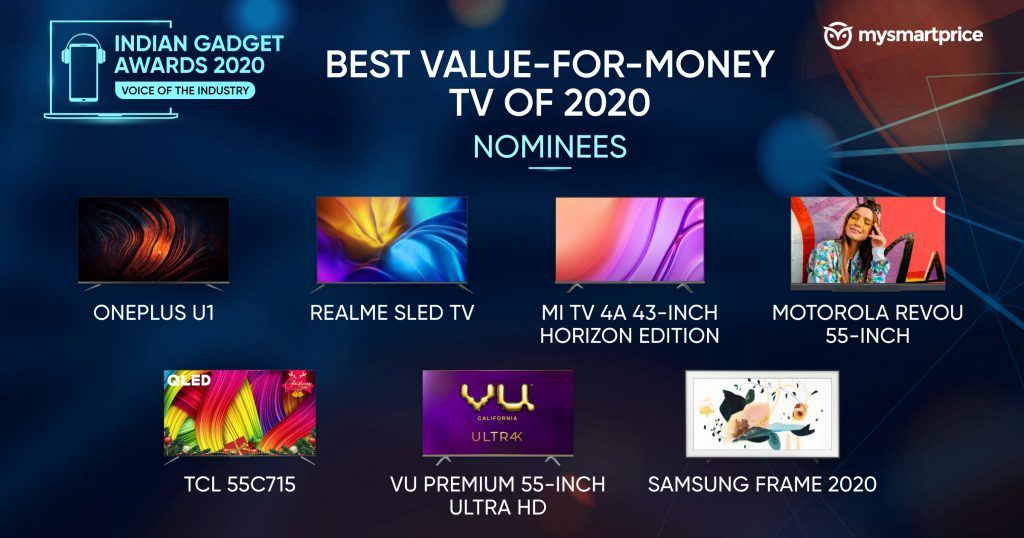 It is no surprise that the laptop category got a much-needed shot in the arm in India and positive coverage after we were forced to work from home, study from home, etc. And thankfully, there are no dearth of options out there. Here's what the jury rounded up.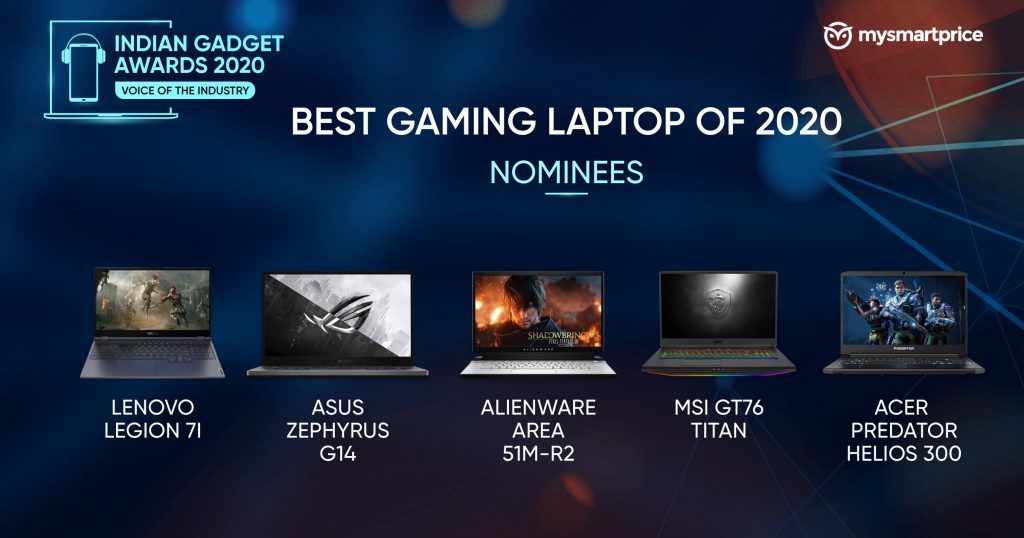 Now, if we were all forced to work from home, it goes without saying that gaming took a spike too. And, if you were in the market for a gaming laptop in India, you'd have gone bonkers trying to pick one from the assortment out there for you. The nominees in the Best Gaming Laptop category, we've chosen the best, most powerful laptop beasts out there that can also easily rival any self-respecting desktop setup.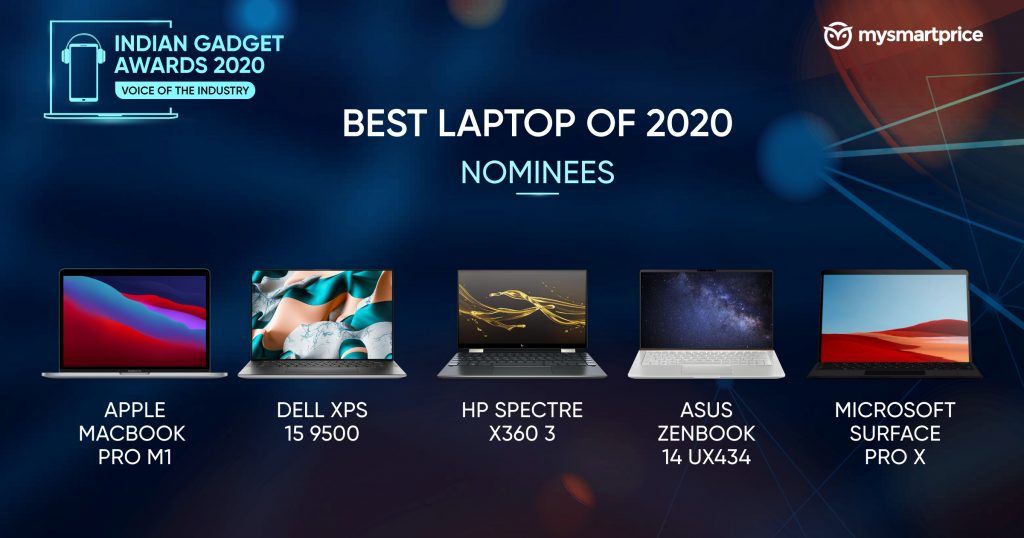 But, what if you aren't a gamer and you just want the best laptop out there? Well, the laptops in our Best Laptop category are actually trendsetters. From introducing ARM-based computing chips to redefining design, these laptops were real head-turners and conversation-starters. Which is your pick?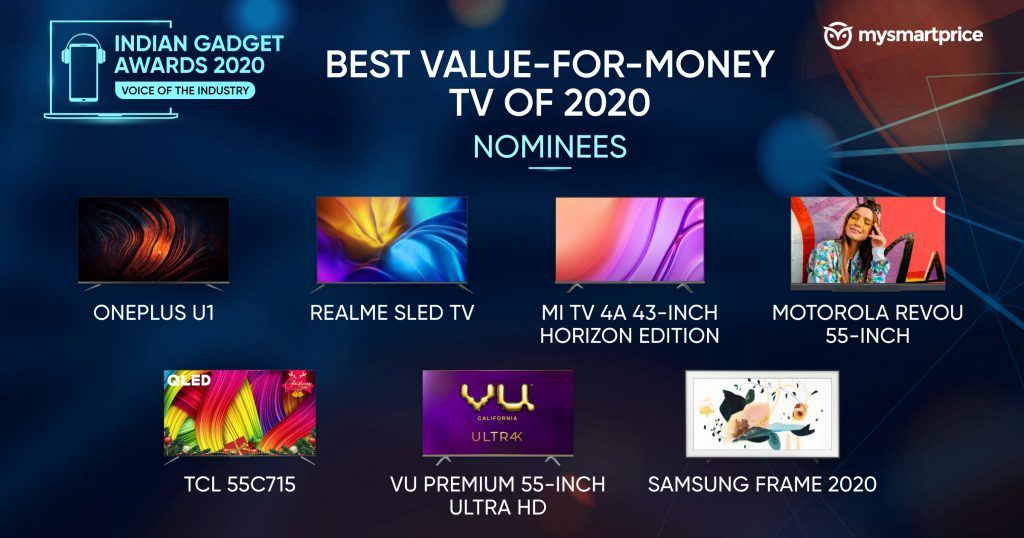 The pace at which the TV market is growing in India, you'd not be wrong to assume that it is becoming as exciting as smartphones. There are so many value-for-money TVs out there these days with some offering high-end QLED displays for less and others just bombarded you with crazy features for even crazier pricing. The nominees are evidently pretty stellar and any TV from this list can easily take the crown.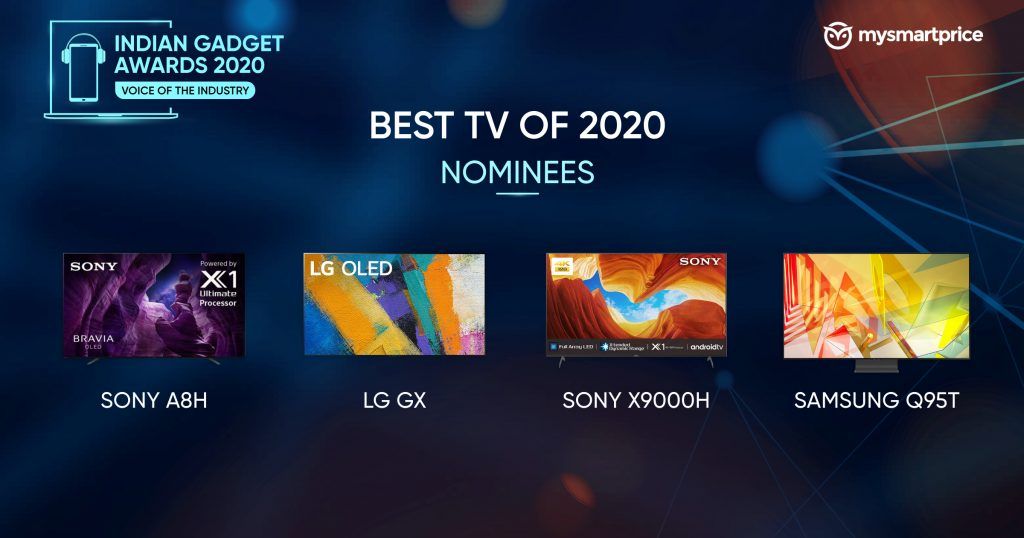 To be honest, the premium TV category was fairly quiet in India this year. Having said that, there were still some compelling options out there if you did want to spend more for the best picture quality. And, some of these TVs will definitely keep you enthralled. Here are the nominees.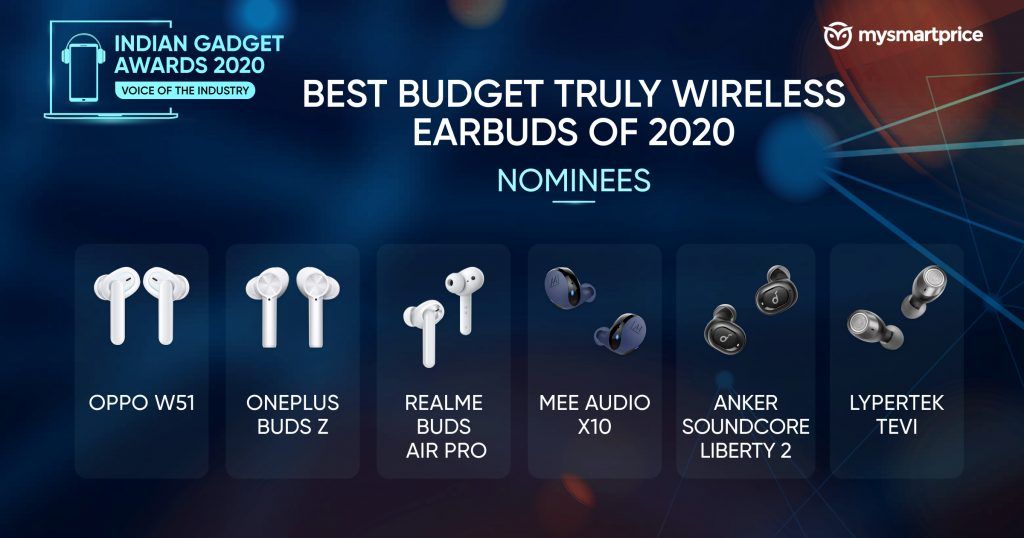 Trust us when we say this, people are going to fondly tell their grandkids that in 2020, apart from fighting a global pandemic, they were scouring for the best deals on Truly Wireless Earbuds. And you know what? The category just exploded with some stellar budget options. From bringing ANC to TWS buds under Rs 5,000 to just providing absolutely stunning sound signatures, brands tried everything to set this category on fire. The nominations are testament to that fact.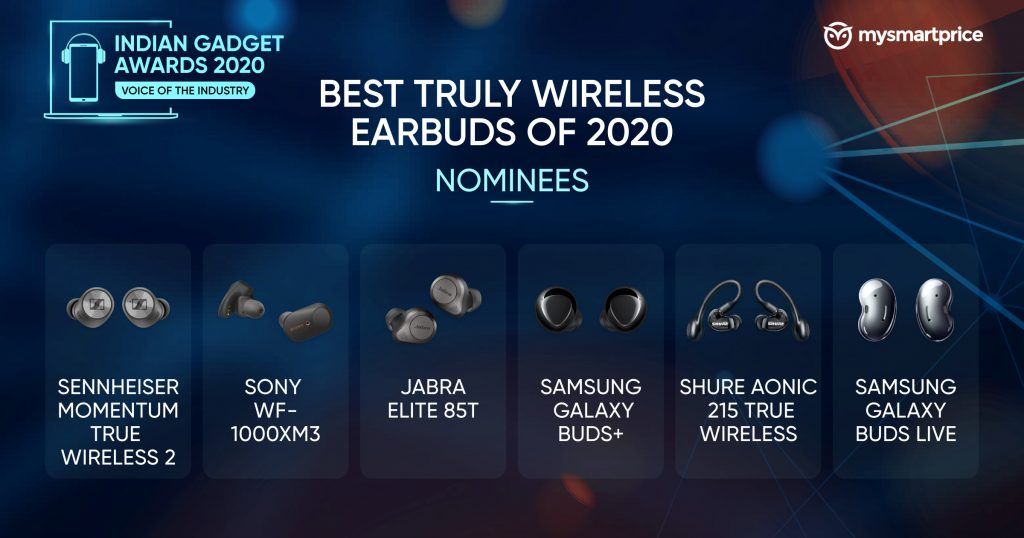 It is no wonder then that the budget TWS earbuds stole the thunder from the big boys. Regardless, there were some phenomenal options out there. These premium truly wireless earbuds showcased the limits to which manufacturers could engineer wireless sound and make it sound sonically as good as wired IEMs. Our nominees will have you confused and it has definitely flummoxed our jury in picking the right winner too.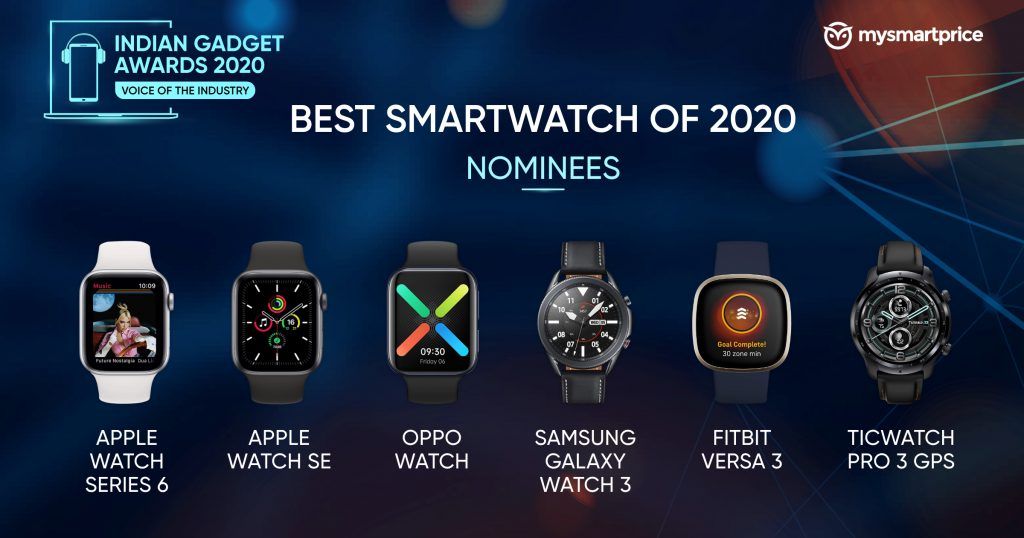 Smartwatches this year sort of escaped the limelight too because people weren't particularly out and about. That didn't deter brands from innovating. We had a good mix of options across price bands and there were major advancements made in what the smartwatch could do for you. The nominees in this list have your usual suspects from Apple and Samsung, and some new entrants as well.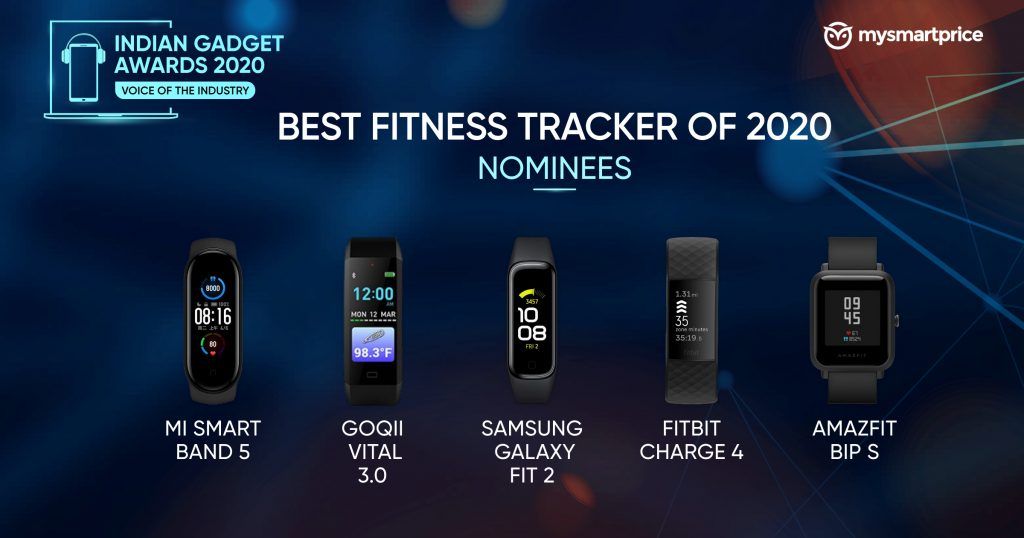 The fate of fitness trackers was pretty similar to smartwatches. Slow year overall for the category, to put it subtly. That said, we did get some fantastic options. Here are the nominations.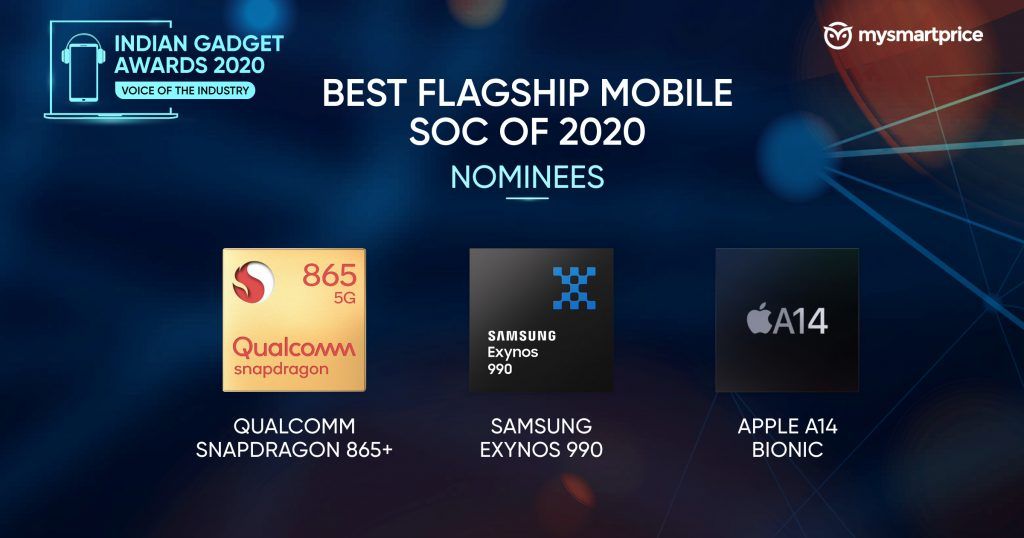 The System-on-Chip (SoC) is typically the brain of your smartphone and flagship SoCs were, as usual, up to task and probably had some power to spare in the process. Apple, Qualcomm, and Samsung fight it out in this category.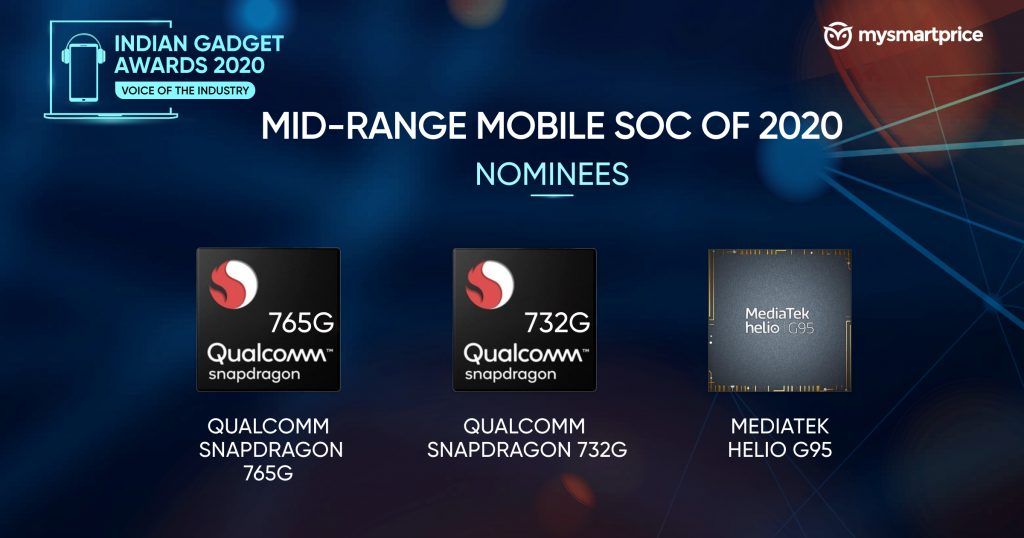 But, to be honest, it was the mid-range where both Qualcomm and Mediatek pushed the envelope. These chips not only made 5G affordable but also made us question if we really needed flagship devices.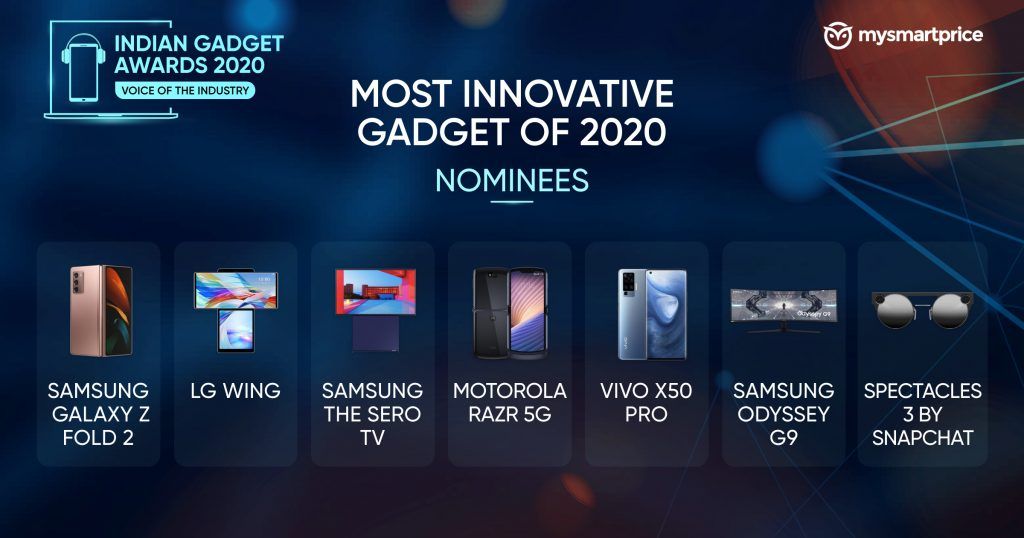 Innovation was not in short supply in 2020. From foldable screens on smartphones to curved gaming monitors, product engineers were pushing the limits of technology while we were using them. Presenting our nominees.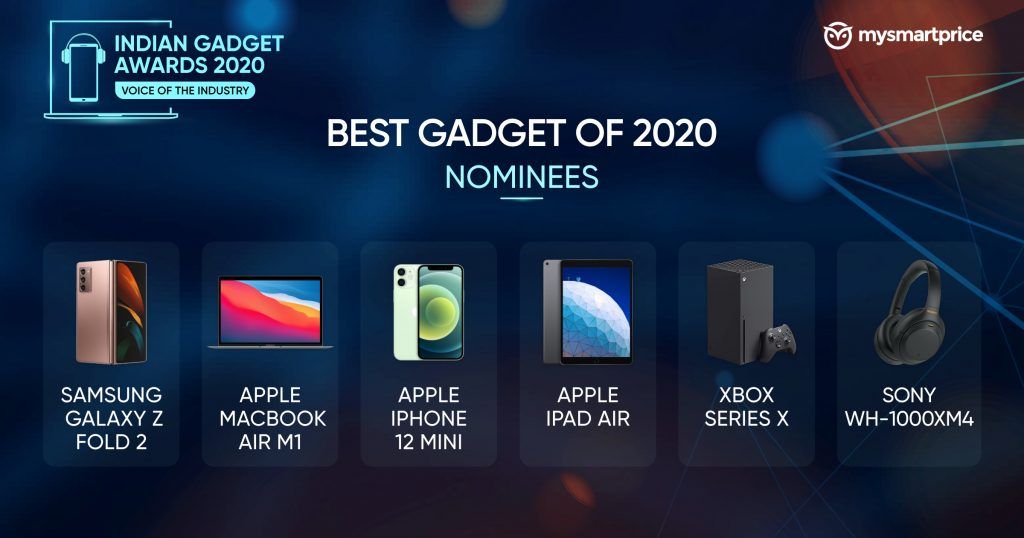 So many gadgets out there fighting for space but the jury at the India Gadget Awards surely believes our nominees in this category stood out. But, only one will emerge the winner and be defined as the gadget of 2020.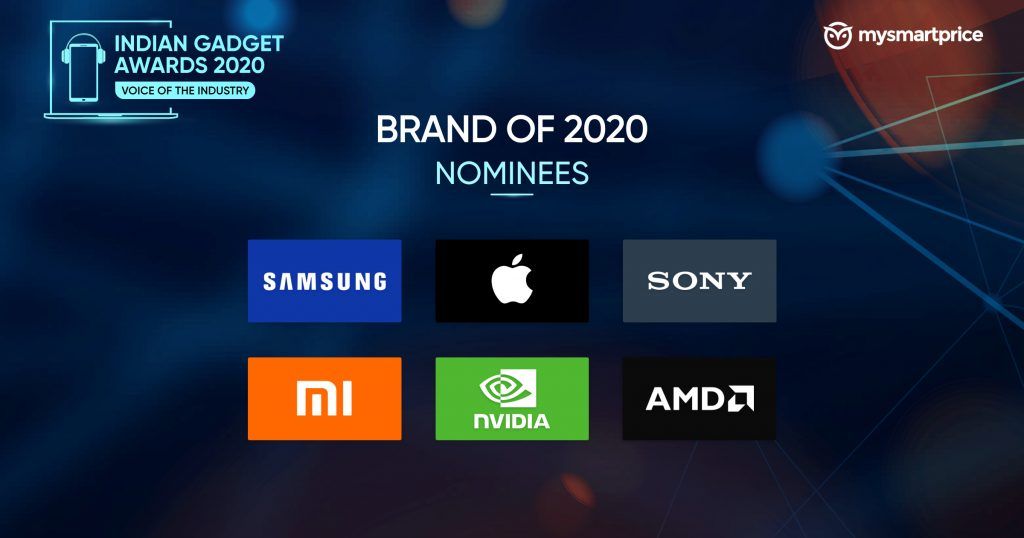 While we are commemorating the gadgets that gave us joy in 2020, it is important to notice and appreciate the brands that were made in 2020. From engineering these useful devices to creating awesome marketing hype around it, these were the brands that made the right kind of noise this year. 
So, that's it. Those were the 24 categories of awards and the 100+ nominees in the inaugural edition of the Indian Gadget Awards 2020. Do you know which ones will win the award? Well, keep guessing till January 15. 
Thanks for reading till the end of this article. For more such informative and exclusive tech content, like our Facebook page