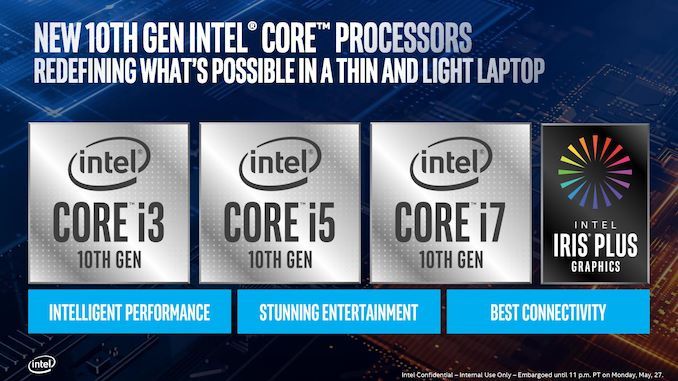 While AMD unveiled its 7nm CPUs and GPUs, Intel is still stuck at 10nm processors. Yes, Intel has unveiled its 10th Gen. CPUs, called Ice Lake, more than two years after its promised time. Intel's 10nm laptop CPU lineup has 11 models, and consist both Ice Lake-U and Ice Lake-Y chips. Ice Lake-Y chips will be the most power-efficient ones made for extremely thin and light laptops (passively cooled as well as 2-in-1s), while Ice Lake-U chips will power more traditional form factors. It is possible that these CPUs will be used in Project Athena certified laptops.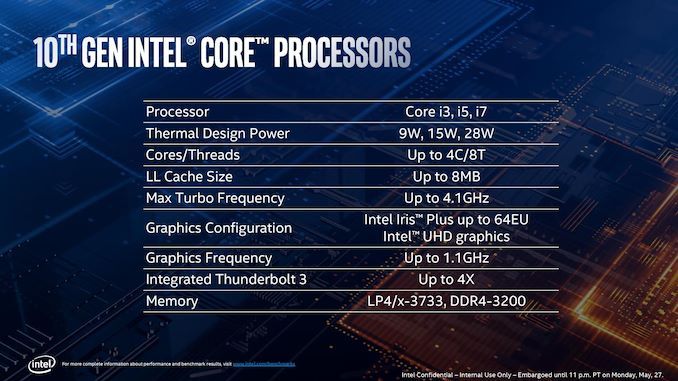 These CPUs are based on the company's new Sunny Cove architecture and have Gen 11 graphics (with up to 1 teraflops of power), support for Wi-Fi 6 and Thunderbolt 3. This new lineup includes Core i3, Core i5, and Core i7 CPU models. The company, however, hasn't revealed actual model numbers and specifications, so we still can't say if this is an actual launch (Intel has a proven track record for delaying launches). Intel is claiming that its new CPUs have, on an average, 18% improved instructions per cycle performance (compared to Sky Lake cores), all thanks to better load/store functionality, bigger cache, improved prefetchers, more execution units, and wider out-of-order windows.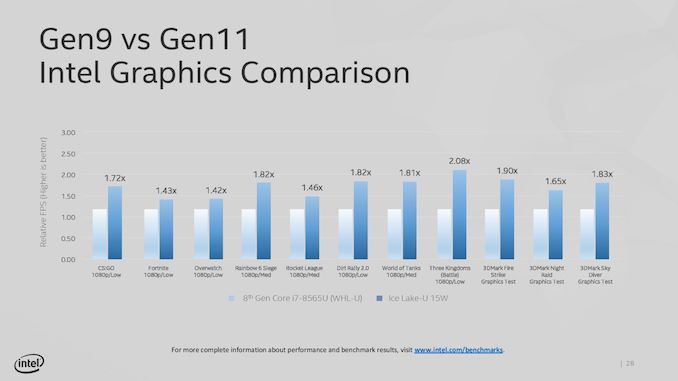 Intel Ice Lake CPUs will be released in 9W, 15W, and 28W models. The top-end chip will have 4.1GHz CPU Burst Mode clock speed and 1.1GHz GPU clock speed. Intel has been marketing its improved integrated graphics (Gen 11), and both Ice Lake-U and Ice Lake-Y CPUs will use these integrated GPUs cores. Ice Lake-U models will be split into CPUs with 32 EUs (Ice Lake U UHD) and CPUs with 48 or 64 EUs (Ice Lake U Iris Plus).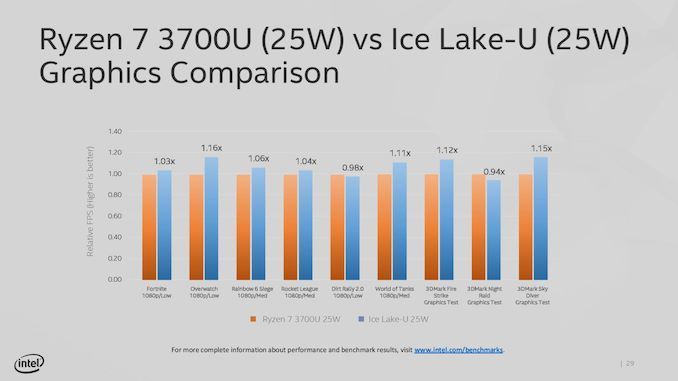 Intel is claiming that its new integrated graphics can compete with what AMD has been providing in its latest APUs for laptops. The company is promising smooth 1080p gaming performance for e-sports titles on low or medium settings. There's also a capability to play 4K 60fps HDR or 8K 30fps videos, 2.5x AI processing performance with DL Boost Dynamic Tuning, and 2x faster HEVC encoding performance. The new graphics 5K displays at 60Hz and 4K displays at 120Hz. If there's a compatible webcam on the laptop, Ice Lake chips can record 16MP cameras with up to 1080p 120fps or 4K 30fps video recording.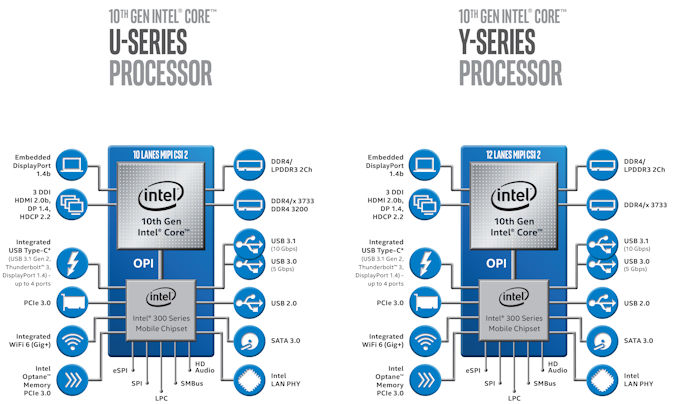 In terms of I/O, Ice Lake CPUs have integrated Thunderbolt 3 support, doing away the need for a separate PCIe-to-Thunderbolt controller. This will save a lot of space for OEMs, which means a more compact design and improved power efficiency. There's also support for Wi-Fi 6 through a Wi-Fi 6 Media Access Controller on the chip and a separate RF companion module. Most major laptop OEMs, including ASUS, Dell, HP, Lenovo, and others have announced that they'll release laptops fitted with Ice Lake CPUs.