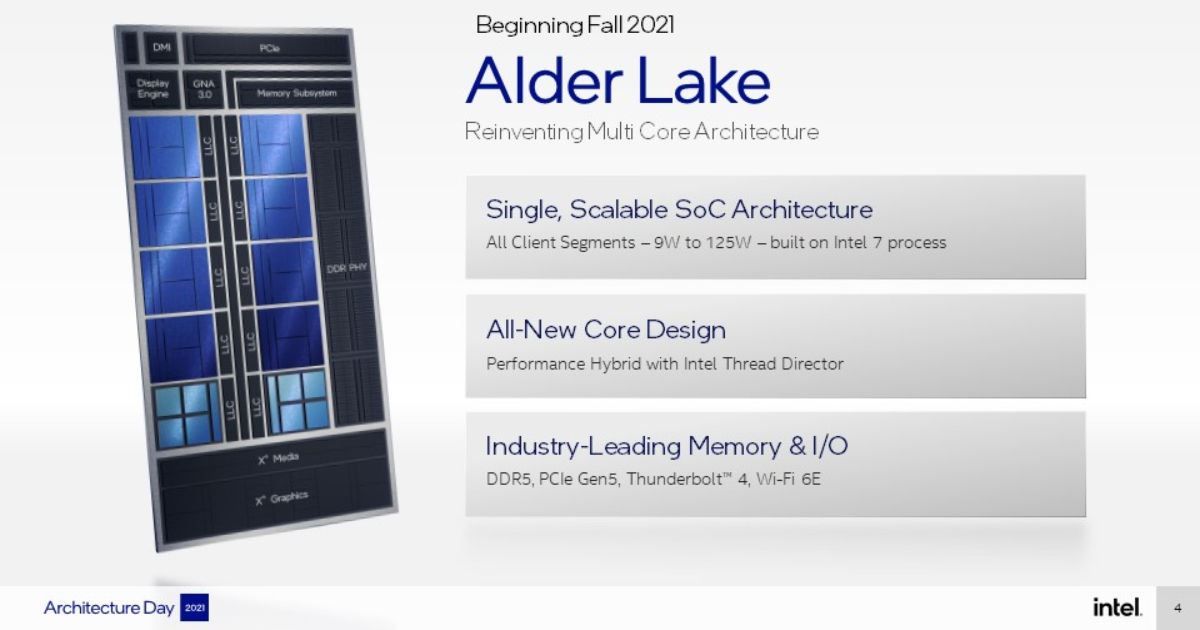 American chipmaker Intel has announced a bunch of new products aimed at both the consumer and enterprise markets. The new products include the company's 12th Generation Core lineup of chips, which were codenamed Alder Lake. They are expected to be seen in the market in the next few months, starting with desktop PCs. The 12th Generation Alder Lake CPUs are the first Intel chips that have both high-performance and low-power cores, somewhat similar to ARM designs. The chips are an update to the Lakefield CPUs that Intel announced earlier and later pulled from the market.
The Alder Lake chips have P and E cores, which stand for Performance and Efficiency, respectively. "For the cores to work seamlessly with the operating system, Intel developed the Intel Thread Director. Built directly into the core, Thread Director empowers the operating system to place the right thread on the right core at the right time. Alder Lake will deliver performance that scales to support all client segments from ultra-portable laptops to enthusiast and commercial desktops," the company said in a post on its newsroom.
The video below is from Intel's Architecture Day event, which was held last night, where the new chips were announced.
The company also debuted two new microarchitectures with the new chips. The P cores are based on the Golden Clove architecture, while the E cores are built using the Gracemont architecture. While Golden Clove is built for power, speed and for lowering latency, the Gracemont architecture focuses on reducing the physical silicon size and throughput efficiency of the chip. The Alder Lake chips will be able to use 100 GBs of compute fabric per P core, or with every four E cores, according to Intel.
Further, Intel said that the new Alder Lake CPUs are built using the Intel 7 process, which is the rebranded version of the company's 10nm fabrication process. Intel had rebranded its manufacturing nodes recently, to better suit what the company says their performance levels are. The new CPUs will use DDR5 RAM, PCIe storage and Thunderbolt 4 ports, with support for WiFi 6E connectivity. It supports DDR5-4800, LPDDR5-5200, DDR4-3200 and the LPDDR4X-4266 memory units.