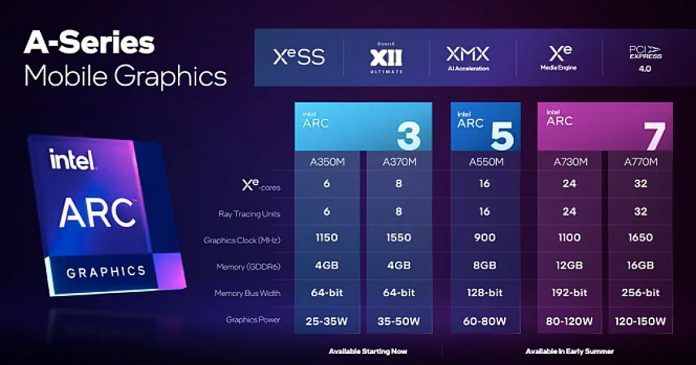 After months of teasers, the Intel Arc GPUs are finally here, starting with the company's initial offering for laptops. The offering begins with the base variant, and there would be three slabs of GPUs to begin with. These would be the Intel Arc 3, Arc 5 and Arc 7, and as you'd expect, each would cater to three different segments of products. The base Arc 3 offering will be made available now, according to Intel, while the rest have a launch period of "early summer".
Intel Arc GPUs: What They Offer
Beginning with the Arc 3 series, the latest Intel GPUs are available in two SKUs – the Arc A350M and A370M. They are available with six and eight processing cores respectively, and six and eight ray tracing cores as well. The two GPUs both offer 4GB GDDR6 video memory, and run at 1150MHz and 1550MHz clock speeds respectively. The base A350M is rated at 25-35W power consumption, while the A370M is rated at 35-50W power.
Both the GPUs are therefore aimed at slim mainstream laptops, and seek to offer slightly upgraded graphics processing over integrated graphics solutions. However, Intel does not specify how big of an upgrade would either provide over integrated graphics in terms of benchmark scores.
These are the only offerings that are being made available right now, with Arc 5 and Arc 7 reserved for a later launch date. The most powerful of the bunch is the Arc 7 A770M, with 32 processing and 32 ray tracing cores, and 1650MHz graphics clock. It also offers 16GB GDDR6 memory, and is rated for 120-150W power consumption – hence venturing into the high performance gaming laptop territory. However, there is no word right now in terms of which laptops and OEMs would it be launched in.
Talking about what the new offerings bring to the table, Roger Chandler, VP and GM of Intel's graphics and gaming team, said, "Laptops with Intel Arc 3 graphics offer enhanced 1080p gaming and advanced content creation, and those with Intel Arc 5 and Intel Arc 7 graphics will offer the same cutting-edge, content-creation capabilities coupled with increased graphics and computing performance."
However, reports state that Intel's XeSS AI-based super-sampling system, which would power the company's game graphics upscaling technology, is not available at the moment. The same would be unveiled along with the launch of the higher performance Intel GPUs, later this year.
Thanks for reading till the end of this article. For more such informative and exclusive tech content, like our Facebook page