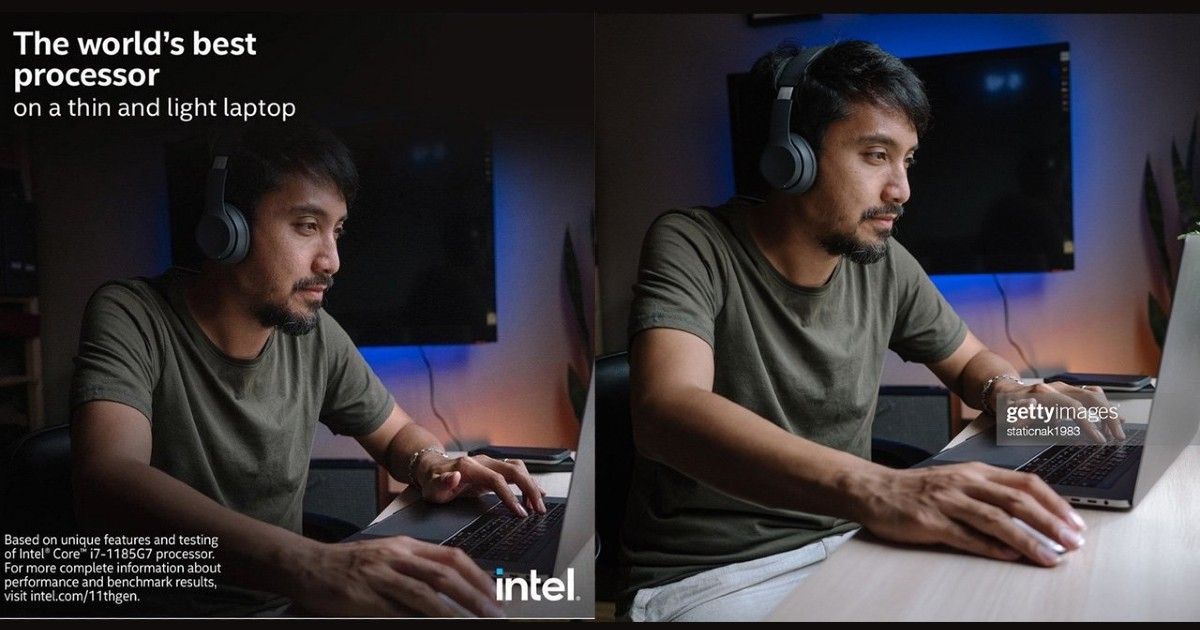 When your back is against the wall, you'll try almost anything to get in a better position. That may be the case for Intel at least. The company was caught using Apple's Macbook Pro laptops to promote its new 11th gen processors. What's the catch? That Intel's 11th Gen Tiger Lake processors aren't available in Apple's Macbook Pro laptops at all. As you may have noted late last year, Apple has been transitioning its Macbook Pro laptops to the new M1 chip, something that many experts have said will be a huge blow to the future of Intel's business in the PC space.
The promotional campaign claims that the new Tiger Lake Intel Core i7 processor is the "world's best processor on a thin and light laptop", a claim that is important for Intel right now. Why? Because thin and light ultrabooks like the Macbook Pro have been in demand since the pandemic forced more people to work from home. Apple's laptops specifically, are also common amongst creators, graphic designers and other power users, who want both power and portability.
Apple's move to transition its Macbook Pros to the M1 chip have been successful so far too, putting pressure on Intel's chips, which have enjoyed a monopoly of sorts in the PC space for a very long time. Additionally, the company has also been facing tough competition from AMD's new Ryzen line of processors, which have been gaining popularity in the market over the past few years.
Of course, all this could simply be an oversight on the part of Intel's advertising teams. As pointed out by Gizmochina, the image in question was taken from Getty Images, an online photo repository. While the Apple logo doesn't show, the laptop appears to be the 15 or 16 inch version of the Macbook Pro. It's possible that someone in the team simply overlooked the fact that these laptops couldn't have Intel's new Tiger Lake chips.
Additionally, the fact that Apple's logo isn't shown tells us that the image is meant only for representational purposes. Intel isn't actually trying to use Apple's branding in its campaigns, but just wanted to show someone using a powerful PC.
Thanks for reading till the end of this article. For more such informative and exclusive tech content, like our Facebook page