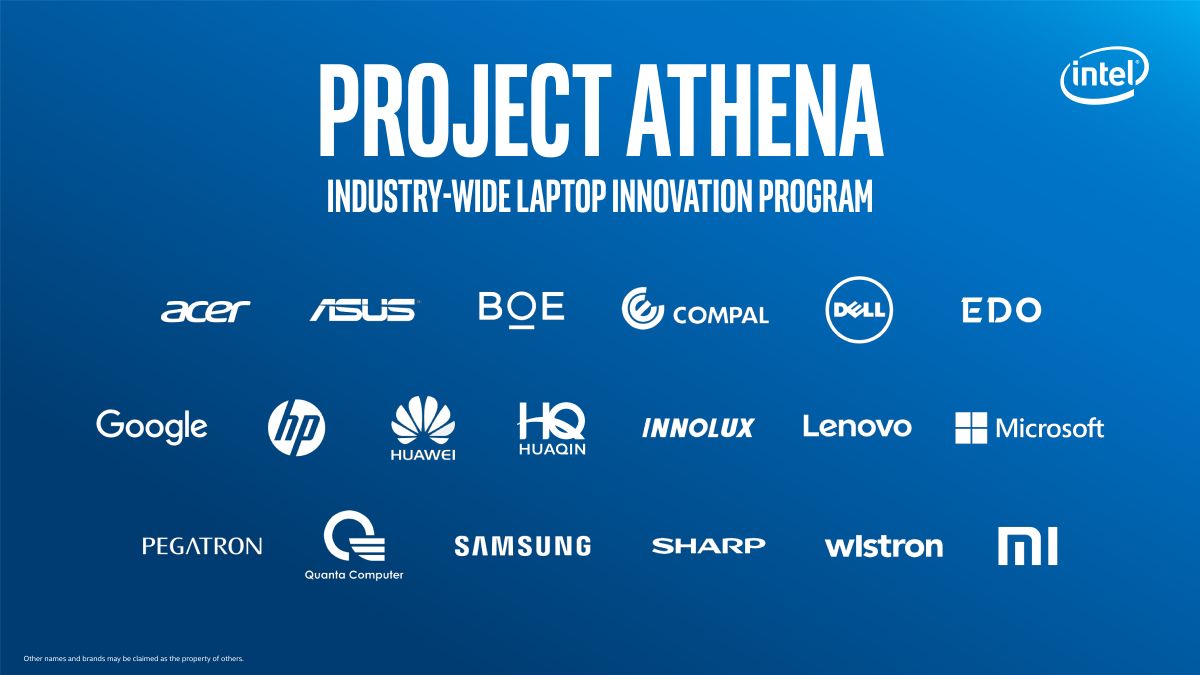 Remember Intel's Ultrabook program which helped OEMs in bringing ultra-thin and light laptops with all-day battery life starting 2011? Well, it worked, and we now have hundreds of Intel-powered laptops that accomplish thin-and-light form factor while providing superb battery life. Now, Intel has unveiled its 'Project Athena' program at Computex 2019, and it aims to bring premium laptops with better designs, even longer battery life, Wi-Fi 6, and AI-accelerated workflow. Project Athena directly aims to compete with Qualcomm's Always-Connected PCs (ACPC), which will start coming out this year.
Intel Project Athena Requirements: Always-On Internet Connection, Instant Wakeup, Wi-Fi 6, Longer Battery Life, & More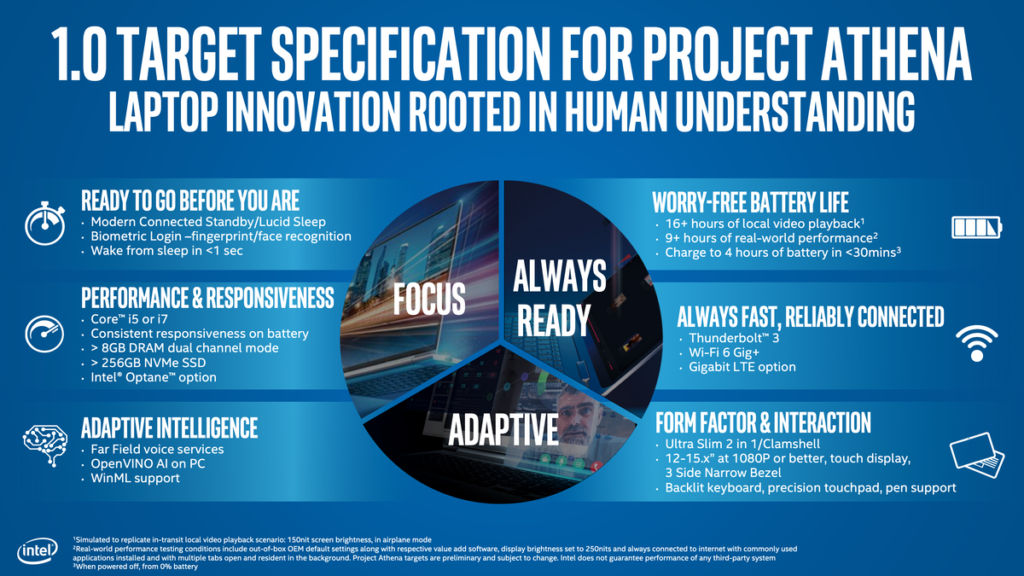 As of now, Qualcomm Snapdragon-powered laptops have the battery life and wireless connectivity advantage even if they are not as fast as Intel-powered laptops. However, Intel is planning to improve in terms of battery life, connectivity, and biometrics. While Intel already has an instant wake-up technology, it varies between laptops due to quality of implementation. With Project Athena, instant wake-up becomes a core requirement and so does biometric authentication (face or fingerprint recognition). Intel is also pushing OEMs to offer all-day battery life (9 hours of web browsing or 16 hours of video playback with 150 nits screen brightness). And it's not just battery life that's being improved, faster battery charging (4 hours of battery life in 30 minutes) is also one of the important factors that Project Athena brings to laptops.
Looking at how AI has been at the forefront of marketing, Intel is directing OEMs for their laptops to have a basic degree of AI processing through Microsoft's WinML machine learning API and Intel's OpenVINO computer vision API. Also, Intel is also asking laptop makers to equip laptops with far-field voice recognition to bring always-on support for AI-powered voice assistants like Alexa and Cortana.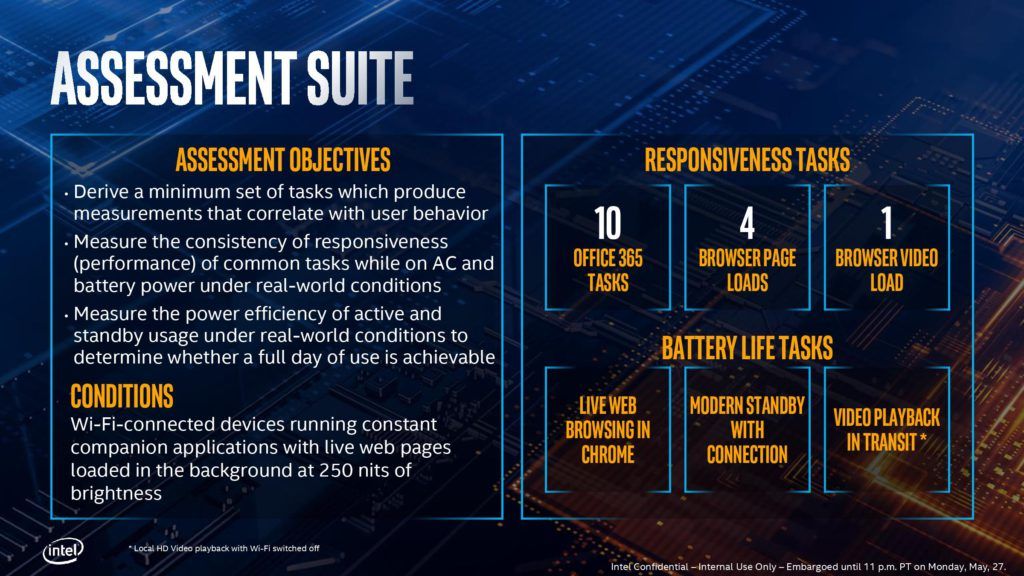 To pass 'Project Athena' certification, laptops need to be equipped with 8th Gen. Intel Core i5 or Core i7 processors, at least 8GB of RAM, at least 256GB of SSD storage, Wi-Fi 6 (through Intel's AX200 CNVi Wi-Fi module), at least 16 hours of video playback (or 9 hours of web browsing), and 4 hours of battery life worth of charging in 30 minutes. All laptops need to have 12-inch to 15-inch touchscreens with thin bezels, complete with support for pens. Cellular connectivity, be it 4G LTE or 5G, is still not set as a requirement to procure Project Athena certification, though. OEMs will receive engineering and marketing support, but in return, OEMs will need to make their laptops last longer and offer better app responsiveness.
Intel Project Athena Laptops, Partners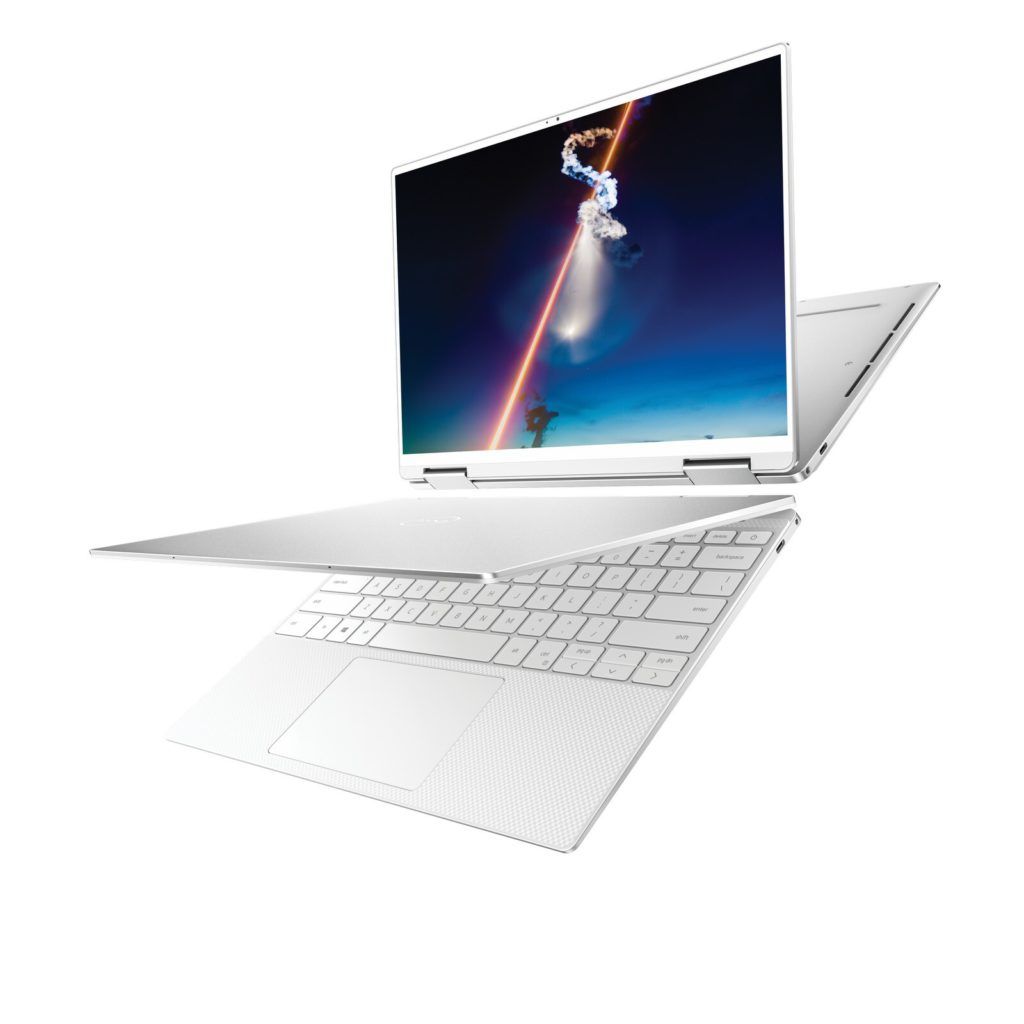 Even with such tough requirements, over 100 brands have come onboard with Intel for the Project Athena program. The company invited a few OEMs to the stage and unveiled three laptops—Acer Swift 5, Dell XPS 13 2-In-1, HP Envy 13 Wood Series, Lenovo Yoga S940—that have passed Project Athena requirements. Intel announced that Project Athena laptops will hit the market this holiday season (Q4 2019).
Intel HoneyComb Glacier Gaming Laptop With Dual Screen Design, Twin River Laptop With Fabric Design
Intel also showcased an innovative gaming laptop form factor. The Intel HoneyComb Glacier prototype laptop (via TheVerge) features a unique dual-hinge design which helps the laptop cram in not one but two screens: 15.6-inch 1080p screen and a 12.3-inch 1920×720 screen. The double-hinge mechanism lifts both the screens upwards and also opens up an area behind the hinge for better airflow to cool the laptop's internals. Speaking of internals, the Intel HoneyComb Glacier laptop features an octa-core Intel CPU (45W) and Nvidia GeForce GTX 1060 GPU. There's Tobii Eye Tracking, too.
Intel Twin River Fabric Laptop Prototype
The company also showcased another prototype laptop design, the Intel Twin River (via TheVerge), with a dual-touchscreen, a fabric outer surface, and a fan-less design. The second touchscreen display covers the whole base of the laptop. It has two 12.3-inch 1080p touchscreen displays and the hardware includes a 15W Intel quad-core CPU and a thin vapor chamber cooling system.