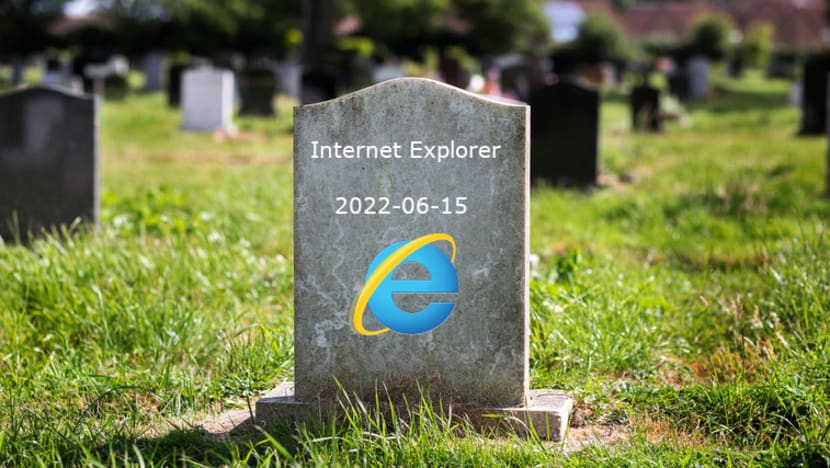 One of the most popular and oldest browsers, Internet Explorer has officially shut down. After launching it on August 16, 1995, Microsoft allowed the browser to serve internet users for 27 years. The browser dominated the dial-up internet phase. Microsoft says that with the latest upgrades happening around the Windows, due to which the Internet Explorer has to retire. It will be shifting the data of the user from Internet Explorer to Microsoft Edge.
While this is a fact that it was a popular browser with its peak in 2003, things started to change when Mozilla Firefox was launched in 2004 and then Google Chrome came in 2008. Google Chrome is now the most dominant browser. Sarcastically, Internet Explorer is also called the best Chrome downloader as most laptops come pre-installed with it. A user would go into Explorer and download Google Chrome. After launching 11 versions of the browser, Microsoft decided to rebrand it with the Microsoft Edge name which was also called the Project Spartan. And now that the company has officially shut down the browser, the Internet couldn't stop itself from reacting to the topic with memes, stuff, and videos. Let's see how the internet reacted.
Also Read: 10 Hilarious Reactions on Twitter After Knowing Disney+ Hotstar Lost IPL Streaming Rights to Voot
Reactions After Internet Explorer Shut Down
Starting with one of the iconic tributes, someone actually built a tombstone for the Internet Explorer in Korea with a hilarious text." He was a good tool to download other browsers."
Someone built a real tombstone of Internet Explorer in Korea. "He was a good tool to download other browsers." https://t.co/42vnkoQshd pic.twitter.com/ud3SMiyLNp

— Soonson Kwon (@ksoonson) June 15, 2022
It's no surprise that Internet Explorer was slow compared to the other modern generation browser like Google Chrome or Mozilla Firefox. A user shares a funny meme about the same topic.
This is the best internet explorer joke I came across. Took a sec for me to get the joke .

Internet Explorer shut down from today after 27 years of exploring.💀 pic.twitter.com/dsWDldugso

— 𝑽𝒊𝒏𝒆𝒆𝒕 🙂 (@MessiVineet) June 15, 2022
A Twitter user posts a video which shows how Internet Explorer and dominated the market but also how it lost it with the introduction of new browsers. Check out the video below.
Internet Explorer's rule over 13 years:pic.twitter.com/XixSOWDah5

— Jon Erlichman (@JonErlichman) June 15, 2022
Morning Brew shared a creative that is taken from the movie 'Toy Story 2'. We can see how the toys mean users are bidding goodbye to Internet Explorer.
Goodbyes are never easy.

After 27 years, Microsoft will officially be shutting down Internet Explorer starting Wednesday of this week. pic.twitter.com/A8XMKIKQg1

— Morning Brew ☕️ (@MorningBrew) June 13, 2022
Windows ask you if you would like to make Internet Explorer the default browser on PC which most of the users do not prefer. Here's a tweet depicting the same.
now how am I going to download Chrome and FIrefox? RIP internet explorer pic.twitter.com/JVFn93Zo1a

— Linus Tech Tips (@LinusTech) June 16, 2022
Microsoft's Internet Explorer has been a gem for 90s users, here's a tweet describing the nostalgia for such users.
Microsoft's #InternetExplorer is officially retiring after 27 years. pic.twitter.com/08uO17qin0

— nyus (@nyus_app) June 13, 2022
Have you ever wondered how the first generation of Internet Explorer looked compared to the last version? Here's a tweet for the same.
Internet Explorer 1.0 vs Internet Explorer 11. Truly an end of an era today 😢 pic.twitter.com/6f3XNJFfrs

— Martin Nobel (@MartinNobel_) June 15, 2022
Indian Premium League team, Rajasthan Royals took to Twitter to share a funny meme on the Internet Explorer with the first ever media right of the IPL.
thanks for the memories, #InternetExplorer 🫶 pic.twitter.com/2OH637tjte

— Rajasthan Royals (@rajasthanroyals) June 13, 2022
Zomato, the popular food delivery app praised the Internet Explorer by saying that it was faster than people who keeps deciding what to order.
jokes aside, internet explorer was still faster than most people deciding what to order

— zomato (@zomato) June 15, 2022
A user shared the meme of what happens after the browser reaches heaven. Take a look yourself.
Goodbye #InternetExplorer Will miss the site loading bar! 🥲 pic.twitter.com/CK3ls03XCT

— Vishal Jain (@vishaljain_12) June 15, 2022
If you have been an user of the Internet browser, then tell us what was your experience with it? Let us know in the comments section.