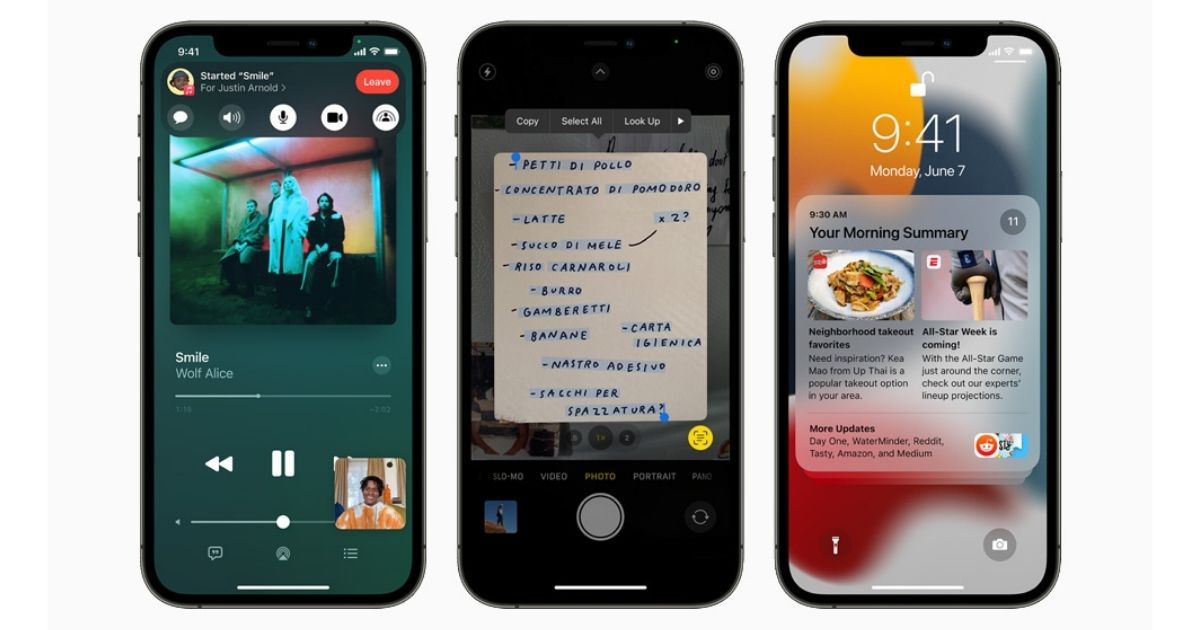 Apple, at WWDC 2021, has announced the next iteration of iOS dubbed iOS 15. Apple has kept on-device intelligence the central theme around iOS 15. The latest iOS 15 comes with several new features such as SharePlay, LiveText, and Visual Look Up. Apple is also bringing several enhancements to existing features such as Spotlight, and Apple Maps with iOS 15. The Cupertino tech giant is also finally bringing FaceTime to Windows, and Android (via browsers). FaceTime is also getting support for the Spatial Audio, and Voice Isolation, GridView, Portrait Mode features. Let us take a look at these features in details,
SharePlay
Apple is bringing a new music and video sharing feature to FaceTime with iOS 15. The new SharePlay feature will let users watch or listen to content along with their friends/family on a FaceTime call. The shared content will play in a picture-in-picture window, users can also cast the shared content to the Apple TV.
Apple is also giving app developers an option to take advantage of the SharePlay feature via an API, so it won't just be limited to Apple Music, and Apple TV. Several streaming services such as Disney Plus, TikTok, and others are already ready to make their services compatible with SharePlay.
Notification Summary
Apple has redesigned the notification page for mobile devices with iOS 15. The notification panel will now show a custom summary of all the notifications, in priority order, with the most relevant notifications rising to the top, and based on a user's interactions with apps. The custom summary will not include notifications from people, so that they don't get missed.
Live Text, and Visual Lookup
Apple is bringing its own version of Google Lens dubbed LiveText. The new feature will let users extract text, and phone numbers from photos. Users can simply point their camera at text, and copy-paste it into any app. The Live Text will also work on existing photos. With an all new Visual Look Up feature, users can learn more about popular things them, be it, plants, flower, pets, or books.
Spotlight
Apple is bringing improvements to the Spotlight feature. Spotlight universal search will also let users search for photos in the collection. It can now search photos bacsed on location, people, scene, or objects. The Spotlight is also getting new cards for actors, musicians, movies, and TV shows etc. Enhanced results for contacts in Spotlight seraches also show recent conversations, shared photos, and location.
Improvements to Apple Maps
Apple is also bringing improvements to Apple Maps with iOS 15. Apple Maps now features a three-dimensional city-driving experience with new road details that help users better see and understand important details like turn lanes, medians, bike lanes, and pedestrian crosswalks.
Which is your favorite feature of iOS 15? Do let us know in the comments below.
Thanks for reading till the end of this article. For more such informative and exclusive tech content, head over to our Facebook page