Highlights
iOS 17 adds many updates to the Phone and Messages apps.
iPadOS 17 supports customisable lock screens.
watchOS 10 is also getting a new interface.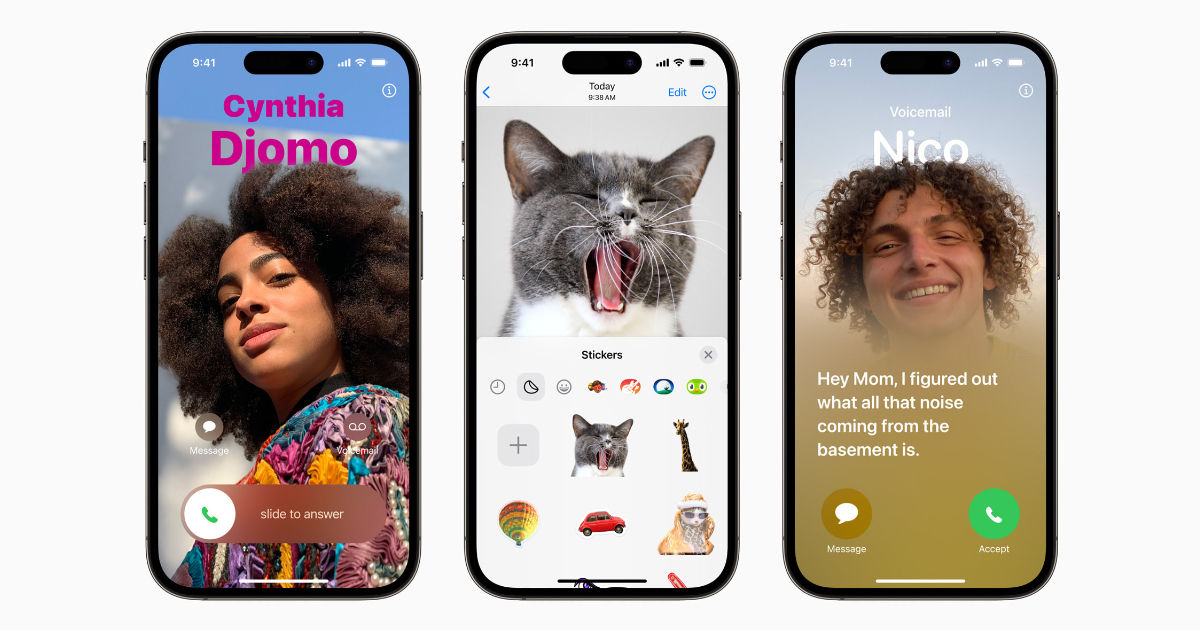 Apple has officially unveiled iOS 17 at its Worldwide Developer Conference (WWDC) 2023. The new iOS operating system for iPhones introduces many new features while enhancing security and privacy-focused features. Apple has introduced a major update to the Phone app with Contact Posters feature, which also supports Memoji. There is also support for Live Voicemail, which essentially shows a live transcription of what the person is saying on the other side. FaceTime is also getting an update in iOS 17.
Apple has also made search smarter and easier in the Messages app. A safety feature called "Check in" has also been added to Messages. Stickers have made their way to Messages as well. Apple has also introduced a new Journal app, which will be available later this year. There are many new iOS 17 features announced at WWDC 23. Here's everything unveiled so far:
iOS 17 Gets New Features at WWDC 23
Apple will release iOS 17 later this year to eligible iPhone devices. Ahead of the stable rollout, the company has revealed some of the new iOS 17 features.
The Phone app has received many upgrades this year. For starters, there is a new Contact Posters feature, which lets users customise how they appear, bringing a completely new look to incoming calls. They can customise the call screen by adding photos or Memoji, as well astypography and font colours. Contact Posters will also be available for third-party calling apps.
There is also support for Live Voicemail, which gives users the ability to see real-time transcription as someone leaves a voicemail, and the opportunity to pick up while the caller is leaving their message. Spam calls will not appear as Live Voicemail and will be automatically declined.
FaceTime is also getting an update in iOS 17, allowing users to send audio and video messages when the person they called is not available. There is also support for Reactions such as hearts, balloons, fireworks, laser beams, rain, and more, which can be activated through simple gestures.
Messages is getting support for stickers and the ability to create Live Stickers by lifting subjects from photos. Users can also add these stickers to their keyboard, which can then be shared on other apps as well. Search in Messages is said to be more powerful and precise with search filters. In iOS 17, users can add filters to narrow down their search.
There is also a new Check In feature, which can be an important safety and security tool. "After a user initiates a Check In, their friend or family member will automatically be notified as soon as the user arrives. If they are not making progress toward their destination, useful information will be temporarily shared with the selected contact, such as the device's location, battery level, and cell service status. Any information shared is end-to-end encrypted," Apple stated.
Apple also announced a new Journal app, which helps users jot down their memories and also offers personalised suggestions with the help of on-device machine learning. Suggestions are intelligently curated from recent activity, including photos, people, places, workouts, and more, making it easy to start a journal entry, and scheduled notifications can help build a journaling habit.
iPadOS 17
Apple is bringing support for customisable lock screens with iPadOS 17, which iPhone users have been able to do so since iOS 16. Users can set personalised wallpapers, adjust the font, focus mode, etc. Users can add their own wallpaper or select one of the presets available within the Settings app.
Live Activities is coming to iPadOS, allowing users to check updates in real-time from the Lock Screen, such as a sports game, travel plans, or a food delivery order. Apple has also added support for interactive widgets, allowing users to get tasks done with just a tap. "Interactive widgets are now available on the Lock Screen and Home Screen, making it easy to take action and get helpful information at a glance. On the Lock Screen, widgets blend seamlessly with the wallpaper with adaptive tinting to optimise for legibility," Apple said.
In iPadOS 17, PDFs appear full width to flip through pages, make a quick annotation, or sketch directly in the document with Apple Pencil. Users can also review and mark up PDFs and scanned documents in the Notes app.
Apple is also adding support for the Health app, which has been optimised for the iPad's large display. iPad users can also track and manage their medications, use Cycle Tracking, log their momentary emotions and daily moods, view their available health records from multiple institutions, and more. In addition to this, Stage Manager adds even more flexibility to the position and size of the windows, giving users more control over their workspace, and supports built-in cameras on an external display.
Also Read: MacBook 15-inch, Mac Pro, Mac Studio M2 Max and Mac Studio M2 Ultra Launched: Price in India, Specifications
watchOS 10
Apple has redesigned watchOS 10 with a new interface. The new watchOS update supports Smart Stack support for widgets that displays timely information and adapts to the user's context. "For example, at the beginning of the day, Weather will show the forecast, or, when travelling, the Smart Stack will show boarding passes from Wallet. Calendar and Reminders will reshuffle to the top to display upcoming meetings or tasks, and apps that are running, such as Podcasts, will also move up so they are readily available," Apple said. There is support for new watch faces, updates to cycling features, the Mindfulness app, etc.
iOS 17, iPadOS 17 and watchOS 17 will be available for eligible devices later this year.