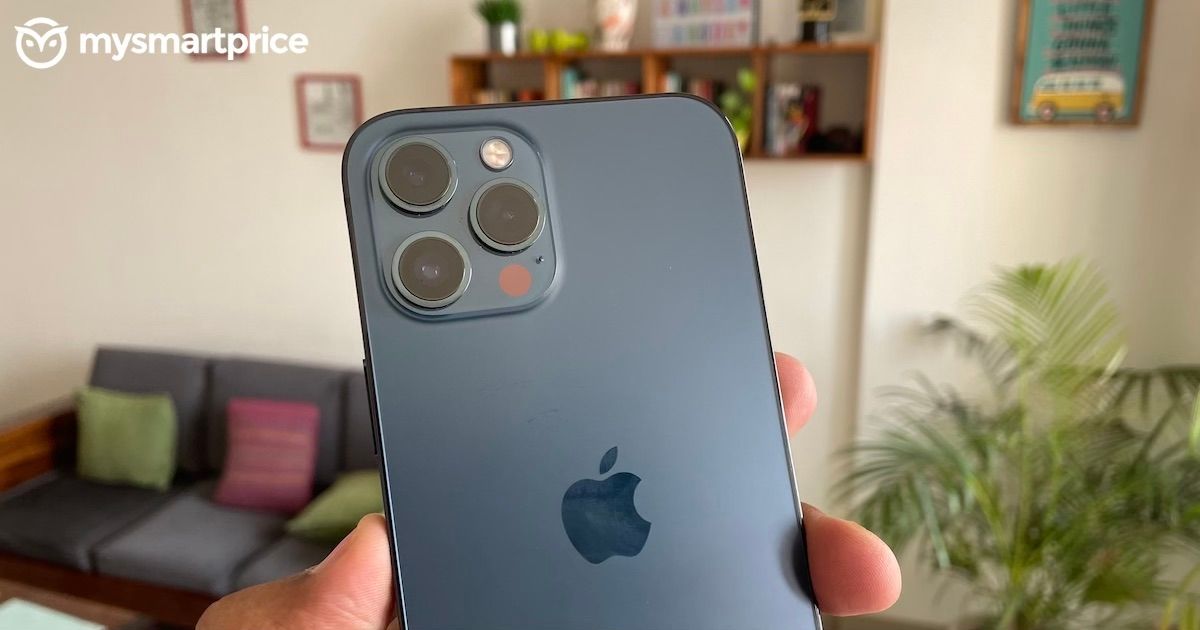 We've been testing the iPhone 12 Pro Max's cameras extensively. Do stay tuned for a detailed camera comparison between the iPhone 12 Pro Max, the iPhone 12 Pro, and the iPhone 11 Pro. During the course of our testing, we noticed something very odd.
iPhone 12 Pro Max – what's actually happening here?
Essentially, the iPhone 12 Pro Max uses the main sensor with the attached 26mm lens with an aperture of f/1.6 for Night Mode zoomed in shots instead for the 65mm telephoto with an attached f/2.2 lens. Take a look at the sample below along with its EXIF data right next to it. You will notice that the image shot at 2.5x in the night mode has an f number of 1.6, which is a dead giveaway that the iPhone 12 Pro Max has actually used the main wide camera here to capture this picture.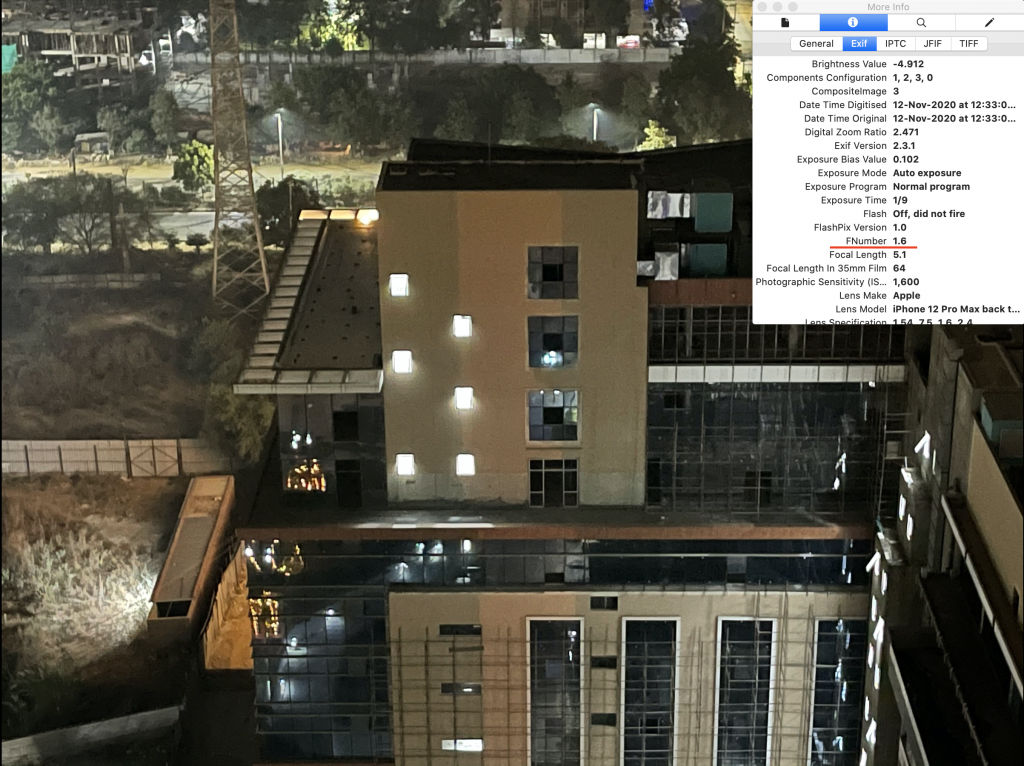 We are fairly certain that Apple is doing this to ensure you get better low light sensitivity with the main camera. It makes sense, but the result is a drop in details because this is technically digital zoom and not optical zoom. While the 12MP main camera is more capable than the 12MP telephoto one, it is a 2.5x cropped in image and that won't offer as much fidelity as proper optical zoom.
Now, in comparison, if you look at the regular light 2.5x zoom shot, it uses the actual 12MP telephoto camera with an aperture of f/2.2.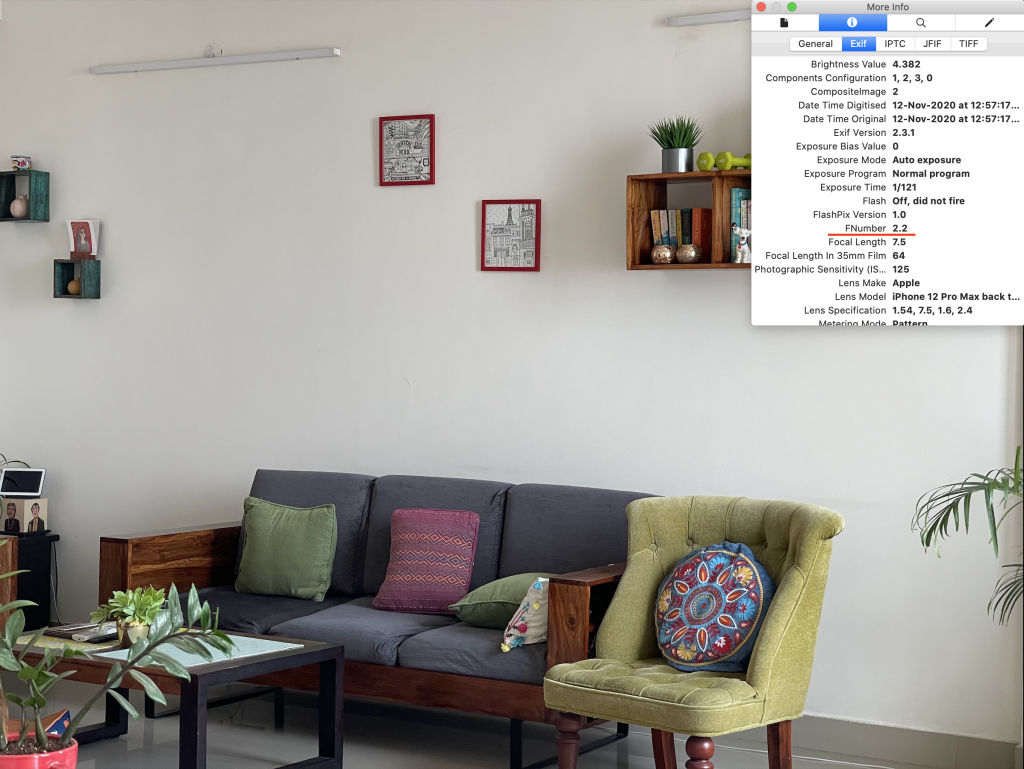 iPhone Night Mode Telephoto – the history
In fact, this is not the first time this is happening. Petapixel had earlier reported that the iPhone 11 Pro uses the main camera to digitally zoom in to the subject. Our comparison iPhone 11 Pro sample actually corroborates the same finding. Even the 11 Pro uses the Main camera to zoom in. If you look at the EXIF data the f/1.8 aperture is only on the main lens. The zoom lens has an aperture of f/2.0 on the iPhone 11 Pro. Ergo, Apple uses the main camera even on the iPhone 11 Pro in Night Mode to zoom in 2x.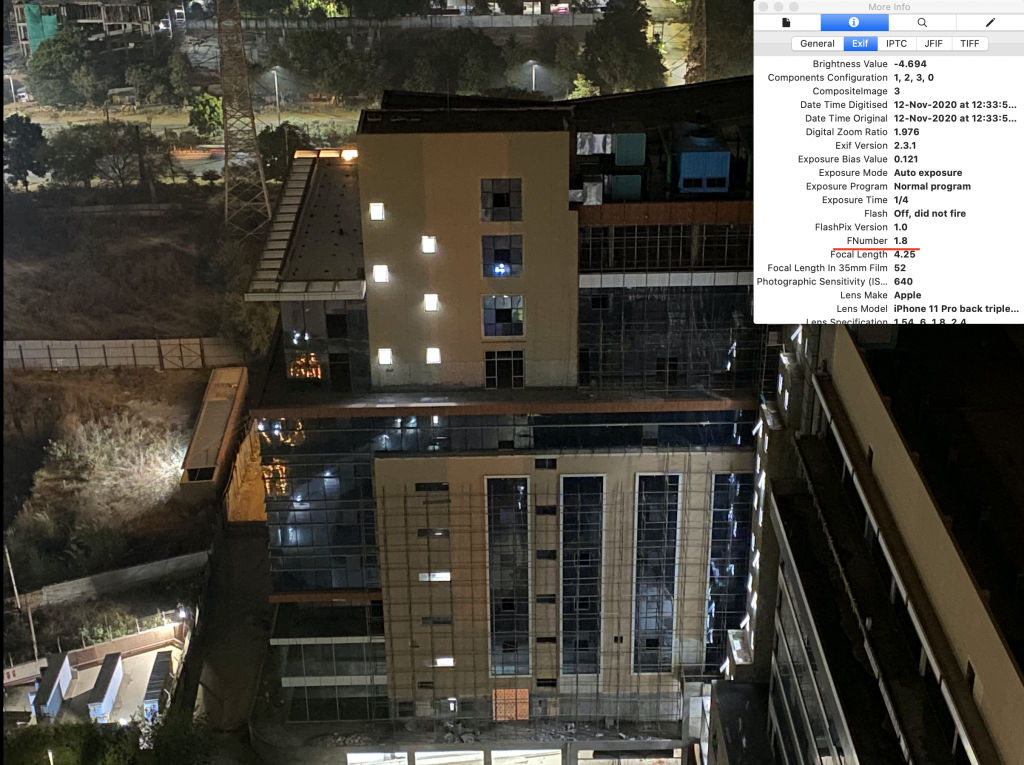 Here's a link to all the hi-res images used in this article with their corresponding EXIF data intact so you can peruse them at your own leisure.
But, to be honest, this is true for many smartphone brands out there. The underlying truth is the main cameras are more capable and brands are more confident of using software algorithm to rectify the sharpness issue than trust a sensor and lens combination that will let in less light to begin with. What is your take on this? Do let us know in the comments below.