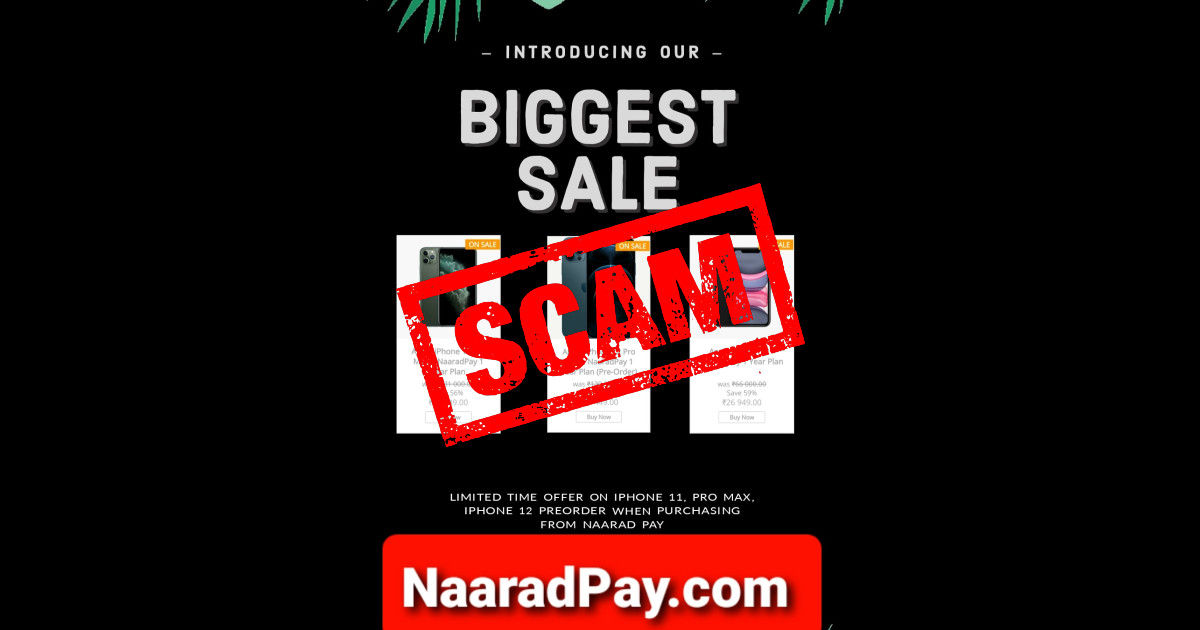 A common iPhone scam that has recently done the rounds on the internet has been exposed online via numerous whistleblowers on Twitter. The scam involves a certain Hitesh Patel, aka Neel Patel, who is alleged to be a serial scammer with a record of numerous frauds across India and abroad. Of his latest initiatives was an iPhone scam masqueraded online as the "biggest sale" on preorder of devices such as the Apple iPhone 11 (sold at Rs 26,949 against retail price of Rs 51,990) and the iPhone 12 Pro (sold at Rs 67,449 against retail price of Rs 1,19,990).
Do read the launch offer carefully!
Keep #AtmanirbharBharat & #VocalForLocal in mind while reading this emotional and patriotic reason on why iPhone would cost less if you buy from @SqueaksMedia @NaaradPay by @nto1927 ji. 😭😭 pic.twitter.com/U2exf9vuT0

— Mohammed Zubair (@zoo_bear) February 16, 2021
The deals have been promoted via an app called Squeaks Media, which too is founded by Patel. The latter has been billed as a 'swadeshi' social media platform that offers a voice for the conservatives. As questions started being raised on the deals being provided on iPhones by Squeaks Media, the app put out a statement:
"Everyone's been asking questions on why it's (the iPhones) are priced low, so here's the answer: Instead of spending alot on marketing, it was decided to spend it on the people hence the low pricing. As this company just started, we believe it's important to forget about profits for the first 1,000 days and genuinely provide an amazing service to the people. [sic]"
Customers falling for the deal were asked to pay through NaaradPay – a service that was also built as a nationalist alternative to other payment apps. Claims about the iPhone scam organised by Patel state that over 8,000 orders were received via this, amounting to over Rs 40 crore. Whistleblowers on Twitter have also claimed that anyone who installed NaaradPay or Squeaks Media have, by default, given access to their personal photo gallery and SMS inbox to Patel, who in turn has exploited such data.
Alleged screenshots shared of Patel attempting to answer customer queries via Twitter DMs reveal him claiming that if an order for 100 iPhones is placed with "any Apple store in India", they will ask for three to four weeks to deliver on the order. Given that he has received over 8,000 orders, customers should hold patience on receiving their units. Needless to say, the entire operation appears to be a scam racket, taking the iPhone scam occurrences to a whole new level.
Can you protect yourself from things like this iPhone scam?
Put simply, yes. Always know, that any deal on the internet that appears to be too good to believe is most likely not true at all. In India, iPhones still have the aspirational factor among customers, which makes it alluring for many to fall for deals like such an iPhone scam. However, no business in their right mind would put forth deals that absorb half the retail cost of a product. Forget profits, such a move will only lead to a brand willingly incurring major losses, which does not particularly make sense even in the longer scheme of things. Such practices are also anti-competitive, and hence, illegal.