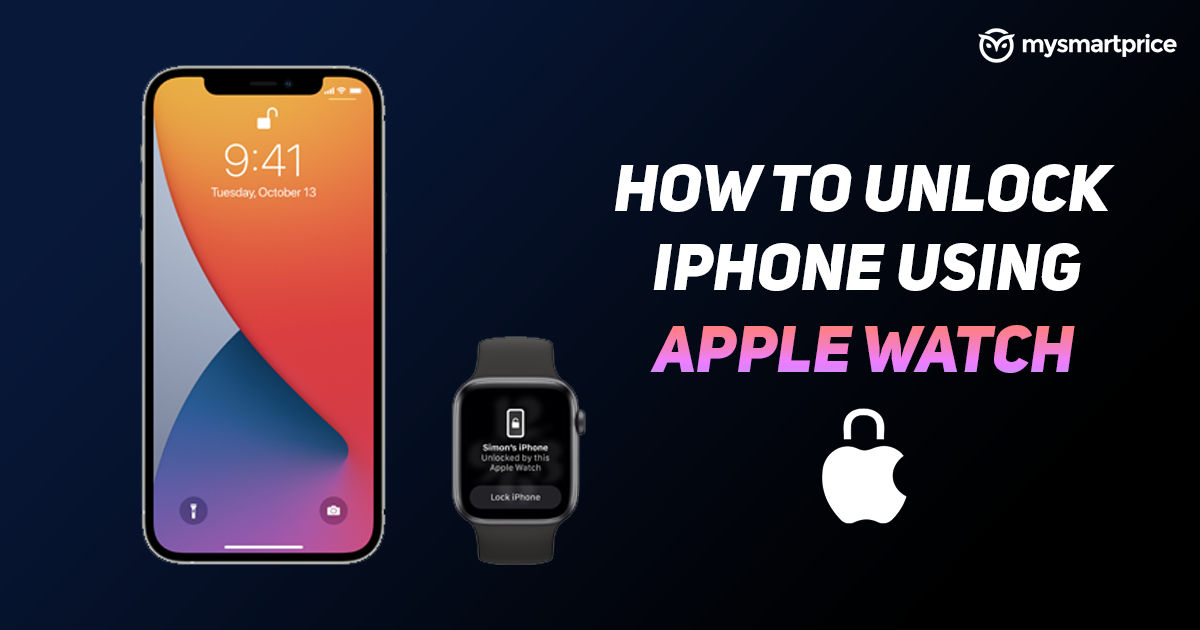 Unlocking your phone during this pandemic is one difficult thing when you are outside. The mask you wear does not allow the face to be scanned. So, you want to either use a physical fingerprint scanner on your Android phone or use a passcode to unlock it. However, things are even more difficult for Apple iPhones.
The iPhone X and later models only come with FaceID support. This means if you are wearing a mask, you will have to unlock it by entering the passcode. This is where it gets really frustrating. However, Apple has come up with a solution through which you can unlock your iPhone without entering the passcode or using FaceID. The company has come up with a new feature that will allow users to unlock their iPhone by simply using the Apple Watch. Here's how it works!
Also Read: How to Transfer Contacts from iPhone to Android Mobile Phone – MySmartPrice
How to Unlock iPhone Using Apple Watch
Apple has rolled out a new feature with the latest iOS 14.5 update that allows users to unlock their iPhone while wearing a mask. The new update allows iPhone users to unlock their phone by using their Apple Watch. However, it is important to note that the feature is only available with iPhone X and later and Apple Watch Series 3 and later. Here's how you can unlock your iPhone using Apple Watch:
First and foremost, update your iPhone to the latest iOS 14.5 and your Apple Watch to watchOS 7.4.
Once done, open the Settings app on your iPhone and head to FaceID & Passcode.
Enter your iPhone passcode when prompted. Now, scroll down to 'Unlock With Apple Watch'.
Toggle this feature on from the feature. With this, you will unlock your iPhone using Apple Watch.
The process of unlocking the iPhone using the Apple Watch is fairly simple. All you need to do is swipe from the bottom of the screen of your iPhone and the FaceID will scan your face. It is not able to detect it due to the fact that you are wearing a mask, you will get haptic feedback on your Apple Watch which will indicate that the smartwatch was used to unlock your iPhone. Furthermore, the unlock process will only happen if the Apple Watch and iPhone are in close proximity.
Also Read: How to Record Screen with Audio in Windows 10 and Apple macOS Laptops? – MySmartPrice
iOS 14.5 New Features
Apart from this useful feature, Apple has also introduced a slew of new functionalities. Here's what you get in the new iOS 14.5 update:
Enhanced Siri Features
iOS 14.5 brings some enhancements to Siri. To start with, Siri no longer has a default voice, meaning that it will allow users to choose the voice when they first set up their device. Siri also gains new capabilities with support for Group FaceTime, making it easier to initiate calls with multiple contacts. So, one can simply ask Siri to FaceTime the name of any group in Messages. Moreover, Siri will now be able to announce the incoming calls through AirPods or compatible Beats headphones. It also supports calling emergency contacts if the iPhone owner needs assistance and is unable to make a call.
Also Read: How to Take Screenshot on Windows, macOS Laptops, Android Mobile and Apple iPhone?
Better Privacy Controls
With the latest iOS 14.5, the company has also rolled out its most useful feature that Facebook will not like. Yes, we are talking about app tracking transparency. This privacy tool will require apps to get user's permission before tracking their data across apps or websites owned by the companies for advertising, or sharing their data with data brokers. Users can see what permissions apps have requested to track and one can make changes any time by going to Settings.
AirTag Support
The latest update also brings support for AirTag. The update will allow users to track and find important items, such as keys, a wallet, a backpack, or more in the Find My application.
Other Features
The company has also added new emojis in iOS 14.5. The update brings a new couple kissing emoji and a couple with heart emoji with different skin tones. Additional emoji include characters for face exhaling, face with spiral eyes, face in clouds, hearts on fire, mending heart, and woman with a beard, among others. It also brings some enhancements to Apple Podcasts, Apple News, Apple Fitness+, Reminders, and voice control for accessibility.