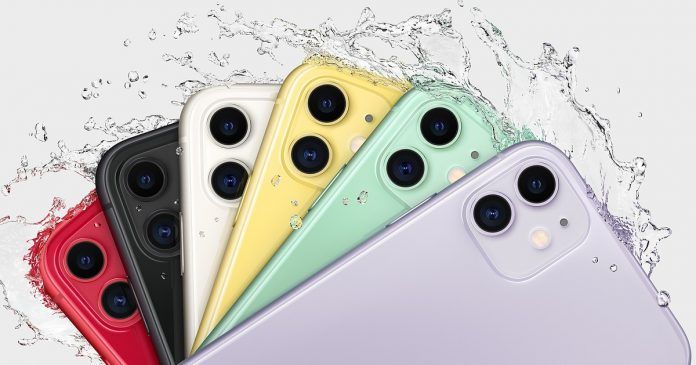 Update: Apple will provide the second generation of AirPods with the iPhone 11 as a bundle on its online store. The information comes from a Twitter user who Rohan who claims that the company will offer the 2nd Gen AirPods with iPhone 11 bundle. The user says that users can also get wireless charging pad by paying a difference of Rs 4,000. Furthermore, one can get Apple AirPods Pro by paying a difference of Rs 10.000.
The 2nd gen Apple AirPods are priced at Rs 14,990, while the iPhone 11 is now available for Rs 54,990. This brings down the effective price of iPhone 11 to just Rs 40,090. Similarly, you can get Airpods wireless charging case bundle for Rs 58,900 and AirPods bundle for Rs 64,900.
iPhone 11 new base price – Rs 54,990
AirPods (2nd gen) – Rs 14,900
iPhone 11 effective price – Rs 40,090

Airpods wireless charging case – Rs 18,900
Price you pay – Rs 4,000
Effective price – Rs 40,090

Airpods Pro – Rs 24,900
Price you pay – Rs 10,000
Effective price – Rs 40,090 https://t.co/E1D3pPIau6

— Ershad Kaleebullah #StayingAtHome (@r3dash) October 14, 2020
 Original story follows…
Apple has finally introduced its iPhone 12 series at the 'Hi Speed' launch event. The company introduced four models including iPhone 12 Mini, iPhone 12, iPhone 12 Pro, and iPhone 12 Pro Max. The latest iPhone 12 India price starts at Rs 69,990. As usual, the company has also slashed the price of its previous generation of iPhone models in India. The company has slashed the prices of iPhone XR and iPhone 11. The latest prices are reflecting on Apple's online store in India. Let's take a look at the new prices of some older iPhone models.
Apple iPhone XR, iPhone 11 gets a price cut in India
The Apple iPhone XR India price is Rs 47,900 for the 64GB variant, while the 128GB model now comes at a price tag of Rs 52,900. The Apple iPhone 11 is priced at Rs 54,900 for the 64GB model and the 128GB option is now priced at Rs 59,900. The top-end variant with 256GB storage is now available at Rs 69,900. Moving on, the Apple iPhone SE is available for Rs 39,900 for 64GB, Rs 44,900 for 128GB, and Rs 54,900 for 256GB option.
Interestingly, Apple is offering a bundle with the iPhone 11. This promotional deal is meant for the occasion of Diwali and will start from October 17th. Under this offer, customers will get a free pair of AirPods on the purchase of iPhone 11. Furthermore, Amazon and Flipkart are offering the same model under Rs 50,000 during their upcoming sale. However, it would be interesting to see whether the company will offer free AirPods with the revised price on its online store or not.
Apple iPhone 12 series price in India
Apple has introduced the Indian pricing of the iPhone 12 series. Here's a closer look:
Apple iPhone 12 Mini 64GB storage – Rs 69,900
Apple iPhone 12 Mini 128GB storage – Rs 74,900
Apple iPhone 12 Mini 256GB storage – Rs 84,900
Apple iPhone 12 64 GB storage – Rs 79,900
Apple iPhone 12 128 GB storage – Rs 84,900
Apple iPhone 12 256 GB storage – Rs 94,900
Apple iPhone 12 Pro 128 GB storage – Rs 1,19,900
Apple iPhone 12 Pro 256 GB storage – Rs 1,29,900
Apple iPhone 12 Pro 512 GB storage – Rs 1,49,900
Apple iPhone 12 Pro Max 128 GB storage – Rs 1,29,900
Apple iPhone 12 Pro Max 256 GB storage – Rs 1,39,900
Apple iPhone 12 Pro Max 512 GB storage – Rs 1,59,900
Thanks for reading till the end of this article. For more such informative and exclusive tech content, like our Facebook page