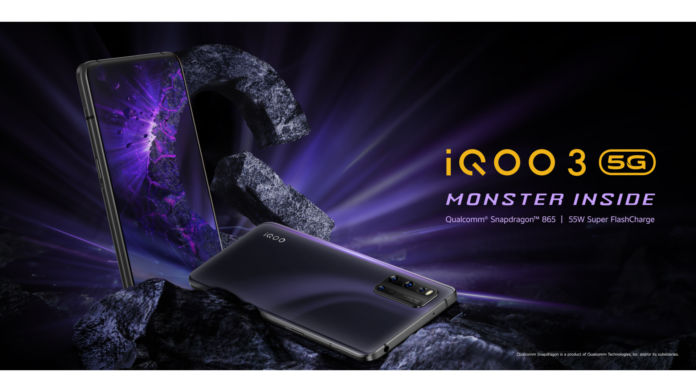 Over the last two years, the mobile gaming culture has become extremely popular thanks to the games like PUBG, Pokémon Go, and Call of Duty: Mobile. Since people started playing games on their smartphones, brands have launched a ton of gaming-centric phones, which, we refer to as 'gaming smartphones' nowadays. Taking advantage of the situation, many manufacturers are just slapping the 'gaming smartphone' tag on any mobile with no actual features to help game better. That being said, the market is still full of smartphones that do offer useful features for gaming. And if you are confused about what gaming phone should you go far, we intend to clear up your mind a bit with this article.
So, what is a gaming smartphone and which features should you look for in such a device? Well, for starters, it should have a processor powerful enough to run the most graphics-intensive games without any hiccups, a bright and a color-accurate display, a 3.5mm audio jack, and enough battery life to endure long gaming sessions. Other features, like physical trigger buttons, stereo speakers, fast charging, and a good cooling solution for the chipset will make the gaming experience even better. If you are using your gaming phone as a daily driver, it should also have decent cameras. So, is there a smartphone that packs all these features? Well, fortunately for us, there exists such a phone – the iQOO 3.
Here are all the factors that we think are crucial for a gaming smartphone, which, according to us, the iQOO 3 manages very well.
A Capable Display Makes You A Better Gamer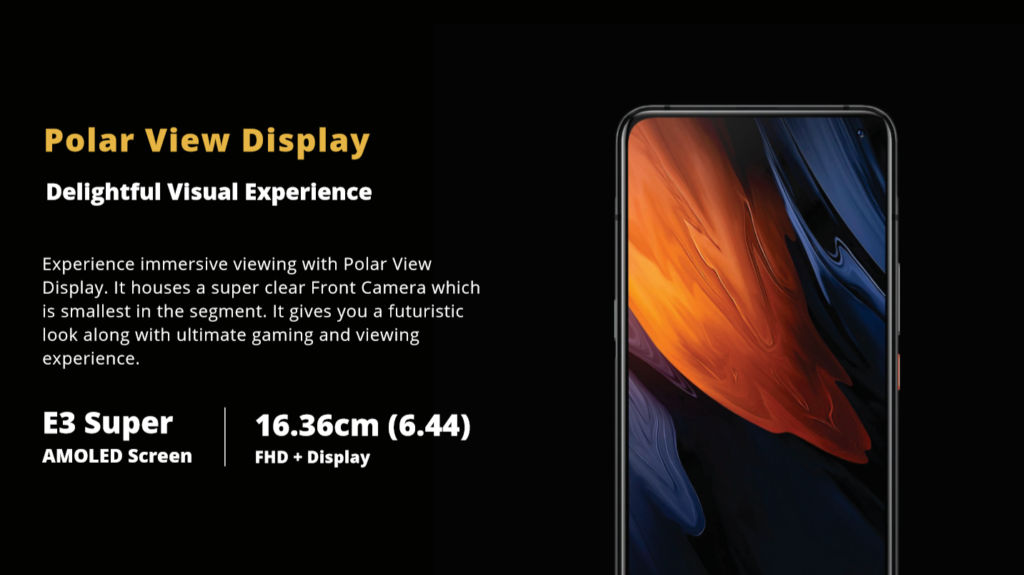 A brighter display allows you to see the enemy in the game clearly even in the dark scenes. And this is exactly what the iQOO 3's 6.44-inch Super AMOLED Full HD+ screen offers; it has a staggering, 800 nits sustained brightness. In contrast, a few smartphones in the same price range struggle to even touch 600 nits mark. The peak brightness of the iQOO 3's display is even more impressive – 1200 nits. So, it doesn't matter whether the majority of the scenes in the game you play are bright or dark, you can rest assured that your gameplay will look fantastic on the iQOO 3's screen.
Then comes the touch refresh rate. The is the rate at which the display registers your touch. The higher the touch refresh rate, the more accurate your finger movements are tracked on the screen. So, when you are playing a game, a display with a high touch refresh rate will offer you precise controls, and thereby, better control of your player, which ultimately makes you a better gamer. Most smartphones in the market feature a 60Hz, 90Hz, or a 120Hz refresh rate. The iQOO 3 leaves each one of them behind with its 180Hz touch refresh rate. This gives you extremely precise controls in the game. By the way, the screen also has HDR10+ and Gorilla Glass 6 protection.
Want Your Games to Look Smoother? Get A Smartphone with Snapdragon 865 SoC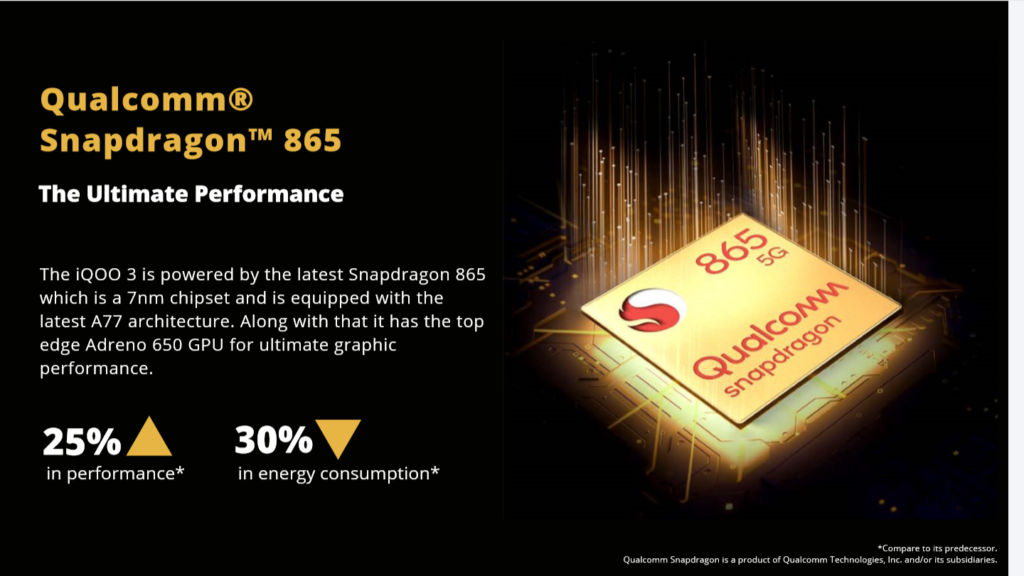 If you are into the mobile gaming world, you know that most popular games on the platforms are graphics intensive, which means that your smartphone needs to have a powerful CPU and more importantly, a powerful GPU to run those games. That is just the start though. If you want your games to look smoother on the display, your phone should be able to push up to 60 frames per second in the game. And the iQOO 3 has just the chipset to do that – the Snapdragon 865.
The Snapdragon 865 uses 7nm+ fabrication process, has eight beastly Kryo 585 CPU cores, and the mighty Adreno 650 GPU. The combination of Kryo 585 CPU cores and Adreno 650 GPU is capable of offering a staggering, 90 FPS frame rate in PUBG (PUBG currently supports only 60 FPS). With this chipset on board, you can rest assured that any new game that hits the market will run smoothly on the IQOO 3.
Is Your Smartphone Slow at Loading Games? That is Because It Lacks UFS 3.1 Storage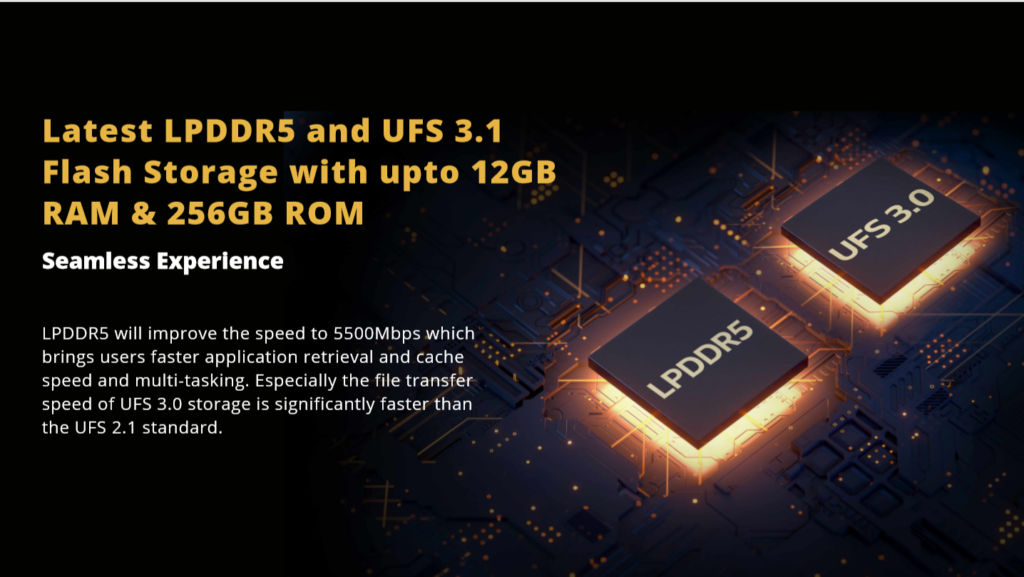 Many smartphones nowadays pack a processor that is powerful enough to run heavy games at 60 FPS. However, to lower the manufacturing cost, most manufacturers put a slow storage chip. For example, UFS 2.1 or UFS 3.0. So, while your games run smoother with the help of the powerful processor, they also take a lot of time to load due to the slow storage module. And it sucks to watch a game load, right? I know it does; I've been there too.
Well, with the iQOO 3 you won't have that issue. It packs the UFS 3.1 storage module. It is significantly faster than UFS 3.0 in terms of random read and random write speeds, which is what you should be looking for in a storage chip. Due to the faster storage, the games on your iQOO 3 will load much faster. Not only this, but the UFS 3.1 storage also offers faster load times for your applications. So, each task you do on a day to day basis on your iQOO 3 will benefit from the UFS 3.1 storage.
Do You Think On-Screen Buttons in Games Are Clumsy? Physical Triggers Are the Solution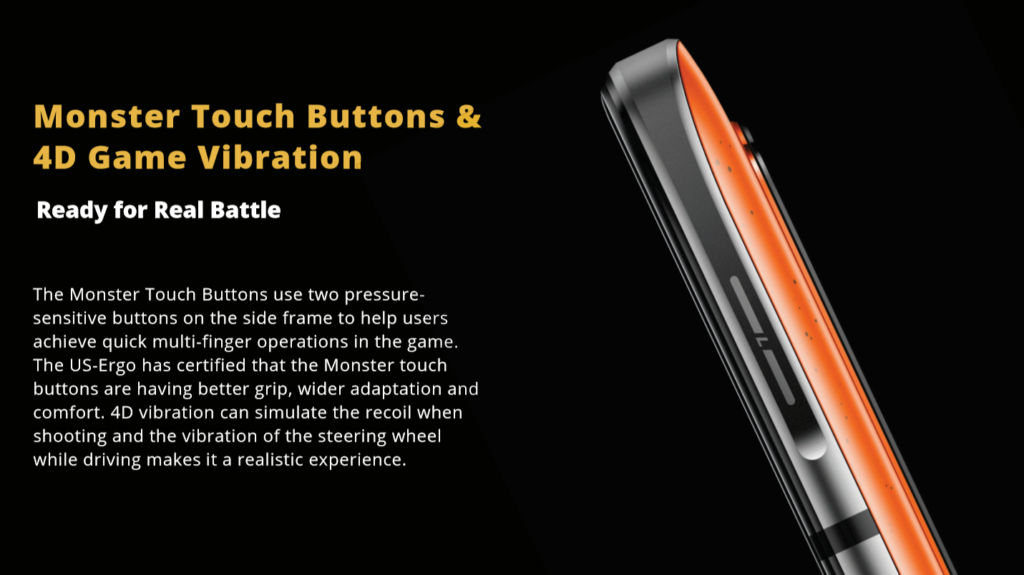 No matter how good a gamer you are, I bet there would have been times when you were frustrated with on-screen buttons. Using on-screen buttons for aiming and shooting feels slow, especially if you have experienced gaming on PCs and gaming consoles.
To solve this problem, iQOO has equipped the iQOO 3 with Monster Touch Buttons. These are basically pressure-sensitive buttons mounted to the right-hand side of the device for you to use it for aiming and shooting in games like PUBG and Call of Duty: Mobile. These will virtually give you the same gaming experience as you get with a gamepad. This is the most important feature you should look for in a gaming smartphone. This is what makes you a better gamer.
Battery Capacity Vs. Charging Speed? Why Not Both?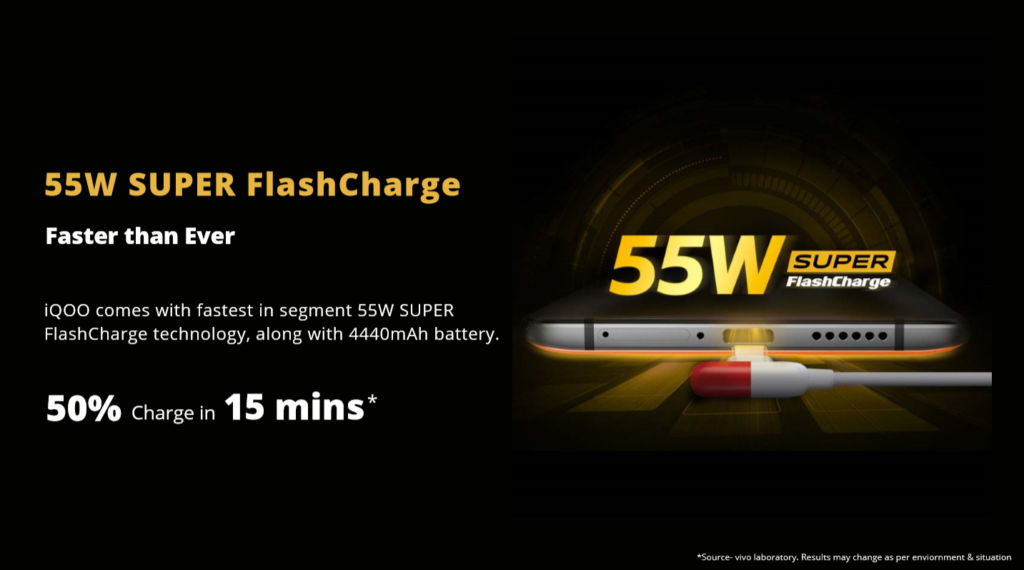 Starting with 2019, we've been seeing huge improvements in charging speeds of smartphones. We now have phones with up to 65W charging. Along with it, we have also been seeing devices with huge battery capacities recently. Currently, there are mobiles that offer up to 6000mAh battery. Unfortunately, smartphones with fast charging speed don't have a large battery pack and the ones with large battery pack don't have fast charging speeds.
Well, the IQOO 3 offers a perfect combination of battery capacity and charging speed. It packs a 4400mAh battery, which is bigger than that in the Realme X50 Pro. So, you can rest assured that the iQOO 3 won't die on you due to low battery during long gaming sessions. And when you need to charge the device, the iQOO 3 has one of the fastest charging speeds in the market. It is capable of charging the battery at a staggering, 55 watts. iQOO calls it Super FlashCharge. It is almost two times faster than the 30W charging that you get with Asus ROG Phone 2.
No 3.5mm Audio Jack? It Is Not A Gaming Smartphone Then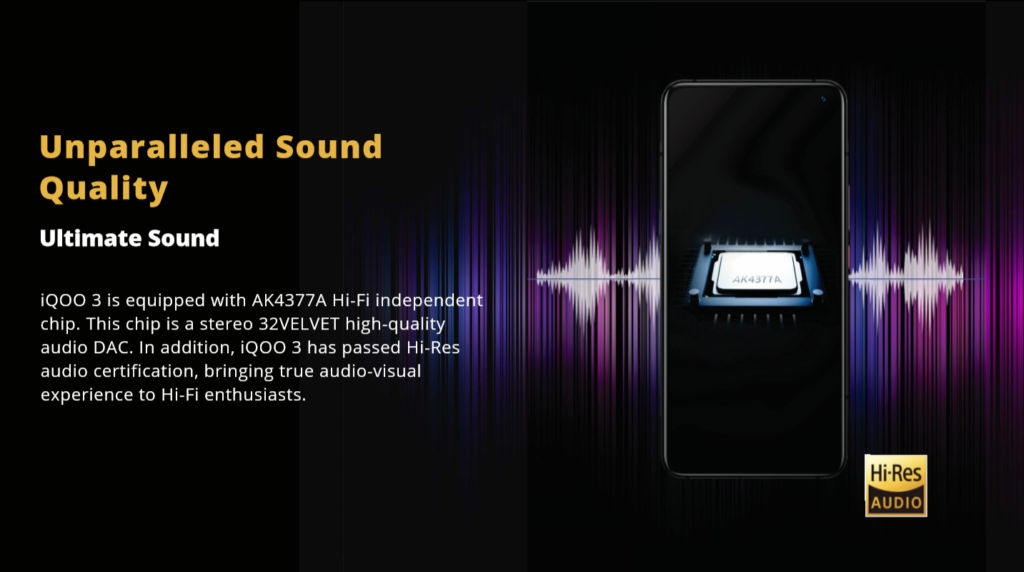 As most of you might know, wireless earphones are in trend nowadays since modern smartphones aren't offering a 3.5mm audio jack to connect wired earphones. These wireless earphones, however, aren't suitable for gaming as they have high audio latency.
So, if you want to game on your mobile with headphones on, you should definitely get a phone with a 3.5mm audio jack. But wait, how many gaming phones are there in the market that offer a 3.5mm audio jack? Well, only a couple of them. And if you want a gaming phone with Snapdragon 865 that has a 3.5mm audio jack, there isn't any except for the iQOO 3. I told you, iQOO cares about offering a better gaming experience and not just gimmicky features. Oh, I forgot to tell you this earlier, the iQOO 3 also has a 32-bit AK4377A Hi-Fi DAC to offer high-quality audio. You can't get any better than this.
What About the Cameras, OS, and Connectivity Features?
As I said earlier, the iQOO 3 has got you covered when it comes to imaging. It features a quad-camera setup at the rear with a 48MP primary camera, a 13MP telephoto camera with 2x optical zoom, a 13MP ultrawide camera, and a 2MP depth sensor. So, you can choose between any of the three fields of view you want, on the go. The main camera here is also capable of recording 4K videos at 60 frames per second. For selfies, you get a 16MP sensor.
Moving on to the OS, the iQOO 3 has the latest Android version – Android 10. It is wrapped under iQOO UI 1.0, which offers tons of additional features over the stock Android. It looks modern and organized as well.
Coming to the connectivity options, the iQOO 3 has supports 5G cellular network. So, when the 5G network rolls out in India, you don't have to worry about getting a new smartphone to use it with the faster network, as iQOO 3 has already got you covered. There is also dual-band Wi-Fi ax, Bluetooth v5.1, NFC, and USB Type-C port on board.
A Gaming Smartphone Doesn't Have to Be Expensive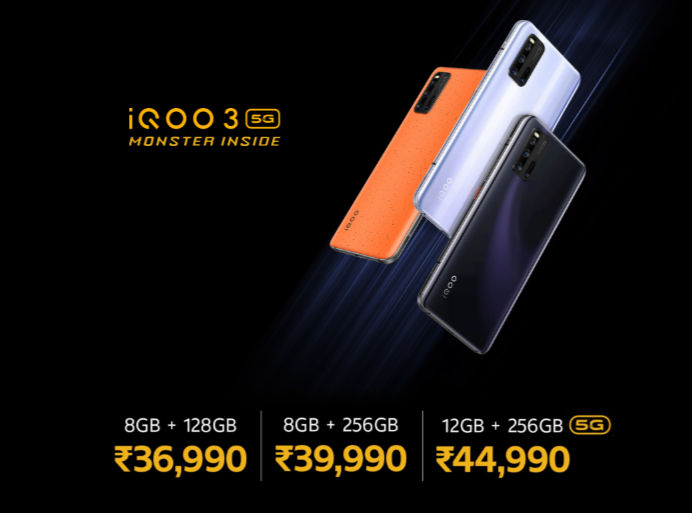 To summarize, the iQOO 3 has a flagship-grade display, the fastest processor in the Android market, the fastest RAM and storage modules currently available, a quad-camera setup at the rear which is on par with the devices in its segment, latest Android OS, a large battery pack, a blisteringly fast charging speed, and future-proof connectivity options.
Looking at all these features, everyone was expecting the iQOO 3 to launch in India at around INR 45,000. iQOO, however, has managed to launch the iQOO 3 in the country at just INR 36,999 for the base variant, which has a healthy, 8GB of RAM and 128GB of storage. I don't think you can get a better gaming smartphone with a similar feature-set at the price of iQOO 3. So, what are you waiting for? Go ahead and buy one.