Highlights
iQOO India celebrated its 3rd year anniversary and announced iQOO All Stars Cup Season 3 featuring New State Mobile which concluded on 9 April.
Gods Reign walked away as the Champions of the tournament with Rs 5 lakh prize money.
Read on to know more details about the tournament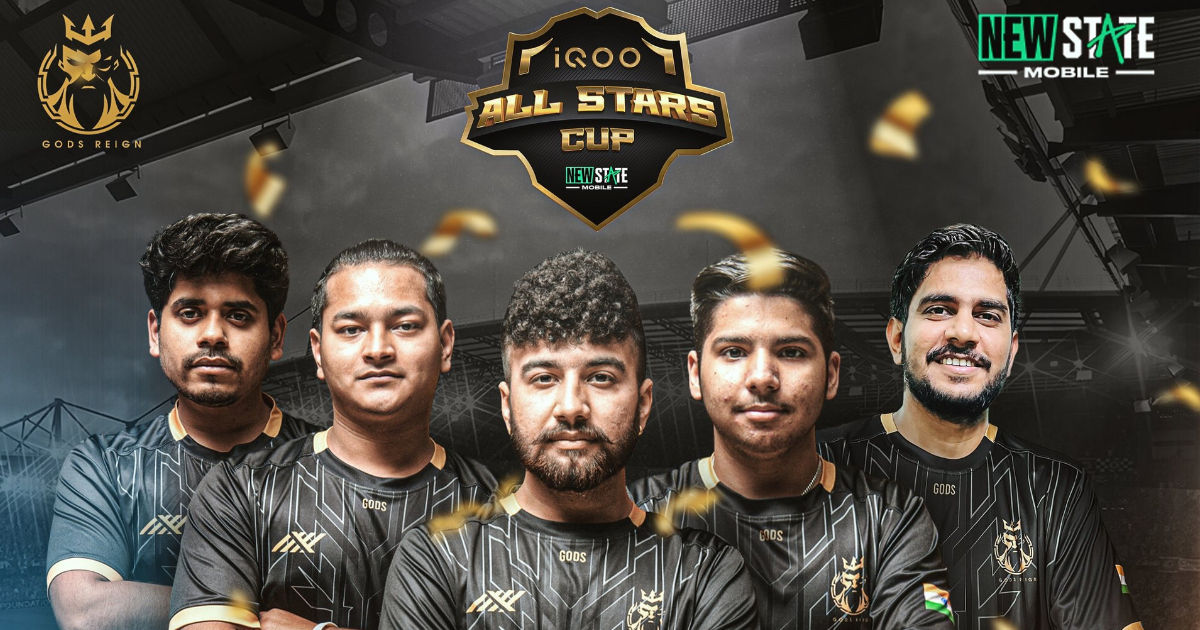 iQOO India's new invitational tournament of New State Mobile – iQOO All Stars Cup Season 3 has come to a conclusion after four days of thriving action from all the invited teams. However, out of the total 24 invited teams, only 16 squads have made it to the Finals by taking their places on the points table during the League Stage(Semi-Finals).
The finals took place from 8 April to 9 April with 16 teams battling it out on the battlegrounds. During the finals, a lot of action was witnessed including top moments, clutches, and impressive gameplay from the teams. In the end, it was Gods Reign who took home the championship title and Rs 5 lakh prize money.
Also Read: EA Officially Rebrands FIFA to EA Sports FC, New Game Details Said to Be Revealed in July
iQOO All Stars Cup Season 3 Featuring New State Mobile – Final Teams
Two Days, Twelve Games, One Name Dominating the entire Lobby – Gods Reign👑

We are the champions of @IqooInd @iqooesports All Stars Cup Season 3 – New State Mobile with a massive lead of 53 points.#GodsReign #NEWSTATEMOBILE #newstate #iQOO #champion pic.twitter.com/E6st4ocwMf

— Gods Reign™ (@GodsReignIN) April 9, 2023
As mentioned before, a total of 16 teams have advanced to finals which are as follows:
OR Esports

True Rippers

Try Hard

God's Reign

Genesis

Big Brother

Velocity

Hyderabad Hydras

Insane

XOxUDA

Bad Devils

Midwave

S8UL

Fintok

XSpark

Psyche
On the first day, Gods Reign's New State Mobile team showed dominating gameplay and grabbed first place with the help of 86 points after 6 matches. They have taken a total of 44 eliminations and three chicken dinners. In the second place, Team Insane with 58 points followed by True Rippers in the third place.
Overall Standings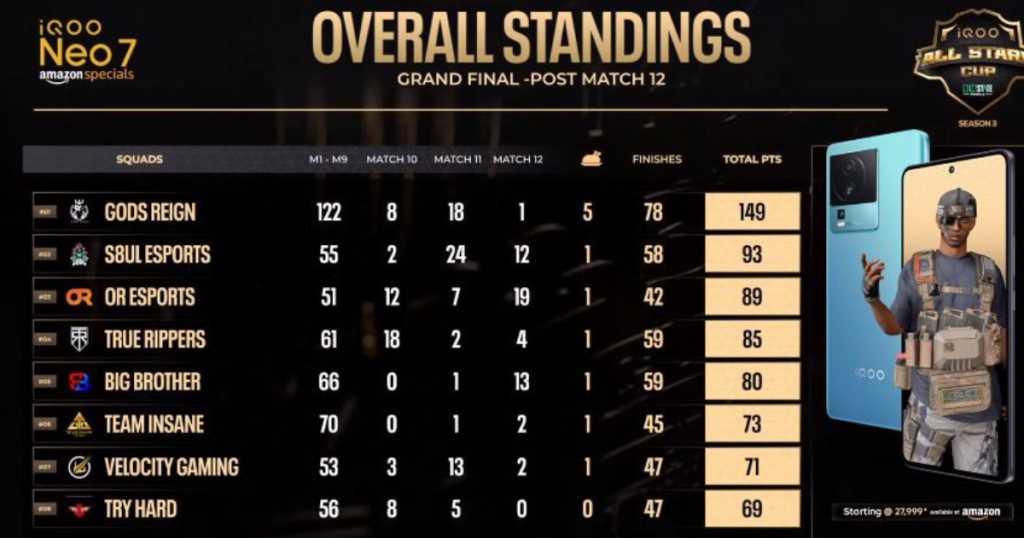 The first match on the second day was played on Erangel and Big Brother Esports have taken their win with a massive total of 19 finishes. Bad Devils got eliminated in the second position with 7 eliminations.
Gods Reign put up a nice show in the second match where Rexy eliminated the last two players from the S8UL to win the game. They accumulated a total of 8 finishes while S8UL added 9 kills to their side.
Gods Reign again shined in the third match and won the match by beating team Try Hard and S8Ul at the end with 8 kills again. Team Try Hard was eliminated in the second position with 9 finishes.
It was True Rippers who emerged victorious in the fourth match with 8 finishes while Genesis Esports took 9 eliminations.
Fan Favorite team S8UL rung the winning bells in the fifth match with a whopping total of 14 kills, while Gods Reign was eliminated in the second position with a good total of 12 kills.
OR Esports have taken the chicken dinner in the final match with a total of 9 kills and they are followed by Big Brother Esports with 8 kills.
Player 4 from S8UL (the Player's identity has not been revealed yet) has become the top fragger of the Finals of iQOO All Stars Cup S3 for his 34 kills and 6000+ damage.
Prize Pool Distribution
The tournament featured a total of Rs 10 lakhs prize pool. The prize pool is distributed among the teams as follows:
1st place – Gods Reign – Rs 5 lakh
2nd place – S8UL Esports – Rs 2.5 lakh
3rd place – OR Esports – Rs 1.5 lakh
MVP – TBD – Rs 1 lakh
Also Read: Call of Duty Modern Warfare 2 and Warzone 2 Season 3 Full Details -New Weapons, Night Map, Gunfight and More
MSP Gaming is the gaming arm of MySmartPrice. We are a one-stop destination for everything gaming. Join our community for regular tournaments and stay updated about the gaming ecosystem – https://bit.ly/msp_gaming_community