Highlights
The iQOO Neo 7 features a fast and responsive 120Hz AMOLED display

It is powered by a 4 nm-based MediaTek Dimensity 8200 chipset

The phone comes with a 120W fast charger and 5,000mAh battery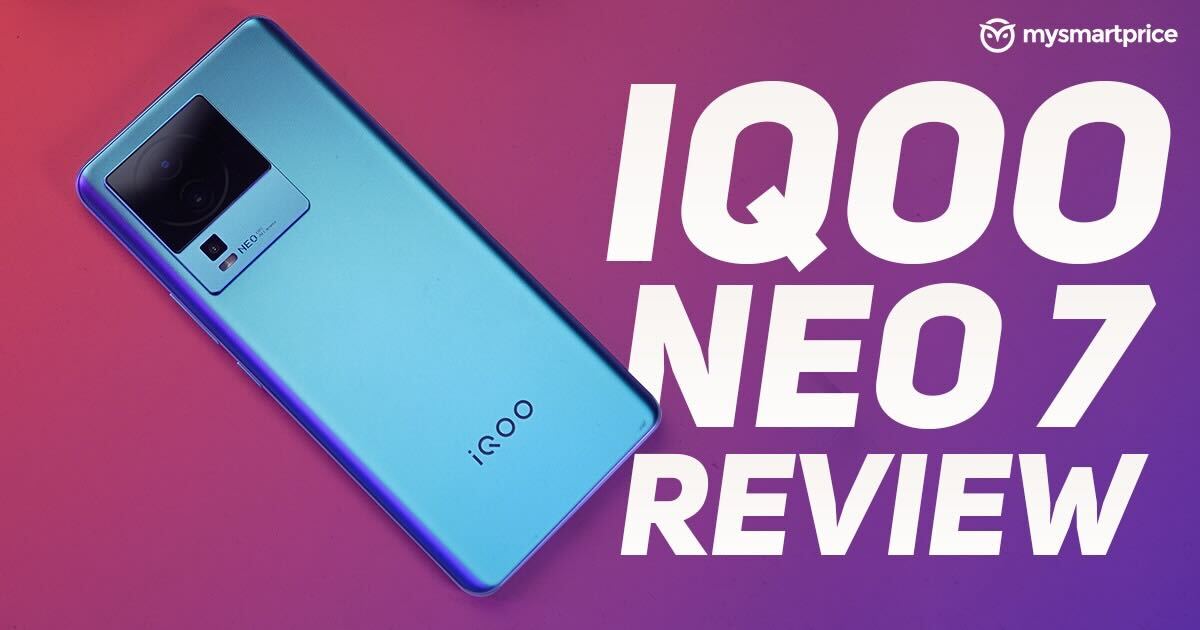 iQOO, despite being in its sister company's shadow has proven its mettle across different price categories. The Chinese tech maker has made performance its forte, be it for its mid-range devices or flagships. A prime example of that would be last year's iQOO Neo 6 (review). This was one of our most recommended devices for gamers. Now, its successor, the iQOO Neo 7 is yet another performance-cum-gaming focussed smartphone in the sub-Rs 30,000 price segment. It brings along a bunch of upgrades over its outgoing model that will give it an upper hand in this price range.
The iQOO Neo 7 features a tall AMOLED display, a fast charger that was previously only found on their flagships, and, more importantly, a 4nm chipset which is a first in this price segment and in India. So, does the iQOO Neo 7 live up to the standards set by its predecessor and most of all, is it able to justify the asking price? Find out in our review.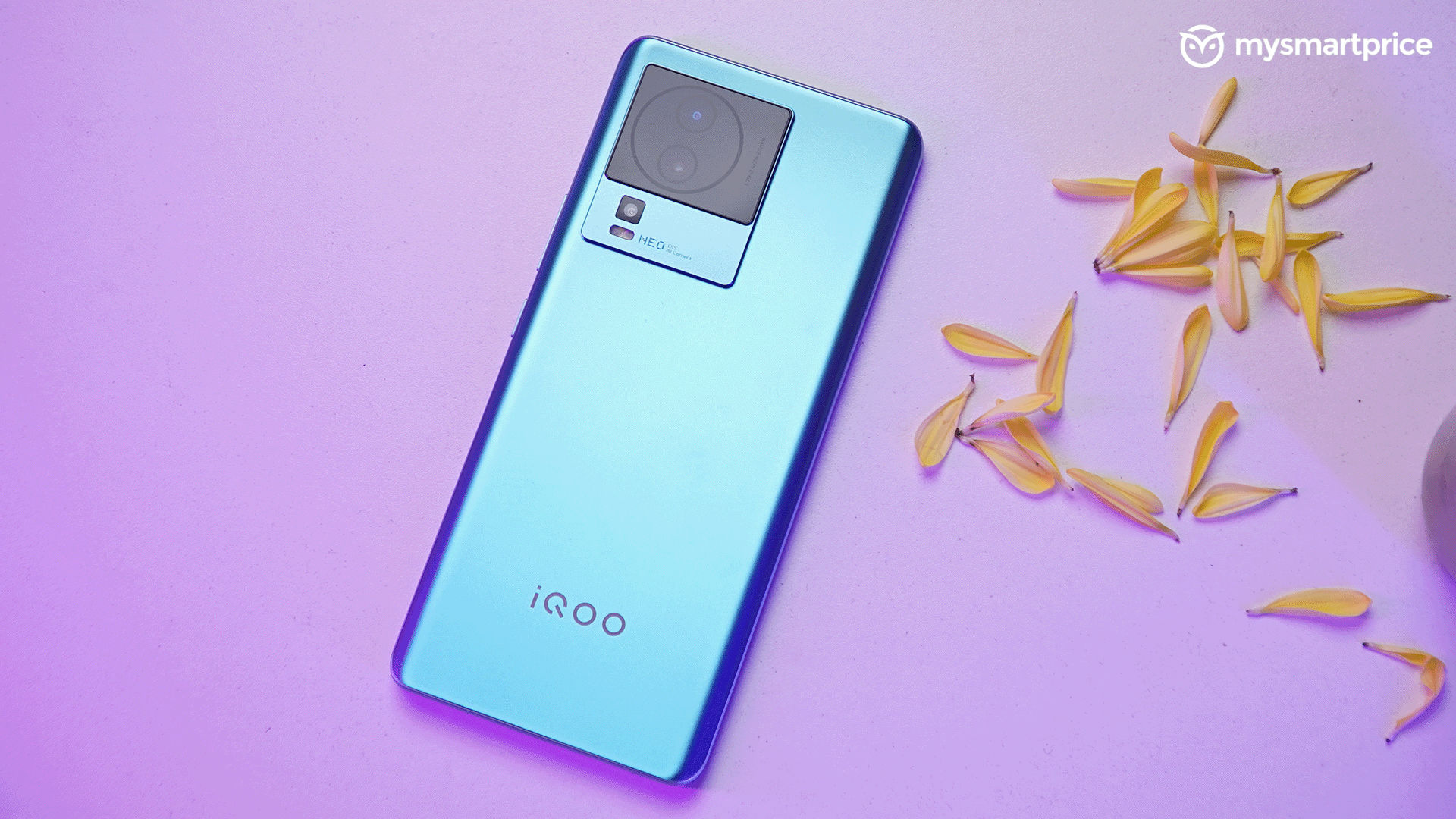 iQOO Neo 7 Review: Design and display
Going all out in terms of design seems to be the trend of the industry, but seems like iQOO didn't really get the memo. The phone builds on the same design language as the iQOO Neo 6 with some minor tweaks here and there. It features a plastic body but despite that, the phone does not feel cheap to hold. The Frost Blue colour that we have has a matte finish at the back. It shines under sunlight revealing a gradient of colours. If you prefer something subtle, the Interstellar Black could cut it for you. Sadly, the Maverick Orange colour variant does not make a return here.
The back panel does not collect any fingerprint marks or smudges, which is always a plus in our books. Most smartphones nowadays are going with the flat back panel design but iQOO, being an outlier, chooses a curved back panel style and we absolutely love it. This helps with ergonomics. The phone weighs 193 grams and the weight is well-balanced. Hence, using the device in one hand was possible without much discomfort.
The slight protrusion of the camera module does not cause much obtrusion. Speaking about the camera module, the company likes to call it "Retro Futurism", which is inspired by vintage polaroid photos. The change in material for the camera island, from glass to metal adds a bit of weight to it. The phone sports a triple-lens setup with a tertiary lens shifted down alongside the flash. For port and button placements, you can refer to our first impressions piece here. The buttons are thin and we didn't quite like the tactile feedback on the volume rockers. The power button is fine, however.
Moving on to the front of the device, the iQOO Neo 7 sports a flat 6.78-inch AMOLED display that refreshes at 120Hz. The display also has an instant touch sampling rate of 1200Hz for gamers. It's slightly taller than the Neo 6 with slimmer bezels. This aids your multimedia experience. The panel supports HDR10+ but misses out on Dolby Vision certifications. It comes with Widevine L1 certifications, so watching content on Netflix and other OTT platforms at full resolution is possible. Watching movies and TV shows such as 'That 90's Show' and 'Evil Dead' was a decent experience. The display produces vibrant colours and deep blacks properly.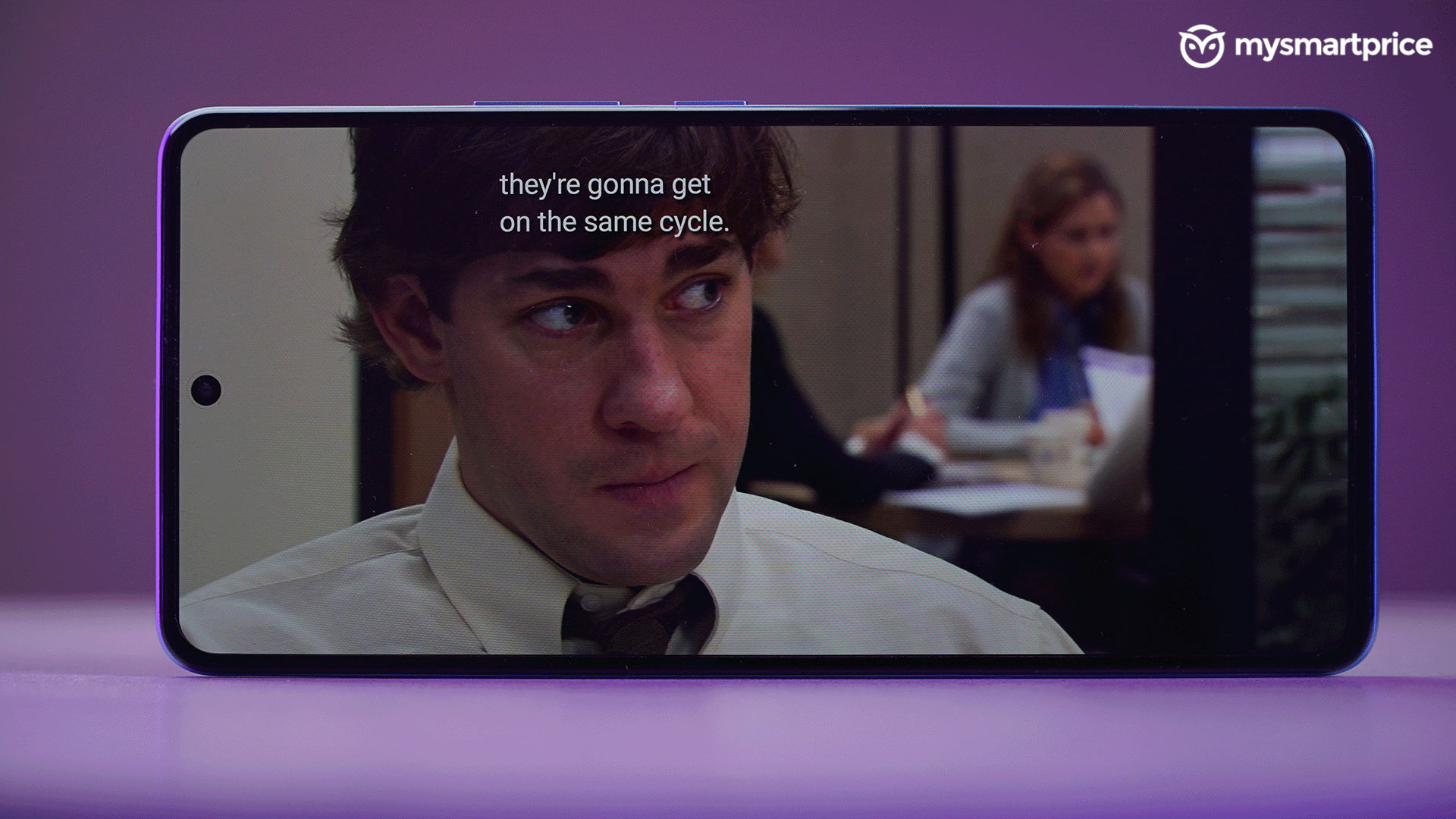 You can also select from three different colour modes: Standard, Pro, and Bright. If you prefer brighter and more saturated colours, the 'Bright' preset might do it for you. iQOO also integrates a feature called 'Visual enhancement' which further adds contrast for more vivid display effects. We kept it disabled throughout our testing period. Using the phone under direct sunlight is also possible. The display has a peak brightness of 1300 nits. As for protection, iQOO uses Schott Xensation glass on both, its display and camera glass. So far, we haven't noticed any scratches or cracks.
The iQOO Neo 7 also comes with a stereo speaker setup. During our gaming test, we mentioned that the speakers were loud and had decent clarity. After spending a few more days with it, we found out the speaker lacks a bit of depth, and it crackles slightly at higher volume levels. While this is all not concerning, we found the earpiece to be slightly off balance when compared to the speaker grille placed at the bottom. Hopefully, an update can help fix this.
iQOO Neo 7 Review: Performance and software
The iQOO Neo 7 is powered by a MediaTek Dimensity 8200 SoC that is based on the 4nm fabrication process. This is the chipset's first foray into the Indian markets, and it looks promising when compared to other processors in the same price segment. It has a clock speed of 3.1GHz and is paired with a Mali G610 GPU for gaming shenanigans. The processor also integrates MediaTek's HyperEngine 6.0 gaming technologies for faster and smoother frame rates. We'll get into the gaming performance shortly.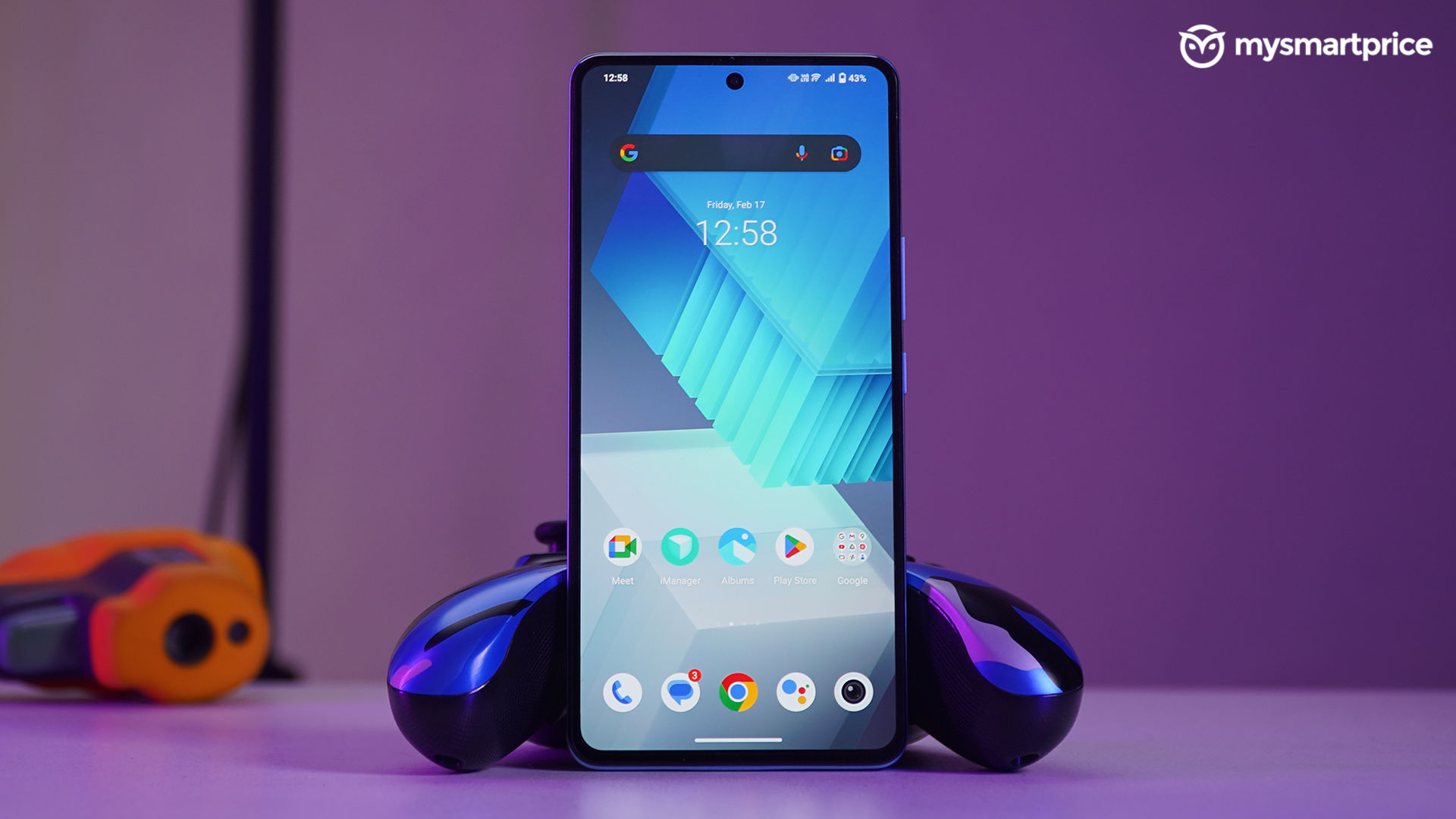 The iQOO Neo 7 comes in two variants: 8GB RAM with 128GB storage and 12GB RAM with 256GB storage. The base variant is priced at Rs 29,999 while the top model can be grabbed for Rs 33,999. The device uses LPDDR5 RAM and UFS 3.1 storage, which is good. Gimmicks such as extended RAM are also available, up to 8GB on the higher variant. Although, we don't think any smartphone needs 20GB of RAM (be it virtual), unless you are playing God of War: Ragnarok on it. It gets eight 5G bands, up from four in the iQOO Neo 6.
The phone runs on FunTouch OS 13 based on Android 13 out-of-the-box. The company promises two major Android updates and three years of security patches, which is always a good sign. We recently received an update on our unit that introduced the latest January security update.
FunTouch OS runs smoothly on the device and we did not have many gripes with it. It has a basic app drawer and a few settings for customisation on the home screen. Android 13's speciality, Material You can also be used for painting the icons and quick settings toggle red (or other colours). Besides that, you can also mess around with different animations for the fingerprint sensor and face ID.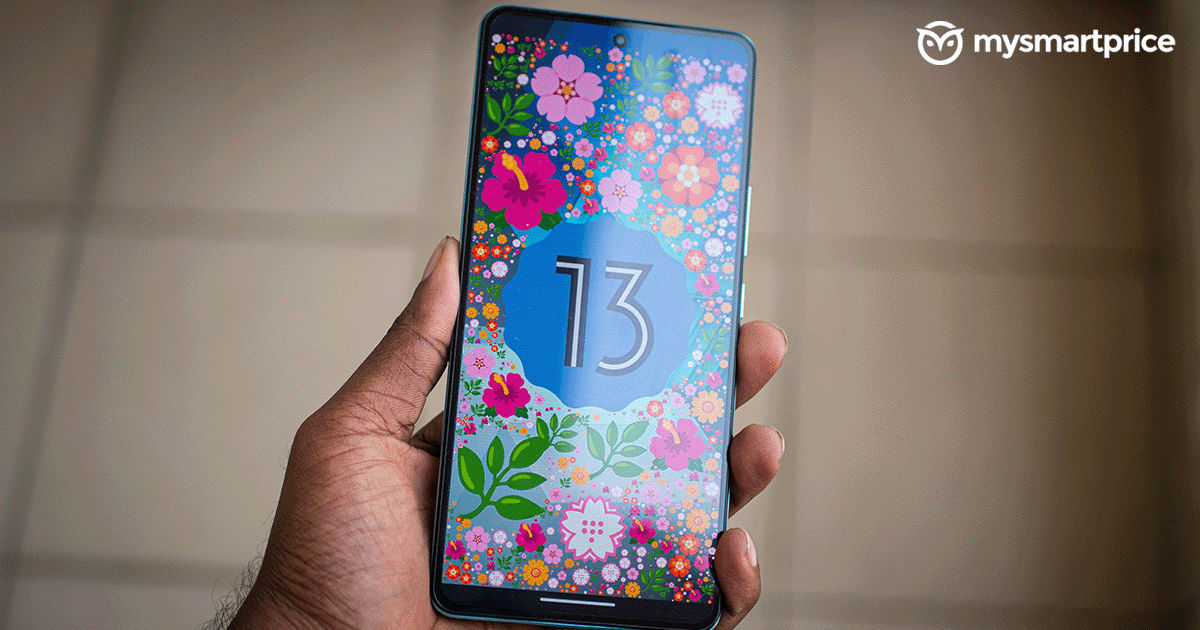 Sadly, the inevitable smorgasbord of bloatware apps is also present here with Byju's leading the charge, given alphabetical priority. What's funny here is, the iQOO Neo 7 is being marketed as a gaming phone and the first app they think of is education related. Interesting.
Along with this, you can also find a couple of iQOO apps, Spotify, and more. These apps can be uninstalled if not needed. The phone also has Hot Apps and Hot Games folder, which cannot be deleted.
Since iQOO Neo 7 is a gaming focussed smartphone, there are a bunch of features related to that. This includes 'Ultra Game Mode' which gives you a slew of options such as Esports Mode, Eagle eye enhancement, 4D Game Vibration, Frame-rate priority, and more. We tried most of them but stuck with 4D Game vibration for the most part. Though, it tends to eat up some part of the battery which is pretty obvious.
Speaking of vibrations, the device has decent haptic feedback, nothing too special. The phone misses out on any sort of IP rating. The in-display fingerprint sensor and face unlock work flawlessly every time.
The iQOO Neo 7 eats through almost everything thrown at it. The MediaTek Dimensity 8200 chipset is able to perform well under heavy loads. However, our usual stress test caused some indigestion. We ran Google Maps on picture-in-picture mode with music playing in the background on YouTube Premium and the phone's refresh rate dipped to 60Hz, from 120Hz, giving way to a few stutters. Once we exited the navigation, the phone was able to breathe again. Besides this, scrolling through social media apps such as Instagram and Twitter is easily manageable for the device. Multitasking is also something the phone is capable of, in fact, we liked the three-finger gesture that lets you enter split-screen mode.
iQOO, for sure, hurling numbers at its prospective buyers, and the Neo 7 is the living embodiment of that. In terms of synthetic benchmarks, it's a clear improvement compared to yesteryear's Neo 6. It scored 855358 in our AnTuTu tests, compared to 730725 of the Neo 6. This score is also wildly higher than its only sensible contender this year, the Redmi Note 12 Pro Plus (review). In Geekbench 6, the phone yielded 1193 single-core scores and 3576 multi-core scores. The iQOO Neo 7 maxed out Sling Shot Extreme tests and got a score of 1767 on Wild Life Extreme.
These synthetic benchmark scores do not reflect real-time usage so we put the device through our extreme gaming test.
The phone pushed through most games with ease. We played Apex Legends Mobile, Call of Duty: Mobile, New State Mobile, and more on it. For the most part, Apex Legends Mobile rendered 60fps without many hiccups in the gameplay. In fact, we didn't even notice any major frame drops while landing, which was great. Call of Duty: Mobile ran on 'Low' graphics and 'Max' framerates with constant 58fps. iQOO introduced the Neo 6 with a 90fps option available for BGMI, this time it's bringing this setting to New State Mobile. We enjoyed playing these games on the device as it didn't stutter much or even throttle.
iQOO has integrated the Neo 7 with a vapour cooling chamber paired with a multi-layer graphite sheet which is 23% larger than last year. This helps in keeping the temperatures under check during our extreme gaming tests. The previously mentioned gaming feature lets you enable 'Monster Mode' and also use motion control.
If you want a brief take on the phone's gaming abilities, we suggest watching the video embedded below.
iQOO Neo 7 Review: Cameras
The iQOO Neo 7 sports a triple camera setup at the back which consists of a 64-megapixel primary camera with f/1.79 aperture, a 2-megapixel depth camera with f/2.4 aperture, and a 2-megapixel f/2.4 macro camera. Since iQOO has focused on other aspects of the device, it drops the plan of having an ultra-wide angle camera. This is a downgrade from the Neo 6 which had an 8-megapixel ultra-wide camera. This was a bummer for us as we enjoy taking photos using a wider perspective.
As for the cameras provided, the primary sensor is able to take good, detailed and crisp photos. The image processing tends to slightly boost greens, as you can see in the images below. It manages to get a decent amount of details from the shadows. Despite the weather being slightly gloomy and dull, the phone managed to avoid inviting noise in darker areas. The dynamic range is also well-balanced provided you enable the sweet little HDR toggle on top. When it comes to human subjects, the processing tends to add a bit of red tone to the skin, which is noticeable.
It also lets you digitally zoom up to 10x. These photos lose out on details. Portrait mode photos came out fine with good edge detection and a decent amount of blur. Our little loyal security guard was pretty content with it. The tertiary macro camera is here for the sake of it. The low-resolution sensor can take decent photos when you shove the camera into a subject, but it lacks details for obvious reasons.
Night mode kicks in automatically when taking photos in low-light conditions. Images were too bright for our liking and sometimes looked like evening instead of night. Some of these photos also tend to have a reddish tone, though it's not consistent. The images had good details overall. Selfies clicked in daylight were detailed and had balanced skin tones, low-light photos were also usable. Portrait mode also works well here.
The iQOO Neo 7 can shoot videos in 1080p and 4K, both at 60fps. The videos had good colours and details. The footage was well-stabilised thanks to OIS. However, it does not stabilise videos shot at 4K 60fps.
iQOO Neo 7 Review: Battery and charging
The iQOO Neo 7 gets a slightly upgraded battery when compared to the outgoing model. The phone packs in a 5,000mAh battery which easily lasted us an entire day and more. The Neo 7 was able to give us consistent 6.5 to 7 hours of screen time. After continuously playing games for two hours, the phone ended up at 65%, which is on par with most of the devices we test. Our usage mostly consisted of social media doom-scrolling, taking a few photos, gaming and content consumption.
We have this theory that in order to include 120W fast charging, iQOO had to omit the ultrawide. The difference is about 40W compared to its predecessor, and it is absolutely bonkers for the price. Before you start experiencing this monstrosity, you'll have to enable fast charging from the settings. If this is disabled, the phone will charge at variable speeds depending on the temperature. But, with the option turned on, it takes only 15 minutes for a zero to 63% charge and just 25 minutes for a full charge.
iQOO Neo 7 Review: Verdict
The iQOO Neo 7 gets almost everything right for the audience it's going for, except for some drawbacks. The phone performs well in our day-to-day usage and while gaming. The HDR10+ certified display is gorgeous. It's great for watching movies when paired with stereo speakers sans the imbalance. The beefy battery and crazy fast charging act as a cherry on the cake. FunTouch OS is quite simple and we enjoyed using it, barring some bloatware apps. Moreover, it gets Android 13 out of the box.
However, the camera department is where the iQOO Neo 7 does not triumph. While the primary sensor is capable, the missing ultra-wide angle camera is a letdown. If cameras are your thing, you might have to look in the direction of the Redmi Note 12 Pro+ (review) and even the Nothing Phone (1) (long-term review). In fact, the iQOO Neo 6 (review) is still a very competent phone, in terms of performance and camera capabilities.
But, if you enjoy the lively banter with your teammates over an intense squad fight, the iQOO Neo 7 should definitely be your next purchase.
What Is Good?
Fast display
Power-packed performer
120W fast charging, reliable battery
Android 13 out of the box
Good primary camera
Balanced weight and good ergonomics
What Is Bad?
No ultra-wide angle camera
No IP rating
Same old design