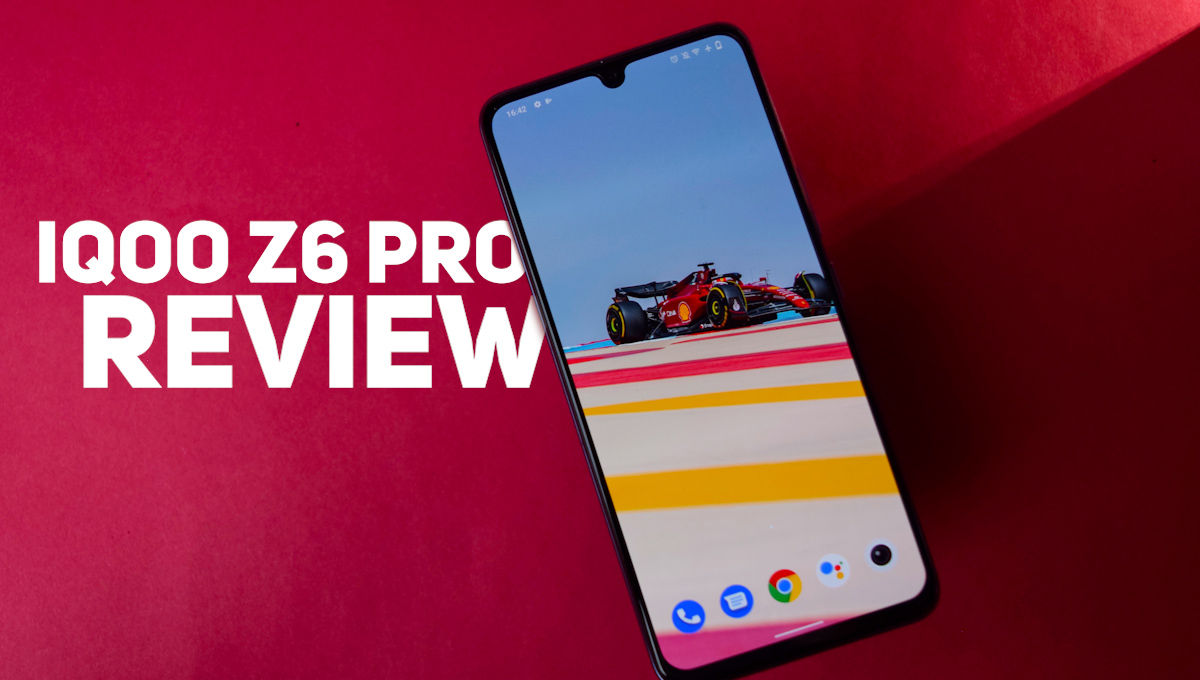 Sometimes, vanilla is good. Some people just want an understated smartphone priced about right and can nail the basics without any pomp and show. Iqoo's all-new Z6 Pro evoked a similar feeling in my mind when I first picked it up. It almost seems as if Iqoo has chosen everything tried and tested in its arsenal to play it safe with the Z6 Pro, from the design to hardware. So let's find out if it's good enough or a downgrade compared to its predecessor, the Iqoo Z5, in this review.
Iqoo Z6 Pro Review: Low-Pro Design
The design of the Iqoo Z6 Pro is basic, and sometimes it can even feel uninspiring. But the key here is that the phone feels secure in your hand whenever you pick it up. Much of this is attributed to the textured plastic at the rear and a glossy yet grippy railing. As a result, I always felt confident taking it out of my pocket and even picking it up while it was resting on a table.
The robot face made by the rear camera module hasn't grown on me. Interestingly, after about a week of use, it hasn't caught any scratches despite sticking out of the body considerably. The railing, however, is easy to dent, so make sure you use a case with this thing. Although the phone doesn't have an IP rating for water or dust resistance, it does come with a silicone pad on the SIM tray to keep water from entering. I didn't submerge it underwater, but I took it to the shower to listen to music and didn't observe any issues. I don't recommend you be careless with it, but rest assured it'll be fine with mild splashes.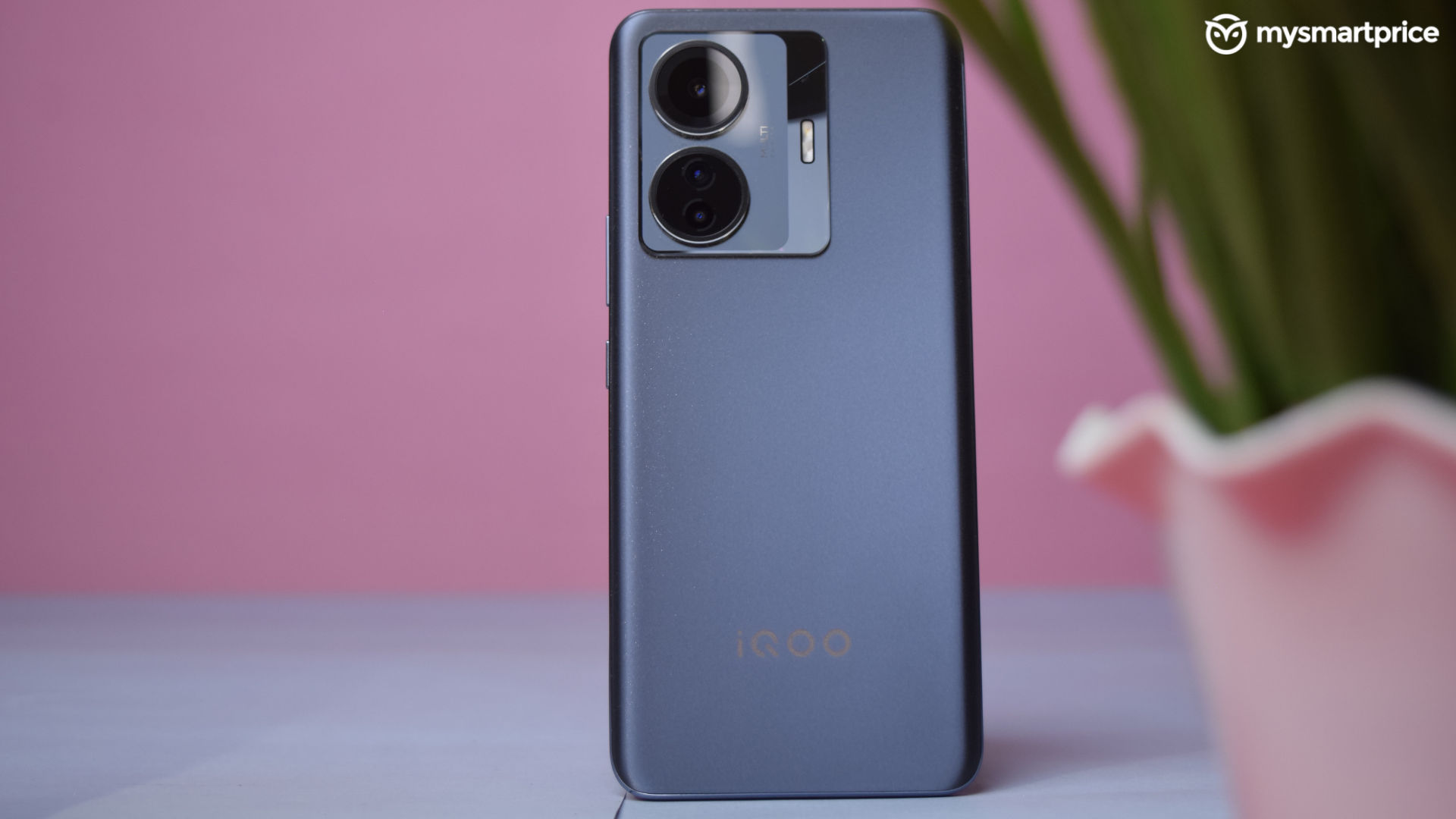 I dig the button placement of the Iqoo Z6 Pro. It's low enough to be reached easily by your thumb, and the buttons are tactile. But, I do feel that the phone can be too narrow sometimes, especially when you're typing or playing games, and the U-shaped notch on display can also take a bite of your screen real estate.
Overall, in terms of design, I'd say it's utilitarian and minimalist to the point that nobody will ever stop and ask you, 'Hey, what phone is that?'
Iqoo Z6 Pro Review: AMOLED Display But…
The Iqoo Z6 Pro is lit by a 6.44-inch AMOLED display with a Full HD+ resolution and a refresh rate of 90Hz. On paper, it seems acceptable, but the colour tuning of it is just too bland for my taste. I did find the saturation and vibrancy satisfactory during my first impressions, but as I spent more time with the phone, I observed small things that didn't really go my way in terms of colours. Even though it is a 90Hz panel, it doesn't feel as fast, and the experience can often seem a little disconnected from your thumb tips, especially when you're scrolling around on social media.
While the phone has HDR10+ certification, several apps like Netflix still don't support it. Still, the contrast levels were good and watching dark content on Netflix, and Prime Video wasn't much of an issue. Outdoor legibility is decent, so you can read texts clearly when you're outdoors, but when the sun gets too bright, colours tend to get washed out.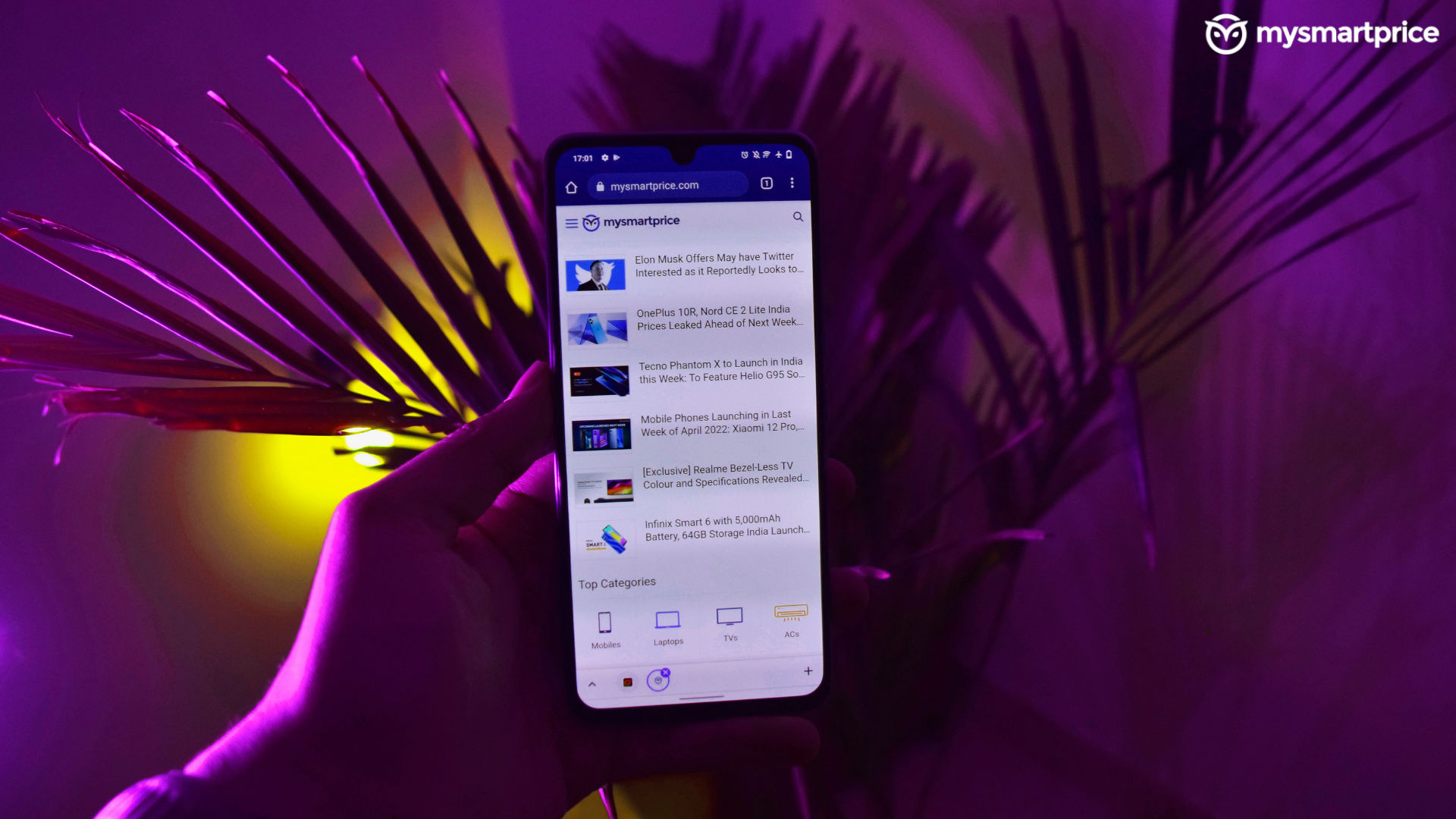 The Z6 Pro uses an optical in-display fingerprint scanner for biometrics. It's placed lower than most other phones, and it took me some time to get used to it. However, it is quick to unlock the phone and is reliable. Apart from this, you also have face recognition, and it works fine in well-lit conditions and struggles a little during the night.
Coming to the audio, the Z6 Pro only has a single speaker grille on the bottom, and it's easy to block when you're consuming content in bed. This is a downgrade from the Iqoo Z5. It's decently loud but not very punchy. In terms of wired and wireless audio connectivity, you have USB Type-C and Bluetooth 5.2, so there is no 3.5mm jack here. I only tried listening to music wirelessly via a pair of TWS Bluetooth earphones, and I was happy with the quick connectivity and range.
Iqoo Z6 Pro Review: Reliable Performance
The one area that the Iqoo Z6 Pro wants to nail is performance. So, here's what we got – Qualcomm Snapdragon 778G, mixed and matched with three RAM and storage variants – 6/128GB, 8/128GB and 8/256GB. It employs UFS 2.2 storage, LPDDR5 RAM and an option to use some internal storage as 'Virtual RAM'. I like how well spaced out the variants are, as it gives more choice to the buyers. I received the mid-tier variant for reviewing.
All this is mated to Iqoo (or Vivo's) Funtouch OS 12 that's based on Android 12 out of the box. You get a ton of bloat out of the box, including Byju's and Cred, and I uninstalled most of it as it wasn't of much use to me. However, the latest security patch that I received was that of April 2022, so not bad.
I wasn't able to use the phone very heavily, but I did install all of my work, productivity, travel and payment apps. In terms of general usage, I found the experience to be decent. Despite the unbearable summer heat in Delhi, the phone never seemed to break a sweat, even while using location-based apps like Uber and Maps, and not once did I see the phone heat up or struggle to keep up to speed.
Yes, the 90Hz display doesn't really help with the perceived speed, but I was always sure about the basics, like I only have to tap an app once to open it, or the multitasking menu wouldn't stutter if I brought it up. More expensive phones with the latest and greatest hardware have been struggling with this lately, but the Z6 Pro nails it.
The gaming performance was also excellent, and it felt very much at home while playing Call of Duty Mobile and Rocket League Sideswipe while using Discord in the background. The 4D Linear Motor is a blessing because things get so much fun and accurate while gaming and even typing. After about 30 minutes of gaming, the area adjacent to the camera got a little warm, but it wasn't so bad that I would refrain from accepting calls from the earpiece till it cooled down.
Iqoo Z6 Pro Review: Quirky Camera
The phone's optics are taken care of by a triple camera system comprising a 64-megapixel primary sensor, an 8-megapixel sensor with an ultrawide lens offering 112° field-of-view and a 2-megapixel macro lens.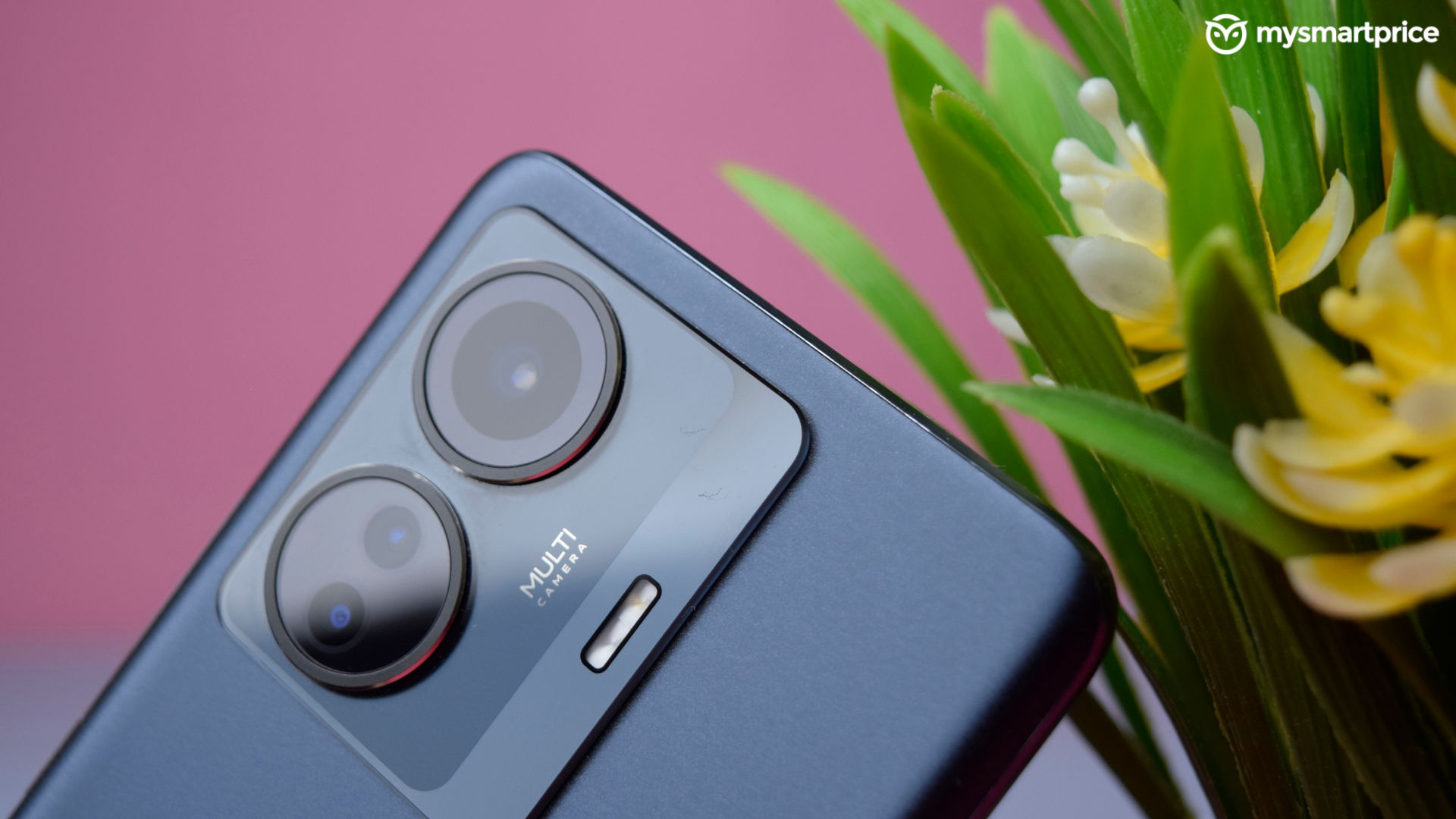 You can access this setup via the camera app that suffers from the quirk of showing you terrible previews in the viewfinder, but when you check out the final photos, they are about 10 times better, thanks to image processing. This disparity doesn't sit well with me because although the shots are usually serviceable, the unpredictability of what to expect gets me nervous. But, on the plus side, the camera app opens quickly, and the shutter lag is also low when clicking during the day.
1. Shots taken from the primary camera during the day are decently lit, and the HDR does wonders to recover the shadows and tame the highlights. However, the colours can sometimes be misleading, and because of the default pixel binning, details can be lacking.
2. The ultra wide angle camera can be fun because it uses the same AI and HDR algorithms as the primary. The photos look good in the daytime when you're zoomed out, but the moment you pinch in, you start to get a little disappointed because of the lack of detail. There's noticeable distortion around the corners, so be a little careful when framing people via the ultrawide.
3. In terms of colour consistency, the ultrawide goes for a much warmer tone compared to the primary camera. This can be seen clearly in the shot of the Minar contrasting the blue sky.
4. After a few uninspiring macro shots, I decided not to use the 2-megapixel macro shooter and instead relied on the primary camera for close-ups.
5. Night mode can be applied on both the primary and ultrawide cameras, but the results can range from barely acceptable to unusable. The noise levels can be distracting in some photos, but extreme low light shots came out usable. But when you click pictures with some glaring streetlights, the shot goes for a toss.
6. Video maxes out at 1080p@30fps on the rear, and the primary camera is electronically stabilised. The output was surprisingly good, with no warpy artefacts due to electronic stabilisation, and even the exposure jumping was minimal. Videos at night had some noise, but the stabilisation still did a decent job.
Iqoo Z6 Pro Review: Impressive Battery
Backing the phone is a 4,700mAh battery, which can be topped up with the bundled 66W charger. Despite being slightly under 5,000mAh, the battery is a beast on this one. I was personally getting anywhere from 8 to 9 hours of screen time, and when I didn't abuse the phone much with emails, WhatsApping and Instagramming, I could easily get two days' worth of backup out of it. It shows up in benchmarks, too, as the PCMark Battery 3.0 yielded a score of about 19 hours, which is insanely good. The charging speed is also good; even in hot temperatures, the phone was able to charge entirely in a little less than an hour.
Iqoo Z6 Pro Review: Verdict
With performance and battery as its core selling points, the Iqoo Z6 Pro stays relevant despite sporting an understated look and having a functional camera module. It is a confident performer, and it can be recommended to people looking for a smartphone that doesn't stand out much while delivering good battery life. With an asking price of Rs. 23,999, it locks horns with the Realme 9 Pro+, OnePlus Nord CE 2 and the very similar Vivo T1 Pro.
Battery Performance
8.5/10
What Is Good?
Robust performance
Long-lasting battery life
Fast charging
Ergonomic design
Quick fingerprint scanner
Bright display
What Is Bad?
Design can be too understated for some
Unreliable camera viewfinder
Display colours could be tuned better
No HDR streaming on Netflix
Tons of bloatware