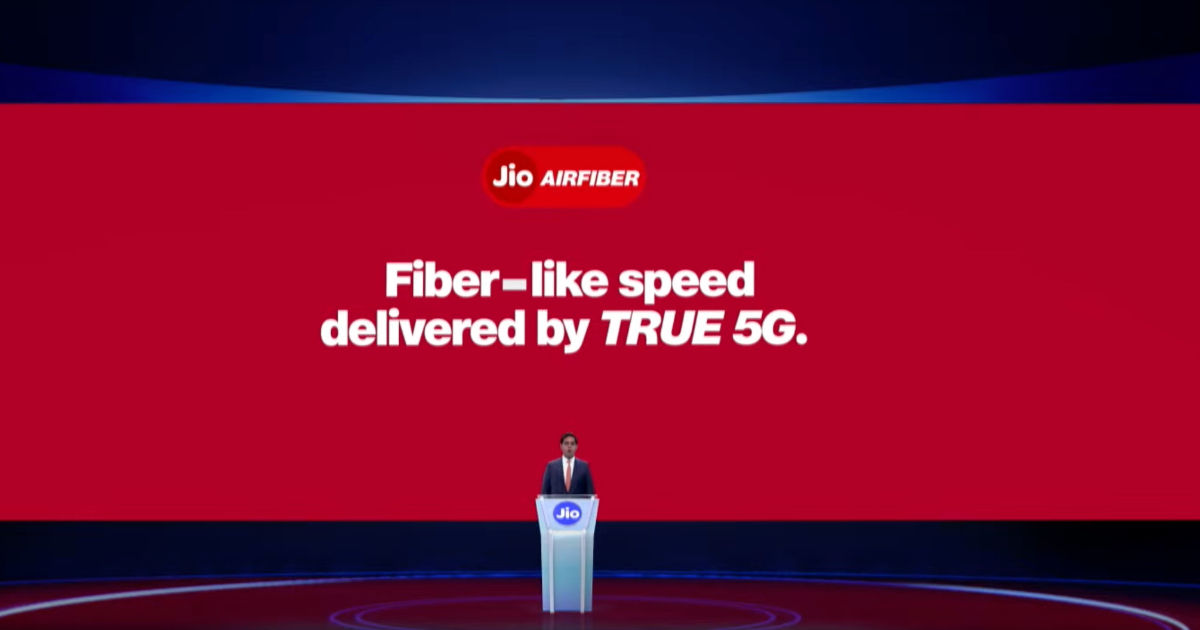 Reliance Industries Limited (RIL) hosted its 45th annual general meeting (AGM) on August 29. At the RIL AGM 2022, the Mukesh Ambani-owned company made a bunch of announcements about the company's achievements over the past year while revealing a pipeline of plans it aims to implement in the future. The highlight announcement of the RIL AGM 2022 was the Jio True 5G, which will roll out later this year. In addition to this, Reliance also announced its new Jio AIRFIBER service, which will offer an end-to-end wireless 5G experience.
Reliance Jio Chairman Akash Ambani, at the AGM, said that the AIRFIBER service will help consumers' homes or offices connect to gigabit speed internet. Let's take a look at more details about Jio AIRFIBER announced at RIL AGM 2022.
What is Jio AIRFIBER?
Reliance has launched a new Jio AIRFIBER plug-and-play device for users to experience fiber-like speed over the air without any wires. The single device solution offers a personal WiFi hotspot at home or offices, which is connected to ultra-high-speed Jio True 5G internet.
"Thanks to Gigabit speed of JioAirFiber, we can deliver multiple video streams, showing multiple camera angles at the same time and that too in ultra-high definition, and we can dynamically choose which camera angle we want to focus on," Ambani said.
AIRFIBER unlocks the ability to connect hundreds of homes and offices connect to ultra-high-speed broadband within a short span. It also unlocks engaging experiences, such as interactive live content, cloud gaming, immersive shopping, etc.
Jio also demonstrated one of AIRFIBER's capabilities, where users will be able to watch a live IPL match with multiple camera angles in ultra HD at the same time. Users can also dynamically switch between the camera angles. AIRFIBER also lets users enjoy multiplayer cloud gaming or host a watch party with their friends, courtesy of its ultra-low latency.
Jio has also launched a new JioCloud PC, which is a thin device with a "pay for what you use" model. Consumers can get the Jio virtual PC with no upfront investments or upgrades. The company stated that Jio True 5G and its other services will be useful for various industries and sectors, such as agriculture, healthcare and education.