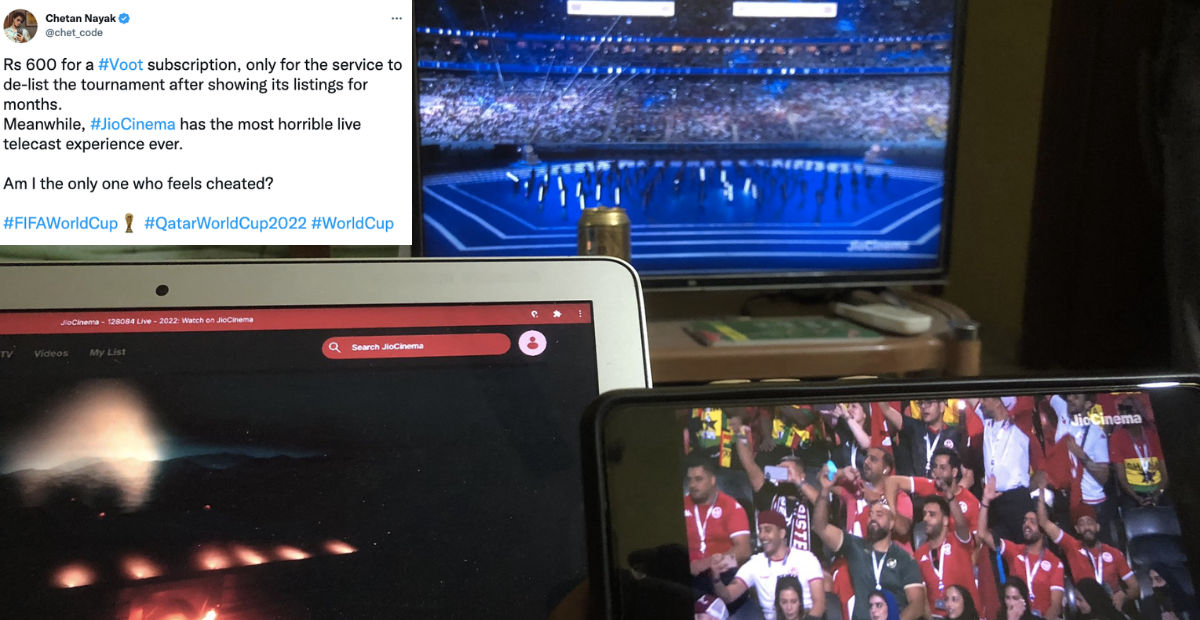 Netizens are angry over the poor Jio Cinema streaming of the FIFA World Cup 2022 taking place in Qatar. The show that was earlier announced for a Viacom18 OTT platform, Voot was shifted to Jio Cinema. Moreover, Jio announced that it will stream FIFA World Cup 2022 for free to all network users on any platform. Some are angry because the live stream over Jio Cinema was poor whereas others are frustrated over the fact that they bought a Voot Rs 600 subscription just to know later that Jio will stream the show for free.
Users took to Twitter to show their frustration against the Jio Cinema. The frustrations were so high that even some famous personalities in India tweeted about the same because of which it started trending in the country. Let's check out some of the popular tweets from the incident.
Twitter Filled With Jio Cinema Complaints
Twitter is filled with complaints from users about Jio Cinema's poor streaming. Many complained that their video was buffering or getting crashed.
Here're some of the famous tweets from users.
Rs 600 for a #Voot subscription, only for the service to de-list the tournament after showing its listings for months.
Meanwhile, #JioCinema has the most horrible live telecast experience ever.

Am I the only one who feels cheated?#FIFAWorldCup #QatarWorldCup2022 #WorldCup

— Chetan Nayak (@chet_code) November 20, 2022
A user Madhu Lambu tweeted a video to show how much frustrated it was to watch the first opening goal of FIFA World Cup 2022 on Jio Cinema. Check it yourself below.
This is how i watched the first goal#JioCinema #FAIL pic.twitter.com/f1ImO4S4xB

— Madhu Lambu (@MadhuLambu) November 20, 2022
Seriously @JioCinema ??? This is how we are gonna watch the WC? pic.twitter.com/rtZqrx4R5y

— Rishabh Thakur (@rishabhthakur) November 20, 2022
Football fans watching #FIFAWorldCup on #JioCinema in India…

Only in this case, turning off is replaced by lagging & hanging
pic.twitter.com/kkfo0ZPBEB

— Adi (@aaditea__) November 20, 2022
A singer named Caralisa Monteiro faced issues while watching FIFA World Cup 2022 on Jio Cinema. Caralisa tweeted to know if she's the only one facing this issue.
Any one else facing issues with Jio cinema live telecast of the #WorldCup ?

— Caralisa Monteiro (@runcaralisarun) November 20, 2022
Some users were so much frustrated that they gave it the worst streaming app award which was earlier given to SonyLIV.
Already has beaten Sony LIV in being the worst Sports Streaming app. Congratulations on that Jio Cinema !!!! #FIFAWorldCup

— Kartik O 🏏⚽🔗 (@KOCricket528) November 20, 2022
Below are tweets from some famous personalities.
if you are a vodafone user watching football world cup on jio cinema app, then you will automatically get a padma shri nod next year for keeping composure during tough times

— vishal dayama (@VishalDayama) November 20, 2022
Hey @JioCinema I'm sure you know what's wrong by now! Please fix it ASAP!!!

— Raunak Kapoor (@RaunakRK) November 20, 2022
#QatarWorldCup2022 is turning into a nightmarish killjoy with #JioCinema hanging every other minute. What has Ambani got against football? ⚽️

— N.S. Madhavan (@NSMlive) November 20, 2022
Wow, #JioCinema is different level pathetic. It's going to be a nightmare watching matches

— Mihir Vasavda (@mihirsv) November 20, 2022
Wow #JioCinema you guys should have tested your servers before putting in your bid for broadcasting #FIFAWorldCup in India. Pathetic service.

— Samarth Goyal (@SammySamarth) November 20, 2022
Anybody else watching the #FIFAWorldCup on @JioCinema at 4 frames per minute?

— Brodha V (@BrodhaV) November 20, 2022
Memes Erupted After Jio Cinema Poor Streaming of FIFA World Cup
With so much happening, memes were another thing that users started sharing on Twitter. Let's check out some of the funnies ones.
So that's why it's free…#FIFAWorldCup #JioCinema #Jio pic.twitter.com/pFCS8mBOPB

— Akhil Chauhan (@CheeTaHOO7) November 20, 2022
Jio Cinema every 30 Seconds pic.twitter.com/Eypy0tSZX7

— Tackle From Behind (@tacklefromb) November 20, 2022
Me to Sony Liv after streaming on Jio Cinema#JioCinema pic.twitter.com/hDnHFNFIr7

— DeadInside (@Pratthampant) November 20, 2022
Ambani to all trying to watch FIFA on Jio Cinema and sports 18 pic.twitter.com/HnF57vVhRQ

— Bhatkela (@Bhatkela) November 20, 2022
Ambani's right now at Jio Cinema trying to fix lag.#JioCinema #WorldCup pic.twitter.com/HNOMe572O1

— Akash (@akashtesla) November 20, 2022
Looks like they are sending live telecast frames to Jio Cinema via courier from Qatar. Instead of Frames per second, Frames per 3-5 business days.

— Gabbbar (@GabbbarSingh) November 20, 2022
The worst ever start for a World Cup broadcast.

Leave it if you can't do it #JioCinema. Disappointed.#QatarWorldCup2022 #FIFAWorldCup #JioCinema pic.twitter.com/dZ4bonUHPf

— liafuS (@sufail_wr) November 20, 2022
Jio Cinema Reply Over Poor Streaming
After massive criticism for the poor quality of FIFA World Cup 2022, Jio Cinema tweeted and apologised for the same. Below is a tweet from the company.
Dear @JioCinema fans,

We are continuously working to give you a great experience. Please upgrade your app to the latest version to enjoy #FIFAWorldCupQatar2022. Apologies for any inconvenience.#FIFAWorldCup #FIFAWConJioCinema #FIFAWConSports18 | @FIFAWorldCup

— JioCinema (@JioCinema) November 20, 2022
Jio Cinema tweeted another video in a lighthearted tone to describe how its team is working to fix the issues that users are facing.
Our team hard at work to solve some of your buffering issues😵‍💫pic.twitter.com/mjxLV5cgmD

— JioCinema (@JioCinema) November 20, 2022
Voot Subscribers Not Happy Over Jio Cinema Announcement
Voot, a Viacom18 platform had announced that it would stream the FIFA Word Cup 2022 which will take place in Qatar to its premium users. Because of this many users shifted to its premium plan called Voot Select by paying some amount. However, later it was announced that Jio Cinema will stream the FIFA World Cup 2022 for every user for free which started a new controversy.
Those who bought Voot subscriptions are now complaining that they feel cheated in this FIFA World Cup – Voot scam. First, they paid for a new service which became free for everyone later. Voot is yet to reply to the user's complaints.