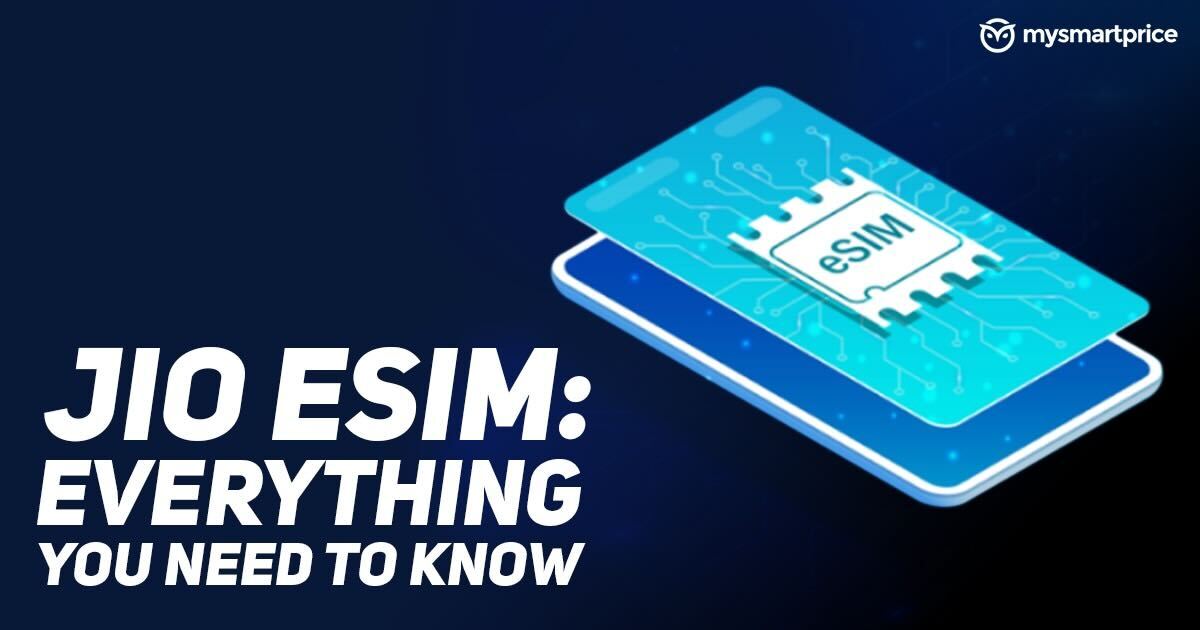 Jio, one of the biggest telecom providers in India, now provides eSIM, or Embedded Subscriber Identity Module, in addition to regular SIM cards. It is one of the few telecom companies to provide eSIM, along with Vodafone Idea and Airtel. The eSIM might benefit smartphone manufacturers as they can now add more helpful functions to a handset by saving space using an eSIM. However, they are only compatible with a few smartphone brands like Apple, Smartphone, Motorola and Google.
Since it's an expensive tech that directly involves creating a dedicated space on the motherboard, many smartphone brands avoid using this connectivity method. But this doesn't mean that eSIM has no benefits. One of the major benefits of eSIM is that customers won't have to visit the store as changes may be made remotely by operators, Thus, any task requiring the removal of a physical SIM will now become a thing of the past with eSIM. Let us learn more about the functioning of eSIM, which is being provided by Jio.
Also Read: Jio SIM Activation Number: How to Activate New Jio SIM Using Tele-verification?
What is Jio eSIM?
You can activate your Jio prepaid/postpaid subscription service on the device without requiring a physical SIM card on eSIM-enabled handsets, thanks to an integrated SIM in your smart communication device. On a device with eSIM support, users can digitally download the Jio SIM profile from a distance. Currently, only Apple, Samsung, Google, and Motorola offer eSIM support for Jio.
Also Read: Jio APN Settings for High Speed 4G Internet: How to Set Jio Access Point on Your Mobile for Internet Access
Things to Remember While Activating Jio eSIM
Make sure your phone is linked to a mobile network or Wi-Fi before starting the configuration process.

Selecting the 'Remove Data Plan' or 'Erase Plan' option in device settings will destroy the eSIM profile permanently.

If it is accidentally or unintentionally removed, go to your local Jio Store, Reliance Digital, or Jio retailer with identity proof and a photograph for the SIM swap process.

The Activation Code is unique and can only be used once on a single device.

Each gadget has a unique set of activation processes.

For eSIM activation instructions, click on the phone brand.
How to Activate Your Jio eSIM?
Reliance Jio currently allows the activation of eSIM on selected iOS and Android phones. While it is a simple and easy process to activate your Jio eSIM on your smartphones, you must follow different processes for activating the eSIM on different operating systems. 

Activate Jio eSIM on Android
Currently, in the case of Android, eSIM can only be activated on Motorola, Samsung and Google smartphones. Activating eSIM on different android brands needs different methods. In this article, we have taken the the example of a Samsung smartphone activating Jio eSIM service. 
Click on the Samsung phone's Settings menu.

Click on the About section, where you will find an IMEI number.

Then, to obtain the EID number, click on Status information.

You need to send an SMS GETESIM message to 199, which will provide you with the EID and IMEI number.

You will then be given a 32-digit activation code, 19-digit eSIM numbers, and eSIM personal details.

Next, go to Settings and select Connections to configure the eSIM.

Now, select the SIM card manager.

Click 'Add mobile plan' under the eSIM, then 'Scan carrier QR code'.

On the following screen, click Enter code.

You will receive a 32-digit activation code through SMS upon completing the process.

Finally, select Connect and wait for your Jio eSIM to be activated.
Activate Jio eSIM on iOS
Jio eSIM functionality is currently available on various Apple iPhone models such as the iPhone XS, iPhone XS Max, iPhone 11 series, iPhone 12 series, and more. To activate an eSIM, you must use an iOS 12.1 or higher OS-based device. 
First, go to the Settings menu and select General.

Next, select About, which displays your EID and IMEI number. Please take note of those.

Next, send 'SMS GETESIM' from your phone to 199, along with its EID and IMEI digits.

You will then be issued a 19-digit eSIM number and eSIM profile setup information.

You will also receive an alert to set up the profile.

Next, text SIMCHG to 199, followed by a 19-digit eSIM code.

You will receive an update in two hours, which you must confirm by texting '1' to 183.

You will then receive an automated call in which you will be asked for your 19-digit eSIM number.

After successful confirmation, you will receive an SMS notification.

If you get a notification to set the profile, simply click on it and choose to Install data plan.

Click the Continue button.

If you do not receive the notification, navigate to Settings and select Jio Data Plan Ready to Install.

Finally, click Continue, and your Jio eSIM should be activated.
Also Read: Jio Number Check Code: How to Know Jio Mobile and JioFi SIM Number Through USSD Codes, SMS, My Jio App
How to convert Jio SIM to eSIM?
Convert your existing physical SIM to an eSIM or transfer your Jio eSIM by SMS from one device to another.
Step 1: From a handset with an active Jio SIM, send the SMS 'GETESIM32 Digit EID>15 Digit IMEI>' to 199. If your email address has not been updated, you will receive an email urging you to do so in order to restart the procedure.
Step 2: To share an eSIM number for eSIM processing, type SIMCHG and send the SMS to 199. You will receive an update on eSIM processing in two hours.
Step 3: Confirm and activate your eSIM by messaging '1' to 183 and asking for an automated call from +91 2235072222. To confirm, dial '1' on the phone. Then, install 'Data plan' on your device to activate eSIM by following the steps below.
Also Read: Jio Balance Check: How to Check Jio Talktime, Data Balance, Plan Validity Through SMS, MyJio App & USSD Codes
Benefits of eSIM
eSIM has a lot of benefits over physical SIMs. Below are some of the benefits of Jio eSIM.
By substituting an internally integrated Jio eSIM for the slide-in sim tray in your smartphone, the eSIM can significantly reduce interior space requirements. It does not require a particular card slot, unlike a conventional SIM card.

With Jio eSIM, you may easily switch your network provider in India by making a phone call or submitting an online request.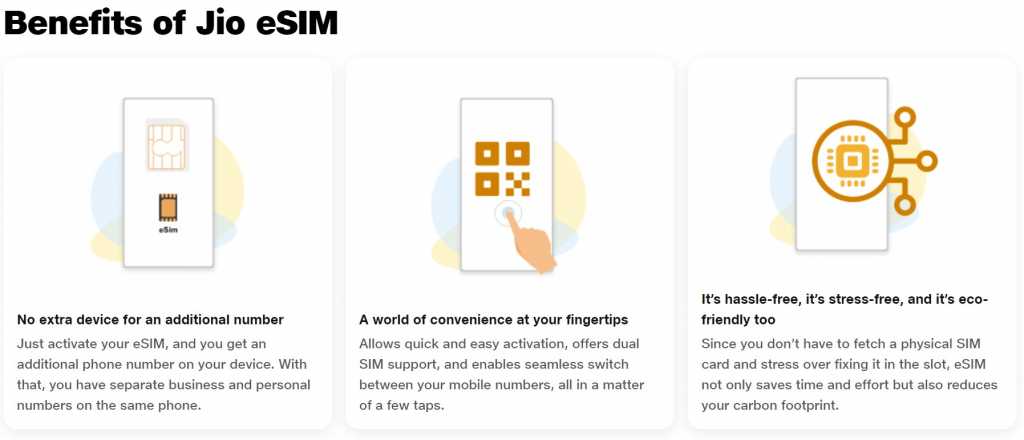 Multiple network profiles can be stored on a Jio eSIM, functioning flawlessly everywhere. This is a fantastic choice for someone who frequently travels.

When compared to a traditional sim card, losing a Jio eSIM is impossible. You can never lose your Jio eSIM once you enable and configure it; it's a hardware chip on your device, and the only way you can lose the eSIM is if you lose or destroy your smartphone.
Frequently Asked Questions (FAQs)
1. What happens if I move phones or wish to transfer my eSIM from one device to another if I use Jio eSIM?
If the new device supports eSIM, you can use the SMS process to transfer your eSIM from the old device to the new device; the previous phone's eSIM will be deleted, and eSIM of the new phone will be activated with the same Jio number.
Activating an eSIM from the self-care process by SMS is simple and can be done at your leisure from home at any time. Please select one of the smart devices listed below to learn more about the activation process.
2. How can I get a new Jio eSIM connection if I don't have a Jio SIM card?
To receive a new Jio eSIM connection, customers must go to the nearest Jio Store with their eSIM-enabled device, complete the KYC procedures, and request an eSIM. To complete the KYC requirements, you must produce proof of identity and address. You need to carry the same documents that are required for a new physical SIM-based connection.
3. Is Jio eSIM free?
No, there aren't any additional fees or hidden charges involved with converting a physical SIM card to an e-SIM.
4. Who qualifies for Jio eSIM?
Jio eSIM is available to all existing and new Jio subscribers who own handsets that are  compatible with eSIM.
5. Can I buy an eSIM online?
You can easily activate an eSIM card online on your smartphone or tablet, which is compatible with eSIM.
6. Is eSIM safe?
When it comes to security, eSIMs are normally quite safe because criminals can't physically take them and put them in other devices. Additionally, they can be programmed for authorisation whenever someone tries to update a user profile.
7. How long does it take to activate Jio eSIM?
Whether you visit a store or try to activate the Jio eSIM on your own, it won't take much time to activation. If you visit a store, the eSIM will be activated immediately. However, if you do it by yourself, post successful completion of all the steps, your eSIM will be activated immediately.
8. How do I remove Jio eSIM from iPhone/Android?
The steps listed below must be followed if you want to remove your phone's eSIM.
Regarding iOS:
Access Settings.

Select Mobile Data or Cellular.
Tap the strategy you wish to delete.
Click on "Remove Cellular Plan."
With regard to Android:
Navigate through Settings > Connections > SIM card manager.

On eSIM, choose the plan you want to delete.

Turn the switch to the eSIM-disabling position.

Click Delete