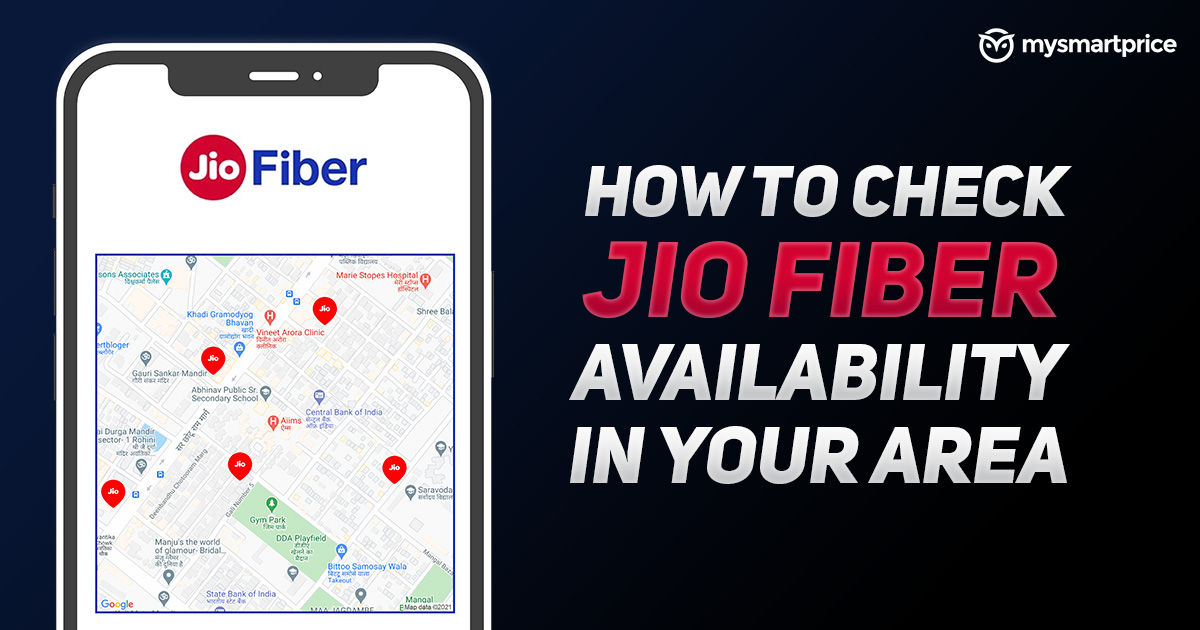 Reliance Jio Fiber took the broadband industry by storm. The company introduced a fibre connection across the country at an aggressive price point. The telecom operator's plans come with many benefits, including unlimited download speed and other freebies like a free subscription to OTT platforms like Amazon, Netflix, Hotstar, and more. The company has a range of broadband plans starting from Rs 399 and goes up to Rs 8,499. Reliance Jio says that it offers up to 1Gbps of internet speeds with its range of broadband plans, while the cheapest plan comes with 30Mbps speeds.
Also Read: Jio Recharge Plans and Offers 2021: Jio Prepaid Recharge Plan Price List with Talktime, Validity, 4G Data Benefits
With this, many of us want to add a Jio Fiber connection to our homes. The company is working to make the service available across every nook and cranny of the country. However, there are still some areas which are yet to be covered by the brand. So, if you are planning to opt for Jio Fiber connection, we advise you to first check the availability in your area. To do that, we present you with a step-by-step guide on how to check if Jio Fiber broadband service is available in your area or not.
Also Read: Jio Balance Check: How to Check Jio Data, Talktime Balance, Validity Online and Using USSD Number Codes
How to check Reliance Jio Fiber broadband availability in your area?
In order to check for the availability of Reliance Jio Fiber in your area, you need to follow these steps:
To go to the official website of the Jio Fiber broadband service. You can also access it from here.
You will see Book Now button at the top-right corner, click it. This will take you to the registration page.
You need to enter your name and your contact number and then click on 'Generate OTP'.
You will be asked to fill in the full address along with your email address.
Once done, the website will tell you whether the Jio Fiber service is available in your locality or not. If the service is not available at the moment, the company will send you a notification once the service is available in your area.
Also Read: JioFi Plans 2021: Top 5 Prepaid Jio Data Recharge Plans for Your JioFi WiFi 4G Hotspot Router and Dongle
Reliance Jio Fiber broadband plans
The company has a host of interesting broadband plans for its customers. To start with the Rs 399, it offers 30Mbps of internet speeds along with unlimited voice calls, though there is no OTT app subscription available. The Rs 699 plan comes with 100Mbps speed with unlimited data and voice calls. The Jio Fiber Rs 999 offers 150Mbps of internet speeds with access to OTT subscriptions to 14 streaming applications. The Jio Fiber Rs 1,499 plan comes with 300Mbps of internet speeds and an OTT subscription worth Rs 1,500.
Moving on, we have a Rs 2,499 Jio Fiber plan that offers 500Mbps speeds with an OTT subscription of up to Rs 1,650. Then there is a Rs 3,999 plan that comes with 1Gbps of speeds and offers an OTT subscription to 15 apps. Lastly, there is a Rs 8,499 broadband plan that comes with 1Gbps of internet speeds along with an OTT subscription worth Rs 1,800.
Frequently Asked Questions (FAQs)
Does JioFiber offer free router and installation?
Yes, JioFiber delivers free Wi-Fi routers with JioFiber postpaid broadband plans. Moreover, you also get free installation and a free set-top box as well if you opt for JioFiber plans.
Is Netflix free with JioFiber?
Currently, JioFiber is offering Netflix subscriptions on select broadband plans. These include Rs 1,499, Rs 2,499, Rs 3,999 and Rs 8,4999 broadband plans.
How long does JioFiber take for a new broadband connection to become active?
The company has revealed that once the brand verifies the documents, the customer will receive an SMS for the confirmation of an installation appointment. Once the installation is done, the internet connection will begin in an instant.