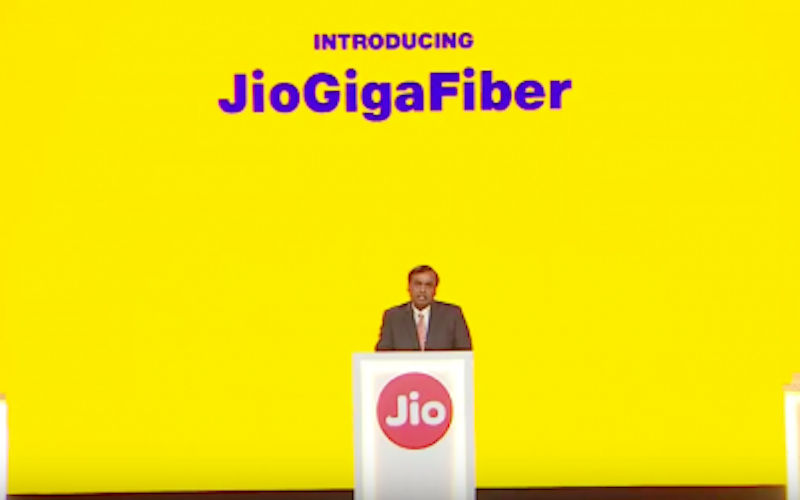 We recently reported on the imminent commercial launch of Reliance Jio GigaFiber. Now, in the latest report, Reliance has received a green signal from Competition Commission of India (CCI) to get majority stakes in cable operators – DEN Networks and HathwayNSE Cable & Datacom in India. The company has also informed the stock exchanges concerning the approval of CCI over the acquisition. With this acquisition on a roll, Reliance will soon be able to cover a majority of households for its Jio GigaFiber service.
Reliance Shells Big Bucks For Gaining Majority Stake in DEN and Hathway
Reliance will be extending the reach of the high-speed broadband network with the help of DEN and Hathaway. According to a report by Economic Times, Reliance will be acquiring 66% of stakes in DEN and 51.3% in Hathway. Reliance will be investing a huge amount in both the companies, respectively. The total amount comes to INR 5,230 crore, wherein DEN gets INR 2,045 crore under the preferential issue and INR 245 crore in the secondary purchase while Hathway receives INR 2,940 crore.
According to SEBI regulations, the investment also opens offers in DEN and Hathway along with Hathway's subsidiary companies – GTPL Hathway (wherein Hathway own 37.3 percent stake) and Hathway Bhawani Cabletel and Datacomm. Economic Times reports that the six SPVs will be driving the acquisition, which are primarily owned and managed by Digital Media Distribution Trust. RIL's subsidiary Reliance Content Distribution Limited will be the sole beneficiary.
The high-speed internet service from the company has been an ambitious project right from its inception as Reliance is aiming to offer more than just blazing fast connectivity. The approval of CCI enables Reliance to connect more households in India with its GigaFiber service faster. The Mukesh Ambani lead company has a plan to connect around 50 million households panned across 1,100 cities in India. Before the acquisition paced up, the company was facing opposition from local cable operators. Now that the acquisition has got the nod from CCI, Reliance has obtained control over 27,000 Local Cable Operators (LCOs).
Reliance has stated that it will be 'working together' with Hathway and DEN and the LCOs to enable a cheaper and quicker upgrade to GigaFiber and Smart-Home Solutions to the existing cable connected homes summing 24 million subscribers in 750 cities.
Reliance Jio Keeps Up Growth Trend in Q3 With 27.9M New Subscribers
The meteoric growth of Reliance Jio in India has sustained in the Q3. As per the latest reports, the company has added 27.9 million new subscribers bringing its total subscriber tally to 280 million in India. The company said that video consumption increased to 460 crore hours per month, which acted as a contributing factor in its overall growth.
Reliance also revealed that the JioPhone Monsoon Hungama offer has continued to reap good customer traction. Concerning Jio GigaFiber, the company stated that it is connecting households to the high-speed service on priority for the requests received. The company is also optimizing its service to serve over 1,400 cities. It is currently rolling out trial wireline services across many cities. This means that we will soon get to see a wider rollout of Jio GigaFiber.