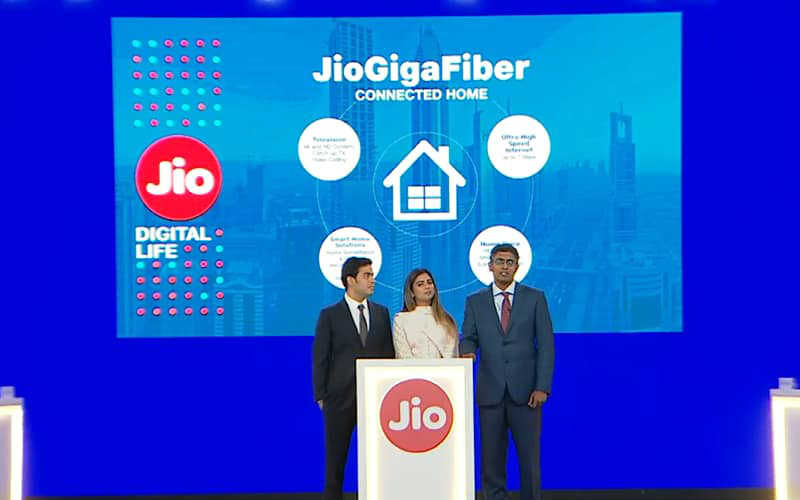 Reliance Jio is expanding its base by entering the broadband segment too. The Jio GigaFiber service is nearing its commercial rollout after successful testing in select cities and acquiring stakes in other services such as Hathway and Den. Before Reliance announces its FTTH service in full swing, a report from TelecomTalk reveals the plan it could offer. The company is tipped to offer a 'Triple Play' plan to the subscribers. Let's dig down more about it.
Reliance Jio GigaFiber Triple Play Plan, Jio Home TV
Reliance Jio GigaFiber has already tested the waters with select testers across the country. Among the beta testers, the company is providing the service to its employees for dependable feedback. It seems to be testing the Triple Play Plan to the employees. The plan has been spotted under the user account post login, on the official website of Jio GigaFiber. Although the report does not reveal the cost of the plan, it does give information about the benefits included in the Triple Play Plan.
The Triple Play Plan includes 100GB of high-speed data (up to 100Mbps), 28 days of validity, unlimited voice calling, subscription to Jio Home TV, and other apps under Jio. This indirectly reveals that Jio's IPTV (Internet Protocol Television) service will be termed 'Jio Home TV.' Notably, the Triple Play Plan is currently limited to the employees of Jio while the regular testers are getting the standard plan that includes 100GB data at 100 Mbps for 30 days. Jio GigaFiber also offers up to 1000GB of bonus data to such users, wherein it is divided into 40GB small packs. One can expect the telco to enable Triple Play Plan for the regular users soon.
As for Jio Home TV, it seems that Reliance Jio is aiming at combining all the home services in one package. Following the western countries, Jio will soon be offering bundled services including telecom, broadband, DTH, IPTV, and more under one package so that users need to pay one bill instead of various bills. Well, the picture will be more clear when Jio GigaFiber gets its much-awaited commercial rollout in the country.
Reliance Jio GigaFiber Gears Up For Rollout
It's been quite many months since Reliance started testing Jio GigaFiber throughout the country. Now, the lingering question is that when we will good to witness a full-blown rollout of the service. The report states that Reliance is working on 'Area Ready for Sale (RFS)' rollout for the service. Under RFS, Jio employees are contacting private homeowners and societies for the deployment of Jio GigaFiber in their area. The company is getting in touch with Multiple Dwelling Units (MDU), i.e. Apartments and Single Dwelling Units (SDU), i.e. independent houses for the service.