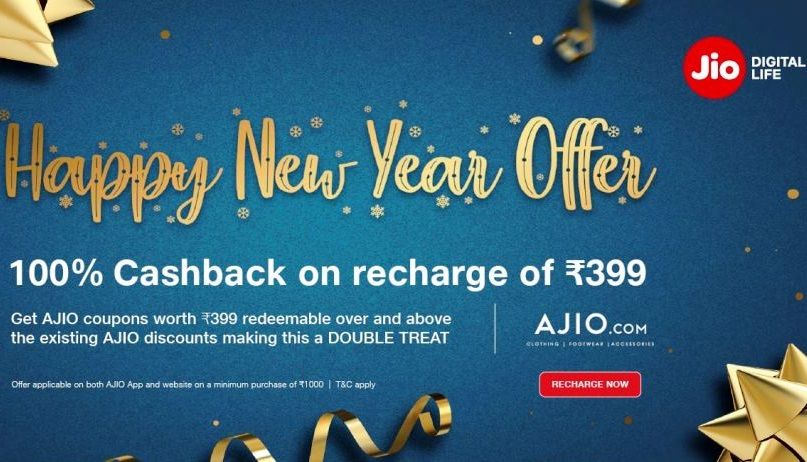 Reliance Jio, the fastest growing Indian telecom company and high-speed 4G service provider announced an interesting and attractive offer for its prepaid subscribers. The teleco has launched a 'DOUBLE TREAT' Happy New Year offer wherein subscribers stand to gain effectively double the amount of their recharge through cashback and coupons. We at MSP Gear have tried to go deep into the offer, and explored the terms and conditions of the same.
A corporate member of Reliance Jio recently indicated the company will constantly remain at the forefront of innovation. He added that Jio is now focusing more on customer satisfaction and delight as compared to subscriber addition. Hence, the telco will continue to come up with some new offers every few months next year. Interestingly, even before 2018 has ended, Reliance Jio already has a new offer for its prepaid subscribers. Let's understand the finer aspects of the New Year offer that Reliance Jio has introduced.
Reliance Jio 'DOUBLE TREAT' New Year Offer Promises 100 Percent Cashback As Well As Discount Coupons
Reliance Jio prepaid subscribers who recharge their Jio mobile numbers for INR 399, are eligible for the Jio DOUBLE TREAT New Year offer. The prepaid subscribers will have to recharge their numbers between December 28, 2018 and January 30, 2019 to avail the offer. Jio has clearly mentioned that prepaid subscribers must be 'active'. Moreover, the subscribers have to be a part of Jio Prime membership.
The Jio DOUBLE TREAT New Year offer is valid only on Ajio, a e-commerce platform that offers several lifestyle products. The offer is valid on all platforms, including Ajio website as well as mobile and tablet applications. To take advantage of the Jio New Year offer, prepaid subscribers will gain AJIO Coupons. These coupons will be credited in the MyJio app of the Jio prepaid subscriber within 72 hours of recharging the number. Needless to mention, the coupons are not transferable.
Incidentally, the Jio New Year offer includes several discounts that the Reliance Retail Limited (RRL) and Ajio Company are jointly offering. There are quite a few discounts prevalent. However, the newly introduced offer will add discounts over and above the prevalent ones.
The AJIO Coupon, once received, will grant a Reliance Jio prepaid subscriber flat discount of INR 399 on the MRP of the products purchased from the Ajio platforms. However, to avail the flat discount, buyers must make a purchase exceeding INR 1,000. Moreover, the cart value must be more than INR 1,000 after taking into account all applicable discounts.
The Reliance Jio New Year offer ends on January 31, 2019. However, beneficiaries of the Ajio coupons can redeem the AJIO Coupon on or before March 15, 2019.
Reliance Jio Boosting ARPU With New Year Offer
The Reliance Jio DOUBLE TREAT New Year offer is indeed quite attractive. Moreover, Ajio has an expansive collection of appealing lifestyle products. However, the offer is clearly an attempt to boost the Average Revenue Per User or ARPU.
Interested prepaid subscribers would surely recharge their Jio numbers with INR 399 to gain the AJIO Coupons. Jio is effectively offering the INR 399 back in form of cashback and coupons. But it is still asking prepaid subscribers to spend the same (and more) on an e-commerce platform.