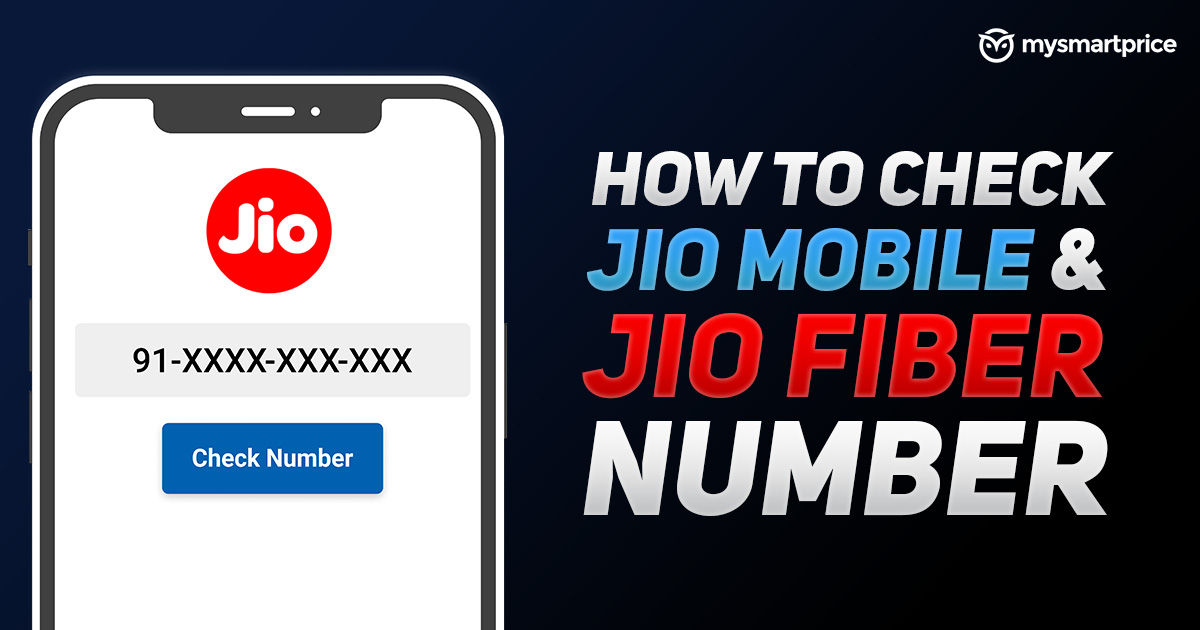 Reliance Jio has disrupted the telecom industry in India since its inception. The company is credited for bringing down the prices of its 4G data along with voice calls in the country. It is also one of the few telecom operators that offer a host of benefits with its prepaid and postpaid connections. This is why most people prefer Jio these days as it gives you some great benefits like high-speed internet, unlimited voice calls, and access to Jio app suite.
However, if recently took a new Reliance Jio SIM, chances are high that you will forget your number. This is especially the case when you are about to enter your mobile number to make a recharge or if someone asks for your mobile number. Same is the case with your JioFi device. Many of us have forgotten the JioFi number. So, in order to help you remember, we have compiled a guide on how to check your Jio mobile and JioFi number in easy steps.
Also Read: Jio Recharge Plans and Offers: Jio Prepaid Recharge Plan Price List with Talktime, Validity, 4G Data Benefits
How to Check Your Jio Mobile Number?
To check your Jio number, simply dial *1# from your Jio SIM card and your phone number will be displayed on the screen. This is the easiest and quickest way to check your Jio number.
The process of knowing the Jio mobile number is fairly simple. All you need is to follow any of these two procedures
Using USSD Code
Reliance Jio mobile number can be known by just dialing a simple USSD code on the mobile.
Open the dialer on your mobile.
Dial *1#.
The number will be displayed as flash message on your phone screen.
How to Know Jio Number by Calling Toll Free Number
To find your Jio mobile number you can call on 1299 to know Jio mobile number. When you call on this number, it will be automatically disconnected and you will receive an SMS on your smartphone with details like Jio number, and more.
How to Find Your Jio Mobile Number Using My Jio App
Go to Google Play and Search for MyJio application.
Click on Download app and install it on your smartphone.
Open the MyJio app and click on the 'Sign in with SIM'.
You will be able to see your Jio Number at the top of the screen.
However, it is important to note that you need to ensure that data is active on Jio SIM on your smartphone in order to sign in with SIM option.
How to Know Jio Number using SMS Services
You can also check your Jio number using SMS services provided by the telecom operator. However, there is no dedicated SMS code to check for the Jio number, but users can always check their prepaid plan via SMS that also contains the mobile number. Here's how you can do it:
Open your Message application on your Android or iOS device.
Now, simply type 199 in sendor box and 'MYPLAN' in the message body.
Click on send, and you will receive your plan details along with your Jio mobile number.
Also Read: Jio Balance Check: How to Check Jio Data, Talktime Balance, Validity Online and Using USSD Number Codes
How to Check Your JioFi SIM Number?
Reliance JioFi is a portable broadband device that allows users to create personal Wi-Fi hotspots. The device can be used to connect multiple devices to the internet and one can connect up to 10 devices wirelessly. Every JioFi device comes with a JioFi number, which is a number of the 4G SIM installed in the device. You require this number in order to recharge your JioFi device to enjoy high-speed internet. Reliance Jio offers two different ways through which you can find out your JioFi number. So, let's begin.
Through SMS
The telecom operator also allows you to check your JioFi number by sending an SMS. You can follow these steps:
Open the Message app on your phone
If you are using Jio number, then you can type your JioFi device IMEI number and send it to 199
If you are using a non-Jio number, you can type the JioFi device IMEI number and send an SMS to 7021799999.
Finding IMEI number of JioFi device is pretty easy. One can search for this number on the JioFi device retail box. In case don't have that, you can open the battery compartment and remove the battery to see the IMEI sticker on your JioFi device.
Also Read: JioFi Plans 2021: Top 5 Prepaid Jio Data Recharge Plans for Your JioFi WiFi 4G Hotspot Router and Dongle
Using MyJio App
The best way to find out your JioFi number is by using the MyJio application on your smartphone. You can follow these steps to know the JioFi number:
Go to Google Play and Search for MyJio application.
Click on Download app and install it on your smartphone.
Login with your Jio ID and password
Once you logged into the application, you will be able to see your JioFi number on the top of the screen.