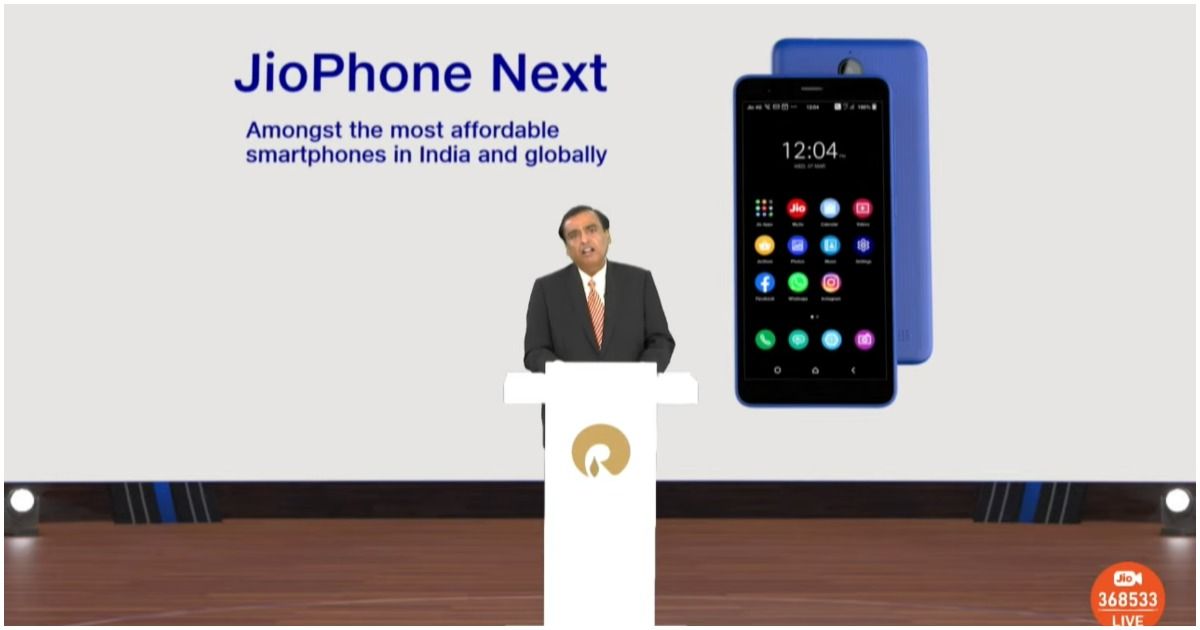 Reliance at its Annual General Metting (AGM) has launched the most affordable 4G smartphone dubbed as the JioPhone Next. The company seems to be marketing this device as the most affordable 4G handset, for now, however, it has not revealed any pricing details of the handset yet. JioPhone Next is developed by Reliance in partnership with Google. The device will have cutting-edge features like voice assistant, automatic read-aloud of screen text, language translation, smart camera with augmented reality filters, and much more. Let's check out more details of the JioPhone Next launch date, pricing and availability details ahead:
JioPhone Next Pricing And Availability
The JioPhone Next 4G will be available in India starting from September 10th. The JioPhone Next is the third offering from Jio as the company had earlier unveiled the JioPhone and the JioPhone 2. As of now, Reliance is yet to reveal the pricing of the JioPhone Next.
JioPhone Next Specifications and Features
Considering the details shared by Reliance at the AGM, the JioPhone Next will offer cutting-edge features like voice assistant support and language translation. The newly announced JioPhone Next will run a special version of Android OS. The device will also offer features like automatic read-aloud of screen text, a smart camera with augmented reality filters, and much more. The JioPhone Next will also have Google Play Store access.
As per the image of the handset revealed by Reliance at AGM, the device will feature a single rear-facing camera at the back accompanied by an LED flash. The JioPhone Next will have a Jio logo on the rear side, while at the right side the power button and volume rocker keys will be located. The device will no doubt include the Jio suite of apps such as JioMart, JioCinema, Jio TV, and much more.
On JioPhone Next you will be able to access and consume content in choice of any Indian language. With a tap of a button, users will now be able to translate what's on their screen, and even have it read back to them in own language. Features like read aloud and translate now are seamlessly integrated in the OS. Google mentions in a blog post that they have also added App Actions which enable Google Assistant to deliver a great experience with many of the Jio apps on the JioPhone Next.
Apart from these translation features, users will also have a great camera experience on this handset. Google has build an optimized experience within the phone's camera module resulting in great photos and videos. The device will be able to capture clearer photos in low light with Night Mode. The photos will have a wider dynamic range with HDR mode. Google mentions that it has partnered with Snap to integrate Indian-specific Snapchat Lenses directly into the phone's camera. Google will also provide further Android releases and security updates to JioPhone Next. With the Play Store equipped in, users will have access to millions of apps.
"Our vision was to bring affordable access to information for Indians in their own language, to build new products and services for India's unique needs, and to empower businesses with technology. I'm excited that today, we can announce the next steps in this vision, starting with a new, affordable Jio smartphone, created with Google. Our teams have optimized a version of our Android OS, especially for this device. It will offer language and translation features, a great camera, and support for the latest Android updates. It is built for India and it will open up new possibilities for millions of new users who will experience the internet for the very first time. And we can't wait to show you the device later this year," said Sundar Pichai.