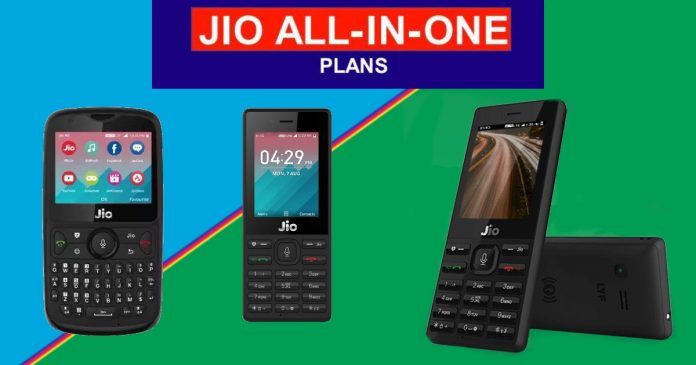 Telecom service provider, Reliance Jio, has launched five new data vouchers for its smart feature phone, the Jio Phone, as reported by Pricebaba. The new vouchers are likely an effort to increase customers buying the Jiophone, though the telecom service provider may also be preparing for the launch of the Google-powered low-cost Android phone that it had announced last year. The new phone was earlier expected to launch during the second of third quarter of 2021 (calendar year). New data vouchers could lock users into the Jio ecosystem and keep keep them ready for the next device.
What are the new Jiophone data vouchers?
The new Jiophone data vouchers start at Rs. 22 and will go up to Rs. 152. There are five vouchers in all, worth Rs. 22, Rs. 52, Rs. 72, Rs. 102 and Rs. 152. You will only get data benefits with these plants and all of them have 28 days validity. The Rs. 22 and Rs. 52 vouchers offer 2GB and 6GB of high-speed data, respectively. On the other hand, the Rs. 72 pack offers almost 14 GB of data, but that will come as 500MB of data per day for 28 days.
In much the same way, the Rs. 102 and Rs. 152 packs offer 30GB and 60GB of data, respectively. This too will  be in the form of 1GB and 2GB of data per day.
Jiophone annual plan
Jio had also announced an annual plan quite recently. This one will cost you Rs. 749 and offers unlimited voice calls, 2GB of high-speed data per month, for a year. That seems like very little data for users today, though there's only so much one can do on a feature phone. The company has also announced some additional long term packs where you get 2GB of monthly data.
New Jiophone incoming
As mentioned before, Reliance Jio has been working on a low-cost Android-based smartphone with Google since last year. The company had announced the same in the second half of last year, when the company announced Google's investment in Jio platforms. The new phone is expected to launch later this year.