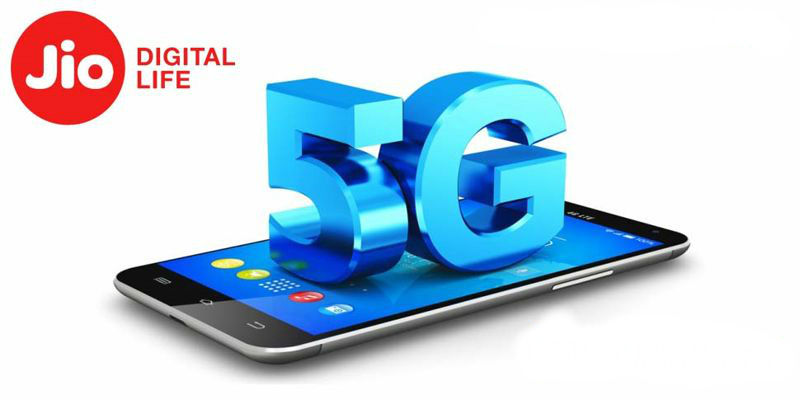 In a time when smartphone manufacturers are gearing up to launch 5G-compliant handsets at the upcoming Mobile World Congress (MWC) 2019 in Barcelona, Reliance Jio in India has also started taking steps towards the 5G revolution. According to a report, Reliance is planning to launch 5G services by April 2020 by offering its proprietary 5G-equipped handsets with it. As per a source linked to the matter, the telco is allegedly in talks with the vendor for assembling 5G supporting handsets.
Reliance Jio To Deploy 5G Service By April 2020 Bundled With Its Own Handset
The report states that the spectrum auction is slated for July this year. After it is over and testing of equipment is finished, then Jio will be all set to deploy 5G services in India. A tentative timeline for the rollout is April 2020. The telco is planning to bundle its 5G compliant handsets with the service so that consumers do not face any issues concerning the procurement of affordable handsets with 5G connectivity.
The entire process of launching 5G services in India will be different from what the telco did for connecting the country with 4G services back in September 2016. The difference shows up in how it will be simultaneously launching 5G services and 5G handsets. Back in 2016, the company launched its services first followed by bringing JioPhone. This time around, JioPhone 5G will be debuting alongside the services.
Other than launching JioPhone 5G, the telco will also surface as the first in the industry to deploy 5G services within six to eight months of the auction. According to the source, the speedy timeline will be achieved as the company already boasts a 5G ready LTE network all across India, thanks to GigaFiber. Complying with the suggested timeframe, DoT secretary Aruna Sundararajan had earlier said that if the spectrum auction takes place as scheduled, then Reliance Jio is best positioned to start equipment testing in January 2021, earlier than its competitors.
Reliance Jio Will Also Compete With OEMs By Offering Cheaper 5G Handsets
The report further states that Reliance Jio will also be competing with Chinese and Korean OEMs as their 5G supporting handsets are expected to be priced higher than the JioPhone 5G. This seems plausible as until now we have only been hearing manufacturers equipping their flagships with 5G connectivity. Also, other nations are in the testing phase of the technology, which means it will take some time before 5G supporting handsets become as cheap as 4G handsets on the market. Until then, Reliance Jio could win the market with its 5G services bundled with feasible JioPhone 5G.
For a price conscious market like India, Jio seems to have its plan right on track to bring out a 5G supporting handset. We can also expect the telco to launch 5G services at affordable rates as it did with 4G. With 5G speeds, users will be able to download a movie within 5 minutes. In the 4G feature phone segment, Jio has established itself as an assembler and now the company is believed to be in talks with some of the local and multinational vendors for 5G handsets. This time around we can expect more than just a feature phone from the company.
It would be interesting to see how Reliance Jio carries out its 5G operations in the country. As for the other telcos, they better speed up.