Highlights
John Wick 4 full movie leaked on Twitter.
This comes after Elon Musk announced users could upload two-hour-long videos.
Has Elon Musk's plan for Twitter backfired already?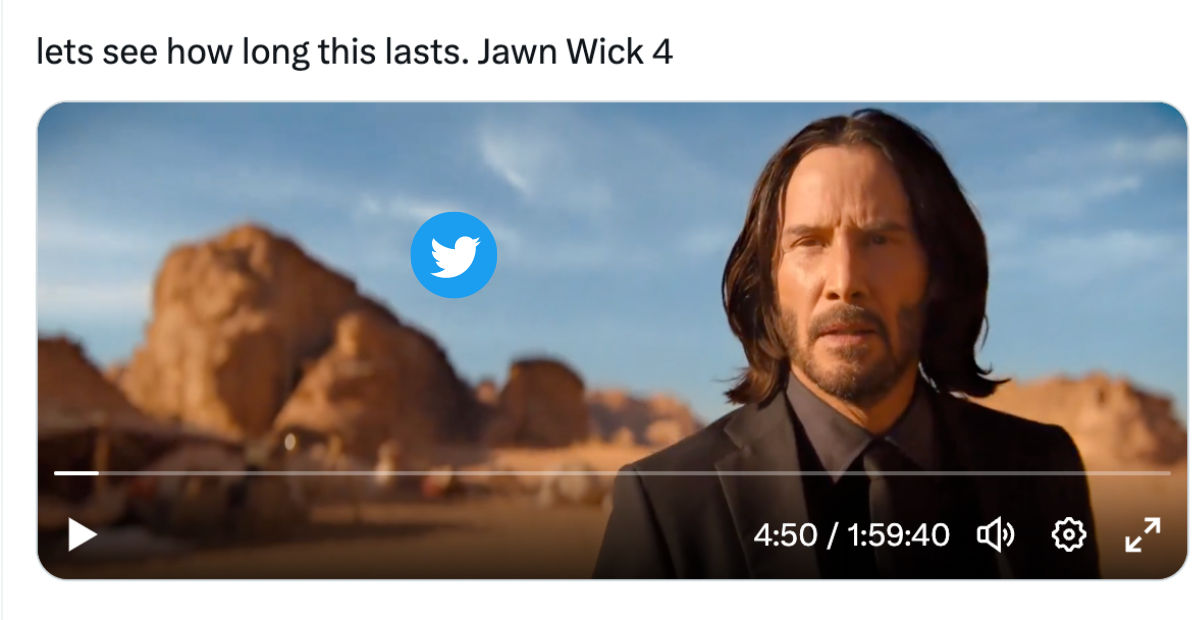 Update: Twitter has taken down the first tweet with the leaked John Wick: Chapter 4 movie. The message reads, "This media has been disabled in response to a report by the copyright owner."
The primary tweet had almost 2 hours of film, and a secondary tweet had about 40 minutes, which is still live.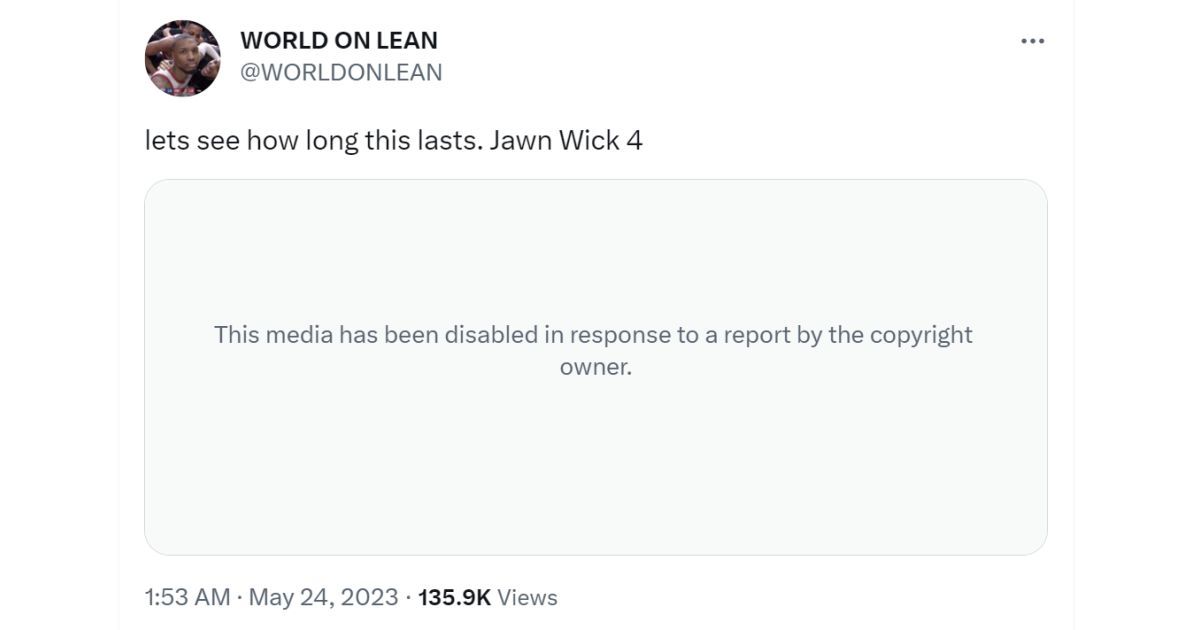 John Wick: Chapter 4 is set to be released on OTT on June 23 on the Lionsgate Play platform. However, almost a month before the official OTT release, someone released the entire movie on a social media platform. It seems to be of Blu-ray quality. A Twitter user named 'World on Lean' has put the entire film on Twitter.
The Twitter user uploaded the entire movie in two tweets – 1 hour and 59 minutes and another 38 minutes and 45 seconds. The film is one of the highest-grossing films in the franchise, which collected around $1 billion worldwide.
This comes after Elon Musk announced that Twitter users could upload two hours long videos with a max file size of 8GB. So, has his plans for Twitter backfired? We will discuss that, but let's take a look at the screen grabs from the tweet.
John Wick 4 Full Movie Uploaded on Twitter
A Twitter user named @WORLDONLEAN leaked the entire John Wick Wick: Chapter 4 movie on Twitter almost a month before its OTT release date. MySmartPrice captured the screenshots from the leaked file showing John Wick's Chapter 4 movie in full glory. Here're screenshots from the Twitter file that reveals the entire film.
The video was tweeted on May 24 at 1:53 AM IST. While writing this story, it had around 130k impressions, 1,213 likes, 202 quotes, and 931 bookmarks. We expect that Twitter will soon take down the movie based on a copyright claim from Lionsgate Play.
Why Large File Uploads on Social Are Bad for Everyone
John Wick: Chapter 4 movie was uploaded days after Elon Musk announced that its platform, Twitter, will allow users to upload two hours of content with a size limit of 8GB. However, the feature is reserved for Twitter Blue users. But, the user who uploaded the movie on Twitter hasn't subscribed to Twitter's paid subscription plan. So, this might be a Twitter bug because the user managed to upload a longer video without buying any subscription plan.
Also read: Facebook Under Porn Attack: Pornographic Videos Flood Live Category of Watch Section with Thousands of Real-time Users
This brings us to the point that will it be the future for Twitter? We speculated that something like this might happen when the feature was announced. However, we didn't expect it to be this early and for one of the most anticipated movies. It won't be a surprise if more and more Twitter users come forward and start uploading full movies on the platform.
So, if Twitter doesn't take any action on such tweets or take down the video, then Elon Musk's latest move could affect the reputation of Twitter. It would be interesting to see the next move from Twitter and Lionsgate Play.
Let us know what you feel about longer video uploads on Twitter.
Editor's note: MySmartPrice in no way supports or endorses any piracy, and this incident should be a good lesson for the social media platform to rethink its decision to allow long-form video uploads.