Highlights
Kalyanam Kamaneeyam to release on Aha digital paltform
Streaming now on the digital platform
The movie is a marriage drama.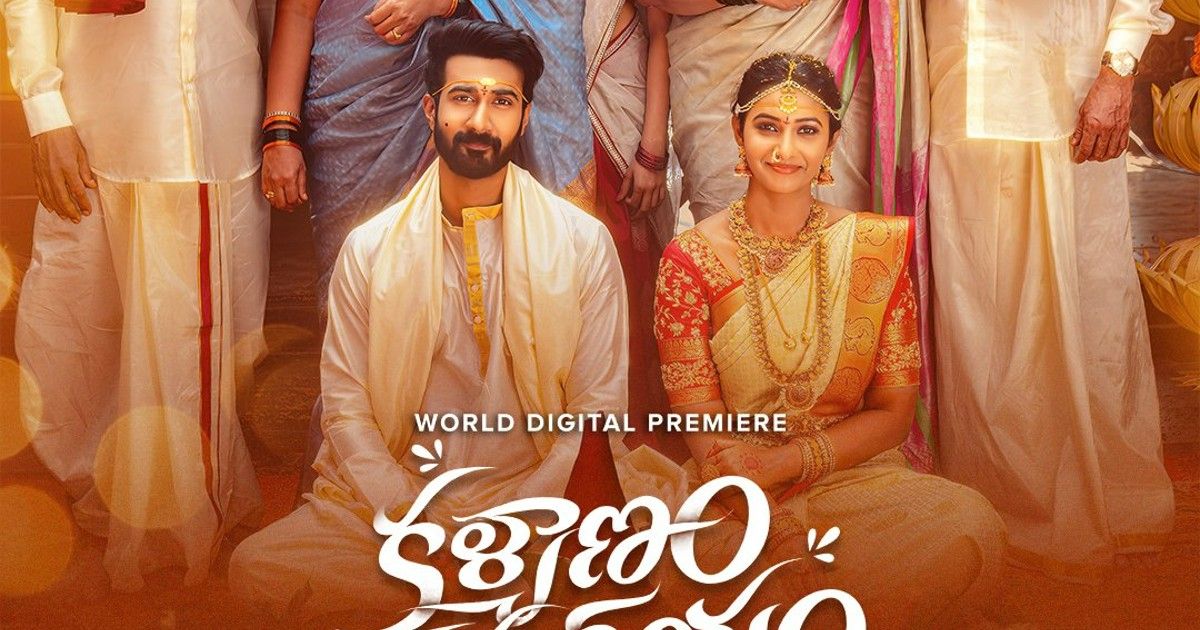 This year's Sankranthi saw a number of big films, including Waltair Veerayya, Veera Simha Reddy, Varasudu, and Tegimpu, fight for the attention of the audience. Santosh Soban and Priya Bhavani Shankar are two talented up-and-coming performers who team together in Kalyanam Kamaneeyam. Santosh Soban has successfully moved from a kid actor to a male lead, but the actress, famed for her Tamil appearances, made her Telugu film debut. From today, i.e. February 17 onward, Aha is broadcasting Kalyanam Kamaneeyam, the love drama starring Santosh Shoban and Priya Bhavani Shankar in her Telugu debut. A couple having issues, and one of them starts lying to the other about their employment forms the baseline of the film.
Prema lekunda pelli cheskovachu kani job lekunda pellante? adhii ee generation lo.🙆🏻‍♀️🙆🏻‍♂️#KalayanamKamaneeyamOnAHA, A tale of complicated relationship, premieres Feb 17, only on aha!@santoshsoban @priya_Bshankar @UV_Creations @UVConcepts_ @adityamusic pic.twitter.com/v3SmpJGJp5

— ahavideoin (@ahavideoIN) February 8, 2023
Cast
Kalyanam Kamaneeyam, written and directed by newcomer Anil Kumar Aalla, is made by a production company affiliated with UV Creations. Santosh Sobhan and Priya Bhavani Shankar play the leading characters of Shiva and Shruti, respectively, in the movie. The roles of Shruti's father, mother, and Shiva's father will be played by other performers such Devi Prasad, Pavitra Lokesh, and Kedar Shankar. Karthik Gattamneni handled the cinematography for the movie, and Satya G. oversaw the editing. For the movie, Sravan Bharadwaj provided the music.
Plot
The main characters Shiva (Santosh Soban) and Shruti (Priya Bhavani Shankar) get married at the beginning of Kalyanam Kamaneeyam. He is apparently a clever college student with solid skill sets who is looking for a career, whereas she is a software engineer. Shruti willingly assumes the financial obligations. Shiva, who describes his father (Kedar Shankar) as a house guard without a uniform, is acutely aware of his predicament and deflects all of the jabs that are directed at him.
Santosh plays Shiva with restraint, highlighting his joy and appreciation at having a life partner who understands and appreciates him for who he is. He lounges around the house while she is gone at work, to the point that the housekeeper doesn't respect him either, which is an example of the man-child kind of character that is frequently written. Additionally, Priya Bhavani Shankar serves as Shruti well.
Things start to go awry for the pair when a creepy coworker at Shruti's place of employment becomes the subject of contention. When marital conflict begins, the little things that Shiva ignores around the house, such as a tap that isn't fixed or plants that aren't watered, become irritants. This perspective stems from real-world circumstances, yet there isn't nearly enough drama. After the intermission, the story loses steam and the plot points become overly artificial.
Reception
Kalyanam Kamaneeyam has received mixed reviews from both critics and viewers. The audience responded well to the movie's trailer, which has earned over 5.9 million views. Social media users agreed that the movie had the potential to connect with the audience, particularly families and children because of the relatable plot. On January 14, UV creations' Kalyanam Kamaneeyam, a film, was released in theatres. After the Sankranti weekend releases of Nandamuri Balakrishna's Veera Simha Reddy and Chiranjeevi's Waltair Veerayya, Kalyanam Kamaneeyam was not warmly accepted by the public or critics. Due to the intense competition provided by the aforementioned high-profile movies, the movie likewise debuted to low attendance.