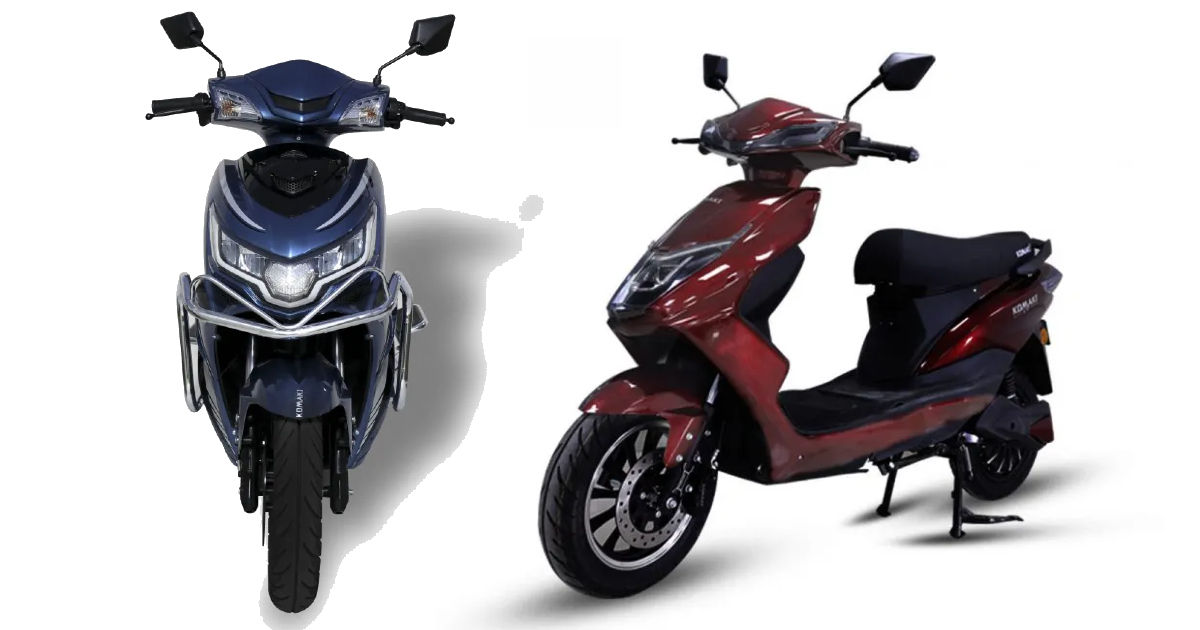 Two new electric scooters now grace the Indian electric vehicle market with a recent launch. From the house of Komaki, the scooters come with the names DT 3000 and LY and promise high speed and performance, while also claiming to carry some industry-first features. With these, the Komaki DT 3000 and Komaki LY have an attached price tag of Rs 1.22 lakh and Rs 88,000.
In case you are unaware of the firm, know that Komaki is a Delhi based electric vehicle company which already had eighteen EV offerings in India before the recent launch. This EV portfolio includes both two-wheeler and three-wheeler vehicles powered by batteries. The all-new Komaki DT 3000 and Komaki LY now lift the count to twenty.
As the prices of the new electric scooters suggests, Komaki DT 3000 is the more premium offering of the two. The company says that the DT 3000 features a unique lithium-ion battery with a 62V (52Ah) capacity, which in turn powers a 3000 Watt BLDC motor. With this, Komaki DT 3000 has a claimed top speed of 80 to 90 kmph and is able to cover a range of 110 km to 180 km.
To juice up this battery from zero to 100 per cent, a 15 amp wall-mounted charger will take around 4 to 5 hours. Komaki mentions this electricity consumption to be just 1.5 units per charge. Komaki DT 3000 will have a total of four colour options – Metal Grey, Translucent Blue, Jet Black, and Bright Red.
The more humble EV of the two, Komaki LY carries a Ferro Phosphate batteries instead, which can deliver a range of 70 to 90 km on a full charge. The energy consumption is the same as the Komaki DT 3000. The highlight of the EV, however, lies in the accompanying tag of being the first electric scooter in India to feature anti-skid functionality.
Other features include disc brakes on both of its 12-inch wheels, telescopic shock absorbers at the front and hydraulic shock absorbers at the rear. Komaki LY will be available in three colour options – Garnet Red, Jet Black, and Metal Grey.