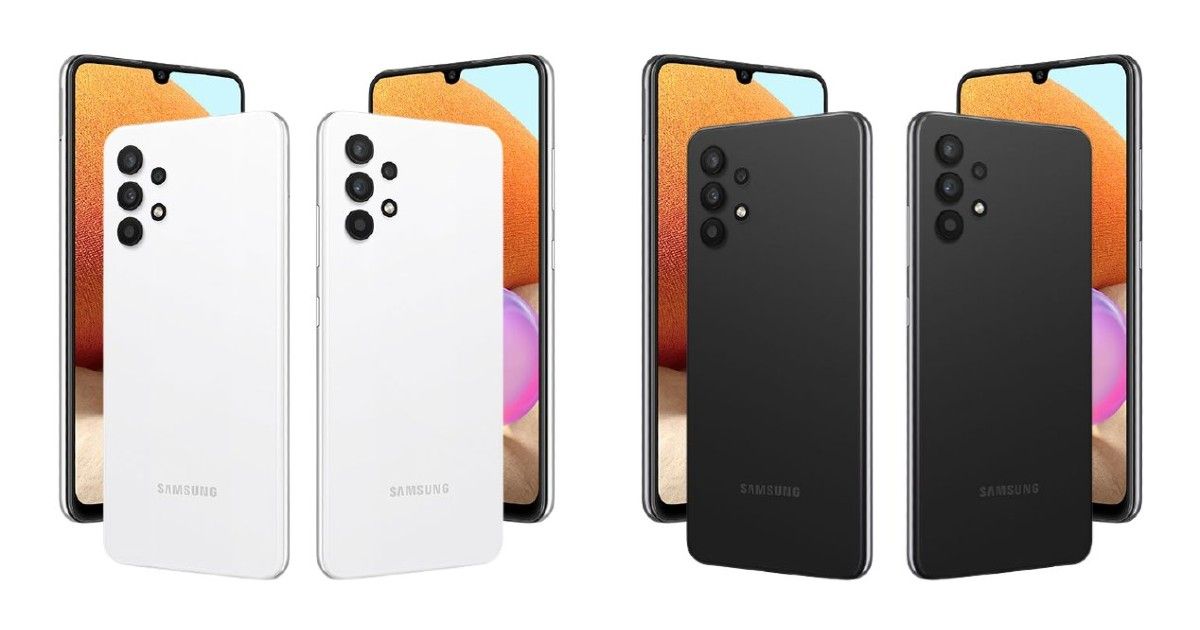 South Korean smartphone maker, Samsung, has been readying the next iteration of its Galaxy A series smartphones for a while now. Now, press renders of the Samsung Galaxy A32 4G have been leaked on Twitter. The renders show the phone in black and white colours, two of the four colours the phone is expected to be launched in eventually. The company seems to be pushing the same design as the Samsung Galaxy A32 5G variant, though the shape of the notch seems to have been changed. The 5G version had the teardrop notch, whereas the 4G variant has a V-shaped notch on the front.
Exclusive: Samsung Galaxy A32 4G press renders in White & Black colors.
The overall design is very similar to its 5G version, Galaxy A32 5G. The only major difference I can see is the notch type, 5G version has V-shaped & this (4G version) has U-shaped notch. pic.twitter.com/OvQhmP78Us

— Sudhanshu (@Sudhanshu1414) February 20, 2021
Further, according to earlier reports, the 4G version of the Galaxy A32 is expected to come with the MediaTek Helio G85 processor. The other specs, though, should be similar to the 5G variant of the smartphone. Here's how that goes.
Samsung Galaxy A32 5G specs and features
Earlier leaks have shown four colours for the 5G version of the Galaxy A32 smartphone. This includes black, white, blue and a light purple colour. The 4G variant of the device is expected to sport the same colours as well. This also suggests that the overall casing of the devices will be the same, which is likely, since Samsung would save costs by going with such SKUs.
The Galaxy A32 5G is expected to have a 6.5-inch display with 164.2×76.9.1mm dimensions. It is also expected to come with a 48 MP camera, alongside the MediaTek Dimensity 720 chipset, which supports 5G connectivity. It will also support Bluetooth 5.0 connectivity, as seen on the Bluetooth SIG website earlier.
Reports indicated earlier that the phone will be launched in July this year and should be slightly more expensive than the 4G variant of the phone, since 5G chipsets cost more than the 4G versions.
Samsung price drops
Samsung has been prepping the launch of its next Galaxy A and M series phones for a while now. The company had recently dropped the price of the Galaxy M11 smartphone by Rs. 1000 earlier, taking the price down from Rs. 11,999 to Rs. 10,999. The device was originally launched at Rs. 12,999 in India and is sold in both 32GB and 64GB storage options.
The Samsung Galaxy A52 had also been leaked earlier. That device is expected to have 6GB/128GB and 8GB/256GB SKUs. It will likely run on the Exynos 9825 chipset, one of Samsung's flagship-class processors.