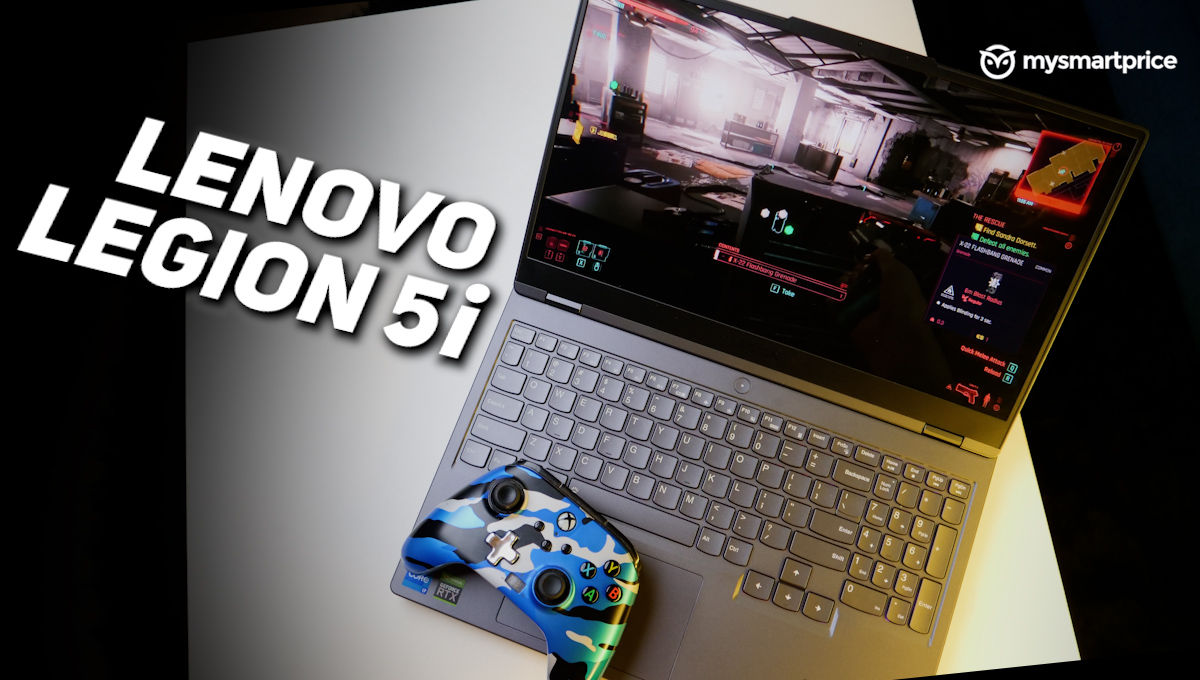 The Lenovo Legion series has attracted buyers who want a gaming laptop that's a bit more sensible and grown-up. The new Legion 5i-series of laptops, with the latest 12th-generation Intel processors, is living proof of it. It carries forward the same tried-and-true functional design and pairs with some of the most powerful laptop processors Intel makes while being extremely heat efficient. In simple terms, it puts the 'lap' in a gaming laptop because you can game on it without your burning your thighs medium rare due to the intense heat released from the vents.
Lenovo Legion 5i
₹1,29,786
What Is Good?
Powerful
Runs cool
Great keyboard & trackpad
Unassuming looks
Lenovo Vantage utility app is quick and easy to use
What Is Bad?
Short battery life
Bulky package with the charger
No SD card reader
But then, it doesn't come cheap, does it? With its base configuration starting at Rs 1.2 lakhs, the Legion 5i seems to be a big-boy laptop with a childish flair. So does it make sense to buy it? Find out in our review.
Lenovo Legion 5i Review: Design
The unassuming exteriors of the Legion 5i yield it the 'sleeper' status or a laptop that can be mistaken for a boring business machine, but in reality, it's a party animal. At first glance, it appears to be a run-of-the-mill ThinkPad laptop for an average corporate rat. Unsurprisingly, it comes in two colours, and both are different shades of grey – Storm Grey and Cloud Grey. In addition, there's a tiny Lenovo logo on the left and a Legion logo on the right.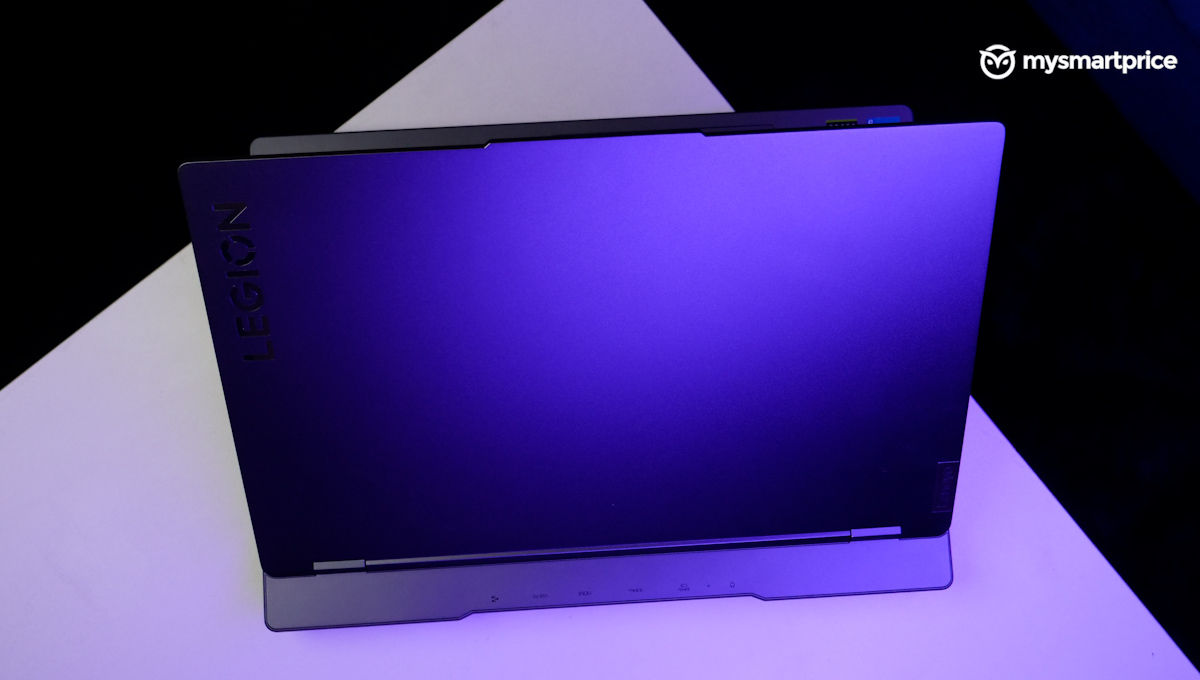 Opening the lid reveals a full-sized RGB backlit keyboard. The party inside-work outside nature also continues to the shape and size of the keys. They bear the typical Lenovo/ThinkPad shape and have excellent travel and tactility. Gamers get excited about mechanical keyboards, but this is one of the perfect keyboards we have come across on a laptop. The Legion 5i also has a generous trackpad; unlike other gaming laptops, it's not an afterthought. This is a perfect laptop for people who want gaming laptop credentials but don't want to look out of place in an office setting.
It's a desktop replacement laptop, which means it is heavy, tipping the scales at 2.4 kilos. The charger is another kilo or so, so you'll need to buy a big-ish bag if you plan on carrying it around. Using it in bed is going to be difficult, so you better sit down on a chair and table to use it.
The choice of materials here is top-notch – the chassis is made of aluminium and magnesium, leaving little scope for flimsiness. Making things even more convenient is the 'zero bump hinge' design, which means the lid isn't attached to the edge of the laptop. Instead, it sits a little deeper inside the body, which creates space at the rear for ports and vents. We absolutely love this design because the hinge never wobbles, and because there's so much room for dissipating air, the Legion 5i is comfortable to keep on your lap while gaming. We'll get to the thermal performance in a bit.
In terms of I/O, you have a decent selection of ports. The rear hosts the majority of them. Here, you'll find the power inlet along with two USB 3.2 Gen1 ports that are always on, a Type-C port that doubles up as DisplayPort 1.4 and is hot-wired for power delivery. There's also an HDMI and a full-sized ethernet RJ45 socket at the back. Moving to the sides, at the left, you have a couple of USB Type-C ports, one of which supports Thunderbolt 4. The right side gets another Type A 3.2 Gen-1 port, a 3.5mm headphone jack and an electronic shutter button. Given the capabilities of the Legion 5i, we would have loved to see a proper SD card slot as well.
Lenovo Legion 5i Review: Display & speakers
The Legion 5i comes with two display options. Both have the same 300 nits of brightness, 15.6-inch diagonal length and 100% sRGB gamut coverage, but they differ in resolution – one is full HD (1920 x 1080), whereas the other is WQHD (2560 x 1440). With a difference of just 500 bucks, it's a no-brainer to opt for the latter, as there is no compromise in refresh rate. The display is bright, although the colours aren't as vivid as the MacBooks. But that's totally acceptable. The top and the sides are relatively thin in terms of bezels, although the chin is really thick. For gaming, this is entirely fine, but some of our friends couldn't help but point out the chin as wide as that of Hrithik Roshan's.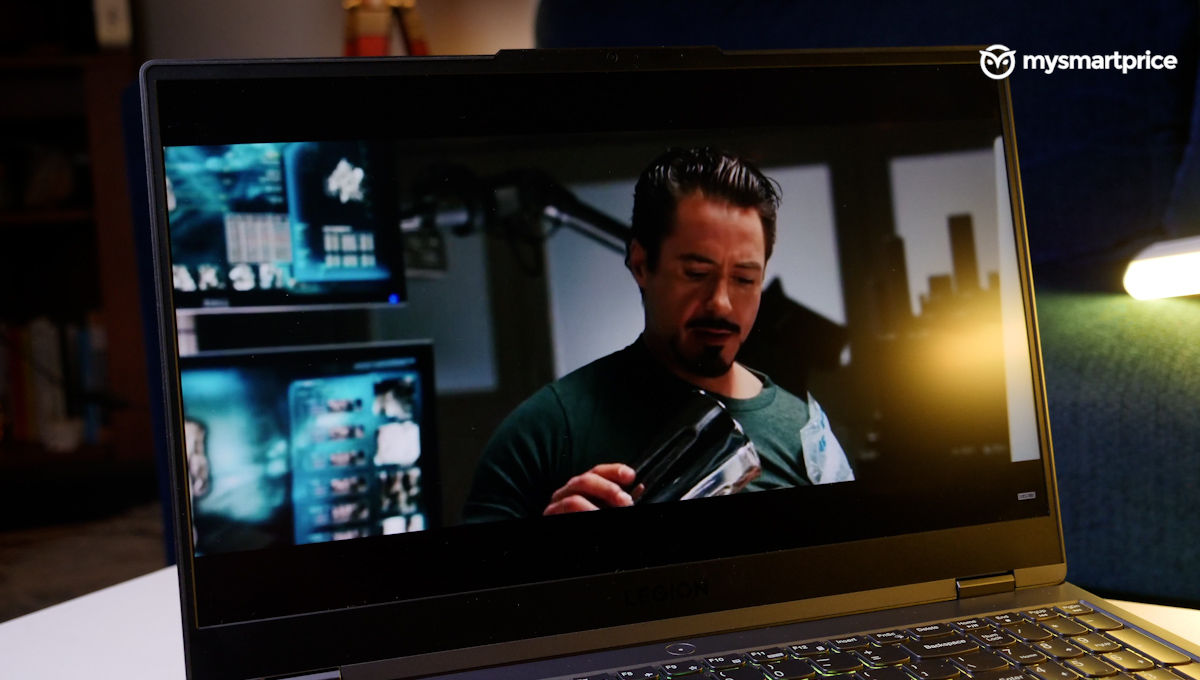 Speaking of gaming, it's a responsive display and a blast to play FPSes on it. Zipping through the Windows 11 interface is fluid too.
The dual, bottom-firing speakers on the Legion 5i are just fine. We have heard better speakers on laptops, and we are aware that the target audience is mostly going to connect headphones to play games (or edit videos on the go). For consuming content, though, it's just average. The depth is missing, and although the loudness is decent, the missing thump makes the video-watching experience a little bland.
Lenovo Legion 5i Review: Performance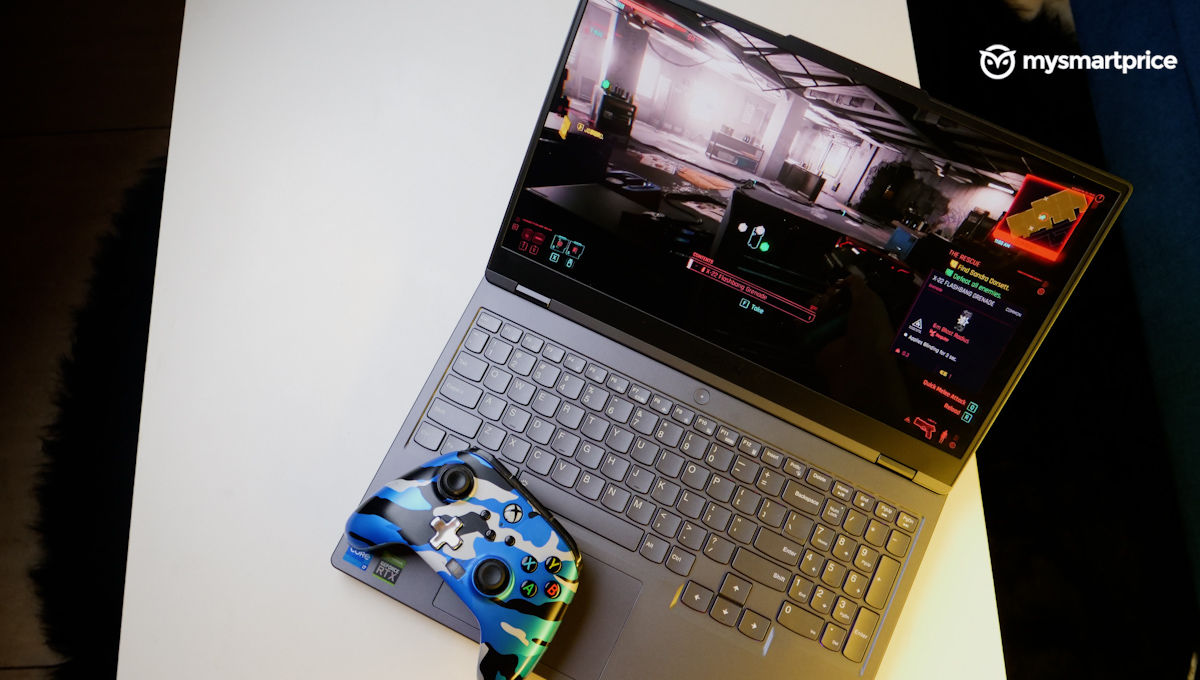 The small 'i' in the name suggests the Legion 5i is an Intel-powered rig. So, underneath its aluminium-magnesium chassis, our unit had a 12th-generation Intel i7 12700H processor. It has a total of 14 cores, six of which are performance cores clocked up to 4.7GHz, and the rest are efficiency cores running at 3.5GHz. There's also an Intel i5 12500H variant that costs Rs 5,000 less.
Assisting the CPU is a choice between Nvidia RTX 3060, RTX 3070 and RTX 3070 Ti GPUs. Here's the cool thing – DDR5 RAM, and you can choose between 16GB and 32GB capacities, clocked at 4,800MHz. Our laptop had the RTX 3060 GPU paired with 32GB of RAM. In terms of storage, you get two options with either 512GB or 1TB of M.2 PCIe Gen 4 SSD storage.
We reviewed the Legion 5i last year, and while the only major changes this year are in the CPUs and the memory type, the overall package is priced slightly higher. This still doesn't hurt its value-for-money credentials, though.
The performance gets a decent boost this year, and the Legion 5i raked up 14882 and 1800 points in Cinebench R32. In 3DBench's TimeSpy, the Legion 5i posted a score of 9402, whereas, in PCMark 10, it was able to churn out an overall score of 7394. In GeekBench 5, we saw a single-core score of 1622 and a multi-core score of 12316.
In terms of read/write speeds, the Legion 5i returned sequential read/write speeds of 6064.37MB/s and 4920.42MB/s, which is about the same as other gaming laptops in the same category.
The laptop sails smoothly while gaming too. For example, in Fortnite, we were able to get about 102 fps with high graphics, and around 60 fps with everything yanked to 'epic' and ray tracing enabled.
Cyberpunk 2077, a rather graphic-intensive game, ran consistently at 72 fps at High settings without ray tracing. With ray tracing turned on and some attributes yanked up to ultra, the game ran at 33 fps, so in this scenario, the gameplay was choppy. Turning DLSS on made things slightly better, with the counter hovering around 42 fps.
Horizon Zero Dawn, with all graphics settings maxed out, ran comfortably at 62 fps, which is pretty respectable.
Finally, Control, a game with magnificent visual design, averaged at 69 fps on medium settings with RTX turned on at 1080p. With everything turned up to the fullest and the GPU pushing frames at native resolution, the game ran at 30 fps, at which point the gameplay started to get choppy.
Backed by a clever heat management system, the Legion 5i seldom runs hot. The keyboard deck is always cool, and the major vent behind the hinge is also never spewing lava, even when running Cyberpunk 2077 in all of its ray-traced glory.
We tried some video editing as well. The laptop was able to render 1080p video sequences in full render quality on the timeline, along with some heavy Lumetri Effects on some clips. 4k video did take a little bit of a toll on the performance, but turning the render quality down to half made things much more manageable.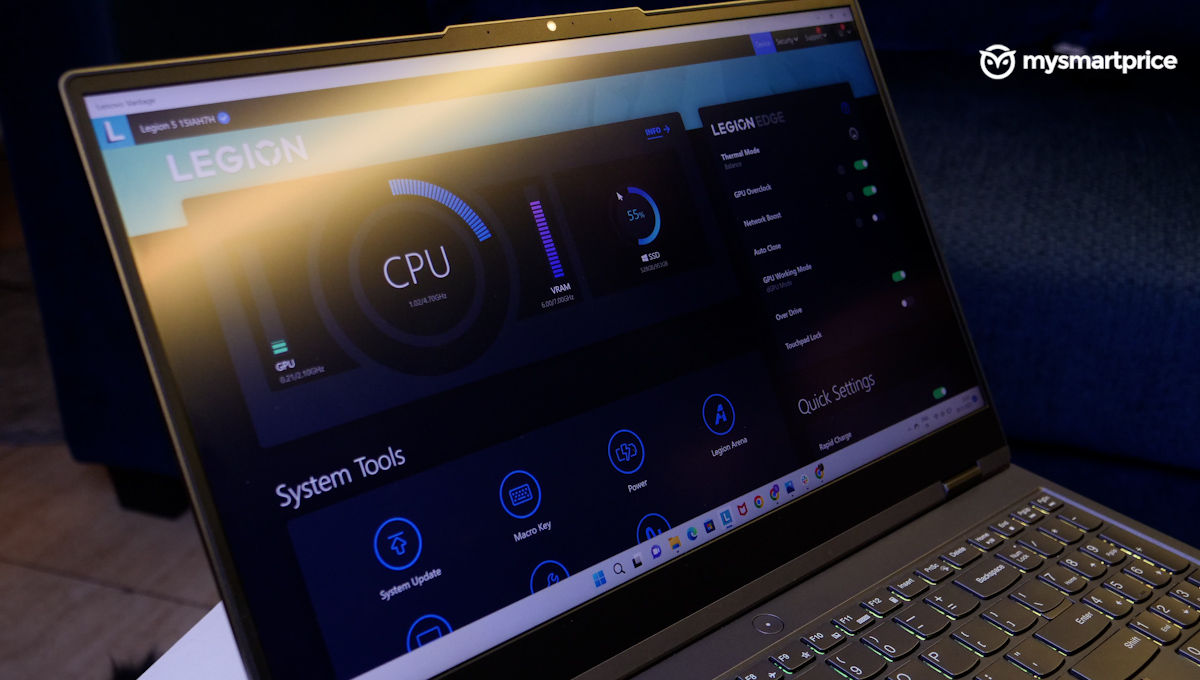 Day-to-day performance was smooth. We haven't yet noticed a major roadblock that came in the way of our daily productivity tasks. One thing we would like to give a huge thumbs up to is the Lenovo Vantage app. It essentially lets you change the thermal mode, overclock the GPU and tinker with other performance parameters of the Legion 5i, along with setting the RGB profile of the keyboard. We like it so much because it skips the BS and functions smoothly without any trashy fonts or graphics. It loads up quickly, too, and we wish other gaming laptops too had such a user-friendly yet functional interface. It also has a MUX switch that lets you toggle between the dedicated GPU, integrated GPU and hybrid modes.
Lenovo Legion 5i Review: Battery
The Legion 5i packs a 4-cell, 80Whr battery and ships with a 300W adapter. Our particular pre-production unit might have been imported, so we received a British standard plug instead of the three-pin Indian plug. Lenovo claims the Legion 5i to last about four hours, but in our usage, it lasted about one hour and 10 minutes. We kept our usage modest, running the display at 80% brightness along with two Chrome tabs open simultaneously, one playing music and one with Google Docs. Only the dGPU was used in this scenario, although switching to Hybrid mode will help you save a bit more power.
While the figures seem normal for a gaming laptop, the AMD-powered ASUS ROG Zephyrus G14 spoiled us with its amazing battery life despite its gaming-laptop tag. Sure, its performance figures are inferior compared to the Legion 5i, but because it's similarly priced, it makes sense to compare the two.
Lenovo Legion 5i Review: Verdict
The Lenovo Legion 5i is a great gaming laptop for its price. Its powerful performance supersedes its understated, non-gaming aesthetics. It runs cool and can play popular titles in their full glory. Its keyboard and touchpad are fantastic too, and they make it an overqualified work laptop.
The Legion 5i is a little heavy, lacks an SD card reader and has an hour-long battery life, but that would just be nitpicking. For a no-nonsense, high-power gaming experience for a reasonable price, the Legion 5i is an easy recommendation. We believe most buyers would find the configuration we received to be most suitable for serious gaming needs, although you can pick and match your package to your needs on the Lenovo website.
Intel alternatives include the very similarly-specced Dell G15, HP OMEN 16 and ASUS ROG M16, but we still believe the Legion 5i offers much better value among these. If you want a more portable option with better battery life, you may have to consider the ASUS ROG Zephyrus G14 instead.