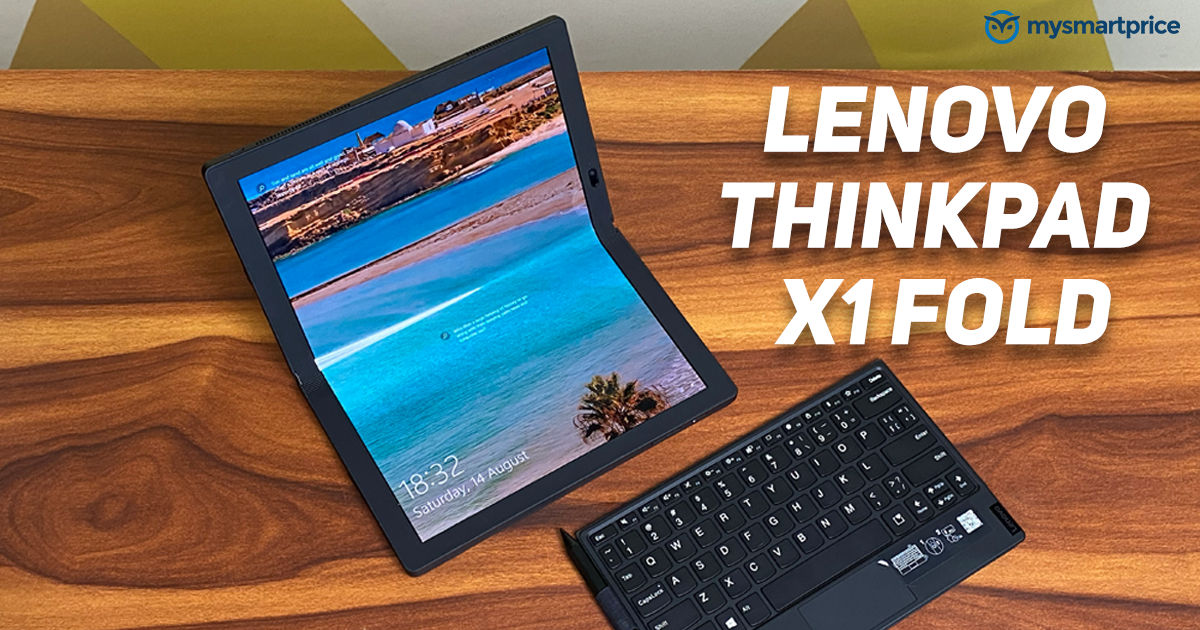 The first thing that'd come to mind when thinking of a ThinkPad notebook is a bulky business laptop in black paint and an iconic red trackpad in the middle of the keyboard. But in 2021, everyone's going through an existential crisis, and even the ThinkPad needed some much-needed makeover. A simple spec bump or a slimmer design wouldn't have cut it, so Lenovo sent it to the future, and it returned as the world's first foldable PC.
Lenovo ThinkPad X1 Fold
Rs 248,508
Keyboard and Trackpad
4.0/10
What Is Good?
Folds into a size of a paperback
Dolby Vision support
Hybrid form factor
What Is Bad?
Crammed keyboard
Visible crease when folded
Windows 10 not fit for touchscreen tablets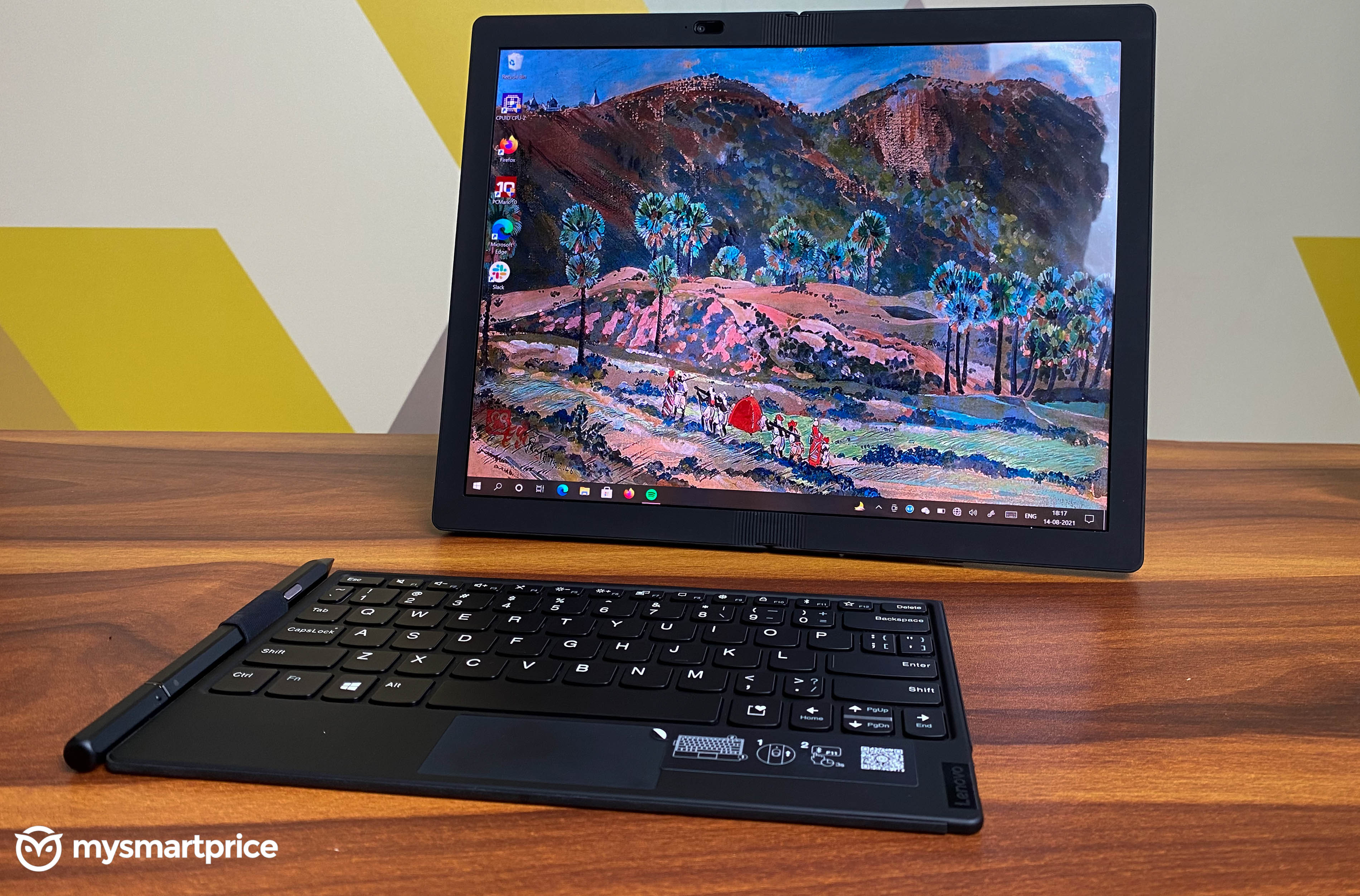 The ThinkPad X1 can bend, stretch and transform. It can be held like a book, transformed into a mini laptop, or unfurled into a giant tablet, and when not in use, it becomes an unsuspecting diary that slips into your handbag without taking too much space. The protagonist in this story is a bendable OLED display, with Intel's Lakefield processor playing the supporting role. But is it too early for its time? The laptop is well crafted, but Windows still has a long way to go to adapt to so many different form factors at once. Here's our review —
Lenovo ThinkPad X1 Fold – Design and Build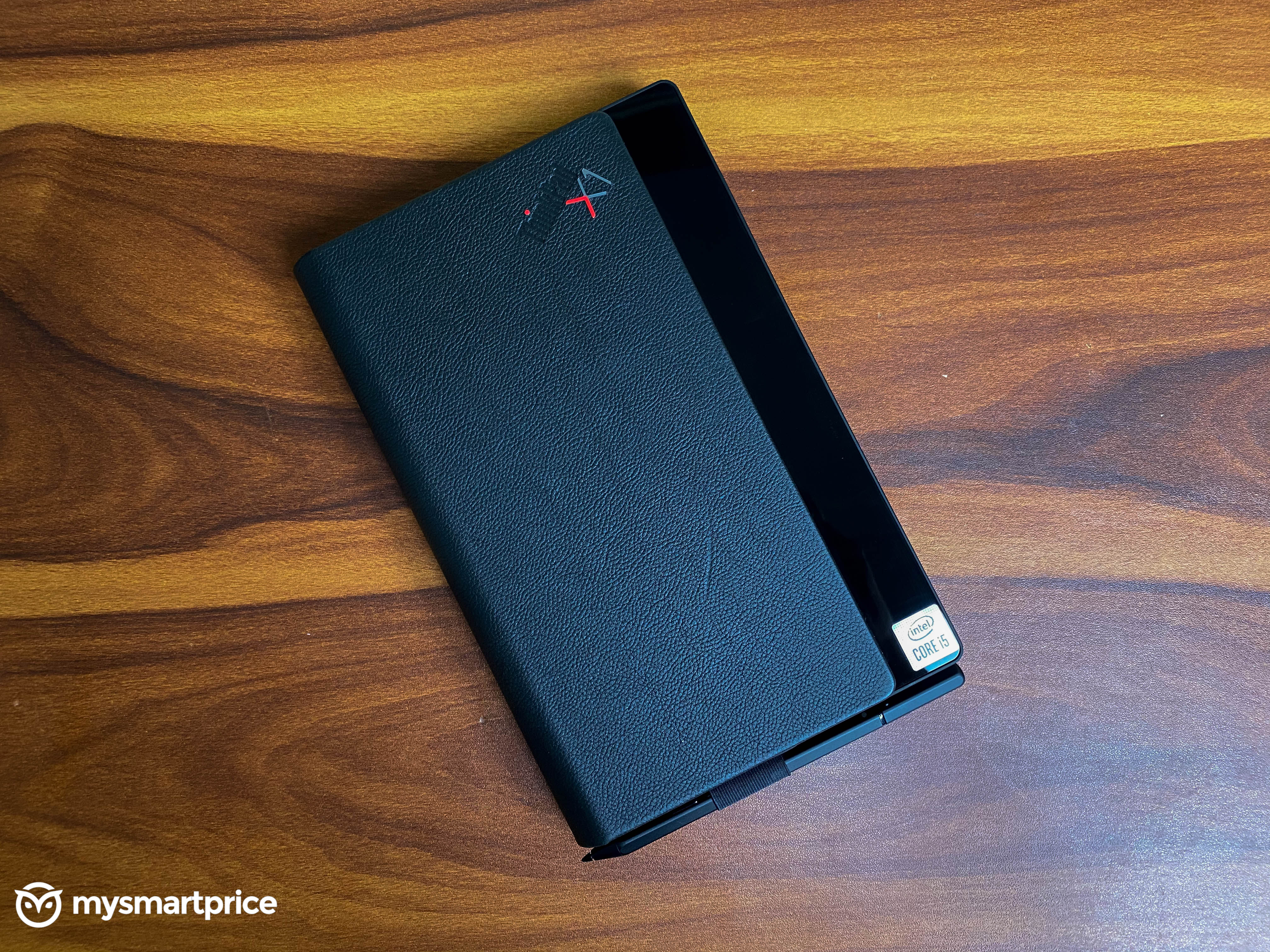 The X1 Fold looks like an unsuspecting leather-bound folio, roughly the size of a paperback, when shut. So if you're carrying it in an airport, you might be considered a bit old-school. Who carries a leather-bound diary in their hands these days? But then you unfold it in a clamshell shape, the screen lights up — and jaws drop, pupils dilate and you're suddenly a futurist, an early adopter, someone straight out of an Iron Man film. True story.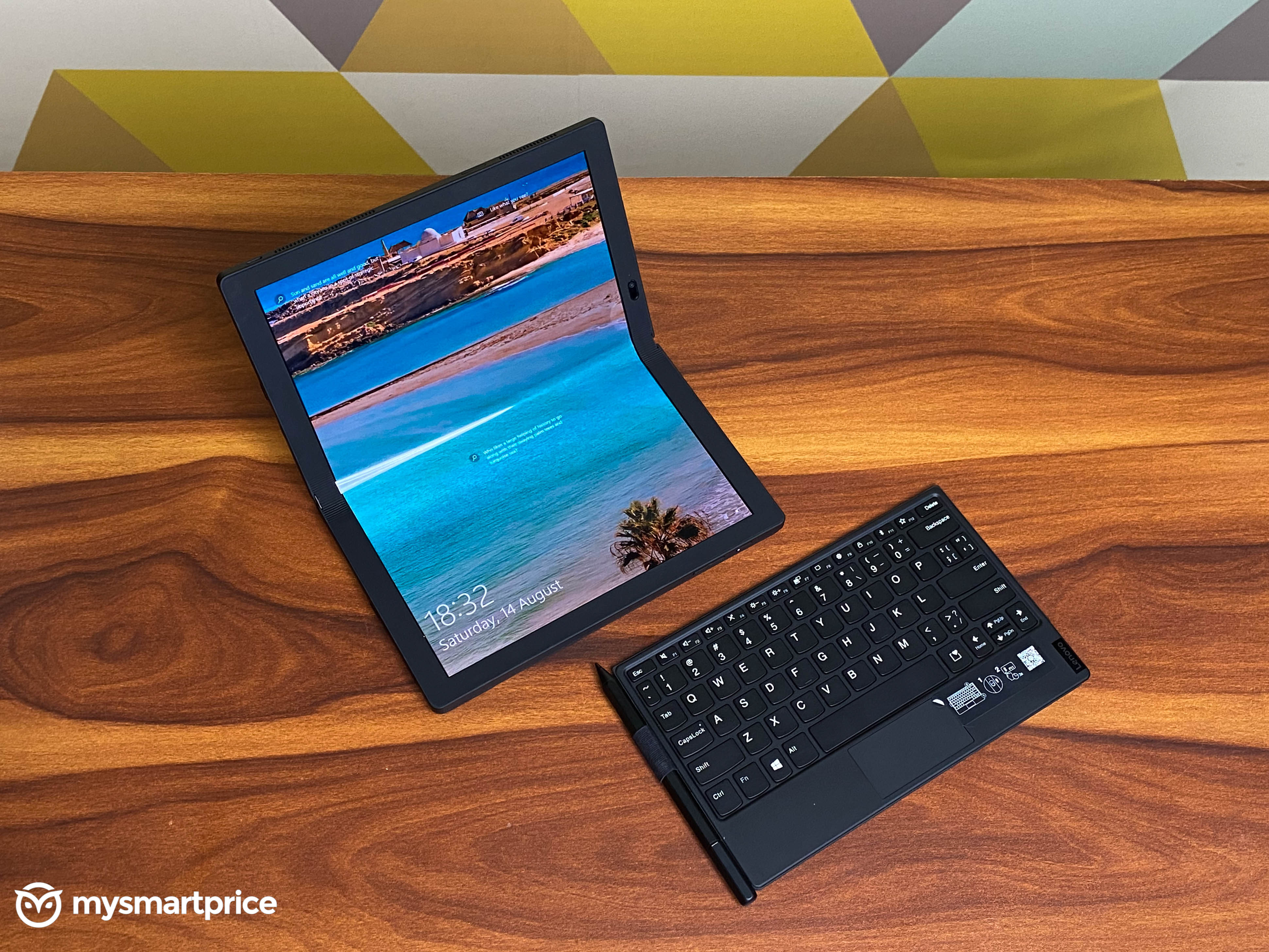 When laid flat, the screen measures 13.3-inches, just a bit larger than the 12.9-inch iPad Pro, but it feels a lot heftier and meatier, bound by carbon fiber and leather. A leather kickstand lets you hoist the tablet upright on a surface, or you fold it into the shape of a typical laptop, magnetically attach an optional Bluetooth keyboard on the bottom half, and use it as a mini PC with a 7-inch display. And there's sufficient tension in the hinge to hold the display straight up at a 90-degree angle.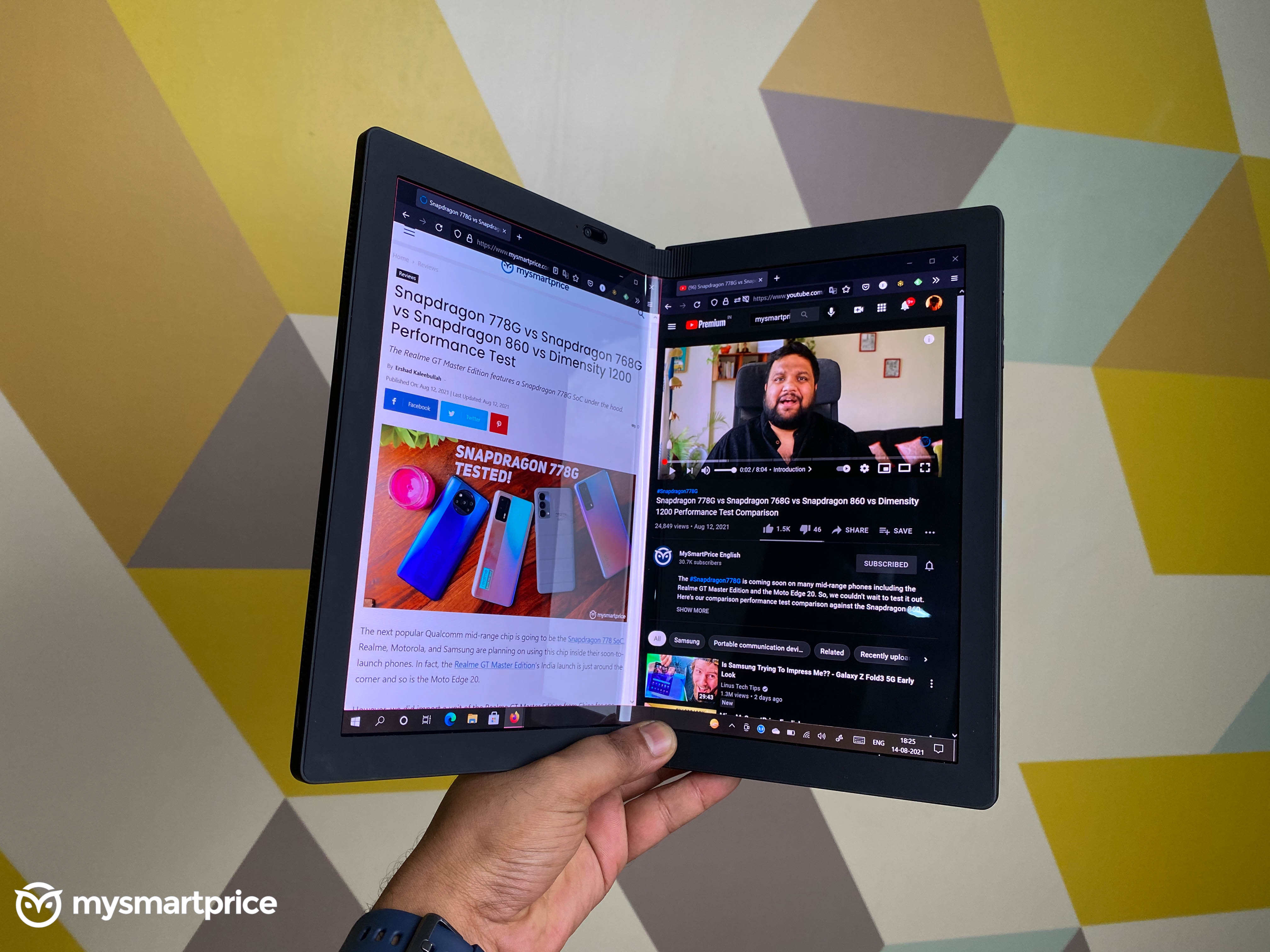 But the coolest trick is how it can be like a literal book, to read an article, or use it in split-screen mode. Once again, the multi-layered hinge turns this almost into a free-folding display, and switching between each of these form factors is fairly easy and intuitive, except that Windows takes a bit of time in rotating the UI, so it doesn't feel perfectly smooth.
Lenovo ThinkPad X1 Fold: Display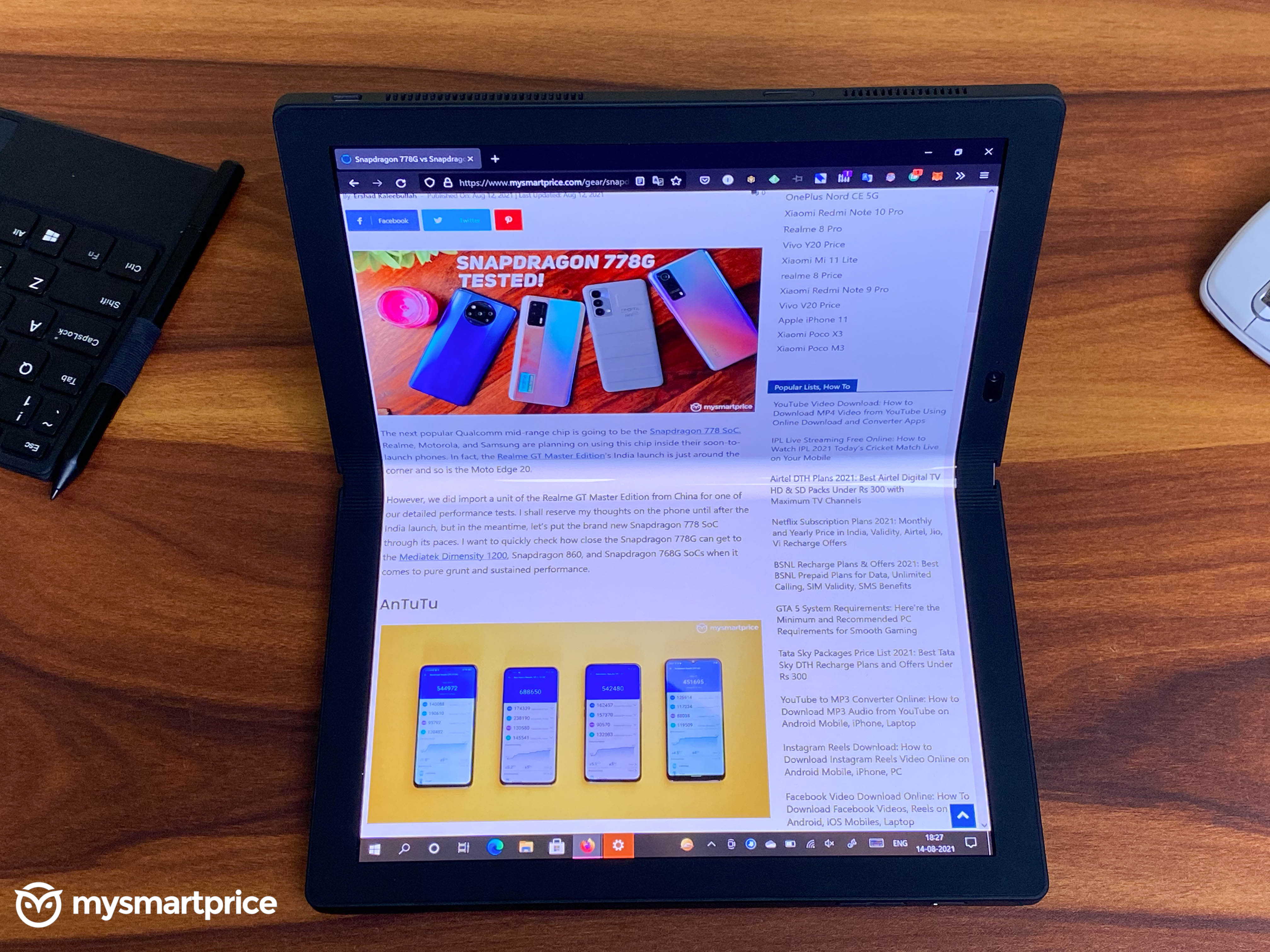 It is also at this point, when I noticed its first major drawback — A distinctly visible crease in the middle where the screen folds. You only see it when it's folded at a sharp angle, and disappears completely as you flatten it out. More than annoying, I found the crease a bit amusing to look at. Anything that came under it gets lightened by a halo, and I soon learnt to live with it.
Till the time the industry figures out to put a flexible backlight, OLED displays are going to be a norm in foldable devices. The X1 Fold is no different, and with it comes the pros and cons. This one's a 2K panel with QXGA (1536×2048) resolution and touch support. It's super sharp thanks to a higher pixel density, but the colours pop out, a little too much. You can watch Dolby Vision content on Netflix and Amazon on the Fold.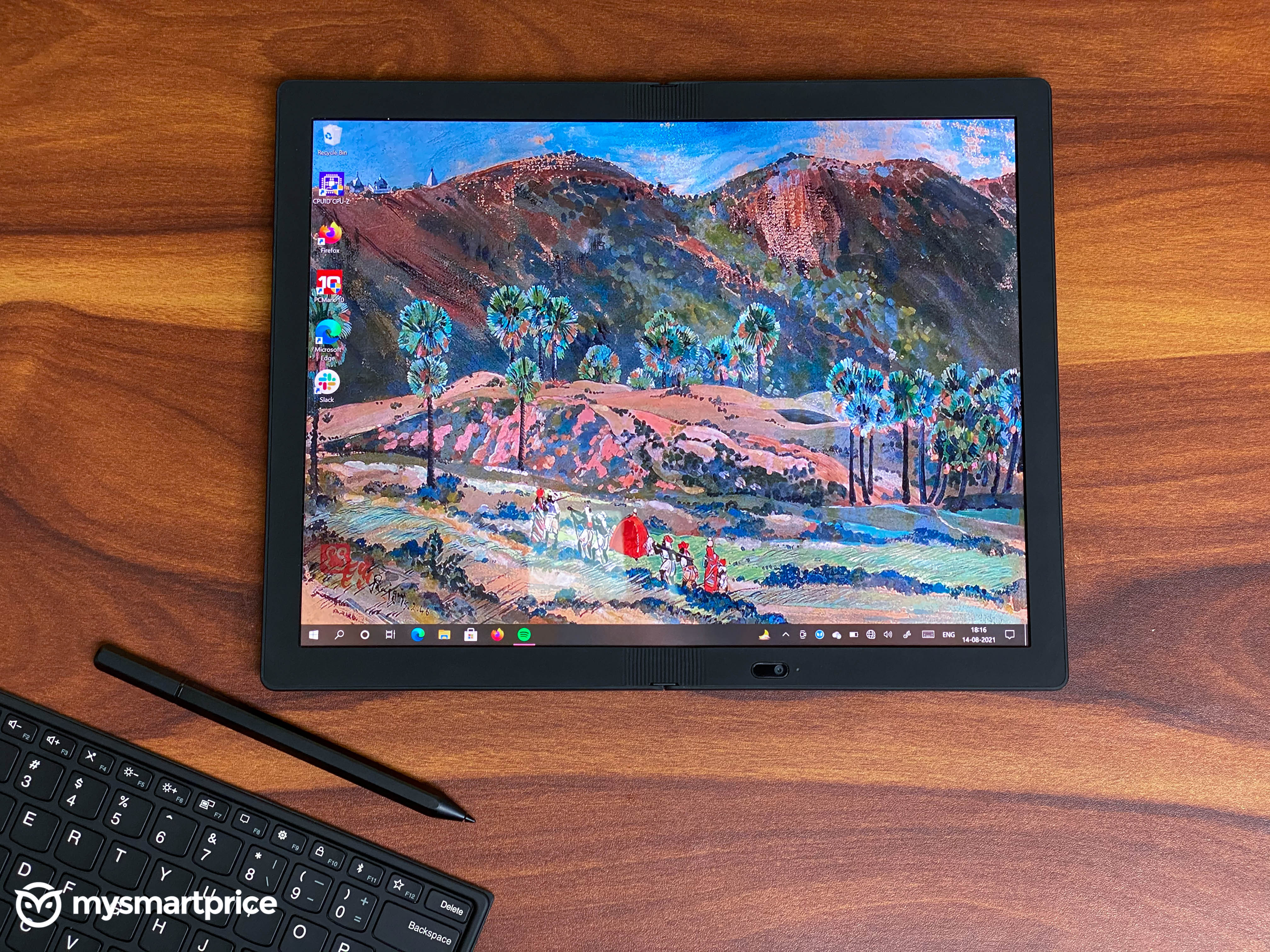 It's sufficiently bright with Lenovo advertising 300 nits in the spec-sheet, but there's also a lot of glare and reflection which makes it hard to watch a video or read text when there's a strong source of light in the background.
What I absolutely couldn't get habituated to, was the plasticky feel of the display, and despite all attempts by the hinge, the screen is not truly uniform, and you can feel the undulating nature when you use the Mod Pen. But that's the case with every foldable device out there right now, and could just be an inherent characteristic.
Lenovo ThinkPad X1 Fold: Fit for Everyday Use?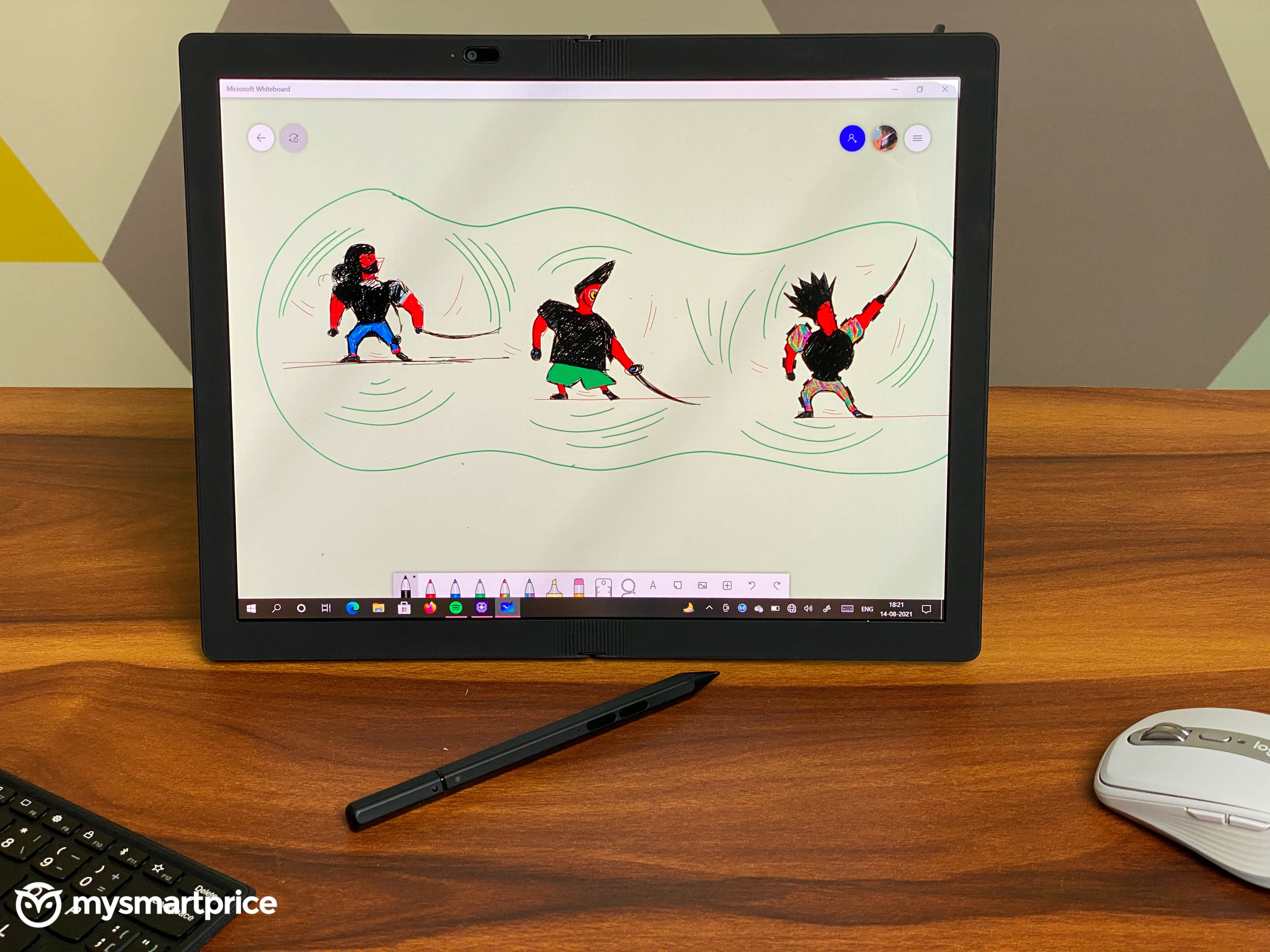 Powering this foldable form factor with an x86 chip capable of running Windows 10 Pro is no small feat. The Intel Core i5 inside the X1 Fold is not just any other Intel product. It's part of a special low-power lineup made on Intel's 3D stacking technology to make them as efficient as a smartphone chip. Indeed, it adopts a similar hybrid architecture with one performance core, and four efficiency cores, capable of hitting up to 3.0GHz. And that is coupled with 8GB LPDDR4X memory and up to 512GB M.2 SSD.
The X1 Fold takes around 20 seconds to boot from cold, and general usage is surprisingly smooth. Things like File Explorer and the browser open instantly, and office apps run quite well. But the problem is multi-tasking. You can't keep too many windows and too many Firefox tabs open before the thing starts freezing. So if you are considering this over an iPad Pro — think twice. It's not as powerful as the Apple M1 chip in the iPad, but it does give you that versatility of running legacy Windows software with keyboard and mouse input.
And while iOS is increasingly becoming more useful for iPads, Windows 10 doesn't respond quite as smoothly when rotating the screen or shifting shapes. Windows also treats it as a full-fledged laptop, so the memory utilization and power drain is quite high. But more than that, Windows 10's tablet UI just sucks. The icons are too small for touch, and I still haven't been able to figure out how to drag and drop files between apps in Tablet Mode.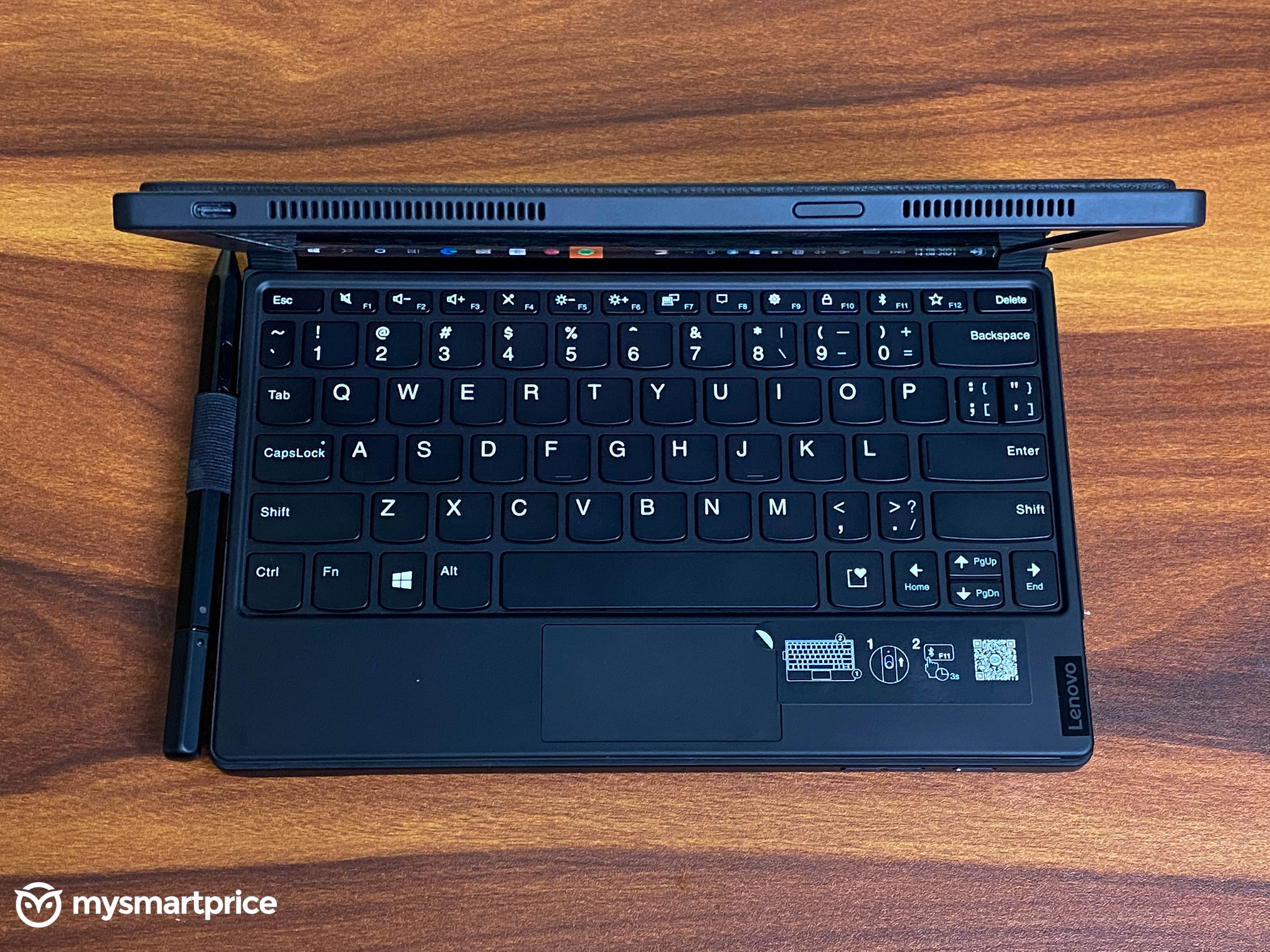 Not that it works best as a laptop. The optional keyboard is really difficult to break into. To make it fit within the dimensions of the tablet, some keys have up to four different functions mapped to them. It's an editor's nightmare learning the keyboard layout on this one. The on-screen keyboard is a lot more forgiving, but it doesn't obediently appear when needed. You also only get two USB-C port, of which one is needed for charging the laptop, so an optional USB hub is necessary to plug in extra storage and other accessories. I couldn't even pair my wireless mouse since there was no way to plug the dongle on this one.
Thing is, Lenovo tried its best to make the Fold fit for everyday use, but it's let down by Windows.
Lenovo ThinkPad X1 Fold: Battery Life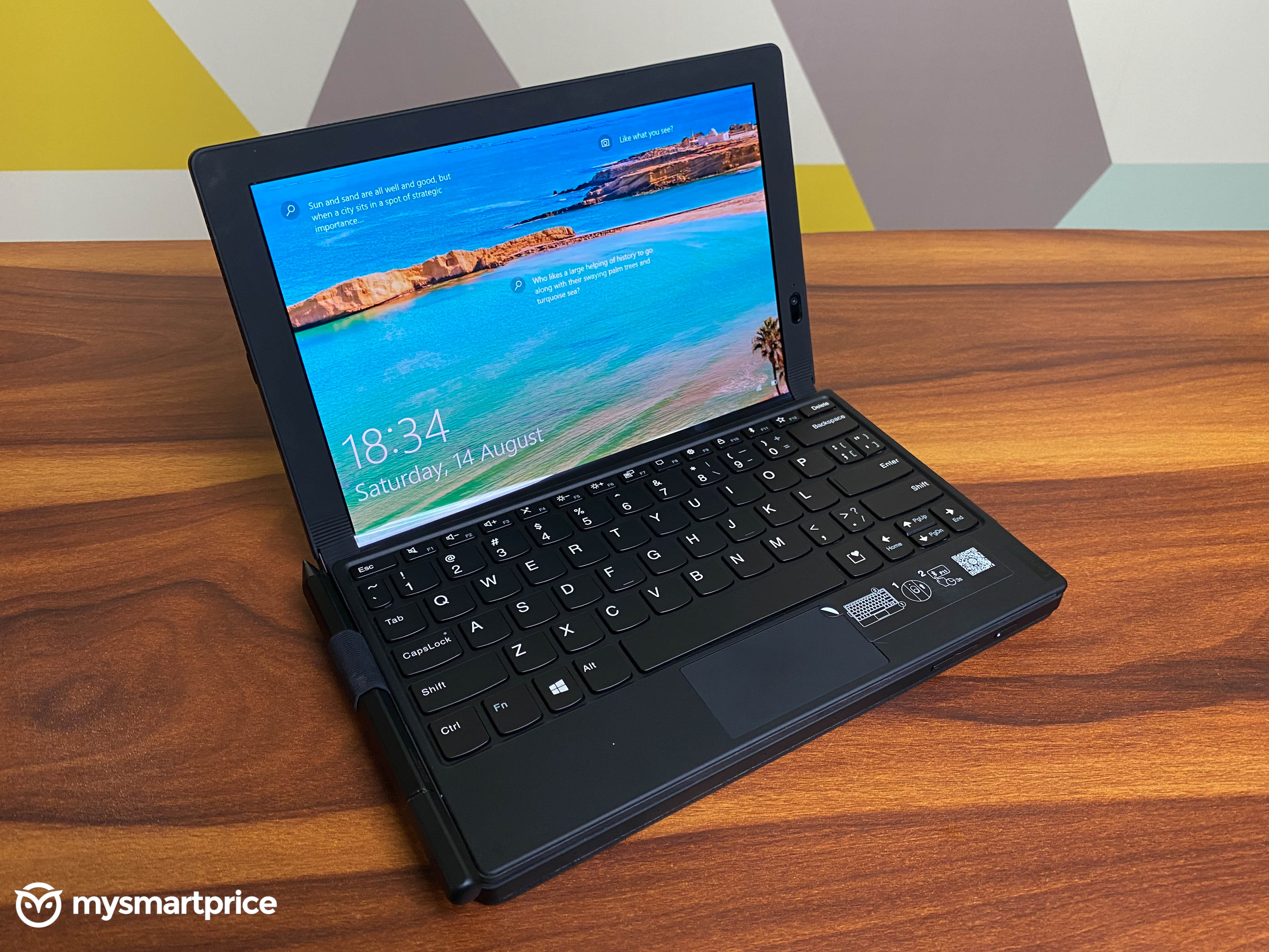 The ThinkPad X1 Fold is meant to be used on the go. This one's a truly portable computer that demands to be used outside. In airports, cafes, or in the cab. And be it logging into a Zoom call, streaming a movie on Netflix or working on Excel, the X1 Fold lasts decently long. I was able to watch two Loki episodes back to back on battery, and still had enough juice left for a third episode. However, if you want to actively use the laptop on the go, with multiple Firefox tabs open and the power profile set to Performance, you'll hardly get 3-4 hours of battery life. During the PCMark10 run, the battery life went from 63% to 44%, indicative of what will happen when you try to power-use this.
Lenovo ThinkPad X1 Fold: Who is it For?
The ThinkPad X1 Fold is a bit too far out into the future, that not even the operating system powering it is fully ready. It's the first of its kind, so there are the expected kinks and bugs, but more than that, I just don't see anyone really being invested in this hybrid machine. It looks extremely cool and will draw the attention of the room, but for the one using it, it's a bit of a hassle typing on that tiny keyboard or using the undulating touch surface. Then there's the lack of real horsepower to run anything remotely powerful on this machine. It's fine for making presentations, surfing the web and taking notes, but all these functions are handled much better by cheaper alternatives.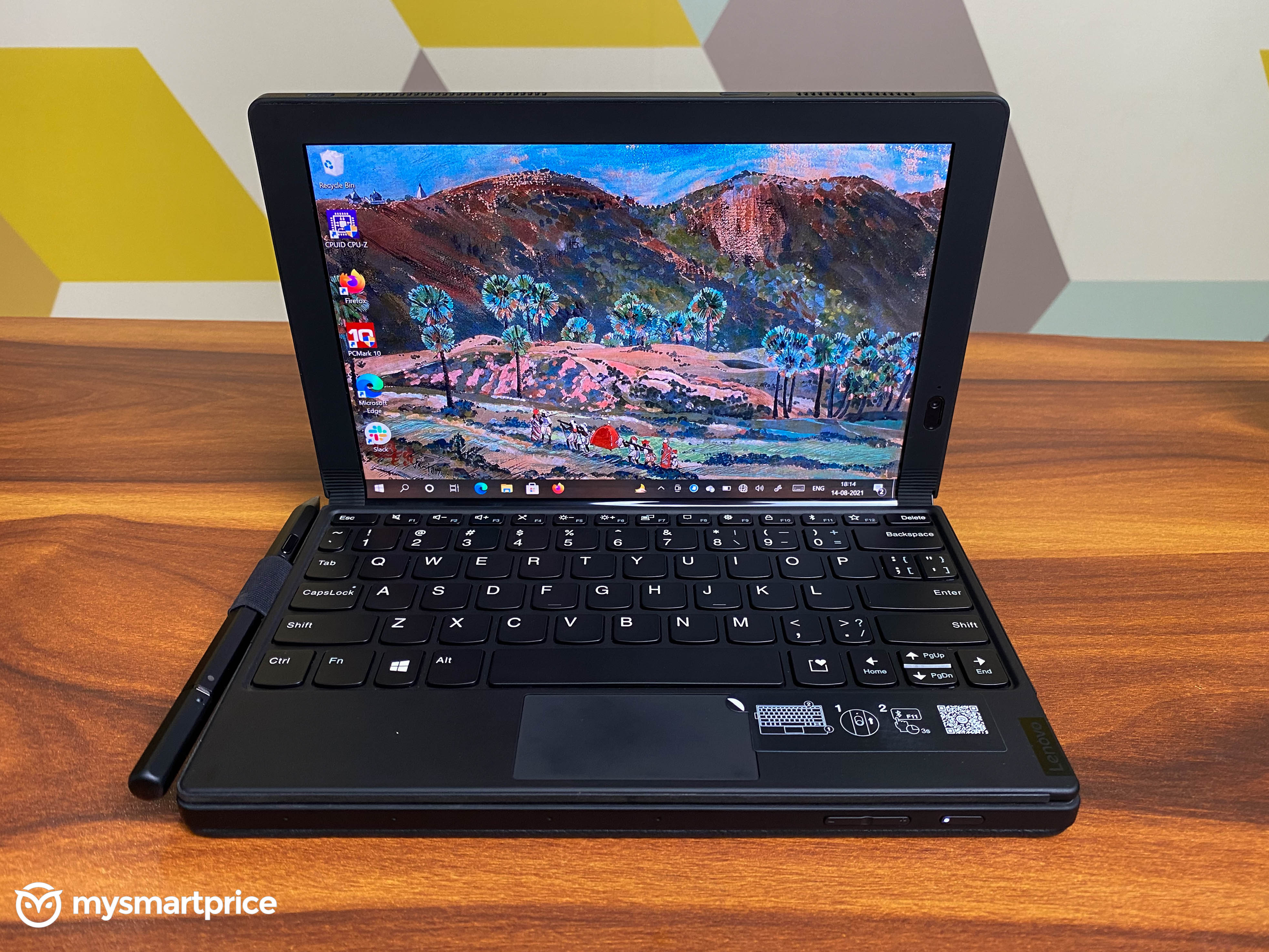 Having said that, it's the portability of the machine that is the highlight here. You won't find another device that can go from a folio to a full-fledged 13-inch tablet, with the option to transform into a clamshell or a book, in between. Therein lies the novelty of the ThinkPad X1 Fold, and therein the novelty ends.