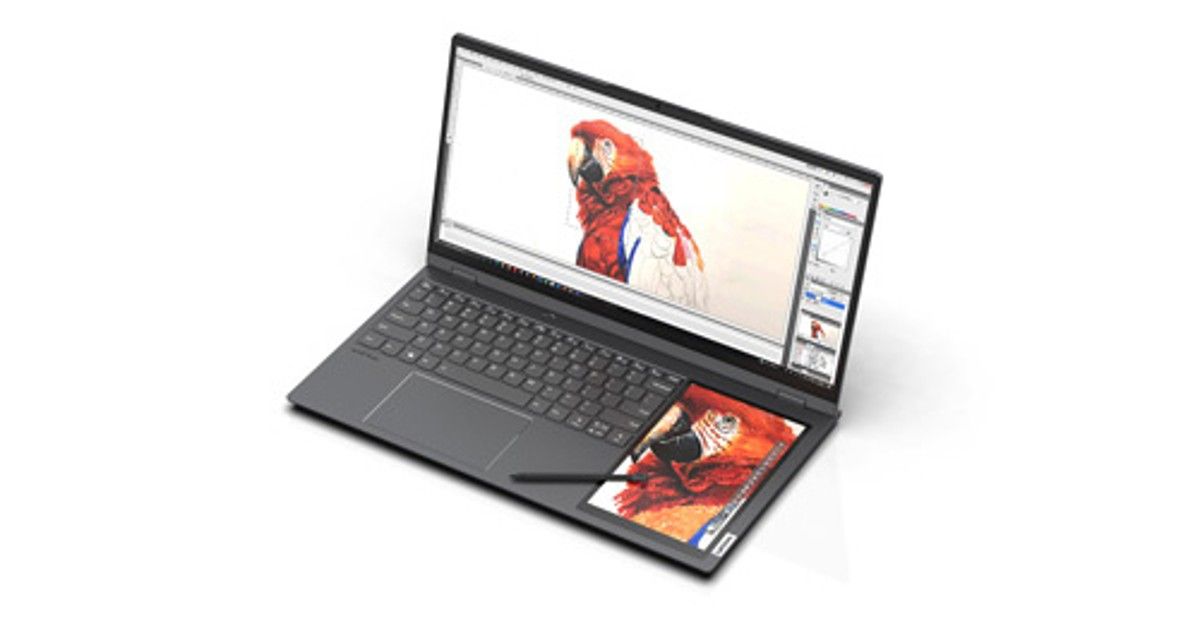 Phones aren't the only devices getting multiple and foldable screens. After making a laptop with a foldable display, Lenovo is now working on a device with two screens. Called the Lenovo Thinkbook Plus, the device was leaked on Twitter by well known leakster Evan Blass. He posted a photo of the device, showing a concept that's somewhat similar to the dual-screen laptops made by Asus for the last few years. The Lenovo Thinkbook Plus seems to be a 17-inch device, but it seems the second screen is larger than some of the screens Asus has made in the past.
Have you guys seen this yet? 17-inch ThinkBook Plus from Lenovo… pic.twitter.com/OElc5ZM3pb

— Ev (@evleaks) October 31, 2021
Lenovo Thinkbook Plus specs and features
As mentioned before, Blass' tweet said that the Thinkbook Plus may have a 17-inch display. Unlike some earlier devices, Lenovo isn't replacing the touchpad on the laptop. Instead, the company is putting the second display next to the keyboard, on the right side of the device.
It's not really clear whether this will make the keyboard cramp up and make typing more difficult, but the touchpad certainly looks like it's usable. The second screen on the Asus ZenBook Pro Duo was 14 inches and had a 32:9 IPS display, but Lenovo's seems smaller than that. It does look like the display is as big as many smaller tablets though. Which means that a lot can be done on that display.
Further, screens on the Zenbook also allow content to be split between the main screen and the secondary display. It's likely that Lenovo will allow users to do the same. In fact, the picture Blass posted shows the same image on what looks like Microsoft Paint and on the secondary display. It basically depicts a stylus being used on the secondary display in order to edit the picture on the primary screen. Earlier reports have also speculated that the device will have a E-Ink display.
Of course, we don't have the price of the device at the moment. However, the Asus Zenbook Pro Duo is priced at around Rs. 2.5 lakh in India, according to this Flipkart listing. Which could mean that the Lenovo ThinkBook Plus will be priced around the same. It should also run on the newest processors from Intel and AMD.